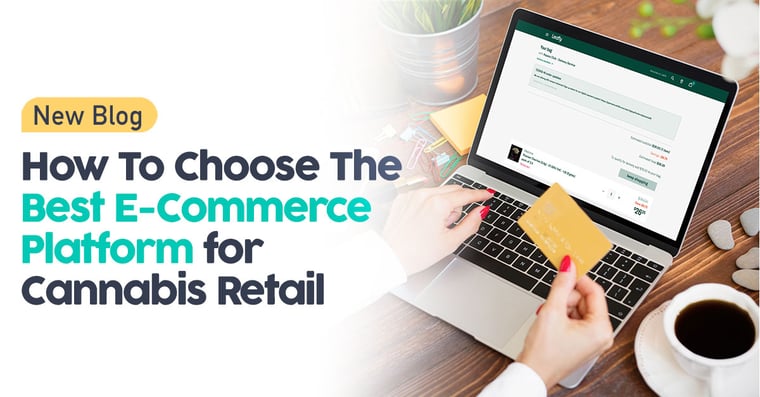 Launching a cannabis eCommerce store is a bold but wise move. It is an extension of your retail business into the online marketplace, which requires listing your dispensary inventory and merchandise on your company website. The platform allows customers to browse your products and purchase them for delivery or store pick-up.
If you want to grow your cannabis retail business and succeed in the eCommerce space, you will benefit from the 18 critical tips for launching an eCommerce cannabis business that we have outlined below.
3 Reasons to Use Online Menus at Your Cannabis Retail Store
Cannabis retailers across the country have begun the process of adopting more advanced retail technologies. One of the biggest benefits of dispensaries has been the progress made in creating high-quality POS systems that have the functions needed for them to optimize their business practices.
One key technological aspect of cannabis POS systems that is not often discussed is the ability they give you to more effectively control and update your online menu listings on sites like Weedmaps, Leafly, or Leafbuyer.
Over 81% of people begin their purchasing journey for all types of products online, and cannabis is no different – so making sure your menu is always accurate is one of the first steps you should take when seeking to build your customer base. Here are three benefits of using online listings and menus at your retail operation.
1. Accurate Store Location
One of the biggest hassles for businesses that rely on physical traffic is keeping information on their location, hours of operations, and inventory listings up to date online. A well-designed cannabis POS can essentially automate this process for you, ensuring that information provided to customers online is correct and accurate at all times.
2. Saves Time & Money
Keeping up with the requisite data entry necessary to ensure your inventory is accurate requires a lot of time. A dispensary POS system that automatically updates inventory in real-time as it is delivered and sold will eliminate much of this wasted time – which ends up saving you money as well.
3. Reduces Human Error
Even the most dedicated employee will occasionally make a mistake from time to time. In most retail settings, this isn't an issue, but when it comes to cannabis sales, human error in reporting or compliance requirements can see your business fined or your license to operate revoked. Using a POS system to automate this and generate the necessary reports will dramatically reduce the chance of these types of errors occurring.
By ensuring that your online listings and menu are always up-to-date and accurate, you'll never find yourself in the position of turning away a customer who has invested the effort of coming to your dispensary.
5 Reasons Why Cannabis Retailers Must Have Their eCommerce Website
As we kick off 2022, cannabis eCommerce is predicted to be the dominant trend that will shape the future of our industry. When deciding how to sell cannabis products online, retailers either sell on a third-party marketplace or create their websites. Both options have pros and cons, and while one size certainly does not fit all, cannabis retailers who are serious about growing their business online must have their own eCommerce website along with a strong online presence. These days, consumers tend to seamlessly research, browse and shop across different devices- and with their limitations, third-party platforms should only be an ancillary part of your omnichannel retail strategy. The following are 5 benefits that come along with owning an independent eCommerce website:
1. Customer Data Ownership and Email Lists for Direct Marketing
The most valuable benefit of having your own eCommerce website is that you can market it directly to online visitors and customers. Unlike a third-party marketplace where the buyer of 'your product' becomes a customer of that platform, selling directly to cannabis consumers on your own website means you can collect their contact information and have unrestricted access to relevant data for decision-making. With customers' email addresses, you can send them marketing promotions, offer discounts, and announce new products in regular newsletters.
Since you own all customer data, it becomes easier to target your ideal consumers. Also, you have more opportunities to provide a personalized experience and wow them with creative marketing campaigns. You can customize your cannabis retail marketing strategy to fit customer needs and offer them promotions based on specific shopping behavior. Regular communication with buyers is necessary to boost your cannabis business' bottom line, as it's always easier and cheaper to retain existing customers than to acquire new ones.
2. Enhanced Brand Visibility, Recognition, and Loyalty
Cannabis products on a third-party marketplace are listed generically, and there's little room for customization. In fact, the marketplace's brand always remains at the forefront, and customers assume your product belongs to the third-party platform without realizing your brand even exists. This makes it nearly impossible to build awareness and recognition for your cannabis retail store, as you have to compromise on personalized brand experience, and customers become accustomed to the third-party marketplace platform.
Running your own cannabis eCommerce website gives you complete control over what it looks like, what it says, and how it works. The possibilities are endless- you can even capitalize on SEO tactics by creating relevant content that can be indexed by Google and appears on search results, and add features that bring organic traffic to your website and allow you to build brand loyalty. You can even enhance your brand during the unboxing experience and use custom packaging for pick-up or delivery orders to leave a lasting impression on customers. Best of all, your brand gets remembered for your cannabis product, not a third-party marketplace.
3. Local SEO Authority to Eliminate Competition
Having your own eCommerce website for your cannabis retail store gives you better opportunities to leverage search engine marketing and build digital authority in your location. When a consumer searches on Google for a particular cannabis product, most results tend to either display a third-party marketplace platform or a cannabis business that does a better job with SEO to rank higher in search results. With advanced native eCommerce tools and local-SEO optimized product content, your website will rank higher than your competitors in a target location, prompting people to click on it and buy directly from your eCommerce platform.
Another obvious advantage is the ability to run a blog and add more pages to your website. By creating regular blog posts for your cannabis website, you can use SEO best practices to improve the flow of organic traffic. You can even offer customers the ability to leave reviews- such user-generated content will also help enhance the visibility of your eCommerce website for cannabis products in your local area.
4. Reports and Analytics to Retarget Customers & Build Relationships
An independent cannabis eCommerce website will help you better understand your customers. Information including demographic data such as age, gender, location, and how they found your website will help you analyze their behavior and influence future purchases. Not only will you receive such information about customers, but you will also know where the customers who did not make the final purchase dropped out from your website. This provides retargeting and upselling opportunities with customer data such as which product they clicked on, abandoned cart details, etc. Also, if you have a specific traffic source that attracts good customers to your cannabis eCommerce platform, you can focus your efforts on those channels and maximize your profits.
With enhanced data analytics, not only would you know who bought cannabis from you in the past, but also what they bought, how much they spent, and what they care about, which will help in increasing repeat business. These insights can also help in making improvements to your eCommerce platform, optimizing the website, increasing conversions, and driving sales. For example, your home page may be cluttered, your user-friendly website may be lacking in design, or your checkout process may be lacking payment options that your target buyers expect. All such information will help you improve the online cannabis experience and build a long-lasting relationship with your customers.
5. Flexibility with Design, Customer Experience, and Cannabis Ecosystem
With straight out-of-the-box eCommerce platforms like Buddi or custom-built eCommerce powered by WooCommerce like Dabber, creating a cannabis eCommerce website can be a pretty quick and straightforward process. With several plug-and-play options available for display menus and the flexibility to integrate with various other cannabis ecosystem software solutions, you can design your website in a way that reflects your brand values and the customer experience you wish to offer. You will always be in control of your online cannabis business and won't be at the mercy of a third-party marketplace that could lock you in with their deceiving all-in-one solutions and charge you a substantial commission for higher visibility of your products on their platforms.
5 Risks of Not Owning Customer Relationship For Cannabis eCommerce
The latest chapter of the legal cannabis industry is transpiring online, as cannabis retailers are adapting to changing consumer behavior and offering eCommerce and delivery services. However, our industry is unlike traditional retail, and with stringent requirements like online age-gating measures, cannabis purchase limits, and data limitations, many dispensary owners are finding it challenging to navigate cannabis eCommerce, offer a great online consumer experience, and build a thriving relationship with their eCommerce customers.
Of course, there are multiple eCommerce solutions available on the market, but many of them, especially third-party cannabis marketplaces, come at the cost of losing a direct relationship with the customer. As has been seen in other industries, big tech partners like Amazon and Doordash are only looking out for themselves. Although similar companies in the cannabis technology space can initially help you set up your online business quickly, eventually they will steal your patrons, and not owning the customer relationship will put your business at risk.
1. Customer Interactions are Limited to Third-Party Platforms
In a recent featured post by Benzinga, Oliver Summers urges retailers to "avoid like the plague platforms and 'partners' that seek to own your customer relationships, like Amazon, Grubhub, or Dutchie." He also says, "When dispensaries allow an aggregating platform to step in front of customer interactions, they lose access to both that data and the ability to represent their brand according to developed standards."
When you use a third-party platform or marketplace to sell your products online, most customer interactions remain limited to the brand as people go through the whole purchase process on their website. Moreover, the third-party marketplace brand is more prominent than yours in their domain, so your customers will become loyal to the third party as they become more familiar with their look, feel, and experience. Hence, you risk losing their business in the long term if you don't own the customer relationship directly through your own cannabis eCommerce website, which is better for your dispensary's brand visibility.
2. Marketplace Gains Brand Value at Your Cost
Quoting Oliver Summers again, "Companies, like Dutchie and others, place all the financial risk on dispensaries by putting the dispensary's name, license number, and brand image on the line and providing very little in return. The dispensaries take on the costs, legal fees, and sketchy processing costs and lose the important customer relationship they once owned."
Hosting your cannabis eCommerce website on a third-party marketplace will always lead to a poorer dispensary brand experience because retailers have no control over it. Only the service you're paying for will gain brand value. Think about consumers ordering clothes from Amazon or food delivery from Doordash- these companies have such a high brand value that people don't even remember the names of the brands or restaurants whose products they purchase. Even when it comes to packaging, delivery packages are imprinted with Amazon, which only makes their brand more prominent and valuable. In the long run, customers will become loyal to the platform and not to your brand.
3. Your Dispensary Data Can Be Unethically Misused
Your brand's value and customer relationship are also intricately tied to the consumer data you garner and can capitalize on. However, when you use a third-party marketplace platform for your eCommerce, you don't own any customer data directly, and only the third party has access to it. When your customers buy cannabis from a third-party platform, their data can be sold to your competitors, who may pay a higher commission to the marketplace platform. Or worse, such data can be used to bypass you and build a direct relationship with your customers. And even if, in the future, you decide to separate yourself from this partner, they could still keep your customer data and direct the buyer elsewhere, as they own the customer relationship.
4. Compliance Violations and License Risks
When you don't own your eCommerce platform or customer interaction, you are putting your dispensary business at various compliance risks, including online sales to minors and purchase limit violations. Depending on regulations in your state or province, you may inadvertently end up selling cannabis through a platform that is not approved by regulatory authorities. For example, in Alberta, the AGLC has mandated that cannabis retailers host their eCommerce store on their own company's domain and not a third-party domain. Any violations could lead to the cancellation of your retail license, which is indirectly being hijacked by third-party marketplaces to grow their own online business.
5. You Lose the Ability to Innovate and Grow
Third-party online marketplace platforms have started offering "all-in-one" solutions for dispensaries as they are bringing their own POS systems to the market. By stepping in front of customer interactions and capitalizing on consumer data, they are indirectly owning your customers and your dispensary business. And without any online SEO authority for your cannabis eCommerce, which only benefits the marketplace, you will not be able to acquire any new customers organically either. Once locked in with an all-in-one solution, your dispensary POS loses the ability to integrate with advanced tech solutions better aligned with your retail vision, and thus, you lose the ability to innovate or grow your business.
In another featured post by Cannabis Business Executives, Steve Gormley talks about Dutchie, which now provides a point of sale (POS), eCommerce and payment processing platform, "This growing behemoth steps entirely in front of consumer interactions at each point of the purchasing process to own the relationship and data produced from it, leaving retailers with a digital storefront that looks indiscernible from others and no ownership of their own valuable data."
Beware: 5 Ways Fake eCommerce Can Ruin Your Cannabis Retail Business
Cannabis retail is changing fast, and the pandemic has only accelerated the transition from brick-and-mortar retail to online stores in almost every industry. As more and more consumers are purchasing cannabis online or ordering for delivery, retailers must have a robust cannabis eCommerce platform to facilitate demand. However, that does not mean you need to rely on third-party eCommerce platforms to build your digital presence and sell cannabis online. In fact, fake eCommerce will do more harm than good to your cannabis retail business.
When we say fake eCommerce, we are referring to your online menus embedded on third-party websites that don't have advanced functionality- such as a blog or product content that can be indexed by google and appears on search results and features that will bring organic traffic to your website and allow you to build brand awareness and loyalty. In this blog post, we talk about how misleading eCommerce platforms are an existential threat to cannabis retail and why having your own customized online store is the best solution for you.
1. An iFrame Embedded Menu is Bad for Local SEO & Product Discovery
Some of the most popular online cannabis eCommerce platforms use an iFrame embed menu to showcase your products on their website. The menu is embedded on your website, but the content is hosted on a third-party domain. Although the content is owned by you, it does not build any online SEO authority for your cannabis brand and only benefits the eCommerce platform. Without advanced native eCommerce and seamless integration, which allow for better crawling and indexing of names of flowers, your company's website or products won't be visible on Google. Consequently, customers will directly go to the third-party website, as most people tend to click on pages ranked higher in search results.
2. You Sacrifice Brand Identity and Can't Provide a Consistent Customer Experience
Your e-comm is an extension of your brand experience and should reflect your unique voice, values, and aesthetic. For your customers, the online cannabis experience should be consistent with the in-store experience. The standard template most embedded menus provide limits your ability to customize and forces you to compromise on your brand experience. And it gets customers familiar with a look and feel they're likely to find on competitor and marketplace sites.
Look closely at your embedded menu—that 3rd party logo from your menu provider may seem innocuous, but if that party also happens to run a cannabis marketplace, the result can be distraction and confusion for the consumer. Eventually, they may stray and become accustomed to the third-party platform, with no awareness of the actual cannabis retail brand they're buying from. These third-party platforms limit the ability to differentiate your cannabis retail brand or provide a more customized customer experience that ultimately helps in building brand loyalty.
3. Cannabis Marketplaces Could Force You to Compete on Price
Online cannabis marketplaces can provide obvious value, but those with embedded eCommerce can really raise the stakes, and not all have your best interests at heart. Undoubtedly their business model dictates that they have multiple retail brands on their website for customers to choose from. Although this provides consumers with options and earns you new customers, your customer acquisition cost will be significantly high due to the commission you'll have to pay to these marketplaces. Moreover, it puts you in direct competition with other retailers- and with no brand differentiation possible on marketplaces, you'll be forced to compete on price, thus depleting your profits.
Marketplace platforms doubling as eCommerce menus are especially high risk with little reward. Their iFrame menus may look okay on your website, but all Google sees when it crawls those products is the marketplace hosting the menu. Hence, a consumer later searches for a specific product near them, and you've got it, but your website has no online authority, so the search results lead them to the marketplace, which could direct them to a competitor who may be paying higher commission fees for better visibility.
Case in point: In Ontario, retailers all purchase from the same supplier, so it's imperative they differentiate themselves in order to compete on more than price. When certain strains are in high demand and seeing high search volume, retailers need to rank for those products so customers can find them online directly, not in a marketplace price war where nobody but the marketplace wins.
4. Third-Party Platforms Will Bypass You to Own Customer Relationships
When customers buy cannabis from a third-party platform, they will be sharing personal data, including their name, address, email, demographics, and product preferences, which can be used by these companies to offer them relevant products and influence buying behavior. Since you will have no access to such information, your cannabis retail brand cannot build a direct relationship with the customer, who will eventually become loyal to this third party in question.
Also, as you won't capture valuable customer information like buying history or abandoned cart details, you won't have the data or tools to provide a more customized experience and will lose a direct connection with customers. Eventually, people who were originally supposed to be your customers would be locked into third-party eCommerce, and your cannabis retail store will just become a warehouse processing online orders for faceless consumers.
5. There's No Flexibility (And Lots of Fine Print) With an All-in-one Cannabis Retail Tech Solution
Some companies started as online menu marketplaces or pseudo-eCommerce platforms but now offer all-in-one cannabis retail tech solutions at unbelievable prices. You've probably seen their offers, but have you read the fine print? Beware of an all-in-one solution that seems to offer everything you need, including eCommerce and POS, packaged together. Unproven tech and sub-par features for your market are just the beginning of your worries. This is a play to harvest your customer data.
eCommerce probably accounts for 10-20% of your business, and that's customer data they've already got. But 80% of sales still happen in-store. Letting them all in and giving 100% of your customer data to a company already accustomed to retargeting is a risky move. They're not invested in your success, they're insured against your failure, and positioned to drive customers to (or ultimately become) your competitor.
It may be a tempting solution to get your new store started or save money short term. But once you are locked in with the company, you're dependent on their platform, at the mercy of price increases, and limited in your ability to integrate with advanced tech solutions better aligned with your retail vision. Make no mistake - these misleading third-party services will infiltrate your customer base, own the data, inhibit your growth and eventually delete you from the picture.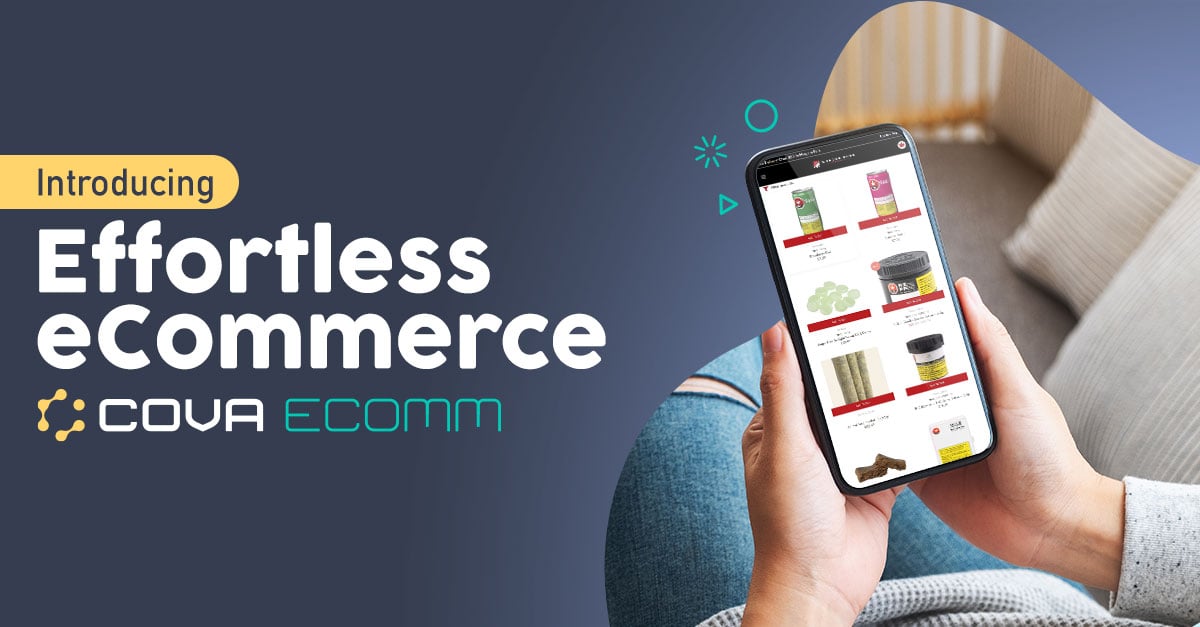 How To Choose The Best eCommerce Platform for Your Cannabis Retail Business
Just a decade ago, it'd have been hard to imagine getting cannabis delivered legally to your house. But eCommerce is increasingly becoming an industry standard for cannabis retailers in Canada, especially with British Colombia allowing private cannabis retailers to offer delivery services recently and other provinces likely to follow suit. As more and more consumers are purchasing cannabis online or ordering for delivery, retailers must have a robust cannabis eCommerce platform to facilitate the same. This transition has been accelerated by the pandemic and is changing how dispensaries do business, making delivery and curbside pickup standard services.
An online eCommerce platform not only boosts revenue for your cannabis business but also helps attract a new segment of customers who may not necessarily visit your store to buy in person. However, as we already know, cannabis retail is starkly different from other industries, and one has to navigate various restrictions and compliance requirements to stay in business. This blog post will help you understand better the criteria you must consider before choosing an eCommerce platform for your cannabis retail store.
Cannabis eCommerce SEO
Many people are now visiting web stores to research cannabis and buy products because of the convenience that online shopping offers. If you want your cannabis business to be their first choice, your website must rank high in search results, load quickly and be user-friendly. Advanced search engine optimization for cannabis websites focuses on improving local SEO so that your retail store can be found in the vicinity for fast delivery and fully integrating your digital menu with eCommerce and delivery platforms so that consumers can easily find the products they are looking for. You'll also be able to market your store better online.
Some major cannabis eCommerce platforms only display menus on their website but cannot integrate with your website without advanced native eCommerce tools, which allows for better Google crawling and indexing of names of flowers and products. For example, if a person searches for 'blue dream' close to your dispensary, and if the eCommerce platform being used by you integrates your website's content and menus completely through iframe SEO, then that specific product from your store will rank high in search results and the person will likely purchase it from your online marketplace. If you are using an iFrame embedded menu for eCommerce on your cannabis dispensary's website, Google will not rank products and brands on your menu in organic search results when consumers search for specific products that you may have in stock.
As per stats, 80% of shoppers compare prices and reviews online before purchasing from a store, and 75% of people never scroll past the first page of search results. Consumers will rarely ever buy from a website that doesn't even make it to the first page in Google search results. Thus, you need an SEO-friendly eCommerce platform that uses the most advanced tools to integrate with your cannabis retail business website.
Brand Customization and Differentiation
The best way to launch your online store is to define your target market and do extensive research to understand their requirements, what kind of experience they are seeking, and which products they would be interested in buying from an e-store. Your eCommerce platform should allow you to customize your brand and offerings the way your customers have come to expect at your offline store.
Online brand building involves identifying your competition and differentiating your brand with online visuals, eye-catching images, and even unique products. Ensure that your eCommerce platform has all the functionalities to allow you to display your products with relevant information and product images. Your online branding must be consistent with your brick-and-mortar store so that your customers can easily identify your online presence. Also, you should have the option to allow your customers to leave reviews; genuine reviews help elevate your brand voice.
Online User Experience
Your website design and online menu should be clean and uncluttered and must seamlessly integrate with the eCommerce platform. Navigation should be easy, and the payment system should facilitate transactions in the least number of steps possible. Customers must be able to filter through products based on preferences and narrow down options by strain type, THC level, cost, and even desired effects. All these options enhance the online user experience and build loyalty for your cannabis brand.
Cannabis dispensaries tend to have a reputation for offering highly personalized experiences, and retailers must try and replicate the same online. There are multiple ways that cannabis retailers can educate consumers and provide a personal touch in their eCommerce environments. Live or pre-recorded online budtender consultation is a great service to offer. Product recommendations that traditionally take place at the POS level can also be incorporated into the online check-out process. Retailers should also ensure that customers can enter loyalty program information when checking out online.
Promotions and Upselling
With a robust eCommerce platform, you can launch your banner ad campaign using any menu item of your choice. Banner images are used to represent certain featured products and are generally located at the top of your digital menu to interact with customers, and a platform like Buddi does this exceptionally well. Examples of banner ad campaigns include newly launched products, employee picks, bestsellers, best-reviewed, and flash sales. Such promotional tactics present many upselling opportunities, and you can increase the average size of your shopping cart by displaying special products. These can also be used as an opportunity to tell a story and enhance your online brand image.
Integration with Tech Infrastructure
Most importantly, your chosen eCommerce platform must integrate seamlessly with your existing tech infrastructure and POS system. If not, you need an advanced and reputed cannabis POS system like Cova that 'out of the box' integrates with many leading eCommerce solutions, including Buddi, Shopify, and I heart Jane. For a seamless shopping experience, your customers should be able to browse the website, place an order, and either pay online or call the store to pay. With Cova's cannabis POS and its excellent integrations for payment and delivery, the order automatically pops up for the budtender to tender the sales, and the system updates your inventory once payment is approved. Seamless integration with fleet management services allows automatic population of the order information for routing and delivery. Once the order is delivered, the final status is updated.
Cova software offers a robust cannabis POS system with versatile integrations to eCommerce platforms such as Shopify, Super Anytime, Buddi, I Heart Jane, Weedmaps, and Leafly Pickup, and an ever-expanding cannabis tech ecosystem. With excellent inventory management and reporting features, Cova POS enables cannabis retailers to stay compliant as they evolve and expand. Get started with your cannabis retail & eCommerce business today!
Choose the Best Cannabis eCommerce Solution
In this hyper-competitive industry, you need a technology partner invested in your success, with your best interests at heart. Cova continues to focus on building the best POS software and now offers Cova eCommerce as well integrated into your cannabis POS system. Our tech works seamlessly with best-of-breed platforms, from plug & play menus to other custom native eCommerce solutions that help you grow your brand, maximize online visibility, and nurture customer loyalty. Whether you need to get online fast or build a better long-term cannabis eCommerce strategy, Cova can help.