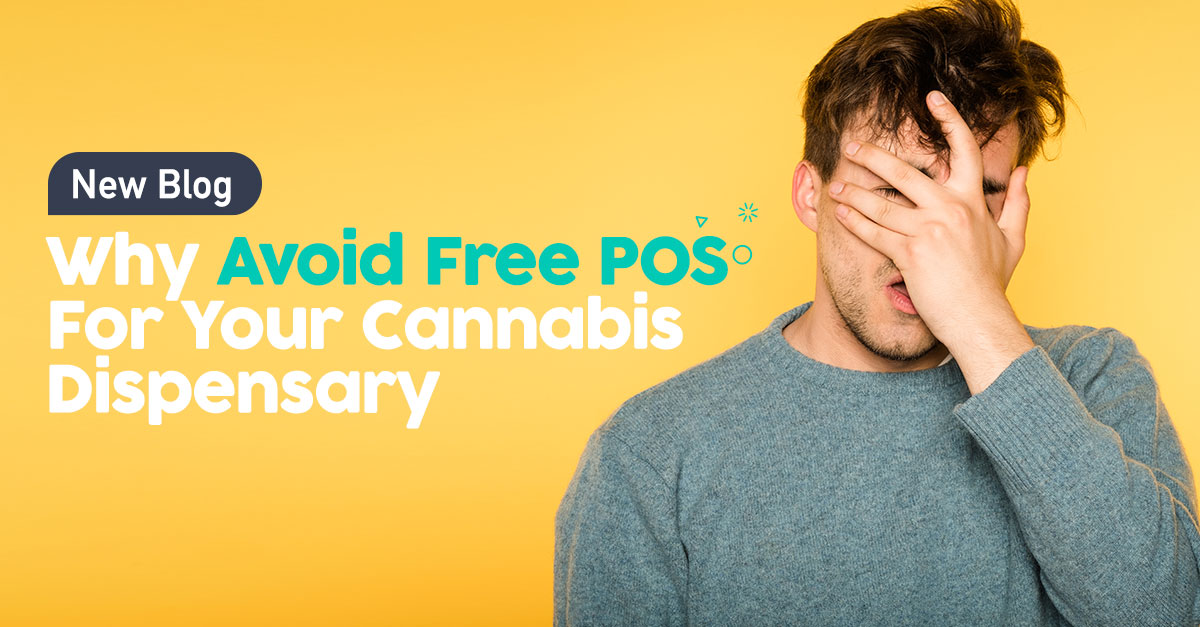 As the legal cannabis industry goes mainstream, many new tech startups backed by investors are popping up everywhere and offering a 'free POS system' to cannabis dispensaries. But does free POS mean that it costs nothing? While many POS companies may tempt you with marketing their systems or software as free, there are multiple other associated costs that you'll incur if you want to use the system efficiently. As the saying goes, "If it sounds too good to be true, it probably is." In this blog post, we present some considerations you must look into while buying a cannabis POS, the long-term costs associated with a free dispensary tech system, and why you should avoid it at all costs.
Is There Such a Thing as a Free Cannabis POS System?
Cannabis tech companies often use POS systems and POS software interchangeably, but these terms refer to slightly different things. POS software is the application that you must install on your electronic device. But a POS system comprises the whole system, including the software and hardware components required for you to conduct sales and process transactions at your cannabis dispensary. So even if you may fall for the marketing gimmick of free POS software, you will likely have to pay for hardware and other components to use it, as they won't offer you much flexibility.
If you are considering purchasing a free cannabis POS software, dive into the details and read the fine print before you make a decision. Ask the following questions:
What features are included in the free software? There will likely be limitations to its usage, and you'll have to pay a significantly higher price for upgrades, hardware integration, and advanced sales tools to manage your dispensary business efficiently.
For how long is it free? Many companies offer free POS software for up to 6 months or a year and then charge you a higher monthly subscription fee to cover the previously lost revenue.
How much is the transaction processing fee? If the POS software is free, the company is most likely generating revenue through higher processing fees, as such fees are usually the main generators of revenue.
What are the setup and training costs? You may sign a contract for free POS, but the company will charge you high fees for setting up the system and training your staff on how to use it.

Cova

provides free budtender training included in the contract.
Do they have a customer support system? They may charge an hourly rate for support or may not provide customer support outside of regular business hours, which may leave you in a lurch. These hidden costs only add up over time.
Cannabis Industry Compliance
Compliance is quite a burden that a dispensary must deal with due to the stringent regulations and scrutiny surrounding the cannabis industry. Even among cannabis POS systems, the level of integration with cannabis tracking systems like METRC and BioTrack varies- and without proper compliance features, your dispensary business will always be at risk of shutting down. You wouldn't want to lose your dispensary license only to save a few hundred bucks with a free POS.
Dispensary Tech Ecosystem
To be successful in cannabis retail, your dispensary POS must integrate seamlessly with cannabis marketplaces and other software, including e-commerce and delivery platforms. Cova Software connects you with the best dispensary tech ecosystem in the industry so that you can grow your business swiftly. Relying on a free cannabis POS solution with questionable reporting and compliance, and features that may be incomplete or nonexistent presents you with a catastrophe waiting to happen.
Design and Customer Experience
You don't want to purchase a trashy POS system that breaks down often and is challenging to navigate. Ultimately, you get what you pay for. A well-designed dispensary system helps you quickly process actual sales and facilitate better inventory management. An intuitive and easy-to-use POS boosts the performance of your budtenders by making product information and customer data easily accessible, thus elevating the overall customer experience.
Multi-location Enterprise Scalability
If you have a long-term vision to expand your dispensary business, then you also need a cannabis POS system that can sustain a multi-location enterprise and grow with you. An enterprise POS allows you to manage stock across all stores, set up location-level pricing, perform bulk editing, and assign granular employee security permissions. It gives you complete control of your business with centralized reporting- accessible from anywhere so that you can manage and scale your business.
Long-Term Cost of Ownership
With a free cannabis POS software or system, your initial costs may be low or negligible. However, the overall long-term cost of ownership will be significantly higher and will eat up your margins over time. Long-term support and compliance issues and limited security transparency can quickly turn your cost-saving endeavor into a disaster. Choose a dispensary POS provider like Cova, that has the cannabis industry expertise and the ability to grow with you. Even if you may have to pay a bit more upfront, you will benefit from the long-term ROI and reduce your overall cost of ownership.
Cost of Switching to Another Dispensary POS
If your cannabis POS provider does not meet your needs and demands or the company shuts down, you will eventually have no choice but to switch to another POS system. Imagine the opportunity cost of not choosing the right system on the first go. You will not only have incurred lost revenue over time due to various issues with your free POS, but the cost of switching to a new system and integrating it with your existing hardware, if compatible, or altogether purchasing new hardware will likely burn a big hole in your pocket. Hence, it's best to be wise and not fall for free POS tricks, and choose the best cannabis POS in the market.
Not All Cannabis POS Systems Are Created Equal
Many popular dispensary point of sale systems have had reliability issues, with major outages on big occasions like 420. There have also been instances of a data breach- and data security is extremely crucial in the cannabis industry. You must ensure that your POS provider protects all your dispensary data, as per government regulations. Indeed, not all POS systems are created equal. The seriousness of maintaining a high level of data security and POS compliance in the cannabis industry should quickly steer you away from the false promises made by free POS software providers.
To conclude, while you may use free POS software to run your cannabis dispensary, it will certainly lack features that simplify operations and make sales more efficient and profitable. Thus, avoid using a free POS at all costs and select a provider like Cova, that is reliable, offers excellent customer support, has the cannabis industry expertise and experience, and connects your cannabis retail business seamlessly with the best dispensary tech ecosystem out there. To learn more about Cova, click below to book a demo now.