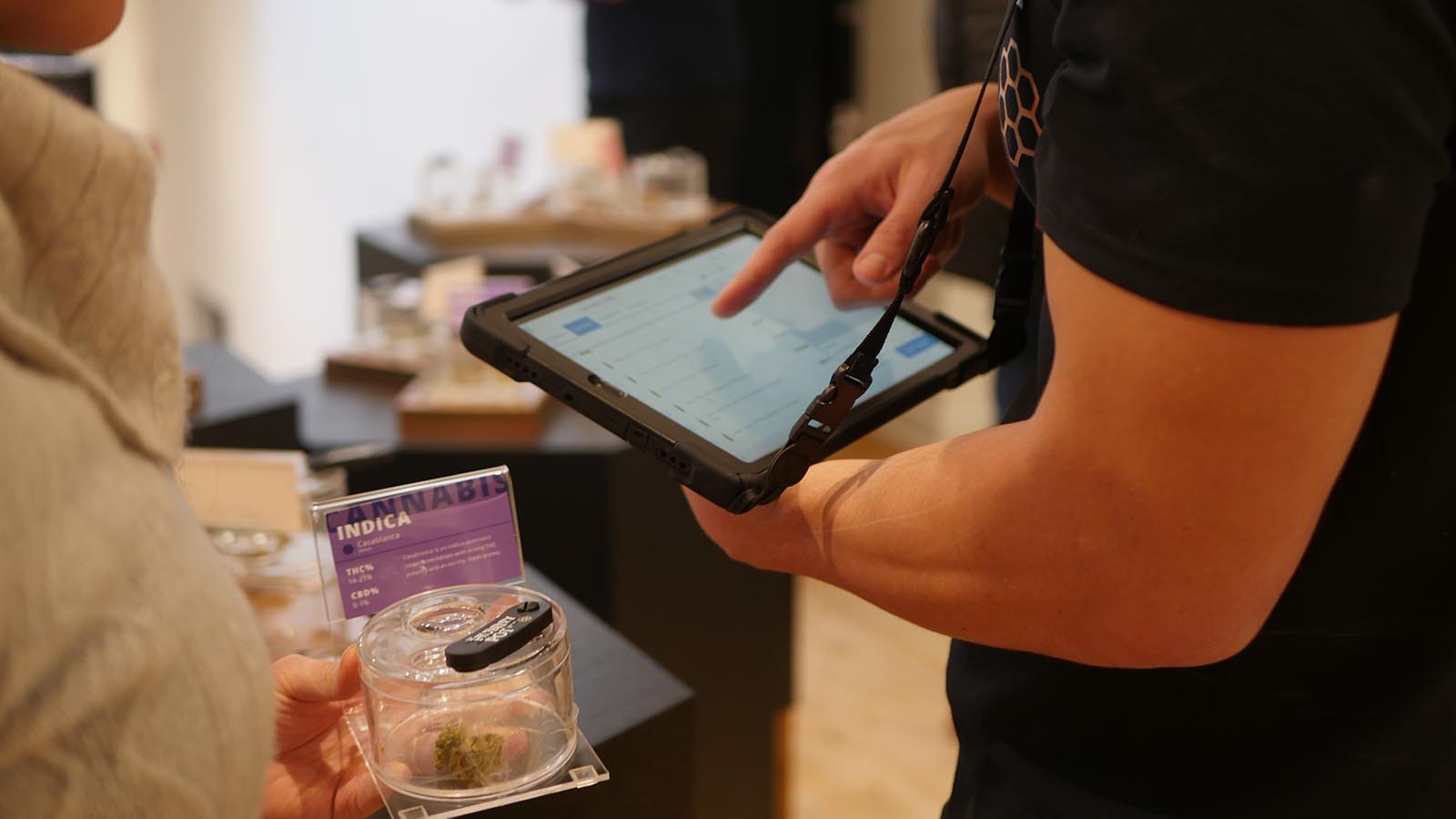 If you're a newly licensed cannabis retailer or you're considering applying for a retail cannabis permit, you've probably given consideration to things like your business plan, your dispensary design and how you'll recruit quality staff. You may have even started researching cannabis-specific point of sale systems that can help your operation run smoothly and efficiently while staying compliant.
But have you thought about the other hardware your cannabis retail store will need?
Like any retail operation, you'll need cash drawers, barcode scanners and receipt printers. And, depending on the regulations in your state or province, you may need certain cannabis-specific retail hardware such as scales and label printers.
Below, we've put together a list of the five major hardware components you'll need to ensure your cannabis retail operation is fully functional and compliant, plus a few that will depend on the specific regulations of your market.
Top 5 Pieces of Hardware for Cannabis Retailers
1. Receipt Printers
Just like cash drawers and barcode scanners, receipt printers are a must for any retail operator. However, cannabis retailers are typically required to include specific information on every sales receipt, such as:
Keep out of reach of children warnings
Delayed onset warnings
Pregnant women ingestion warnings
Pairing cannabis with alcohol warnings
Driving under the influence warnings
You'll want to ensure your receipts include all the information required in your market to prevent a potential compliance infraction — and a potentially hefty penalty.
2. Barcode Scanners
Barcode scanners are staples of retail operations. They allow quick, easy scanning of items at checkout, making the sales process much more smooth and efficient. They're also invaluable when it comes to cannabis retail inventory management.
But barcode scanners can also add another layer of protection against potential compliance infractions for cannabis retailers. Without scanners, you and your employees would be forced to input product IDs by hand, which significantly increases the chances of an error. And if that error makes its way to the government's reporting system, you could find yourself in hot water.
3. Cash Drawers
Until banks receive federal permission to accommodate cannabis companies, the industry will continue to be cash dominant. And that means cash drawers are an absolute necessity for dispensaries.
Cash drawers, safes and/or lockboxes are also typically included in state and provincial cannabis retail security regulations. Quality cannabis cash drawers can be had for anywhere from $90 to $400 a piece.
4. Tablets
Though not technically a requirement, tablets are the optimal choice for cannabis retailers over large, clunky desktop units. Along with adding an aesthetically pleasing, streamlined look to your sales counter (while taking up significantly less space than a computer), tablets are much more efficient from an operational standpoint, and can even improve budtender performance.
Tablets for cannabis retail also enhance your customers' experience by freeing up budtenders from behind the counter and allowing them to assist your customers right on the sales floor.
5. Tablet Mounts and Stands
If you do choose to run a tablet-based system, you'll need mounts and stands to strategically place touchscreen menu kiosks throughout your store. Giving your customers access to touchscreen menus greatly enhances their experience and allows them to retain as much privacy as possible.
Market-Dependant Hardware
Depending on the regulations in your specific market, you may need the following hardware as well:
Label Printers: In some cases, labeling falls to the manufacturer, and in others, it's the retailer's responsibility. In Colorado, for instance, cannabis retailers must ensure every product that leaves their premises is in full compliance with all THC labeling requirements.
Scales: Again, your state or provincial laws will dictate whether your operation needs scales. For example, in California, Washington and Canada, retailers may only sell pre-packaged flower, which eliminates the need for weighing out product at the checkout counter.
Full System Integration
Naturally, you'll want to ensure that all the hardware you choose for your cannabis retail store can integrate with and be controlled by your point of sale system. This is why it's so important to choose a POS that's designed specifically for cannabis retail — aside from the fact that it will help you remain compliant and eliminate the need for manual state reporting.
Here at Cova, we've helped hundreds of cannabis retailers set up their POS — including all associated hardware — for a successful launch. Book a demo to learn more.