A retail store in any industry would suffer without strong inventory management procedures. But for cannabis retailers operating in a fraught regulatory landscape, a strong inventory management system is absolutely vital. Let's discuss the importance of cannabis inventory management, some of the biggest pain points for cannabis retailers, and how to choose a proper cannabis pos solution for your business.
Why Cannabis Inventory Management is Important
Not only do proper inventory management techniques keep your money from slipping through the cracks, but they protect you from major fines, license revocation, and possibly even arrest.
States and provinces all have cumbersome regulatory frameworks. But these intense and often confusing regulations do serve an important purpose. By closely monitoring retail cannabis inventory, the local government can spot when regulated cannabis products are diverted into the illicit market. Without these regulations regarding inventory management and tracking, it would be more likely for these products to end up in the hands of minors.
1. Help prevent cannabis theft and diversion
No matter what industry you're in, retail inventory management is critical to help reduce fraud and prevent shrinkage. But in cannabis, it goes deeper than just protecting your bottom line (although that's certainly important). Theft prevention in our industry is also a matter of public safety, as legal products that are diverted to the illicit market could potentially end up in the hands of underage youth.
The good news is that simply being disciplined with your inventory management routine will go a long way in preventing internal theft and fraud. Think about it: if your employees know that inventory counts are not being conducted regularly, they may be more enticed to exploit that fact. On the other hand, when your staff members see inventory counts being conducted like clockwork, they'll think twice before trying to get away with something.
2. Create a better customer experience
The second biggest reason you should invest time and resources into proper inventory management is customer service. With so many cannabis shoppers beginning their searches online, it's critical that you maintain accurate, up-to-date menus to avoid that all-too-familiar scenario: a customer finding a strain or solution they want on your online menu only to show up to the store to find that it's actually out of stock. Like it or not, your reputation takes a hit every time this occurs — so you want to do everything in your power to prevent it.
By conducting routine inventory reconciliations, you'll help ensure that your online menus accurately reflect your physical inventory. And, thanks to Cova's industry-leading integration with the new Weedmaps platform, your store's inventory will automatically sync with your online menu every time you make an update — which means no more double entry or manual updating in Weedmaps.
The Biggest Pain Points for Dispensary Inventory Management
Setting up and maintaining a reliable inventory management system for your cannabis dispensary takes hard work and can create frustration. Here are some of the most common pain points cannabis retail owners experience:
1. Time
There is simply not enough time for business owners to finish all of the tasks needed in a day. So when it comes to creating and maintaining systems for inventory management, many cannabis business owners look to turnkey technology solutions that will largely automate the process.
Making your inventory management procedures as efficient and streamlined as possible will save you time. And beyond that, it will help mitigate the risk of fees, license suspensions, or cancellations, or worse, while lowering costs, optimizing inventory decisions, and generating greater profits.
2. Recording & Reporting in a Compliant Manner
Every local government develops robust laws regarding inventory tracking and reporting for cannabis businesses. You will have to regularly enforce inventory audits, counting the physical inventory in your store and comparing it to the inventory reported in the state or provincial seed-to-sale tracking system. If there are any discrepancies, local governments expect those to be properly reported. And failure to comply will cost you money or your license.
Doing inventory audits and properly reporting adjustments would be a giant headache without help. Luckily, a good cannabis inventory system will help make the inventory auditing process easier and take the complexity out of reporting.
3. Data Security
Working hard to maintain inventory and store records is all for nothing if that data can't be accessed due to theft or corruption. And because local governments require data to be stored long after it's reported (two years in some states and up to seven years in others), failing to properly protect your cannabis retail data can cause major compliance issues for years to come.
Setting up your own secure servers can be costly and time-consuming. To avoid possible security breaches and data compliance issues, cannabis retailers often turn to reliable technology companies that have a reputation for data security.
4. Turning inventory data into actionable business insights
Inventory management data is a treasure trove for actionable business insights. But in order to garner these insights, the numbers must be translated into meaningful reports. Rather than crunching numbers on their own, cannabis business owners can rely on inventory management software that features high-quality reports with actionable insights.
How to Choose the Right Cannabis Inventory Management Technology
To truly streamline dispensary inventory management, partner with a technology provider focused on the cannabis industry. When evaluating which tool to invest in, you should look for these features:
1. Integration with the local government's seed-to-sale tracking system
Virtually all states and provinces require retail cannabis stores to report their inventory and sales transactions to a state-administered traceability program, and many require these numbers to be reported in the right format every day.
Any POS and inventory management system you invest in should integrate directly with your state or province, eliminating any manual reporting or formatting and saving you time, money, and the risk of costly compliance errors.
2. Integration with hardware
Manually inputting all product information or sales data is going to be a costly use of your staff's time and opens your business up to compliance risk. Before investing in a POS or inventory management system, be sure it can integrate with any hardware (barcode scanners, computers, tablets) you already have or are looking to buy.
3. Data security and redundancy
Whatever POS and inventory management system you decide on for your dispensary, it is critically important to make sure the provider can keep your data safe. When evaluating a technology partner, make sure they can provide world-class servers and cloud-based services that ensure your data is scalable, secure, and available whenever you need it.
4. Product recall and loss tracking capabilities
When dealing with cannabis-based products, there is always a risk of losing inventory due to damage, deterioration, or accident. And sometimes, cultivators and manufacturers release products that end up being tainted or unsafe. Your dispensary's POS and inventory management system should track any lost products and flag any products placed under recall.
5. Robust reporting abilities
Not only will your state require certain reports (sales transactions, inventory audits, inventory discrepancies, etc.), but your inventory management system should go above and beyond your local government's reporting requirements. A POS and inventory management system should be your most powerful tool for understanding your business performance. The system you choose should provide insight into key metrics including, but not limited to:
Inventory Turnover
Product Performance
Lost Sales
Sell-Through Rate
Gross Margin
Shrinkage
Introducing Cova's Newest Cannabis Inventory Management Features
At Cova, our team is always working to innovate and improve the way cannabis retailers conduct their business. And our newest features are helping automate and expedite inventory reconciliation, making the process smoother and easier than ever before.
When it's time to count inventory, your team can now simply use the Cova barcode scanner to scan the designated batch of inventory; the scanned file is then uploaded to Cova for automated reconciliation and reporting. Additionally, our new bulk adjustment feature lets you choose the reason code and adjust multiple products at once rather than manually adjusting them one by one.
Because Cova integrates directly with the traceability system in every market we serve, all inventory adjustments and reconciliations made in our system are automatically reported to the government — which means you save even more time and money while keeping a tight rein on your inventory and complying with regulation.
Learn More About Cova With a Free Demo
If you're ready to see just how Cova can help you level up your cannabis retail game — including keeping customers delighted while preventing diversion with impeccable inventory management — then book a free demo today.
5 Inventory Management Mistakes to Avoid at Your Cannabis Retail Store
When it comes to cannabis retail, proper inventory management isn't just a smart business practice — it's a regulatory mandate. In our industry, failure to correctly track, monitor, and report inventory can cause significant headaches in the form of fines or even loss of licensure.
In previous posts, we've discussed auditing and cannabis inventory best practices — but today, we're looking at five inventory management mistakes that can throw a wrench in even the most efficient dispensary's workflow. Let's get right to it.
Mistake 1: Not Using a Cannabis-Specific POS Solution
Let's face it: point of sale and inventory management software that isn't specifically designed for cannabis simply can't satisfy the unique needs of your dispensary. And with the stakes as high as they are when it comes to inventory compliance, you can't afford not to invest in an industry-specific solution.
A quality cannabis POS system will not only help you with regular inventory audits, projections, and reconciliations but will also integrate directly with the government's reporting system for automated compliance reporting — saving you both time and resources in manual reporting and eliminating the chance for human error when reporting to the government. Additionally, cannabis retail software will include industry-specific features like batch tracking, automated product equivalency and purchase limit calculations, and product recall management.
Mistake 2: Neglecting and Not Securing Inventory Spaces
Proper organization is truly one of the keys to successful inventory management. This is one of the main reasons you need a dedicated inventory manager in your dispensary — he or she will be responsible for maintaining an orderly vault or backroom. A cluttered inventory storage space is an auditing or reconciliation discrepancy waiting to happen, so make sure you don't fall victim to this mistake.
In addition, you'll need to ensure your storage space is properly secured in accordance with your state or province's regulations. Along with avoiding a compliance infraction, securing your inventory will help you protect your investment and prevent product diversion.
Mistake 3: Irregular Inventory Counting
Speaking of inventory counts, they need to happen on a consistent and routine basis — ideally, every day, every month, and every year. This, again, is a simple matter of compliance; a single instance of product loss or diversion can lead to serious issues, so it's a mistake to go even a single day without ensuring all sales, receipts, returns, and disposals are properly documented and reported and that there are no discrepancies.
Consistent inventory counting does take time — but it also helps reduce shrinkage along with the possibility of a compliance infraction.
Mistake 4: Not Reordering Inventory in Time
While you definitely want to avoid overstocking cannabis products, you also need to ensure that you have enough inventory in storage to accommodate peak traffic times and major holidays that may cause a spike in sales.
By using a cannabis retail POS solution that generates robust inventory and sales reports, you'll know exactly how much product you have at any given time as well as when you're projected to run out of stock. Armed with this data, you'll be able to keep tight control of your inventory and ensure you always have enough on hand.
Mistake 5: Not Using the FIFO Method
FIFO is an inventory management principle that stands for First In, First Out. This means that your merchandise should be sold in the same order in which it was received. Failure to adhere to the FIFO principle in your dispensary can lead to stale or even expired products being sold — a huge mistake and potential compliance infraction that will definitely not sit well with your customers or regulators.
Cannabis Inventory Valuation and Costing Methods
In today's dynamic cannabis industry, it's vital for dispensary owners and retailers to have an efficient POS software system that features suitable costing methods for proper inventory valuation and management. Understanding inventory valuation and its importance will not only help you implement a compliant inventory system but also help you optimize your cost of goods sold, thus boosting your business's bottom line and pivoting it toward success.
What is 'inventory valuation'?
For a cannabis dispensary or store, we may classify inventory into the following categories:
Primary- Products sold in the same form as purchased: marijuana buds, seeds, or flowers are sold by weight.
Secondary- Products prepared in-house: pre-rolled joints, concentrates, and edibles.
Tertiary- Anything that helps in administering medicinal or recreational cannabis: Lighter, rolling paper, THC extraction equipment, etc.
Inventory valuation is an accounting method that refers to the total cost value of all these products in stock at any given point in time during the company's accounting period.
Why is it important to calculate inventory value?
Assigning a $ value to all goods in stock is a crucial aspect of cannabis inventory management, as this amount represents a significant portion of your current assets in the financial statements of a business and helps you make better decisions as per available funds. Any inventory that gets sold frees up more cash flow for the company to replenish goods and maintain the required stock.
The sum of the value of all sold inventory and any associated direct costs is equal to the cost of goods sold, and COGS subtracted from total revenue gives us gross margin. Tracking inventory metrics like gross margin will present a clearer assessment of what portion of company revenue is available for other operational costs. It will also keep you focused on strategizing ways to increase it while maximizing profit.
Inventory costing methods for cannabis businesses
There is no one-size-fits-all inventory costing method that works for all establishments, and each business must evaluate and identify a suitable solution. In cloud-based inventory management systems, there are various costing methods to be considered, but in the world of cannabis- where we deal with highly perishable goods, choosing one from the following three methods would be ideal:
FIFO METHOD (First-in, First-out)
LIFO METHOD (Last-in, First-out)
WAC METHOD (Weighted Average Cost)
1. FIFO METHOD
The first-in, first-out method of inventory valuation is favored by most businesses operating in perishable goods sectors like the food industry. This inventory management technique requires that the goods purchased first must be sold first. Thus, the remaining inventory will consist of your most recently purchased or made goods, which will be accounted for at their purchase cost and correspond to the current value of inventory.
This costing method helps in preserving the freshness of all perishable cannabis goods and reducing waste due to spoilage while also adhering to state and provincial laws that mandate efficient seed-to-sale tracking and destruction of unsold products after expiry.
In an industry affected by price volatility and the existence of an illicit market, the FIFO accounting method also allows small retailers to report lower COGS and higher gross or net margins by selling older, lower-priced products first and leaving recent higher-priced products in their inventory. However, for higher-volume transactions in scaled-up operations, FIFO can complicate accounting, and it may be better to use a simplified alternate method.
2. LIFO METHOD
The last-in, first-out method is the complete opposite of FIFO, which entails the sale of most recently purchased goods first while letting older goods remain in inventory longer, thus increasing storage costs, the overall cost of goods sold, and spoilage risks.
LIFO can be advantageous if you want to reduce taxes by reporting higher COGS and lower profit margins or if you have a high inventory turnover, no wastage, and want to avoid higher costs of efficient inventory management.
However, this solution is not recommended for cannabis businesses, primarily because cannabis products are highly perishable and may expire before their sale, resulting in higher wastage and losses.
3. WAC METHOD
The weighted average cost method is the simplest among all inventory costing methods because it calculates the average value of all inventory in stock, regardless of when each item was purchased or would sell. The weighted average cost per unit is equal to the total costs of goods in inventory divided by the total number of units.
This quick and efficient solution is particularly useful in the scenarios of high-volume sales and volatile prices. It also helps in better inventory management when multiple strains or batches of cannabis flowers are mixed to make infused oils or edibles, and it becomes challenging to calculate individual item costs. The seed-to-sale tracking needs to be paid special attention to while using the WAC inventory valuation method.
Cannabis Retail Inventory Management Best Practices
1. Design your own inventory auditing policy and stick to it.
Strong inventory management requires two basic things: a strong foundation and consistency. Each cannabis business will need to create an inventory auditing policy that works for them and their local government, but once that policy is finalized, it must be managed consistently for it to work.
Generally speaking, every dispensary should undergo a full inventory audit at least once per month or more, depending on legal regulations.
2. Perform regular inventory counts.
Every inventory audit policy should include a daily inventory count and reconciliation. Accuracy is of utmost importance!
Any cannabis point of sale (POS) system worth its salt will allow you to print a full inventory report showing what is currently listed in the system. Then it is time to do a physical count. Employees will use the POS report to check against the physical inventory in the store, creating an inventory on-hand report (this can be done via Google Docs as well for ease of collaboration).
These on-hand inventory counts should be done by category or supplier and should include the supplier name in the product name, so this information can later be sorted in Excel. Save large categories, like edibles or pre-rolls, for slow days.
3. Adjust and provide details to the government.
At this point, a dispensary will know what inventory is currently reported in their inventory tracking system and their physical, on-hand inventory. If there are any discrepancies between the two, update the count in your inventory tracking system. If the discrepancy is particularly large, you can help your case by providing additional details about the error to the local government.
4. Report inventory results and discrepancies to regulators promptly.
As mentioned earlier, local and federal governments require transparency when it comes to cannabis inventory. That transparency comes with strict track-and-trace and reporting requirements. Generally speaking, most of them require auditing every 14 to 30 days. But each government does it a little differently.
In California, the state government requires cannabis dispensaries to do inventory reconciliation every 14 days.
In Alberta, the provincial government requires a monthly report on the 7th day of each month and an inventory audit every month (after which any discrepancies should be reported).
In Oklahoma, monthly reports are due on the 15th day of each month; the first gross discrepancy will cost a $5,000 fine, and a second offense in a two-year period will result in a loss of license.
These government-to-government differences illustrate just how important it is for every cannabis retail owner to know their local regulations.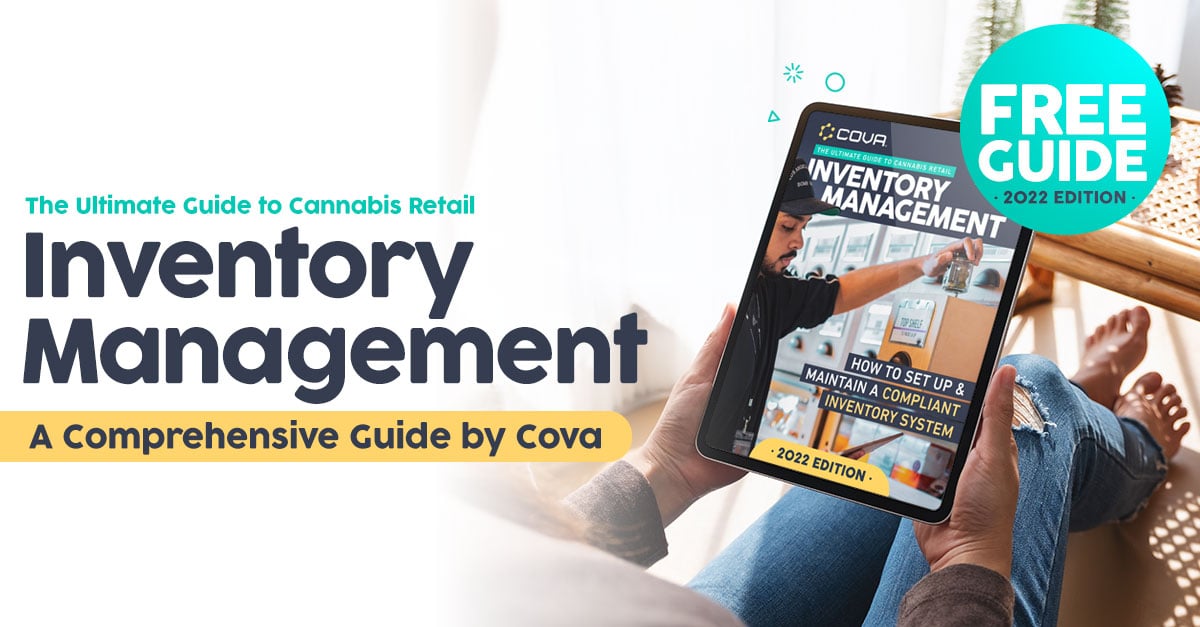 Performing an Inventory Audit for Cannabis Retail in 5 Easy Steps
Step 1: Designate a regular audit schedule
With cannabis retail store SKU counts ranging from 500 to over 3000 in a single store, determining a schedule will ensure your staff can spend more time serving customers. While doing a full inventory count at once is possible, to avoid shutting down your store or paying excessive overtime, we suggest you designate certain days to count by Product Category or divide your store into sections to count on specific days. Lastly, performing audits during slower business hours can help to make the process even more efficient.
Step 2: Perform Inventory Count
There are two standard ways, manual counting and Barcode scanning, to perform an inventory count, and Cova facilitates both. The system also allows for bulk approvals and has pre-populated reason codes from integrated traceability systems.
Manual Counting is the first way, whereby you perform a physical count of items and enter them into your POS system. If you are performing a blind count, make sure to navigate to the Inventory on-hand report and filter for the items you want to audit.
Barcode Scanning is the second way, whereby a product barcode is scanned and automatically counted in your POS. While not necessarily faster, this method can reduce human error to improve accuracy.
Step 3: Save + Report Shrinkage
Once you have completed the full inventory count, you are ready to report to the regulatory body. Any discrepancies will need to have reasons alongside them. If you are in a market that utilizes a traceability system, these adjustments and reason codes will be automatically populated, saving time and making the process even easier for your staff. Configuring your POS system with different levels of permissions can help to track authorized discounts and employee purchases to help cultivate a loyal staff and prevent internal fraud or theft at the store.
Step 4: Optimize Your Inventory
Now that you have reported your inventory to your regulator, your team can get back to business and maximize your profits. The data within your POS system will reveal how products are selling along with trends around key performance indicators so that you and your staff can better understand the needs and wants of your customer. When you understand the metrics with which you monitor performance, you can work effectively with your staff to maximize those KPIs.
Step 5: Forecast Demand
The final step in this quick inventory management process is to utilize this data to anticipate customer trends and better fulfill their needs. We will do this through demand forecasting, which is the process of using historical sales data combined with inventory data to calculate what products we anticipate customers will be looking for in the future. This forecasting not only ensures that your store is fully stocked for 4/20 but can inform your promotional calendar and help to better target customers with sales as well.
Top 6 Inventory Metrics to Maximize Cannabis Dispensary Profits
At the end of the day, cannabis retail follows the same principles as other retail industries, and the same inventory metrics used in traditional retail settings can help guide you to reduced costs and increased revenues. Ultimately, your goal is to always have the right amount of the right products available to your customers — no more and no less.
While hitting that perfect inventory sweet spot may not always be possible, you can definitely optimize your cannabis retail operation by monitoring the right inventory metrics. We've put together a list of the top six metrics you should track to help keep your cannabis retail store running as smoothly as possible.
1. Inventory Turnover
Inventory turnover, also referred to as stock turn, tells you the number of times you sold through your entire inventory in a given period. This is a great metric for determining how efficient your cannabis dispensary inventory management is, and it's typically calculated on an annual basis.
To determine your inventory turnover, divide your Cost of Goods Sold (COGS) by your average inventory price. For example, if your annual COGS is $1 million and your average inventory is $100,000, your inventory turnover is 10 — meaning you sold your entire inventory 10 times in one year.
Generally speaking, the higher your inventory turnover score, the better because it means you don't have inventory sitting idly in your stock room for long periods.
2. Product Performance
Keeping track of your highest and lowest-performing products is key to maximizing cannabis dispensary profits. A deep understanding of product performance will help you maximize the other metrics listed here as well as your overall store performance.
Unlike inventory turnover, product performance should be monitored at least weekly. Doing so will keep you informed of the products you need to keep on hand, as well as the ones that have been sitting in the stock room. Based on this info, you can craft strategic promotions to cycle through idle inventory and keep high-performing product sales up.
3. Category Performance
Just like it's important to know your top and lowest performing product, you should have a good grasp of category performance. Maybe pre-rolls fly off the shelves, or you can't seem to stock enough disposable vaporizers. Perhaps the summer weather brings an uptick in sales of cannabis beverages. Knowing how different categories perform can help you make important inventory planning decisions.
4. Lost Sales
Once you have a grip on product performance, it can be helpful to track lost sales to see how much revenue you're missing out on when high-selling products are out of stock. You can calculate this metric by multiplying the days a particular SKU is out of stock by its average sales rate.
5. Sell-Through Rate
Your sell-through rate tells you the percentage of products sold about the number of products that were available for sale. It's calculated by dividing the number of products sold by the beginning inventory number times 100.
For example, if you had 100 units of a particular product and sold 20, your sell-through rate would be 20 percent. You can calculate sell-through rates of individual products or of your entire inventory to get different perspectives on performance.
6. Gross Margin
Gross margin refers to the percentage of sales revenue that you keep after your COGS. To determine your store's gross margin, subtract the COGS from your total sales revenue, then divide the number by the total sales revenue to get the gross margin percentage. The higher your gross margin percentage, the more you keep of every sales dollar, which is also referred to as gross profit. For example, a gross margin of 25 percent means you keep $0.25 of every dollar of revenue. The remaining $0.75 is spent on COGS.
It's important to track your gross margin so you have a clear picture of how much revenue you're retaining to spend on other operating costs — which, in our example above, would be 25 cents. Knowing exactly where your gross margin stands each sales quarter will keep you focused on strategizing ways to increase it.
7. Shrinkage
Shrinkage is a metric that can help you identify potential instances of theft and fraud — either internal or external — as well as possible administrative errors. Shrinkage is the difference between the inventory you have on paper and the actual physical inventory in your stockroom.
To calculate shrinkage, subtract your actual, physically counted inventory value from your ending inventory value —, the lower your shrinkage percentage, the better. Once you understand how much inventory you're losing to illegitimate means, you can start monitoring customer and employee activity more closely to determine the cause.
Monitoring Cannabis Retail Metrics
Just like in other retail industries, your point of sale is the most powerful tool for tracking important cannabis business metrics, from inventory to sales. A POS that provides a robust suite of reports can help you optimize your inventory turnover, sell-through, and gross margin percentages while reducing lost sales and identifying shrinkage. With Cova's cannabis retail point-of-sale platform, you'll get detailed reports that you can customize and manipulate all through a user-friendly reporting dashboard.
How to Set Up and Maintain a Compliant Inventory System for Your Marijuana Retail Store
Before actually entering your product info into your inventory system, you'll want to adequately organize the data. Although it will take some time and effort, it will be well worth it to ensure your inventory management system is neat and squared away from the start.
Key details you'll want to compile for each product include:
Product name
Product Description
Product image
SKU (stock keeping unit: the product's unique identifier)
Cost
Retail Price
Supplier info
Quantity
Remember — the more detailed info you have on each product, the easier it will be to track and monitor your inventory. It's also important to be consistent with data formatting; for instance, if you use the format "Product type + Brand + Grams" for one product, then you'll want to make sure all other products follow the same pattern.
Once you've gathered and organized all your product data, it's time to upload them into your system. The specific process will vary depending on the program your software uses, but generally speaking, it's simply a matter of importing data directly from a CSV file or manually entering the info.
With your inventory management software, all setup and ready to go, you're halfway there. Now it's time to look at the people and procedures that will help you maintain an organized and compliant inventory system.
Inventory Personnel and Procedures
While it's highly recommended to have a dedicated inventory manager overseeing your store's merchandise, proper inventory management involves more than just one person. At the top of the chain, the company's compliance officer should be developing, maintaining, and revising your organization's policies and procedures to help prevent product diversion and improper internal conduct.
Of course, the inventory manager is responsible for developing and implementing inventory control procedures and best practices, along with ensuring that inventory audits and reconciliations are conducted routinely. Store managers and budtenders also play a major role in inventory upkeep, as they must implement the procedures and are often the ones actually performing counts and audits. When it comes down to it, budtenders are your first line of defense in making sure all transactions and movements of products are accurately recorded.
As far as procedures and processes, you'll want to start by creating a flowchart that maps out each step of the inventory process — from receiving, to auditing, to monitoring stock levels and reordering. Every element should be documented and clearly defined. Additionally, automating key procedures like compliance reporting will not only save you time and money but will help ensure you stay current on reports and help you avoid a compliance infraction. A quality cannabis POS and inventory system will be able to integrate directly with Metrc or the traceability system used in your state for easy, automated reporting.
NOTE: In Canada, there is no centralized cannabis traceability system. Every licensed retailer is responsible for generating provincial compliance reports and submitting them to the government — which means if you're using a generic POS (i.e., one that is not specifically designed for cannabis retail), it will not auto-populate these reports in the right format, and you'll have to create them by hand.
Finally, you'll want to monitor key performance indicators (KPIs) and inventory metrics to optimize your operation. Some of these include:
Inventory turnover
Days of Supply
Product performance
Lost sales
Gross margin
Shrinkage
Understanding how product moves through your store — and what items are collecting dust on the shelf — will help you maximize profit and decrease loss due to expiration and damages.
Optimize Inventory Management with Cannabis Retail Software
With all the regulations and constantly-changing laws that cannabis retail owners have to keep up with—and the magnitude of the potential consequences for being found out of compliance—it makes sense to streamline and automate as many aspects of your dispensary operations as possible.
Take inventory management, for example. If a retail business in a traditional industry suffers an inventory loss due to damage, theft, or poor counts, they certainly stand to lose profit. But if a cannabis retail shop loses inventory, it can lead to much more than the loss on the bottom line—it can potentially lead to the loss of your license.
Cannabis retailers face another unique inventory challenge in state-mandated seed-to-sale reporting requirements. If physical inventory counts in your store don't match up with counts reported to the state, you could quickly find yourself out of compliance.
Inventory Management Options
There are plenty of retail inventory management solutions out there. The problem with many of them, though, is that they don't account for the unique challenges and reporting needs of cannabis retailers.
Not only are you often selling multi-gram units across multiple batches, but you also have to ensure that all inventory updates are properly reported to your state's system—whether Metrc, Leaf Data Systems, BioTrackTHC, or another platform.
Of course, you could try to keep inventory the old-fashioned way. But there are two major liabilities with manual inventory tracking:
It significantly increases workload and puts unnecessary strain on your resources.
It significantly increases your risk of erroneous data entry, which can lead to compliance issues.
Tracking inventory by hand also means you'll have to enter data into the state's reporting system manually. This puts an additional load on your workforce and again increases your risk of human error and finding yourself out of compliance.
Cannabis-Specific Inventory Management Solutions
Luckily, inventory management solutions are available that are tailored to the unique needs of cannabis retailers. Point-of-sale software that includes intuitive inventory tracking and robust reporting can help you keep up with every gram of product that enters and exits your store.
Before investing in cannabis dispensary POS software, you'll want to ensure that it offers integration with your state's seed-to-sale tracking system. This will not only free up your and your employees' time from manually reporting daily inventory updates, but it will also greatly reduce your risk of mistakenly entering incorrect data to the state—which can land you in hot water and potentially put you at risk for losing your license to operate.
To learn more about how cannabis-specific POS software can streamline your operations and enhance your business' efficiency, contact us to book a demo or just chat about your unique needs.
Top Features That Make Cannabis Retail Inventory Management a Breeze
Managing inventory can be a heavy task for any retailer. But throw the complexities of compliance requirements into the mix, and inventory management can quickly become a nightmare for cannabis retailers and dispensaries.
Most marijuana regulations call for inventory to be tracked by product, weight, batch, and package, and retailers typically have to report inventory updates daily through the government's traceability system. And while there are plenty of inventory management software solutions out there, most of them aren't designed to handle the unique demands of the cannabis sector.
At Cova, though, we've built a cannabis point of sale that includes the most robust set of inventory management features of any on the market. Read on to discover how Cova POS makes managing your dispensary's inventory a breeze!
How Cova Makes Inventory Management a Breeze
Along with providing robust sales and inventory reports that can help you optimize your inventory strategy for maximum profit, Cova POS offers several features that improve cannabis retail inventory management. Let's take a closer look at just a few of them.
1. Auditing Tools
Not only are inventory audits a regulatory mandate for cannabis retailers, but they're also a major part of your loss prevention strategy and inventory management best practice. For example, in California, retailers are required to reconcile inventory every 14 days; in Oklahoma, dispensaries must submit monthly inventory reports.
The only trouble is that conducting these audits can be time-consuming and labor-intensive. However, Cova offers a couple of ways to streamline the process that will save you time and improve audit accuracy.
With Cova, your team can simply scan the designated batch of inventory, then upload the scanned file for automated reconciliation and reporting. Additionally, your staff can use the bulk adjustment feature to choose a reason code and adjust multiple products at once instead of manually adjusting them all one by one. This feature alone saves a significant amount of time — with 100 items to adjust, a job that would have taken you 30 minutes or more can be done in a few seconds.
2. Rooms
Many cannabis retailers use multiple locations to restrict the flow and sale of products. With Cova's Rooms feature, you can now create and configure rooms for each location and move products from each room as needed.
This feature helps with inventory management in a few key ways. First, it lets you easily limit the products on the sales floor so that high-priority items can be sold first and ensure FIFO — that is, first in, first out, which is a key inventory management best practice when dealing with perishable products like cannabis. You want to ensure that your oldest products get sold first to avoid losses via spoilage.
Additionally, Rooms make inventory auditing a snap since you can do spot checks on rooms individually. It's much quicker and easier to count a single section or room than the entire store. Plus, with Rooms, your audits will be more accurate since you can more easily track down a missing item from a single location; for instance, if you're short in the back room, you know the issue is likely to be a receiving error or security loophole, while a sales floor shortage may come from budtenders selling the wrong products in the POS.
3. Reordering
Keeping tabs on what's selling — and what you need to reorder — can get messy without the right tools in place. But with Cova's reorder report, you'll know exactly what's been selling and how many days' stock of a particular product you have left based on sales velocity. This helps you minimize the time it takes to determine what to reorder and helps you understand the sales-to-inventory relationship and make smarter restocking decisions.
Of course, out-of-date stock not only hurts your bottom line but also puts a damper on customer experience. But with Cova's reordering feature, you'll easily ensure you're always stocked up on your customers' favorite products.
Streamline Your Cannabis Inventory Management and Reporting
Inventory valuation and reporting are essential to running a successful cannabis retail business that conforms to all regulations. Not all dispensary POS software systems offer features such as detailed analysis and customized reports. It is crucial to supplement your new business with the right cannabis software solution that meets all requirements, from choosing the most appropriate inventory costing method to auditing and real-time reporting.
Efficient reporting gives you insights on when a product may become out of stock so that you can place an order as per lead times and always have only adequate inventory in stock. Proper reporting also helps in optimizing operations by setting promotions on products that are about to expire and raising prices for the ones that are high in demand. Customized reports let you understand consumer behavior and profiles better, allowing you to make more informed decisions regarding your marketing and sales strategies.
Cova's reporting system provides you with all these insights while letting you effectively manage your inventory and run your business from anywhere with detailed reports on your mobile dashboard. To learn more about what Cova can do for you, book a demo with us now, or click below to download our free inventory management guide.