With multiple U.S. states and the whole of Canada now permitting the usage of cannabis, a new green rush has been sweeping North America since 2012 when Colorado legalized recreational weed.
Over 95% of the U.S. population lives in an area where marijuana is legal to some degree, and over 50% in states where recreational use is permitted, while Canada ended prohibition and federally legalized recreational cannabis in 2018. New businesses in the industry are springing up quite literally like weeds - grow operations, processing facilities, and dispensaries, to name just a few.
In this guide we're going to take an objective look at both the potential benefits as well as the risks involved in opening a dispensary, and walk you through the entire process step by step; we'll cover everything from obtaining your initial funds to applying for your legal dispensary license, all the way through to opening your doors for business.


The 12 steps to opening a dispensary are:


---
1. Assessing the Viability of Opening a Dispensary
The fact of the matter is that entering the legal cannabis industry can be incredibly profitable. With cannabis sales in 2023 nearing $35 billion in the US, and projected to double by 2030, cannabis consumption is finally normalized. Dispensaries do enjoy a healthy profit margin, and most new dispensaries are in the black within their first year of operation, with over 75% profitable or at least covering their operating costs.
Unfortunately, the grass isn't entirely green when it comes to the landscape for starting a new dispensary, and before you start asking questions, it's important to understand the challenges. There are a number of significant challenges and risks that cannabis dispensaries must successfully navigate and overcome. Broadly speaking, these challenges can be categorized into four groups: legal, financial, social, and security-related.
Legal
Dispensaries face a much higher standard than the average business when it comes to legal compliance. The cannabis industry is highly regulated in all US states and Canadian provinces, and you (and everyone associated with the dispensary, even investors!) are going to have to satisfy some stringent legal requirements when it comes to residency and criminal background checks and will face an ongoing struggle to ensure you remain legally compliant at all times.
Financial
To take full advantage of the green rush, you're going to need to be able to raise a lot of green currency. Even a modest dispensary startup costs can easily be upwards of $250k+ to open the doors. Additionally, dispensaries often have difficulties obtaining financial services due to federal banking restrictions related to the criminal classification of cannabis, which leads to an overly heavy balance of cash transactions.
Social
Just because cannabis is increasingly legal doesn't mean that the social stigma against it has disappeared. Make an honest appraisal as to whether this might create any personal friction for you with friends or family (though these days, you're probably more likely to be congratulated or admired). You'll also want to pay attention to the attitudes and perceptions of your landlord, neighbors, and the community at large.
Security
Finally, as a dispensary owner, you have some significant security concerns to deal with. When thousands of dollars of your cash or product can easily be stuffed into a pocket you've got to be on the lookout for theft, both internal and external – as well as robbery. You'll also have to spring for a pretty heavy-duty security and surveillance system to stay compliant with the law.
While the list of challenges in opening a cannabis dispensary is certainly formidable, so are the rewards for successfully doing so. In the next few sections, we'll take a look at some of the initial research and planning that needs to be performed before taking your first steps toward opening a dispensary business.


Once you have understood this unique set of challenges, ask yourself the following questions:


Can I afford to do it?
Opening a business can be expensive no matter what industry you're in, but there are a few key pieces of information to be aware of when talking about cannabis retail. First and foremost, it can be very challenging to secure financing from traditional methods, so it will take some creativity (and maybe even your entire savings account) to get the ball rolling. Before you even get to design your shop and open for business, there are licensing and permit fees as well as other financial stipulations to contend with. It is safe to assume that even the most modest of retail operations can easily cost upwards of $250,000 to get up and running.
Am I qualified to apply for a license?
Local governments define certain "must haves" (things that must be satisfied in order to apply for a cannabis license) and "red flags" (things that are automatically disqualifying for an applicant). Generally speaking, you must be a resident of the state or province to which you are applying and have a clean criminal record. But these requirements can vary from place to place. In British Columbia and Ontario, any history of involvement with organized crime is considered a red flag; in many U.S. states, individuals with certain convictions will be automatically denied. Washington even requires spousal background checks and will deny an application if the spouse has a criminal history. So before writing a hefty check to cover non-refundable licensing fees, verify that you meet the qualifications in your target area.
Do I have a qualified location in mind?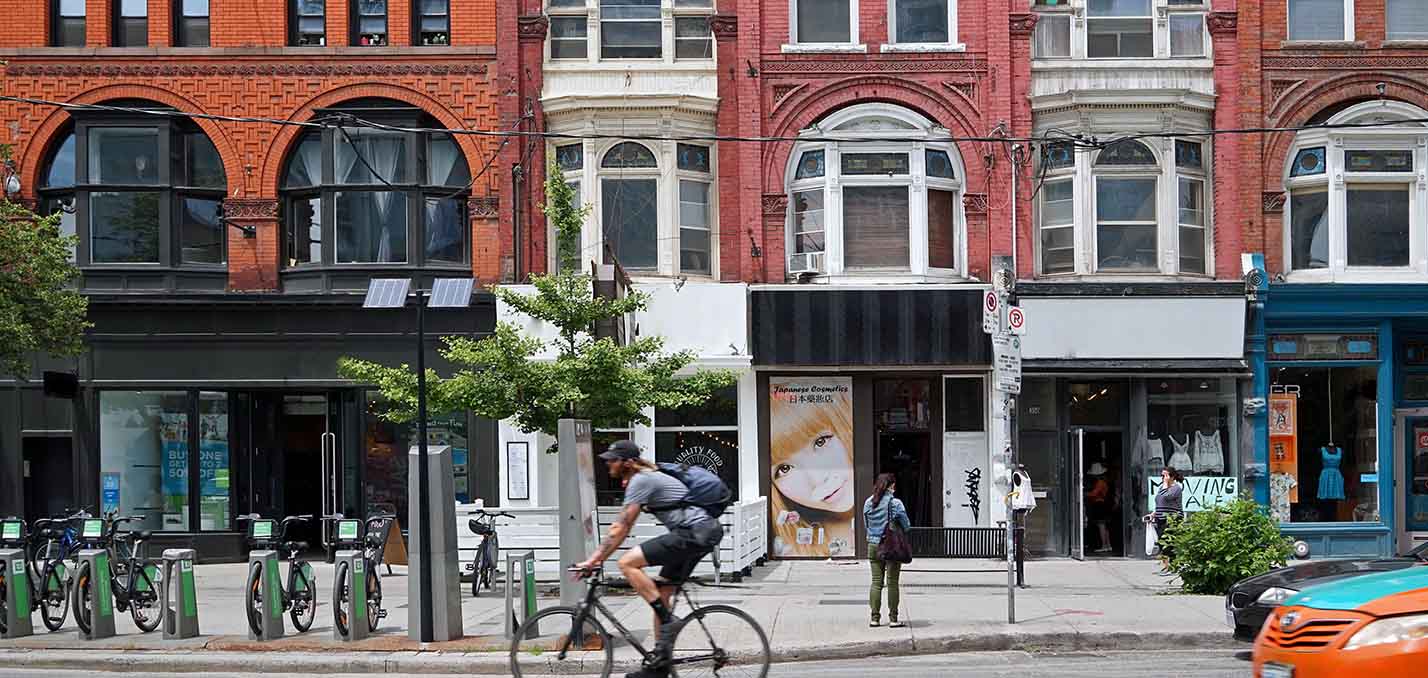 Finding a proper location for your dispensary might be harder than you imagine. Each state and province will have its own legal mandates or zoning laws that restrict where a retail cannabis location can exist. For example, in Alberta cannabis retail stores cannot be within 100 meters of any healthcare facility, school, or parcel of land designated as a school reserve. In California, cannabis stores cannot be located within a 600-foot radius of a school, daycare center, or youth center. You will need to pay careful attention to local zoning laws wherever you plan to open your dispensary and it is wise to engage a lawyer and/or realtor who has experience placing cannabis retail stores in the area.
How will I be received by the community?
While cannabis is becoming more and more socially acceptable across North America, you should think about how your new dispensary might be perceived by both residents and fellow retailers. Take some time to study the demographics of particular areas and think about where you might find the most success. If you have your heart set on a particular location, meet your neighbors before moving in and try to gauge their level of receptivity to your business and uncover community service opportunities.
Do I have the resources and help to apply for a license?
Applying for a cannabis license can be complex. Every U.S. state and Canadian province is likely to have a unique months-long application process. Not only will it require a detailed business and operational plan, but non-refundable application and licensing fees (between $5,000 to $20,0000) and thorough financial and background checks. While you can theoretically apply for a license on your own, a careless error can disrupt or cancel your chances of licensure. Though it may be costly, it is in your best interest to engage with a lawyer or consultant who has successfully filed applications for cannabis with the local government.
Am I comfortable owning a risky business?
Federal legalization in Canada has significantly lowered, but not eliminated, the risk of operating a cannabis business. In the United States, however, the cannabis industry is innately filled with more risks than many other types of operations, mainly because cannabis is still considered illegal by the federal government. Many banks don't want to work with you which might mean you operate on a cash-only basis. This can make you a target for theft from the outside or can even create internal temptations.
Do I have the expertise and team to run the store successfully?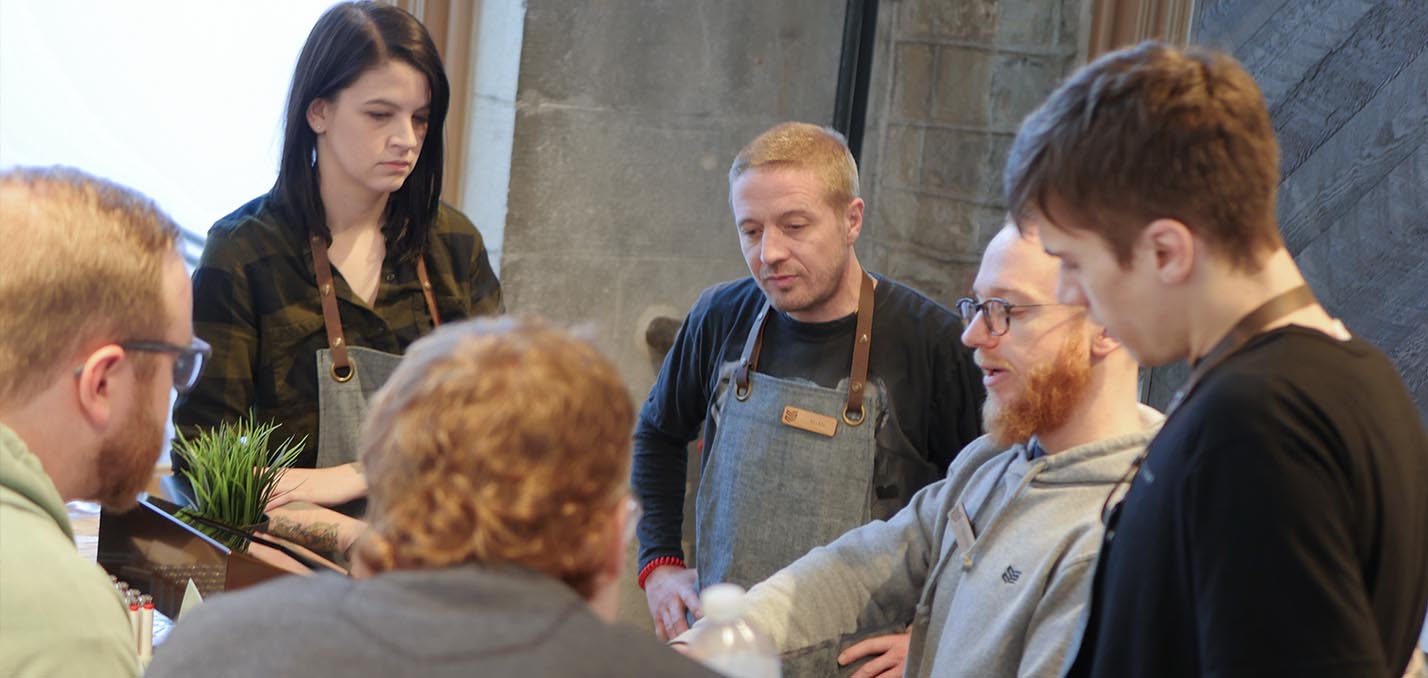 Even the most experienced entrepreneurs need a team they can rely on. No one can work every single day, and business owners need to take time off every once in a while. Can you create and implement standard operating procedures and training programs to set all employees up for success when you are absent? Do you have the skills to discern how your personnel will handle the business when you're not there? From hiring a store manager to supervisors and budtenders, you need to be able to count on your staff. Thankfully, certain dispensary POS systems will allow you to check your numbers remotely, so you can still keep an eye on things from afar.
Is opening a cannabis store my passion?
Like many great things in life, it takes a lot of time, money, and effort to see your dreams become a reality. Opening a marijuana dispensary is possible as long as you have the ability to finance and run the business, but is it really something you'll live for? This might be the most important question of all before you move forward in the process.
After having a heart-to-heart with yourself and contemplating these eight questions, are you still excited about opening a cannabis retail store? If the answer is yes, then it's time to celebrate and get moving toward making your dream a reality!
---
2. Researching Dispensary Laws and Regulations
Most states and provinces actively maintain a checklist of sorts on their official websites that details how the application process works, which you'll definitely want to take a look at. Generally speaking, however, the four most important first steps in opening a dispensary, no matter the location, can be boiled down to finding your location, making sure you'll get your license, raising your initial capital, and drafting a solid business plan. The following are brief overviews of each step to help you plan. Be sure to research your local laws and regulations, as important details will vary from one state and province to the next, and local city bylaws can have a significant impact.
Location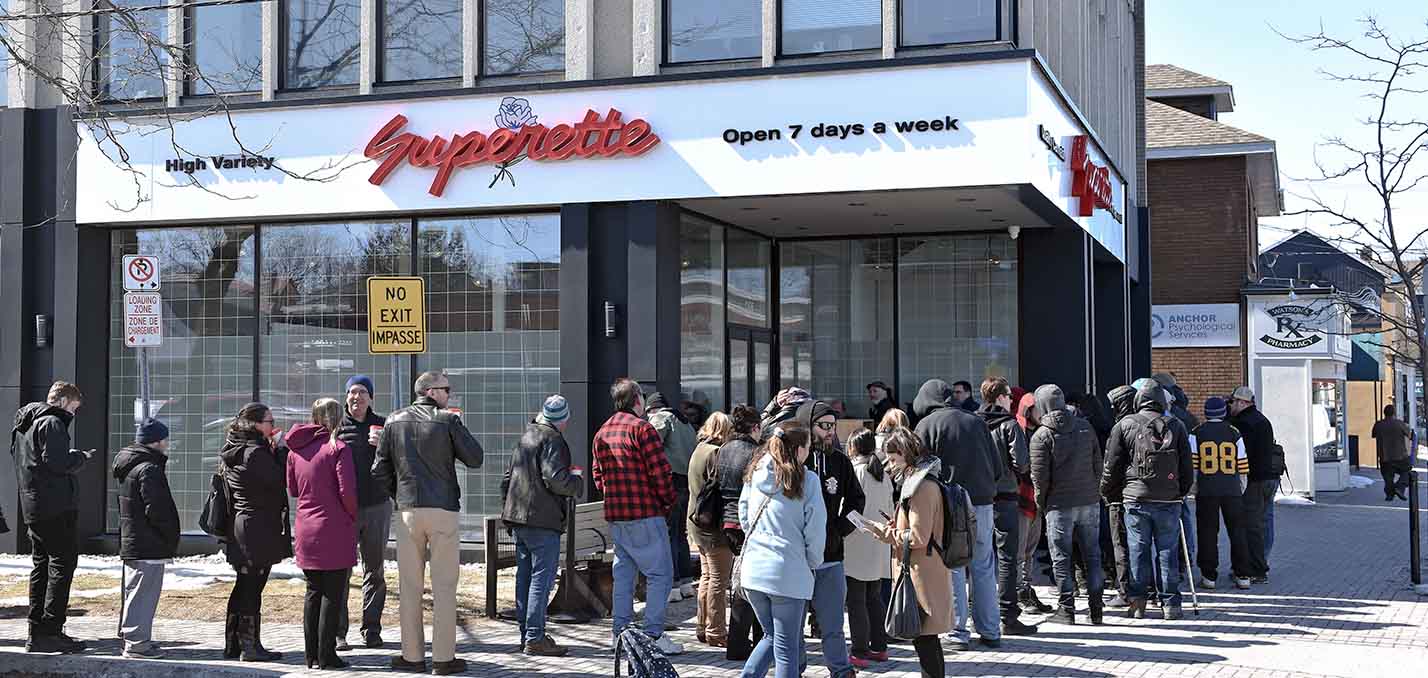 In most jurisdictions, in order to even fill out the paperwork related to your license application you'll need to have a prospective physical location for the dispensary already locked down. This means you'll need to research the various municipalities you are considering operating in, paying particular attention to local demographics and possibly additional hurdles when it comes to compliance at the local level. Section 7 of this guide is dedicated specifically to the challenges associated with finding the ideal location for your dispensary and addresses all the major considerations involved in greater detail.
Licensing
Ultimately, no license equals no dispensary, so this is an excellent place to begin your research. Work with an attorney and perform an in-depth study of all federal, state, and municipal laws, along with licensing requirements. There are some helpful FAQ pages that cover cannabis laws and licensing in Canada, and the states of California, Colorado, Illinois, Maine, Maryland, Massachusetts, Michigan, Minnesota, Mississippi, Missouri, Montana, Nevada, New Jersey, New Mexico, New York, Oklahoma, Washington, and Alaska, with links to the official cannabis website portals. The two most important things to look out for are "must haves" and "red flags"; 'must haves' being requirements you must satisfy in order to obtain the license (such as residency, etc.), and 'red flags' being items which can cause an instant rejection of your application (such as possession of a criminal record).
Financing
Simply put, no bank is going to approve a business loan to a cannabis dispensary. You can't go to the SBA either, since cannabis is still illegal under federal law. That means the two primary sources of funding and capital for most small businesses just aren't available for dispensaries. Consequently, you're going to have to put some additional work into coming up with a plan to raise the initial capital you will require; this may require a significant personal investment, or bringing in other investors. Be mindful that in most states, even simple financial investors in any cannabis-related enterprise may also have additional legal compliance hurdles to deal with.
---
3. Applying for a Dispensary or Cannabis Retail License
In this section, we're going to examine the actual process involved with applying for your dispensary license and break it down into a few easy-to-understand steps. We'll also highlight a few key components you'll need to successfully navigate the process, regardless of which state or province in which you intend to operate:
5 Steps to Apply for a Cannabis Retail License
1. Research your state or province's procedures
The first part of the licensing process is always researching your cannabis license procedures online. An overview of state regulations, including licensing requirements and links to relevant government websites can be found on our Cannabis Laws pages for California, Colorado, Illinois, Maine, Maryland, Massachusetts, Michigan, Minnesota, Mississippi, Missouri, Montana, Nevada, New Jersey, New Mexico, New York, Oklahoma, Washington, and Alaska. Check here for Canadian regulations and procedures by province.
2. Identify potential red flags
Next, you'll want to check to see if there are any potential red flags within your business plan that may cause your dispensary application to be denied outright. Not meeting age or residency requirements can trigger such a denial, as can criminal convictions.
3. Complete all required paperwork and gather supporting documents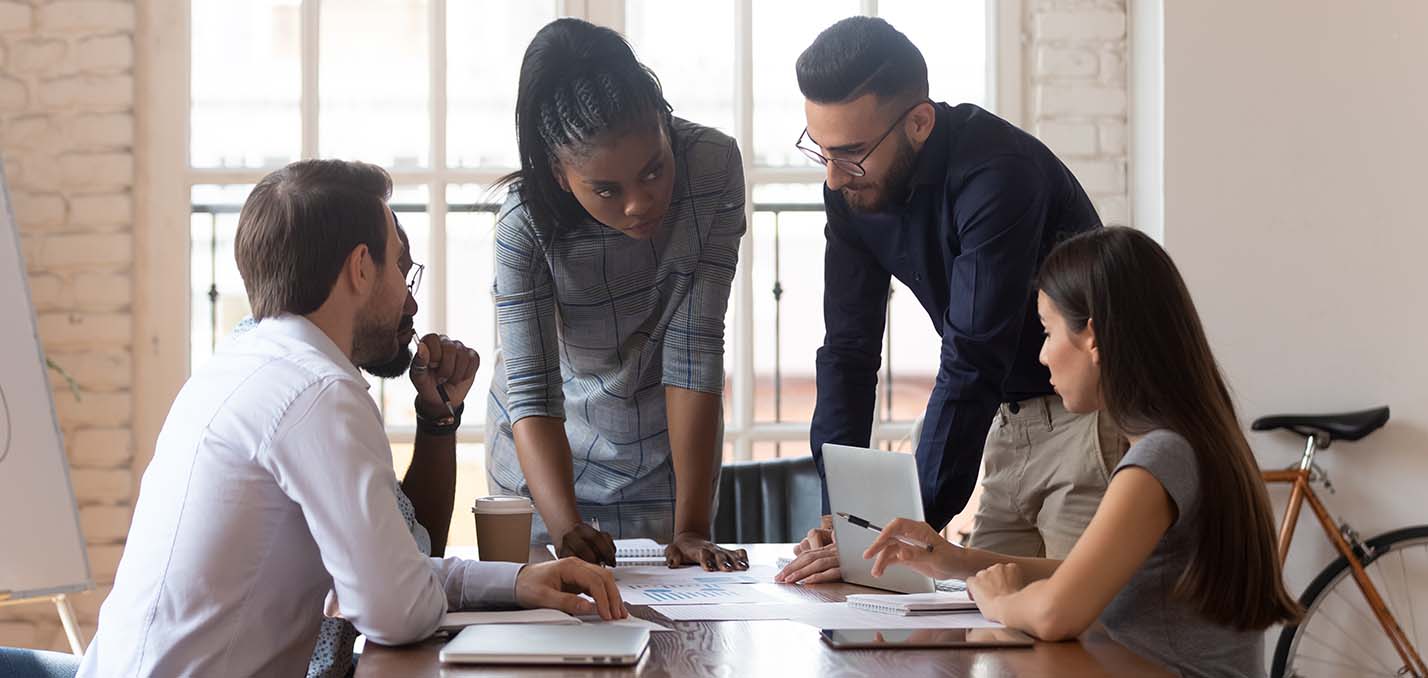 The next step in the process is actually filling out all of the forms and applications the state requires. This is usually fairly straightforward; ensure you are open and honest to the best of your ability, and double-check that you have every one of the required elements of the application. If you are in the US, this will include obtaining a FEIN from the IRS, along with your tax number and any required documentation relevant to your choice of corporate structure.
4. Investigation and consultation with the state licensing board or agency.
Next, you'll wait while the state licensing authority investigates your application and performs its due diligence. If any problems are turned up during the investigative portion of the process, the applicant will typically be notified and given an opportunity to respond.


• Consultation – Assuming all the information provided on the initial application checks out, most states will then proceed to schedule an in-person consultation between the prospective owners and the licensing board. Everyone will have to attend, and assuming your application is approved, you will typically be expected to render payment at this time. There may be additional elements of legal compliance after initial approval as well, such as fingerprinting.
5. Complete any local licensing dispensary requirements
After the state/province approves your license, you may also be required to seek additional approval at the local level. Work with the specific municipality you are considering operating in to ensure that your licensed dispensary is fully compliant on the local level, as well as at state level. Local applications can often end up taking longer to process than state ones, so be sure to account for any extra time needed.


Licensing & Application Must-Haves


✓ Business Plan - You aren't getting anywhere without one.
✓ Financing/Proof of Capitalization - Be able to clearly demonstrate possession of the appropriate amount of capital to the licensing authority.
✓ Full Team List - For background checks and fingerprinting purposes.
✓ Location - Make sure your selected location is fully compliant with all state laws.
✓ Security & Surveillance - Having a finalized security plan for your facility is a critical part of the licensing progress.
---
4. Writing Your Cannabis Dispensary Business Plan
As mentioned in the first section, the business plan is the single most important document an owner needs to create during the process of opening their dispensary.


Business Plan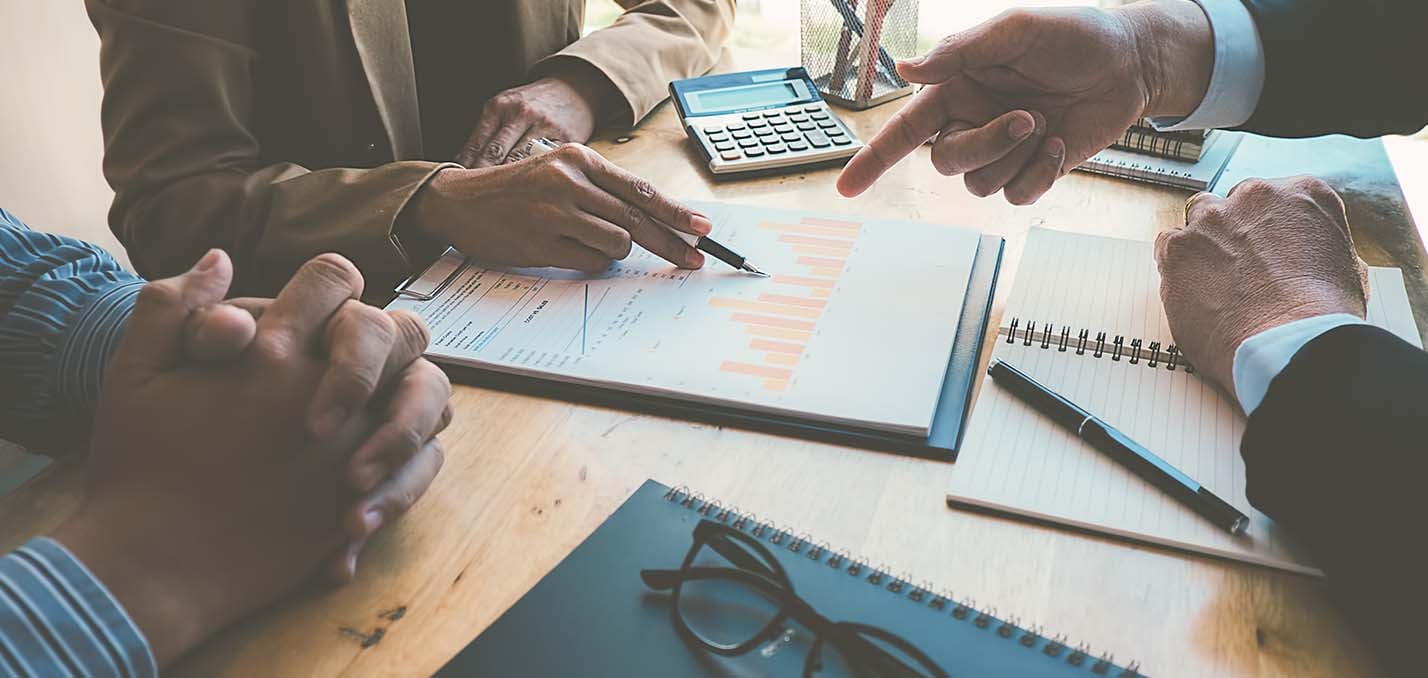 Your dispensary business plan is by far the most important document that you will need to draft; you will use it to help secure financing, and to demonstrate to the authorities that your operations plan satisfies their legal requirements, among other things. Your plan will cover finding and developing the location you intend to use, how you source your flower, the operations of your dispensary, your financing, how you intend to handle security, your planned contributions to the community such as a commitment to hire locally, wages to be paid, and all other essential strategic elements.
You may want to consider hiring a professional consultant to help you develop your business plan. In the next section, we'll take a closer look at the individual components of a good dispensary business plan.
To keep things simple, we've identified seven critical areas of focus that your plan should address, in order to gain licensing approval and attract potential investors:
7 Key Elements of a Successful Cannabis Retail Business Plan


1. Opportunity
Every business — regardless of the particular industry — should have an identified opportunity to provide a competitive advantage that will separate it from the competition. You'll want to do in-depth research of the competitive landscape in the area in which you'll be operating; what problems exist that your business can solve?
The opportunity element of your business plan will be one of the most heavily scrutinized by potential investors. They're going to be looking for a strong competitive advantage — one that will give them the best chance at a high return on their investment. Your opportunity section should also include research into your target markets and demographics.
2. Execution
As the name implies, your execution element will contain all information related to the carrying out of your company's operations. This component of your business plan should contain three distinct sub-sections:
• One covering your marketing and sales plan as well as community outreach efforts.
• One covering operations, locations, and facilities as well as the technology and the dispensary POS software you'll implement.

• Location – Select the municipalities you are most interested in, get a feel for costs, and pay careful attention to any needed capital improvements. Be aware, that there may be legal mandates or zoning laws in place that restrict potential locations for dispensaries. We go into more detail on this in Section 7.
• Operations – This part should focus on how your dispensary will operate on a normal daily basis. Talk about your hours of operation, logistics, concerns related to sourcing your flower, who will be on your staff and what roles they will fill the technology your dispensary will utilize, and other concerns of this nature.
One that covers the metrics and milestones you'll use to measure your operation's performance.
3. Company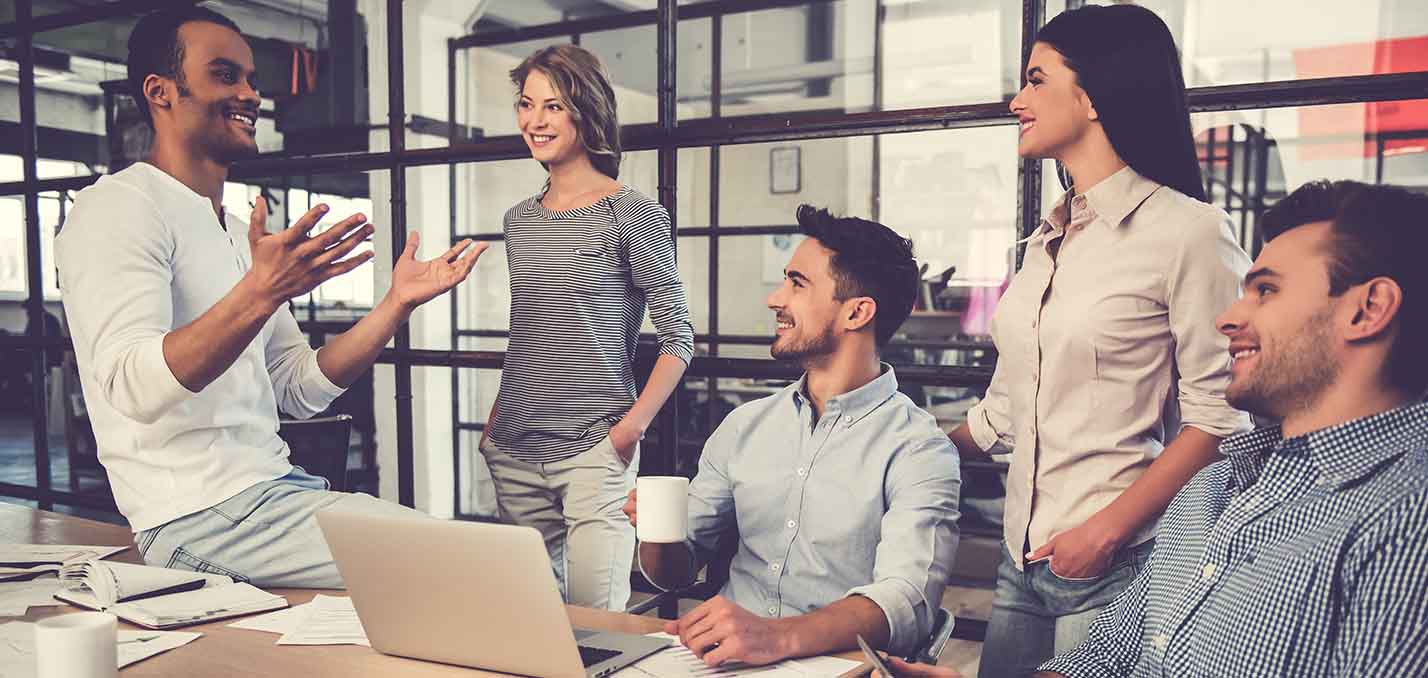 Naturally, your business plan will include a section dedicated to the structure of your company as well as the individual members of your leadership team. This includes a list of all the people who will be considered owners as well as their specific stakes in the organization. You'll also want to describe the legal structure you intend to do business and your reasoning for doing so.
With regard to members of management, be sure to include the relevant experience and skillsets of your leadership team, as well as explanations of how they'll contribute to the success of your operation.
4. Financial Plan
Of course, potential investors are going to be very interested in the financial outlook section of your business plan. This component should include three key items: forecasts, financing, and future projections.
For the forecast, describe exactly how you arrived at estimated values and projections, whether through market research or past results. With regard to financing, you'll want to clearly state where you'll obtain capital and exactly how you'll use it. Finally, ensure your future projections are based on accurate data and vetted through your accountant or financial planner.
5. Compliance & Security
The preceding four elements are common to any business plan, regardless of industry. But because compliance with local and state laws is absolutely critical to cannabis business success, your business plan should include a dedicated section to exactly how you'll comply with all relevant laws and regulations.
In this section, make a list of every compliance requirement or stricture that you'll be subject to, as well as your specific plan to stay compliant with them. Make sure to include security measures you will implement to satisfy licensing requirements. The key here is to include details on your security camera system, security personnel, the vetting process for employees (i.e. background checks), and how and where you will keep cash and cannabis products secure. In Section 5, we'll explain how to approach estimating costs.
---
5. Estimating Dispensary Costs
In terms of total cost, while no two dispensaries are created equal, you're probably not going to be able to realistically make a go of things in any location with less than $150k, and in states with extensive capital requirements, you could easily need upwards of $2m or more.
Additionally, keep in mind that as a dispensary you are likely going to pay a significant premium over the regular market rate for all sorts of products and services. Sometimes this is because some entities don't want to be involved with those in the cannabis industry at all, such as financial institutions. Other times this is because servicing your dispensary will require specialized knowledge above and beyond what a normal professional might know; for example, you'll want legal and financial advisors that have cannabis-specific expertise.
Our How Much Does it Cost to Open a Cannabis Dispensary article provides a more detailed look at the costs involved but the major categories of dispensary startup costs for the average dispensary, along with some very basic estimates are as follows:


How Much Does it Cost to Open a Dispensary:
1. Application & Dispensary Licensing Costs: $5,000 - $30,000
For application fees, $5,000 is a good general estimate, though these fees can vary drastically from state to state. In Washington, the fee is only $250. In both Missouri and Michigan, you'll pay a non-refundable $6000. In Illinois, applying for early approval of a recreational cannabis business license will cost current medical dispensary license holders a whopping $30,000. Permitting and licensing fees are usually somewhat higher than application fees, and there can be a variety of other supplemental fees as well. You can get more details on application and dispensary license costs for California, Colorado, Oklahoma, Washington, Missouri, and Michigan.
2. Real Estate Costs - $25k-$100k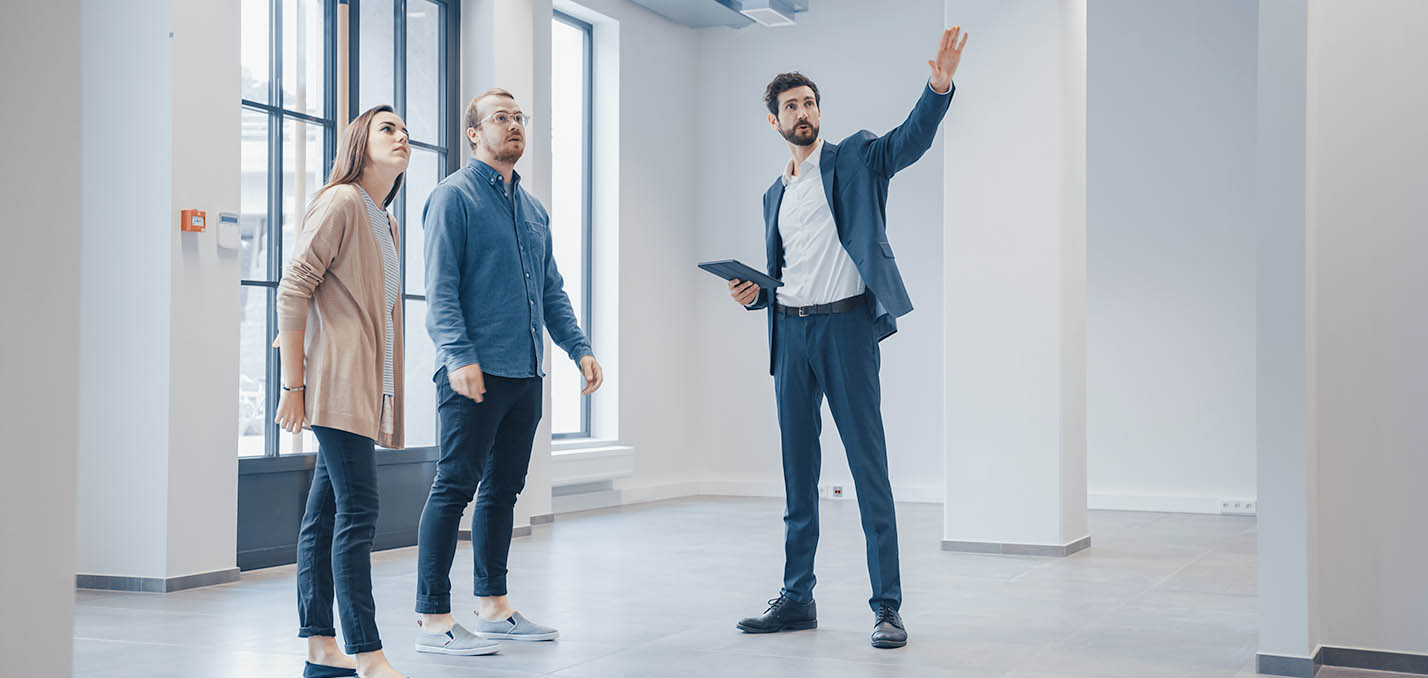 Likely to be your single largest expense. Easily $50k-$100k on an annual basis for the rental of an average-sized facility in a moderately competitive market. You will likely also face an additional $25k-$100k in renovation costs to finish the space in the style you desire – more to make it really stand out from the crowd. You may need functional additions as well such as expanding available parking or ensuring handicap accessibility.
3. Financial Service Costs - $1-2k/month
As mentioned earlier, finding financial institutions willing to work with dispensaries can be difficult. Local credit unions may provide a better alternative than banks, and there are private marijuana banks in several states now, but these institutions may require payment of a monthly holding fee, which generally ranges from $1-2k/month.
4. Professional Fees - $50k
When you're starting a business that technically makes you vulnerable to federal raids or arrests, the need for qualified, marijuana-specific legal representation and advice should be obvious. Same for your financial situation, including your Section 280E compliance. Add in some decent insurance policies, and you can easily spend $50k or more on various professional services, depending on your size and scale.
5. Personnel Costs - $250k annually
Design a basic work schedule for your budtenders, administrative support, and security personnel, and count up the hours. You can expect to pay $12/hr. for budtenders, $15-$17 for floor managers or supervisors, and $20-$25 for experienced store managers. Paying six total employees an average wage of $20 works out to almost exactly $250k annually.
6. Capital Investments - $25k-$50k
Unless you're planning on getting involved in concentrate processing or making edibles, or running your own grow operation, costs here are not extensive – barring your need for a sophisticated security and surveillance system. Your on-the-floor equipment will include computers, cash registers, and your POS system, and will probably cost $25k. After your initial hardware investment, you'll likely pay a monthly fee for dispensary software. Expect to invest between $1K-$2K per month for subscription-based accounting software, POS service, etc. You'll want to work with a security team to design a system that satisfies the legal requirements of your state, which can add another $50k or more.
7. Advertising/Marketing Costs - $25k–$100k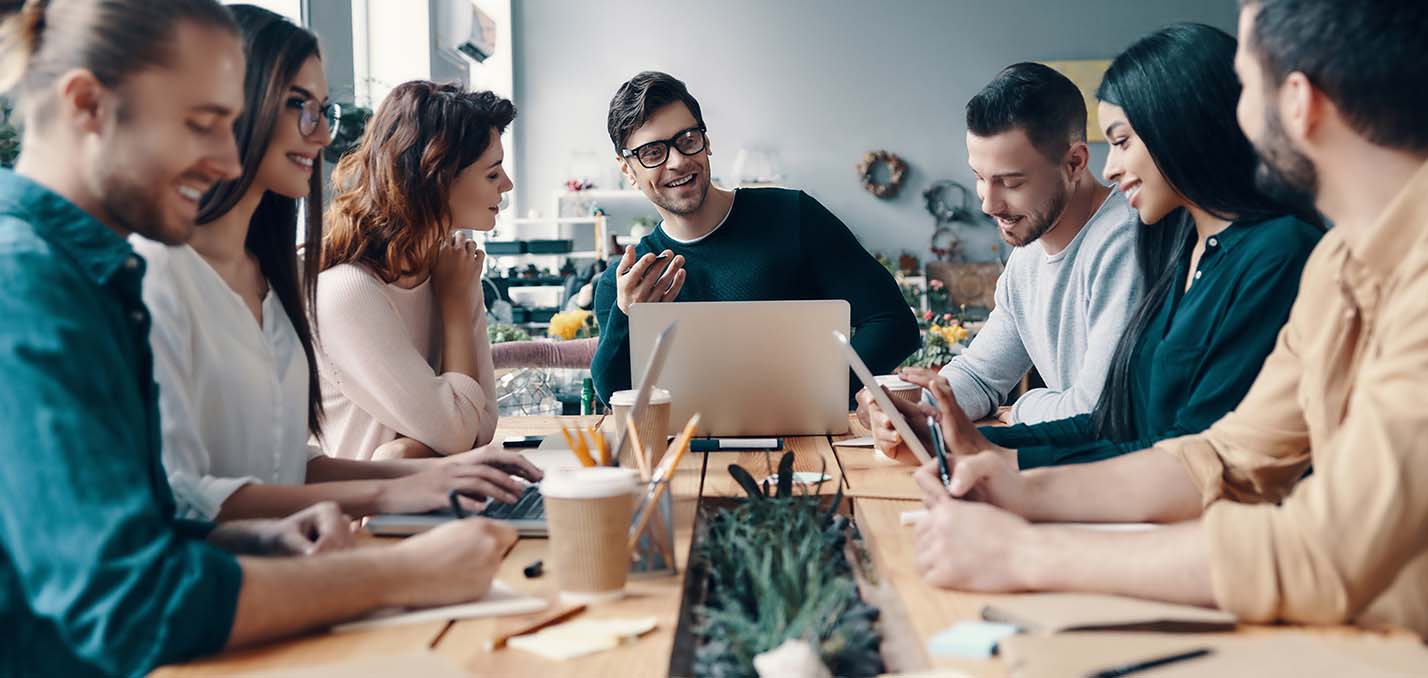 Be aware that the way in which dispensaries can legally advertise and market themselves is highly regulated. Here is a great guide on the dos and don'ts of cannabis retail marketing. Despite your somewhat limited options compared to traditional businesses, it is still easy to spend $25k–$100k or more annually on these activities. Traditional marketing activities like signage or radio/TV commercials are the most limited, so expect to have a relatively heavy digital presence; invest in a great website and strong social media marketing program.
8 Product Costs - $1,300/lb.–$1,500/lb
In some states, dispensaries are expressly forbidden from growing their own cannabis; in others, they look at grow ops as a potential way to consolidate their supply chain and cut costs. It is far more common for dispensaries to procure their flower from authorized suppliers, so that's the assumption we'll work with. In states that have approved the usage of recreational cannabis raw marijuana (AKA: flower) prices have fluctuated in a turbulent 2020, but you can still expect to pay between $1,300/lb.–$1,500/lb. for most strains of cannabis – sometimes significantly more in the case of designer or low-yield strains.
9. Capitalization Requirements - $50k- $300k
Here is another area where state-by-state variance is huge. Arizona mandates applicants demonstrate $150k in available funds. Nevada requires $250k, and Michigan $300K in total capital, while Illinois looks for applicants to have between $50k–$100k. Missouri and Alaska currently have no capital requirements.
Assuming you're not paralyzed with sticker shock, in the next section we're going to examine some of the ways dispensary owners can successfully raise capital for their venture.
---
6. Cannabis Dispensary Financing and Funding
In terms of total cost, while no two dispensaries are created equal, you're probably not going to be able to realistically make a go of things in any location with less than $150k, and in states with extensive capital requirements, you could easily need upwards of $2m or more.
Now that we have some ballpark cost figures in hand, we're going to discuss a few potential ways you can raise the capital to cover them.


Cannabusiness Funding Options:


1. Self-Funding
Probably the most popular option for entrepreneurs in any industry. Especially important in the cannabis industry, due to the difficulty of securing financing from traditional channels.
2. Friends/Family
Another popular option for entrepreneurs in all industries, but again even more popular in canna-business. When banks won't easily lend, funds have to be raised somewhere.
3. Business Loans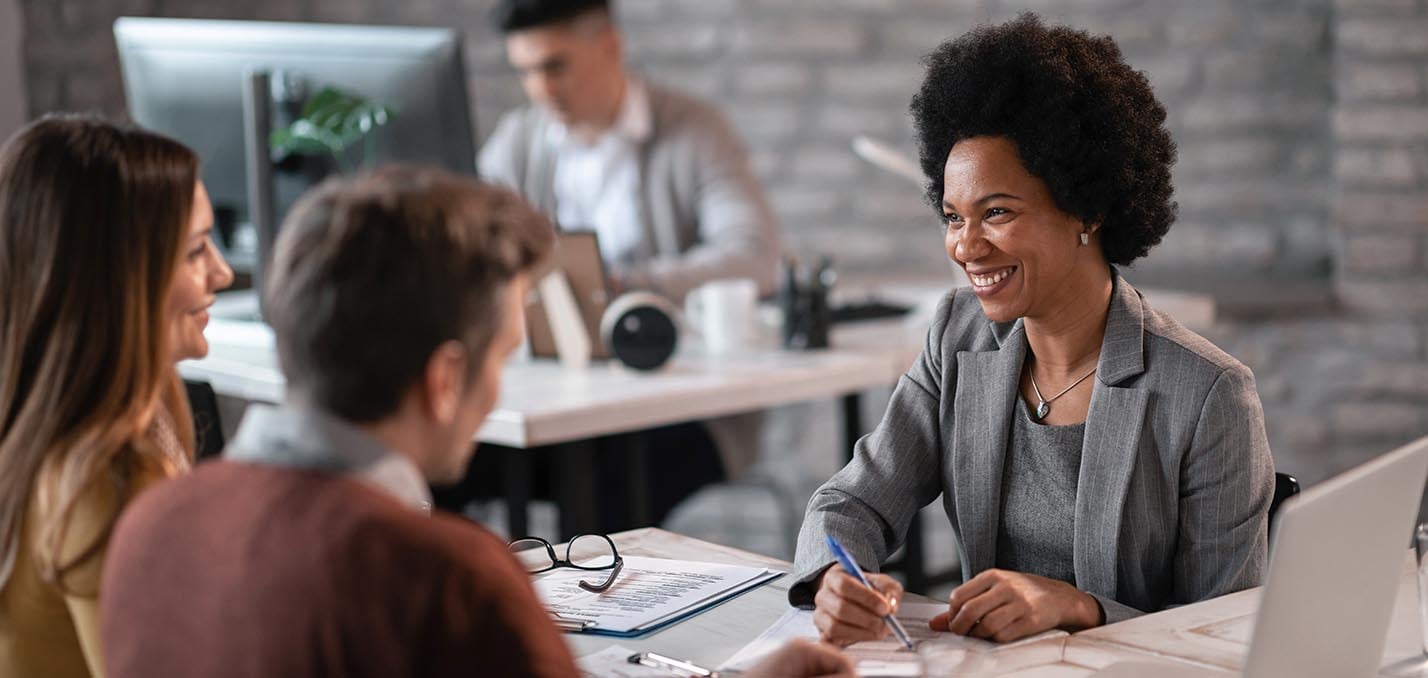 HOW TO GET A LOAN TO OPEN A DISPENSARY?
Until cannabis banking reform passes, no major U.S. bank will loan money to fund a dispensary. But it is now possible to get a loan through a credit union or cannabis-specific bank. In Canada, traditional banks such as BMO and TD will issue a bank loan for a dispensary, and cannabis entrepreneurs are now eligible for funding from the Business Development Bank of Canada.
4. Partners
With no shortage of people looking to break into the cannabis industry, there are likely several potentially compatible parties that may be interested in developing a partnership. Not only is this a great potential source of investment capital, but their skill sets can often supplement yours as well.
5. Cannabis-specific Investment Groups
In the private market, there are investors eagerly looking to support marijuana-specific businesses and operations. This group is only expected to grow as legalization takes hold across the states. While these types of investors make finding funding more feasible, understand that these financiers often lend at higher interest rates, for short-term periods, and sometimes come under the condition of "convertible debt," where the lender can convert a loan into an equity stake in the company.
Check out companies like:
6. Capital Brokers
Getting in touch with a capital broker specializing in the cannabis industry is another fantastic way to find investors. It's their job to locate and qualify potential investors from all over the world who are looking to invest in marijuana.
Securing funding for a marijuana dispensary was initially harder than raising funds for nearly any other traditional type of business. Still, the past few years have demonstrated the potential for profit, and changed the minds of many investors and financial institutions. The COVID-19 pandemic has only accelerated the shift in confidence, with cannabis businesses being deemed essential, and the industry showing resilience in the face of recession. It's inspiring many investors to adjust their policies and get into the game. However, you need to realize that money comes at a cost, which very often ends up being an ownership stake.
Watch for even more changes over the next several years, including the potential entrance of major financial institutions into the market, once some of the legal questions hanging over the industry have been adequately resolved.
Read more about some innovative funding solutions here.
---
7. Cannabis Dispensary Location Considerations
With new markets primed and ready for takeoff, entrepreneurs across the United States are laying the groundwork for their cannabis operations. And if you're one of those who's planning on launching a cannabis retail venture, finding the right location is one of the most critical first items on your to-do list.
How to Land the Right Cannabis Dispensary Location
Before you fill out a single form or consider a single location, you first need to check that cannabis retail and/or dispensary licenses are currently being issued in your state. Many states have put a cap on the number of available retail licenses, while others only accept new dispensary applications during specified windows or when patient rolls reach a certain level.
A quick search for your state's cannabis regulatory agency should reveal whether applying for a retail license is even an option for you at this time.
New Market Dispensary Location Guide:


1. Ensure legality in your proposed location
The next thing to consider is that although cannabis may be legal in your state, that doesn't necessarily mean it's legal where you live — or where you want to establish your retail business. Most states that have legalized cannabis have left it up to local governments, either at the county or municipal level, to decide whether they'll allow cannabis businesses to operate within their jurisdictions.
So, if you're planning on launching a cannabis retail store, you'll need to verify that it's allowed in the county, city, or town in which you want to do business.
2. Learn your local zoning code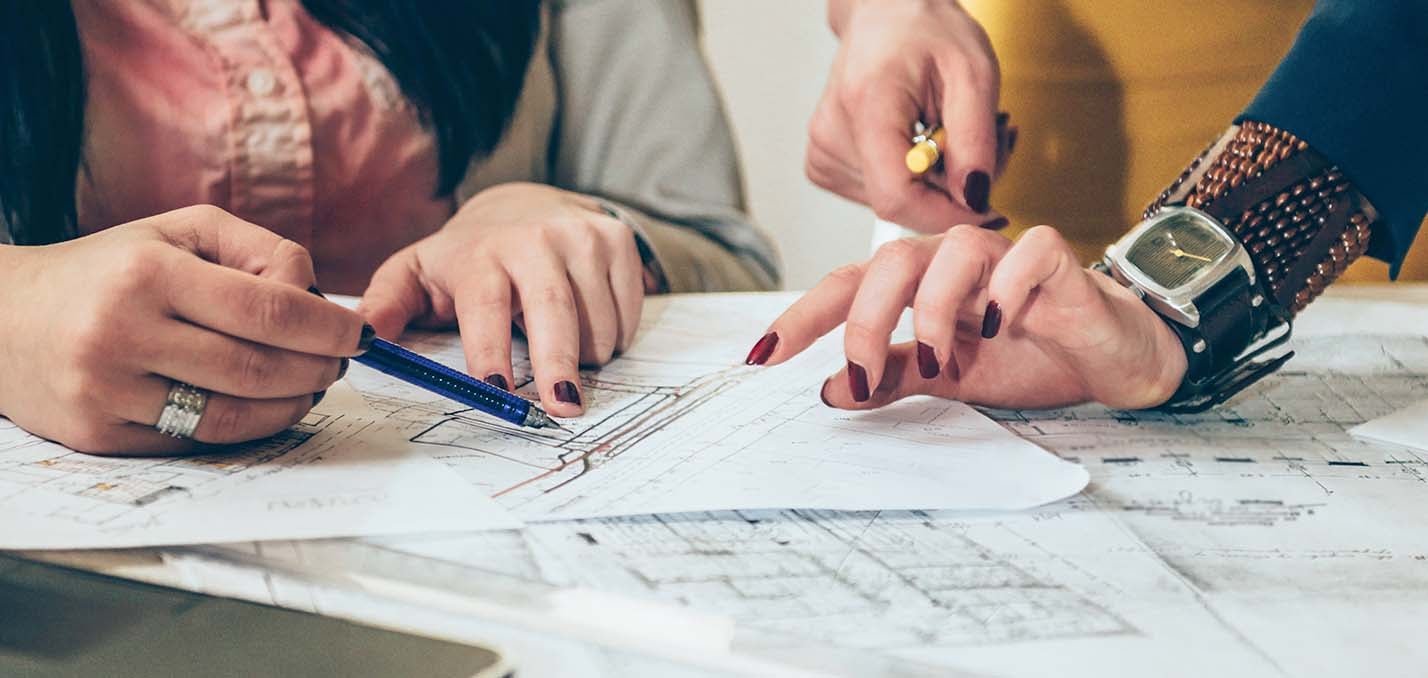 Once you've verified license availability and business opportunity, the hunt is on for your perfect dispensary location. The best place to begin your search is your local jurisdiction's zoning code, which you should be able to find through your county, city, or town's planning and zoning department.
The zoning code will show you the areas that are designated for specific uses, such as commercial, industrial, residential, and so on. This will help you focus your location search by showing you exactly where a cannabis business can legally be located in your jurisdiction.
3. Conduct market research
Now that you have an idea of the general areas in which you can potentially locate your dispensary, you'll want to conduct some market research. Which areas are closest to or most easily accessible by your target customer base? Is the community in which you're looking cannabis-friendly, or would a dispensary be considered a blight by the locals? This research will help you further narrow your search as you hone in on the perfect location.
4. Level with your landlord
Unless you have the capital to purchase or build, chances are you'll be renting or leasing a commercial location for your dispensary. And, just because cannabis is legal in your state and jurisdiction, that doesn't mean your potential landlord is necessarily OK with a cannabis business operating on their property.
It's important to be straightforward with your potential landlord about your intention to run a cannabis retail shop. The last thing you want is to sign a contract only to find out that he or she is opposed to the idea, for whatever reason.
5. State-Specific Dispensary Location Requirements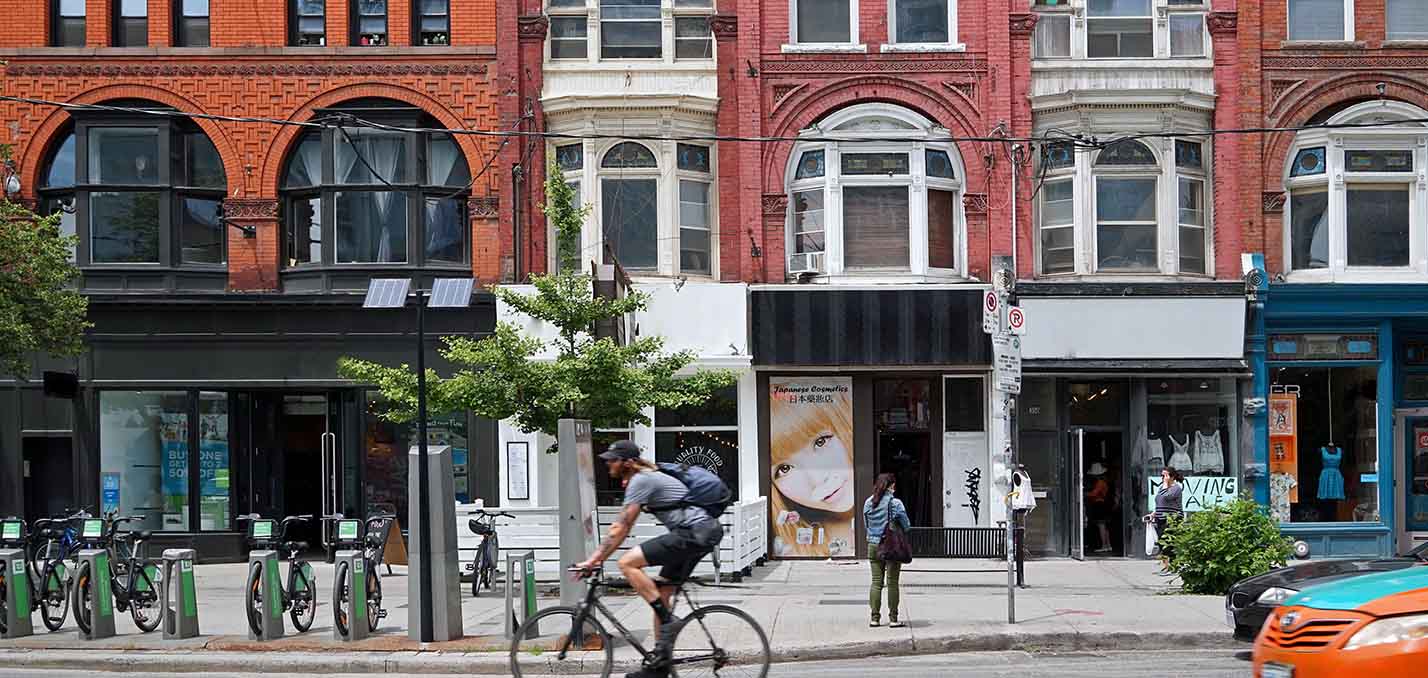 Of course, each state has specific guidelines regarding exactly where a cannabis retail store may be located. Again, you'll want to double-check your local ordinances as well, as they may have additional requirements or restrictions.
Below are the state-level dispensary location requirements for three of the newest U.S. cannabis markets.
Where Can a Cannabis Dispensary be Located in Missouri?
Missouri's medical marijuana law states that dispensaries may not be located within 1,000 feet of an elementary or secondary school, daycare, or church. However, local governments may increase or decrease the allowed proximities to schools, daycares, and churches.
Where Can a Cannabis Dispensary be Located in Michigan?
Under Michigan law, cannabis retail businesses may not be located in areas zoned exclusively for residential use or within 1,000 feet of any school for grades K-12. Local municipalities are allowed to reduce the distance requirement or impose additional location requirements for cannabis retailers.
Where Can a Cannabis Dispensary be Located in Illinois?
The dispensary laws in Illinois are a little different. The state government opted to divide the available cannabis retail licenses between the 17 regions identified by the Bureau of Labor Statistics (BLS). This means that you must locate your dispensary within the BLS region noted on your cannabis retail license application.
Once you've been approved for a retail license, you will have 180 days to find a location for your dispensary. The location must:
• Be suitable for public access
• Have a layout that promotes the safe dispensing of cannabis
• Be sufficient in size, power allocation, lighting, and parking
• Have handicapped accessible parking spaces, entry, and exits as required by the Americans with Disabilities Act
• Have sufficient room for product handling and storage
• Not be located within 1,500 feet of another cannabis retail location
---
8. Building Your Cannabis Dispensary Dream Team
When it comes to the personnel you'll need to open and run a successful cannabis retail store, they can be broken down into two groups: professional services, and your day-to-day staff.
First, let's take a look at the most important professional services you'll need to retain.
4 Key Dispensary Consultants For Cannabis Retailers:


1. Legal Advice
Probably the single most important relationship a cannabis entrepreneur has is with their attorney. There are two specific areas of legal expertise you'll want covered. First, you need to have access to someone familiar with the licensing, application, and compliance processes of your province. Next, you'll want to make sure you've got world-class representation, just in case something ever goes horribly wrong.
2. CPA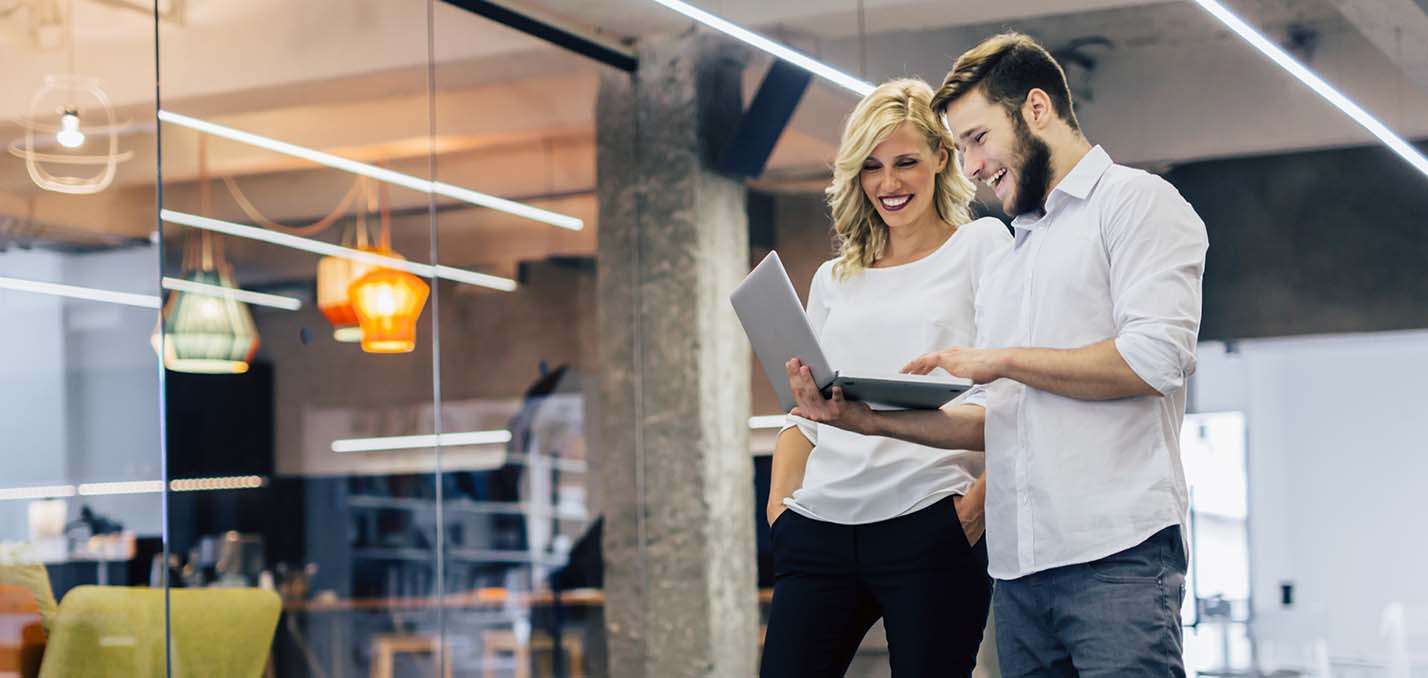 Few would argue that the relationship with your accountant is only slightly less important than that with your lawyer; remember, Al Capone eventually went down for tax fraud, not trafficking!
3. Compliance Officer
As mentioned earlier, every province has created its own system of regulation and compliance that you'll have to deal with. A full-time compliance officer should definitely be one of the very first hires you contemplate. They will help you manage and document all aspects of your business, as well as handle any administrative reporting mandated by the province. Most retailers will train their office manager into this role over time, though during startup you may require additional assistance from someone with more experience.
4. Security Consultant
Most provinces require you to detail your adherence to their security and surveillance guidelines as part of the licensing and application process, so you'll want to begin working with someone to help you design your security system as soon as possible. You're going to need a 24/7/365 security presence including live personnel, transport planning, alarms, cameras, and recording equipment at the bare minimum.
Now let's take a look at the basic categories of employees you'll need to hire as day-to-day staff.
4 Key Dispensary Employees for Cannabis Retailers:


1. Security Officers
While not legally mandated in every state/province, it is still a very good idea to consider hiring well-trained security personnel to protect your operation from theft and other issues. Cannabis retailers are attractive targets for both employee theft as well as outside criminal activity, and you need to protect yourself against both.
2. Budtenders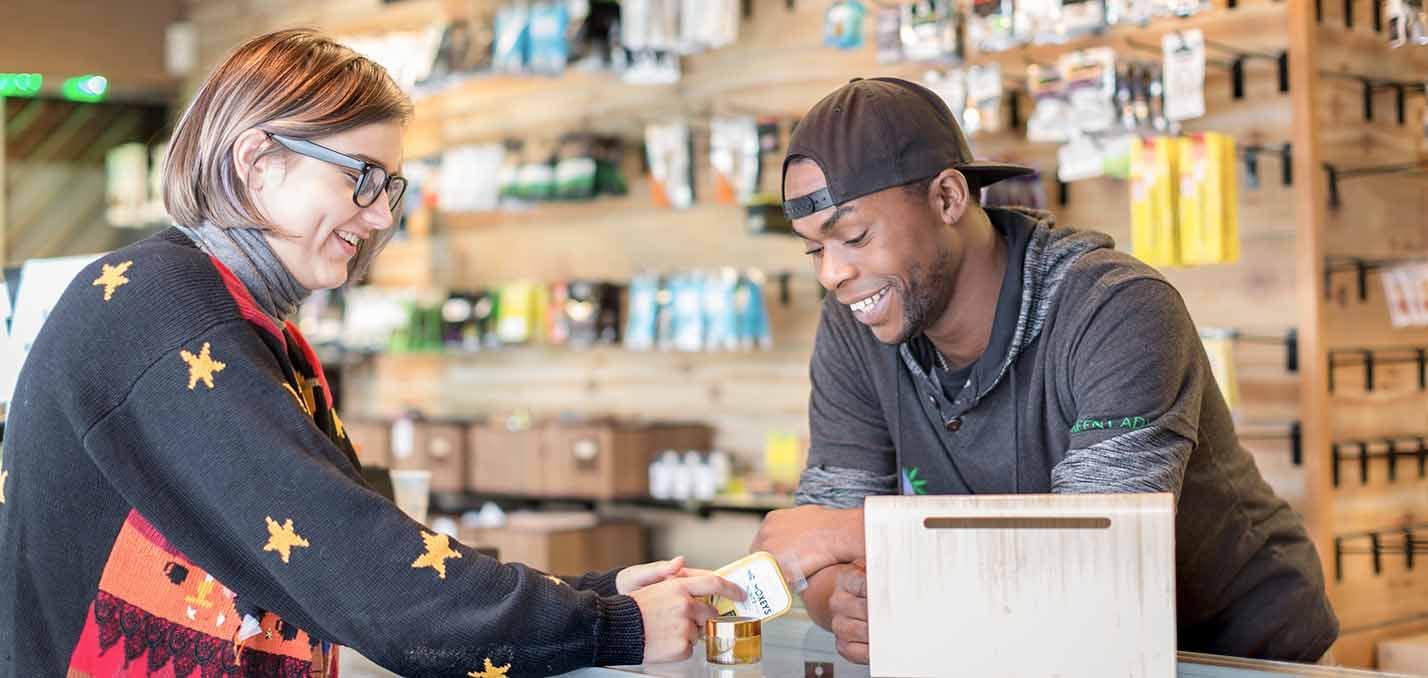 Your budtenders are the front-line troops of your retail store; their performance can literally make or break you. Mistakes like selling to an underage customer can quickly result in the loss of your license, so make sure to train them extensively. They should also be trained to function as real ambassadors for your brand; empower them with information to help customers select the best strains of flower for their needs, and educate them as much as possible. Think of them like waiters in a restaurant — no matter how good your product is, their performance is going to define your customer experience to most visitors.
3. Inventory Manager
With so much riding on the accuracy of your inventory, it's critical to hire a dedicated inventory manager whose sole job is to conduct daily inventory audits and reconciliations and handle any inventory reports or inspections by governing or regulating agencies. With so much riding on the accuracy of your inventory, it's critical to hire a dedicated inventory manager whose sole job is to conduct daily inventory audits and reconciliations and handle any inventory reports or inspections by governing or regulating agencies. Your inventory manager should monitor stock level and ensure popular products are on the shelf and ready to sell. Beyond organizational skills and attention to detail, your inventory manager should also possess good communication skills, since they'll also manage the relationship with your suppliers.
4. Store Management
Perhaps most importantly of all, you'll need to retain an experienced retail store manager (with verifiable references!). This person can assist you during the initial set-up of the store, advise on best practices, help evaluate suppliers, recommend potential employees, and provide a great deal of general assistance in running your storefront – they can even be empowered as a secondary point of contact for regulatory and law enforcement agencies. An Inventory Manager is also usually a smart idea; in smaller operations, this function is usually filled by the Store Manager, but larger stores often employ a separate person specifically for this purpose.

---
9. Designing Your Dispensary & Retail Experience
Designing your cannabis retail experience goes beyond your physical blueprint. It includes how you create your brand and shape your customer experience. Bringing in an architect and interior designer to consult with you on the final design, aesthetic, and layout of your dispensary is smart; cannabis stores have unique features that differ from other retail operations, so configuring your space to deal with these ahead of time will increase your efficiency and save funds in the long run. An experienced professional can help, but you need to supply the vision. Here are the most important factors you should consider related to your overall design.
Dispensary Shop Considerations:


1. Public Versus Private Space
The segmentation of your store into 'public' and 'private' areas is mandated in most jurisdictions. Public areas are where your customers will browse, relax, and interact with budtenders. Private areas include shipping/receiving, product processing, and inventory/storage, which often have a heightened need for security; they may require a badge to access. There may be additional legal requirements to consider, such as not having a storage vault located on an exterior wall, and posting a variety of specific signage around your store.
2. Medical Versus Recreational
Some states mandate the separation of medical and recreational cannabis areas. Even if yours does not, you'll likely want to create a different vibe depending on which of these two major markets you anticipate drawing most of your customer base from. Alternatively, you may want to dedicate specific portions of your space to deal with medical and recreational purchasing, respectively.
3. Traffic Flow Patterns
Putting some consideration into how visitors will flow through your store will go a long way toward providing them with superior service. Identify potential choke points, like at cash registers or in the order fulfillment area, and add plenty of seating and countertop space to alleviate congestion. Also, consider an express checkout line if you have a smaller store footprint but anticipate a lot of traffic; this can reduce wait time and keep lines moving faster.
4. Décor/Aesthetic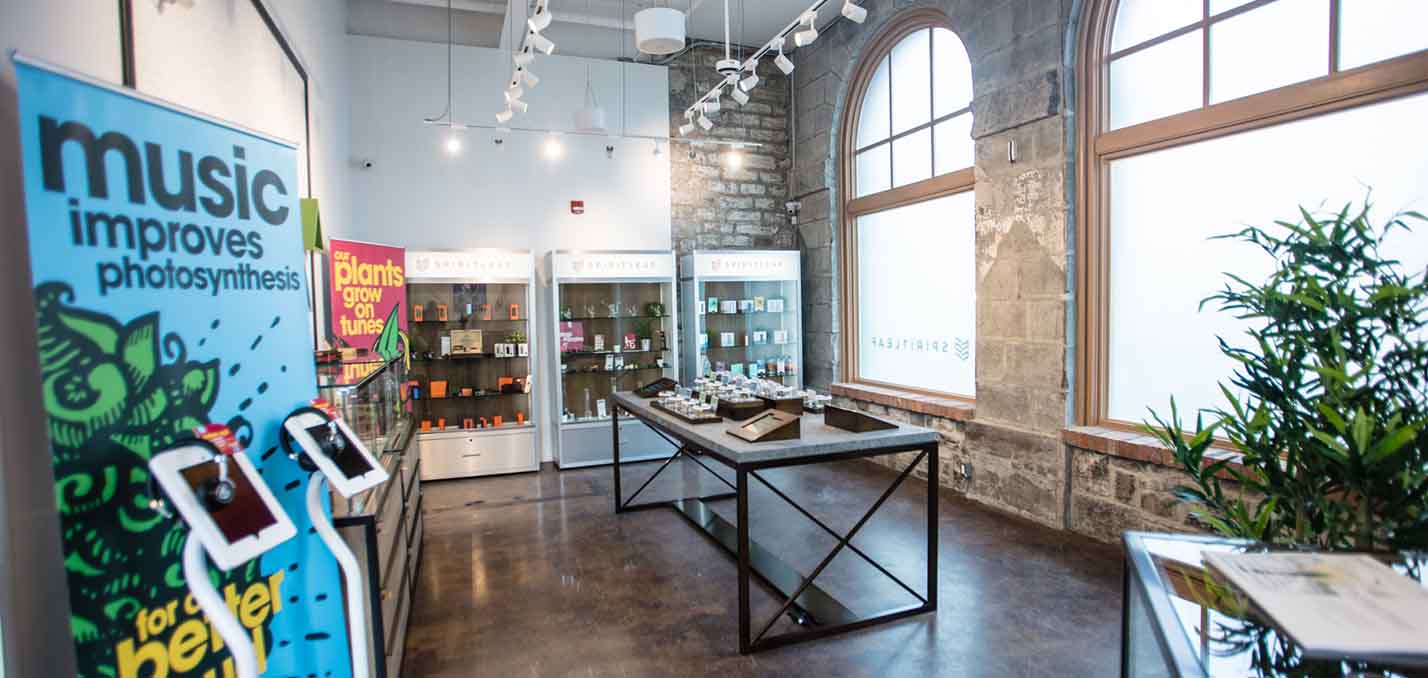 Gone are the days when painting your cannabis shop Rasta colors and plastering the walls with Grateful Dead posters was considered a sound design strategy. These days, most people are looking for a space that looks professional and safe. Take inspiration from other local businesses that are already successful with the target demographics you want to serve. By creating an ambiance that puts people at ease, you can help move people away from the negative stigma sometimes associated with cannabis. Don't assume décor begins and ends with visuals either – music is a core component of most places known for their great aesthetics. Provide them plenty of space to browse and sit as well. Check out some examples of cannabis stores that do it right in this dispensary design best practices blog.
How To Create A Brand Experience:


A final and vital consideration for your store is what really defines your brand—the type of experience you want to deliver. The 3 key areas in which dispensary owners should focus their efforts when creating a memorable cannabis shopping experience for customers are:


1. Create a Great Atmosphere
Long gone are the days of the classic headshop where a little incense and some Bob Marley were all that was needed to create a vibe. Now, every decision a cannabis retail owner makes – from the way the shop is decorated and organized, to how staff engages with customers – ultimately helps shape an atmosphere that must be able to appeal to clients while also staying authentic to your brand.


2. Use Technology to Streamline Your Operations
Slower processes mean your clients are spending more time in line than they are perusing the merchandise or being served by staff. A good quality POS system helps nurture a pleasant shopping experience by enabling your shop to run more smoothly. The right cannabis POS solution puts product and consumer information at every budtender's fingertips – no need to rely on a single terminal or overstuffed binder to access strain details or a client's order history. And your dispensary's POS software is only the beginning; there are plenty of tools that can help your staff address customers' needs quickly and accurately.


3. Provide Stellar Customer Service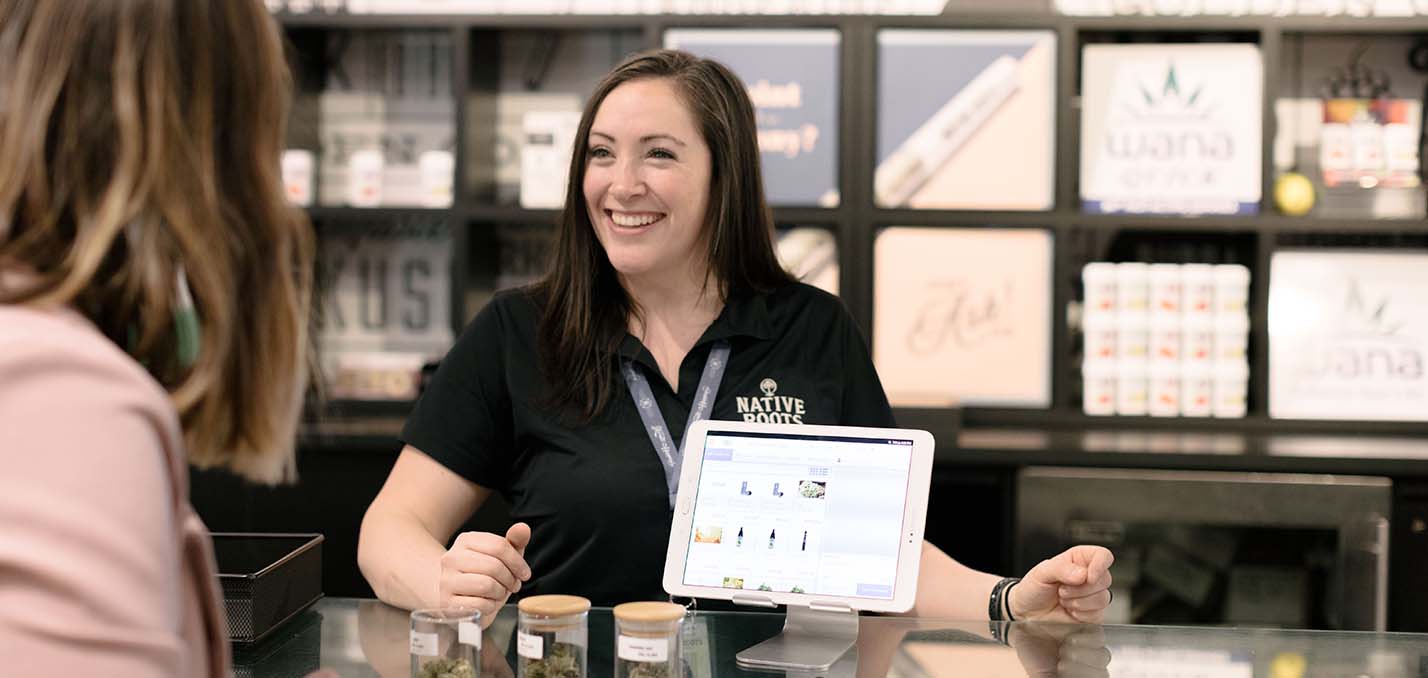 WHAT MAKES GREAT CUSTOMER SERVICE IN RETAIL?
Customer service is critical to the success of any retail operation. Cannabis retailers have a little more to contend with than operators in traditional industries because there's a huge educational component. When it comes to customer service, retail owners also have to be prepared for anything. Dispensaries are already major focal points in their communities because of the industry's prohibition history and the nature of the products being sold. Making sure staff is skilled enough to clarify misinformation, serve impatient customers, or deal with intoxicated clients as professionally as possible helps demonstrate your shop's ongoing commitment to customer service.
Read more about how to create great experiences in every touchpoint in this blog.
Product Merchandising:
Strategically merchandising your cannabis product not only enhances the dispensary customer experience but also maximizes sales. Thanks to consumer psychology studies, we know that your dispensary sales floor layout and product arrangement have a definite impact on your bottom line. It makes sense – customers traversing a store that is cluttered and unorganized are unlikely to have a great shopping experience. And if they can't find what they're looking for, well, they're probably going to go elsewhere.
Follow these simple principles of dispensary merchandising and see how your customers respond – they just may thank you by becoming loyal shoppers.
---
10. Choosing the Right Dispensary Technology
The average cannabis shop is a far more complex retail environment than you might initially imagine. Not only do you face the same performance burdens as other businesses, but you have to deal with significant legal and compliance requirements. Choosing the right technology infrastructure for your store can go a long way toward mitigating these challenges. At a very basic level, you'll need a Wi-Fi network, computer, and POS and Inventory management system to run your store. To make sure that customers can find you, you'll also need a website and if you want to offer the ability to order online, deliver, and display live menus, you would need an eCommerce website. For more details about the technology you need when you open a store, you can read more here.
Whether you start with just the essential technology, such as a POS or inventory management system, or opt for a full retail ecosystem (CRM, ERP, HR, Menu Boards, etc), here are the key areas of consideration:
Compliance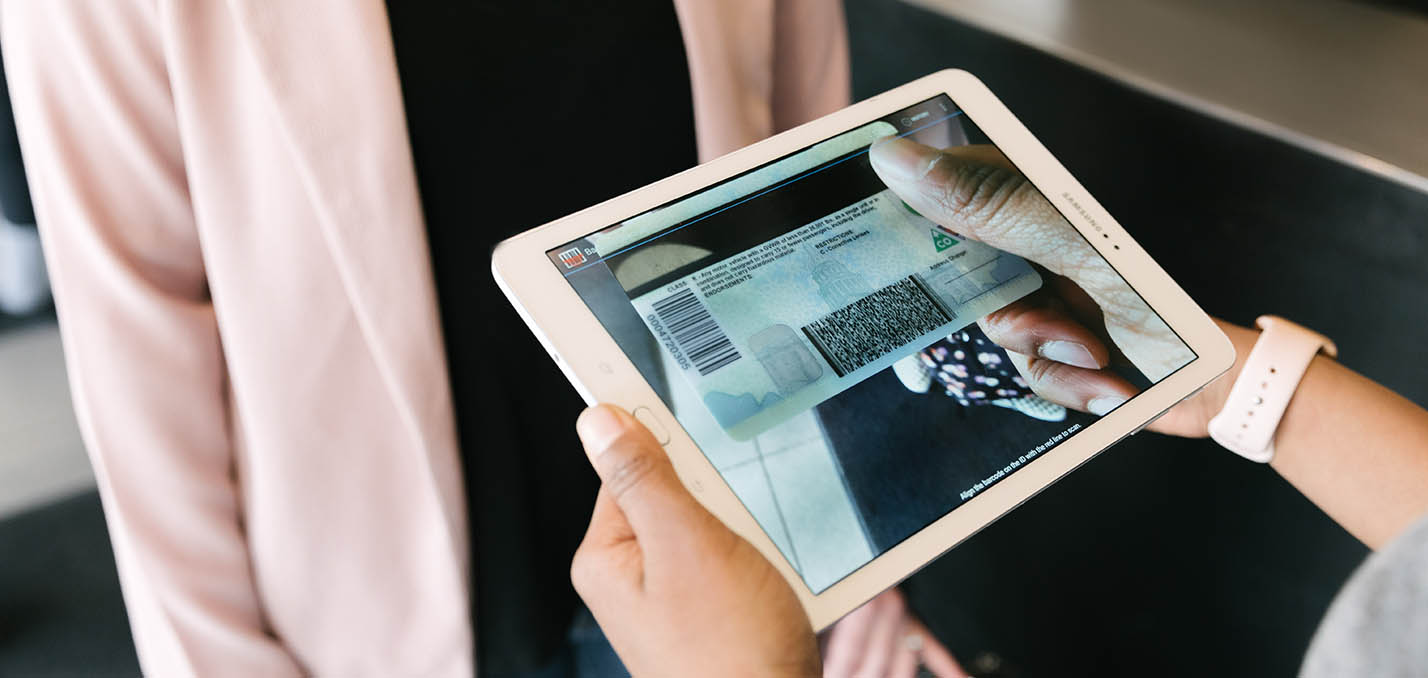 The number one concern for retailers is ensuring they always stay 100% compliant with federal, provincial, and local regulations. A cannabis retail POS can help you accomplish this by preventing your budtenders from making sales outside store hours, helping them monitor daily sales limits and inventory levels, and storing your reporting data according to requirements. It backs this up with a robust reporting suite that includes the ability to run a full audit history on your business at any time.
Reliability
The overall reliability of your technical infrastructure is another primary concern for retail owners. A system crash can quickly land you out of compliance when it comes to regulations, disrupt your supply chain, and end up costing you thousands of dollars in lost sales — and unfortunately, many operators learned this the hard way when one of the biggest cannabis tech companies suffered a service disruption, leaving their clients to either suspend business altogether or record sales by hand. Invest in a solution that can document its uptime, has numerous redundancies, a sophisticated cloud-based data repository, and an offline processing mode, and you will be fully prepared to continue operations even on your busiest days or while dealing with technical issues.
Improved Retail Experience
With the average lifetime value of a retail customer being so high, it only makes sense to do as much as you can to improve the customer experience your store offers. An integrated POS that provides product details at the touch of a button can turn all of your budtenders into experts to help guide customers through their purchasing journey – customers return to stores they trust. You can also build brand recognition and loyalty by allowing customers to order online and pick up the product in-store or using a tool such as an interactive app that allows customers to learn about the product at their own pace, along with digital signage and menus that help improve and streamline the retail experience for users. You can read a case study here about a successful retailer's vision for a unique customer experience.
Ease of Use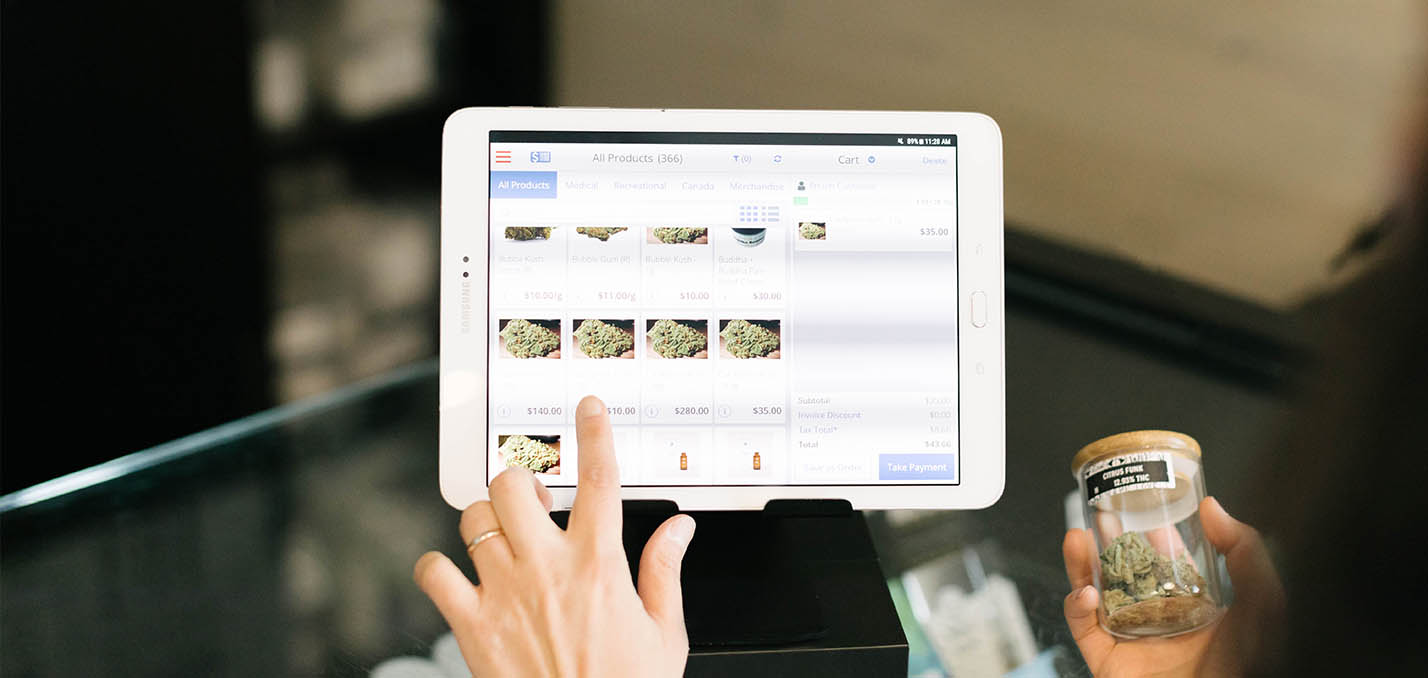 Software can often create more problems than it solves. Dealing with a heavier burden when it comes to training time for your staff (particularly important given the relatively high turnover in the industry), and the increased human error that results from using an overly complex technology platform will definitely impact your profit margins and slow down your sales times. A POS designed specifically for dispensaries can help alleviate these issues, allowing you to sell more products in less time.
Computers & Other Digital Equipment
Finally, you're going to need to evaluate your need for computer equipment throughout your operation. At the bare minimum, you'll need one set up at reception for processing intake, and one in the back for tracking inventory. You may choose to supplement this with tablet devices for a self-serve experience, and you'll also need a variety of accessories, such as barcode scanners and receipt printers.
Connectivity/POS
You'll definitely need to set up Wi-Fi at your store, and you'll also need a point-of-sale system to complete and track all your transactions, manage your inventory, and keep your data safe and secure for reporting purposes.
Data Privacy
Regulators take the security and privacy of consumer data very seriously. In Canada, you'll want to ensure that your system is fully compliant with the requirements of PIPEDA — the Personal Information Protection and Electronic Documents Act. Of chief concern here is your customers' personal information, such as their names, ages, and ID numbers. U.S. regulations can differ from state to state but consistently require you to use a system that keeps personal data secure.
Having the right technology in your store can significantly improve efficiency and increase profits. It also requires a lot of investment, so it pays to get it right the first time.
---
11. Creating a Dispensary Security Plan
The primary purpose of a cannabis dispensary security plan (DSP) is to provide a safe and secure environment for the store's employees, customers, and visitors while abiding by all legal requirements. Let's take a look at the three most important components of any retail shop security plan.


Dispensary Security Plan Considerations:
1. Facility Security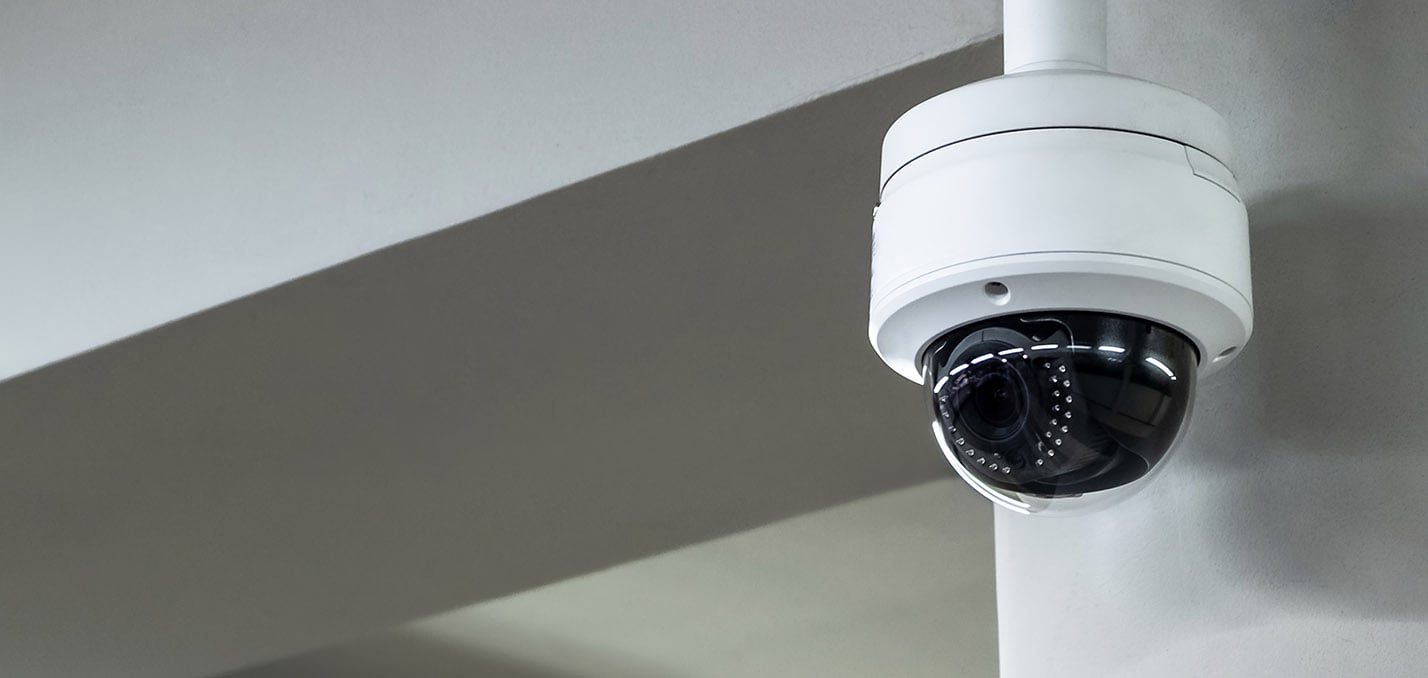 The physical site security of a cannabis retail store is typically comprised of a camera system, an alarm system, and an access control system, bolstered with active security personnel. Both internal and external theft are potential issues; employees can pocket cash or merchandise, and the possibility of armed robbery or burglary is very real, especially for dispensaries that have difficulties finding financial services and consequently maintain substantial cash reserves. You'll also need a system to archive and store your security system footage for the appropriate period mandated by law. You may want to consider hiring an external security service to monitor your alarms and handle the camera footage storage requirements.
When you evaluating surveillance system providers, check out 6 Considerations When Evaluating Dispensary Security Software.
2. Product Security
Securing both your cannabis and your cash receipts is another primary concern for retailers. You're going to need a ton of locked safes and secure product storage. You'll want to have a main vault for flower storage, and controlled security cases for areas where it is displayed to help prevent shoplifting by overly curious customers. Consider investing in shatter-resistant glass as well. To handle your cash, you'll want at least one more heavy-duty safe. At the end of the day, your entire stock of cannabis, edibles, concentrates, seeds, and everything else you offer must come off the floor and into a locked space (double-check that you've designed your safe room with adequate space to accommodate this). Consider segregating employee access based on job duties; budtenders don't need to do anything with cash other than receive it, so they don't need safe access. On the other hand, your bookkeeper does need safe access but does not need access to the inventory or product storage areas of your facility.
Learn some useful tips to detect and prevent theft and fraud in a cannabis dispensary.
3. Policies & Procedures
Developing a comprehensive set of security-related policies and procedures to follow is of critical importance for cannabis business retailers. All employees should receive extensive training in this regard. The most important thing to develop is an extensive auditing procedure that can track and account for every gram of cannabis that passes through your facility and tie it either directly to inventory or to a receipt. Usually, retailers will audit their sales floor inventory on a daily basis, supplemented with a whole-store check once per month or so. Work with your attorney and security consultant to flesh out these documents and ensure your security operations are in compliance with all laws for your state/province and municipality.

---
12. Sourcing Your Cannabis Flower
Sourcing cannabis in Canada and in the United States are slightly different processes. In Canada, you can generally only purchase cannabis wholesale from the provincial government, which distributes products sourced from licensed producers. In the United States, some regions allow retailers to have vertically integrated operations and grow their own products. Below, we'll explain the differences in more detail by country and province.
Sourcing Your Cannabis in the US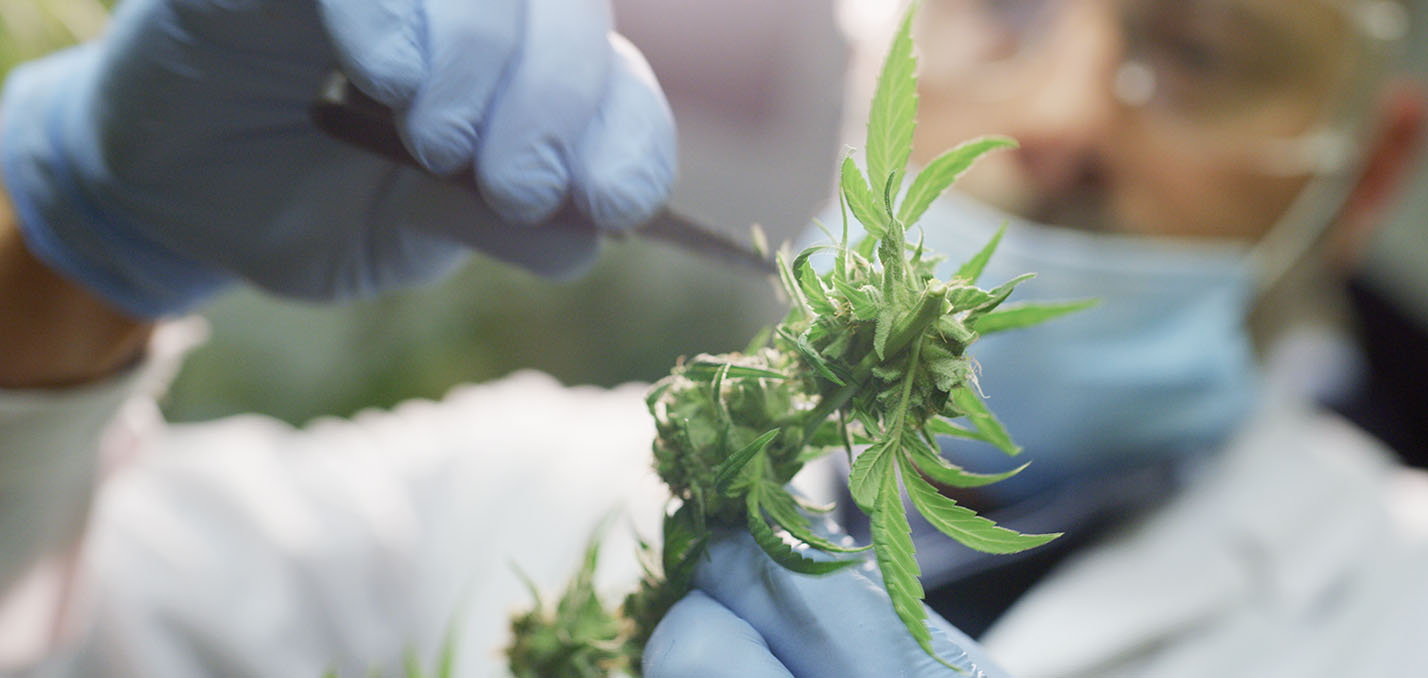 In the US, options for dispensaries largely boil down to one of two: either grow your own flower or purchase it from an authorized supplier. For the most part, recreational dispensaries tend not to grow their own flower, while it is more common in the medical arena (and actually mandated in some states, like Colorado). However, even stores that do host their own grow operations will not be able to grow all the strains they would like to sell or even all of the most popular strains – meaning virtually all dispensaries turn to licensed growers at some point. We're going to walk through some of the considerations you should keep in mind when selecting the right choice for your operation:
Extracts, Concentrates, and Edibles
While cannabis flower prices are up and overall firm (though fluctuating in certain markets) as mentioned earlier, profit margins on extracts, concentrates, & edibles have actually slightly risen in recent years, making them attractive offerings for dispensaries. Manufacturing these products yourself is probably out of reach for most dispensaries, due to prohibitive cost. Flower prices tend to fluctuate throughout the year; in some states like Colorado, they actually set average marker prices on a bi-annual basis in order to properly set the rate of excise tax on wholesale orders.
Buying Wholesale
In some ways, vertical integration makes sense; however, it also precludes specialization to some extent – the best cannabis salespeople probably aren't the best cannabis growers. Growing also takes things to a whole new level financially – it is usually a million-dollar-plus endeavor, which is out of reach for many operations, making wholesale purchasing even more attractive. When the time comes to evaluate potential providers, look for wholesalers with an established reputation in the industry, and those who grow the specific strains you're most interested in marketing. You'll also want to verify that they can produce the quantities you'll need and that they are in good standing as far as their own licensing status with the state.
Legal Considerations
In some states, dispensaries are expressly prohibited from being involved in cultivation. In others, they are highly encouraged to do so. In Colorado, all medical dispensary owners must grow at least 70% of their on-hand inventory. The list of approved cultivators is usually publically available with a quick search.
In-house Expertise
If you're interested and able to cultivate your own flower, you'll also want to honestly consider whether you have the expertise to do so cost-effectively. Commercial-scale cultivation of cannabis requires a very specific skill set, which may require hiring new staff you did not originally anticipate. Errors or mistakes during the cultivation process can result in the loss of entire crops of cannabis, causing substantial expense, not to mention severe disruptions to your supply chain.


Sourcing Cannabis in Canada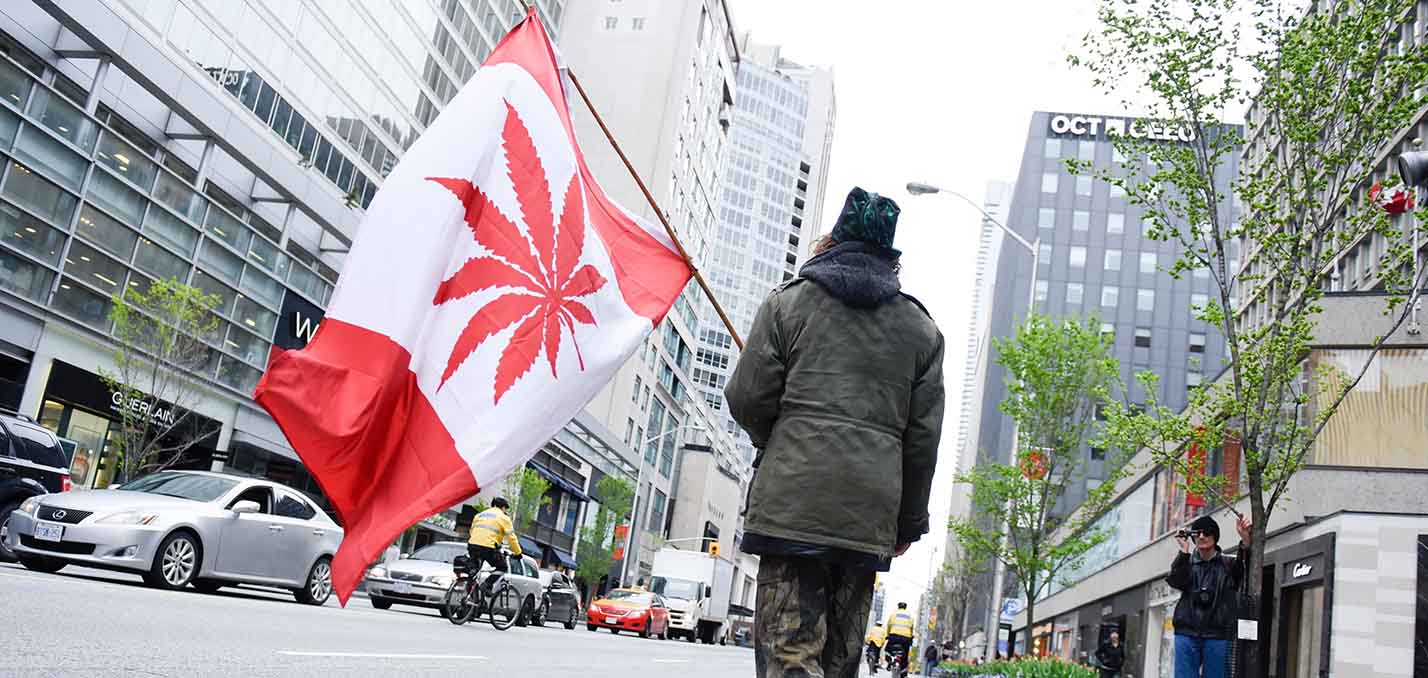 In all provinces except Saskatchewan, the wholesale and distribution of non-medical cannabis is government-operated. Most provinces have modified the purview of their liquor and gaming authorities to include cannabis, and they work directly with licensed producers to procure the supply for retailers. Here is a breakdown of each province's supply chain:


British Columbia
In BC, licensed retailers order cannabis products for their stores from the Liquor Distribution Branch.


Alberta
The Alberta Gaming and Liquor Commission (AGLC) buys products from federally licensed producers and distributes them to licensed private retailers.


Saskatchewan
Saskatchewan is the only province in which retailers may purchase cannabis products directly from licensed producers or other retailers. You may also purchase directly from permitted wholesalers, retailers, and licensed producers from other provinces, so long as they are registered with the Saskatchewan Liquor and Gaming Authority and the product has a Saskatchewan excise stamp.


Manitoba
Manitoba retailers purchase products directly from the Manitoba Liquor and Lotteries Corporation.


Ontario
The Ontario Cannabis Store Wholesale is the exclusive distributor of recreational cannabis to licensed retailers in the province.


Newfoundland and Labrador
CannabisNL, a division of the Newfoundland and Labrador Liquor Corporation (NLC) is responsible for regulating the possession, sale, and delivery of non-medical cannabis. They buy from licensed producers and are the sole seller of cannabis online in the province, and wholesale distributor to private retailers.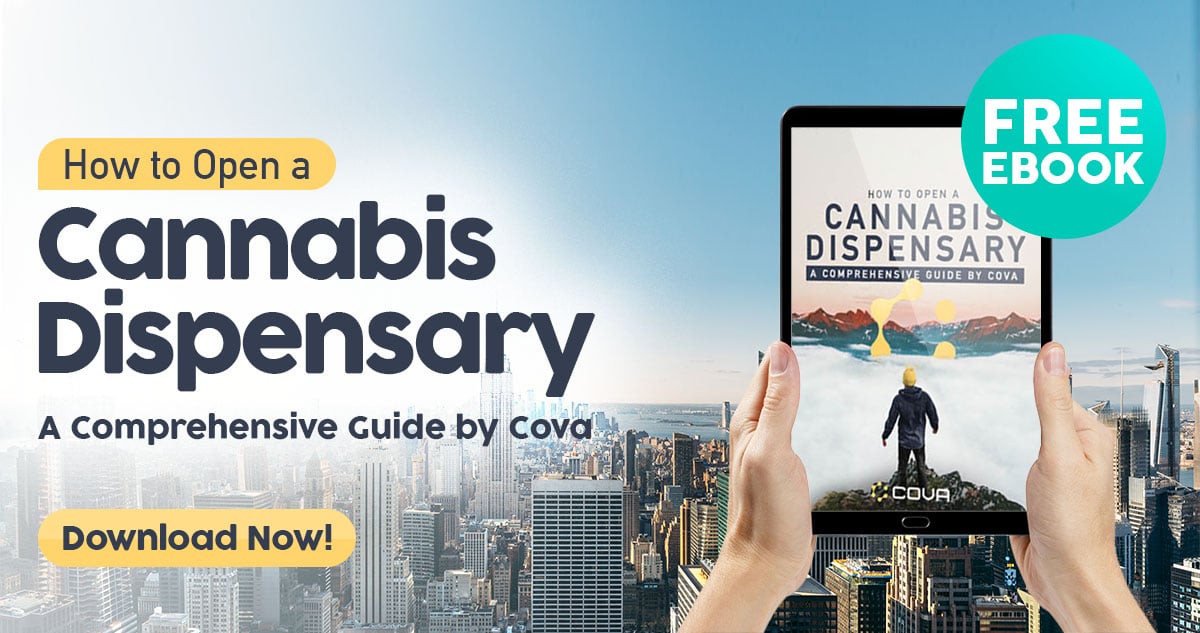 LAST UPDATED OCTOBER 25, 2023