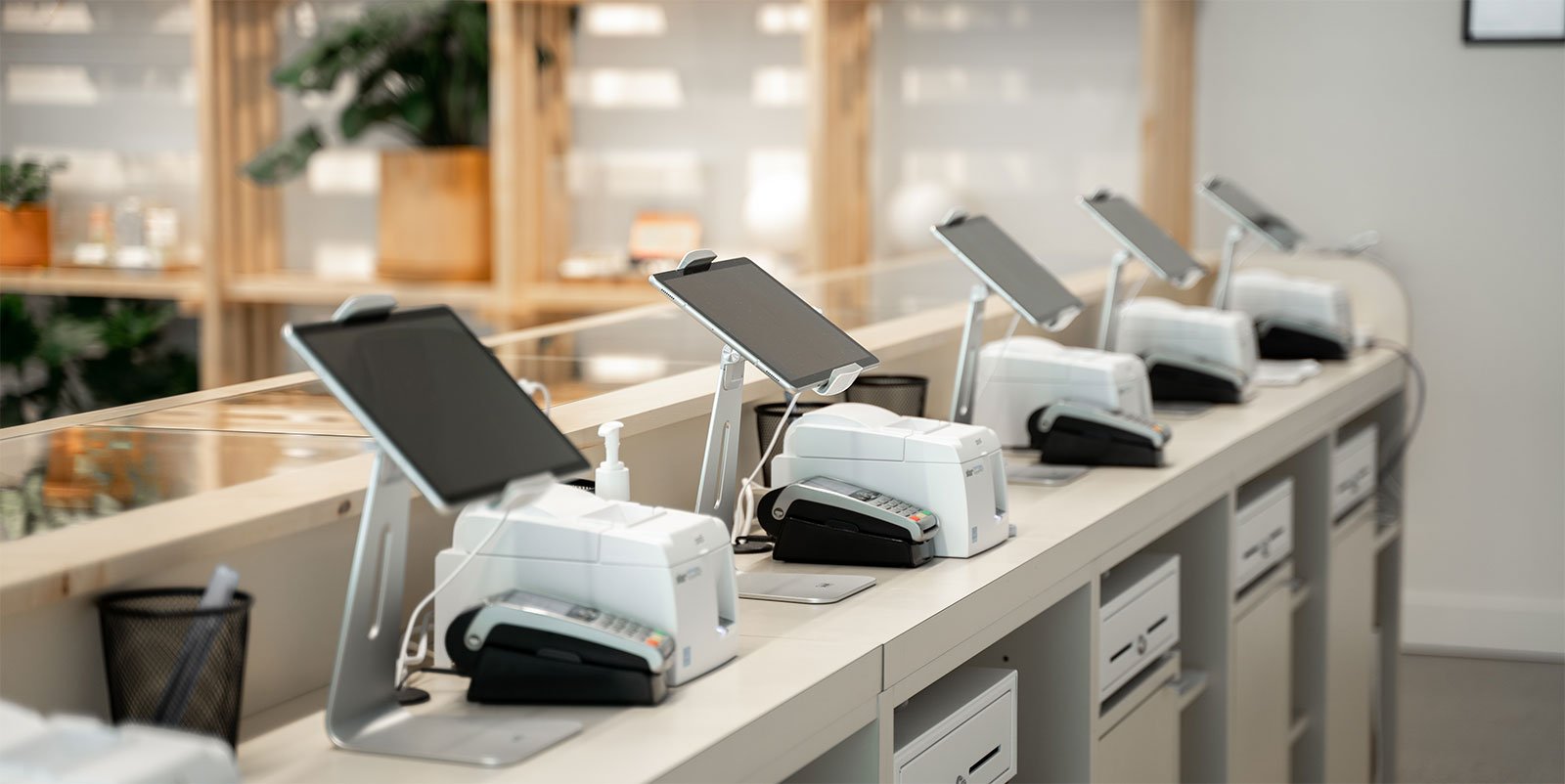 As a dispensary owner, you know you need software to make your business run efficiently, software that helps you manage bureaucratic documentation requirements and the strong possibility of costly human errors. Moreover, you need technologies that keep you competitive.
Of course, there's no one-size-fits-all software for cannabis retail — and it's possible to have too many tools in your retail tech toolbox. You have unique needs, transaction dynamics, and goals for the future. At Cova, we know that you don't want to pay for functionalities that you don't need, and at the same time, you want to take full advantage of the technologies that are right for you.
This blog explores the cannabis retail software available today and helps you decide what's right for you. It also explains why we believe some functionalities are a "must," and why other features are advantageous only when the time is right.
The Cannabis Retail Technology for a Boutique Dispensary (or one that's just getting started)
When it comes to tech, some retailers only need the bare necessities. Yet what constitutes a "necessity" is always a matter of opinion. Retailers can still use paper ledgers and spreadsheets to track their products and sales, but most of the successful ones have a handful of technologies they consider imperative.
Across the North American market, viable retail operations — the ones who sustain their businesses and their profits — are using the same basic package of software functionalities. Others add more sophisticated features, but there's an essential "cannabis retail tech tool box" that meets the needs of today's industry. Regardless of your cannabis POS software partner, you'll want to start with the following functionalities and build up from there.
A Cannabis Point-of-Sale System
A cannabis POS platform is your store's central nervous system. It plays a role in most aspects of your business from inventory management to internet marketing.
At the register, your POS should aim to improve the retail experience for both the budtender and the customer by making transactions, and accept payment quickly and easily. Some advanced POS will have extra capabilities like built-in ID scanners to help save time checking customers in while eliminating costly compliance errors.
By retaining your customers' profile information of previous purchases, your budtenders can provide tailored recommendations. And with product information ready on a tablet, even newbie budtenders can deliver expert-level service.
Not all POS are created equal. A powerful POS can display all the open orders from all the tablets in the store, as well as all the orders placed online. Controlling order data with this cloud-based connectivity let's retailers create novel retail environments wherein customers browse the floor while their orders are assembled in a backroom. And with the ability to view all pending orders, that backroom fulfillment area can seamlessly handle online orders just as though they were in-store orders.
Sales reports from your Cova POS synchronize directly with Quickbooks® or export into other file formats. They also sync with METRC and other regulatory systems — without the need for manual entry. Moreover, advanced reporting features reduce your payroll expenses because they save time that would otherwise be spent auditing and reconciling daily sales totals.
Website, E-commerce & Online Menus
At the very minimum, a cannabis retail store needs a static website — one that displays products, pictures, and contact information. It educates consumers about your brand and provides them with basic information about the products you carry. However, it won't be able to display your current inventory, at least not accurately without manual updates. For that, you'll need a little more technology.
An online menu — integrated into your website and synchronized with your POS — provides the next level of functionality and audience engagement. With an online menu/POS integration, your inventory displays in real-time with accurate pricing, and that can motivate consumers to visit your store immediately.
Even better, you can accept orders and reservations, becoming a true e-commerce site with in-person pickup. Ideally, have omni-channel ordering in place in addition to your own e-commerce site. Omni-channel ordering means that customers can order many ways: in-store, over the phone, on your website, or through third-party services such as online cannabis menus like Weedmaps and Dutchie. More cannabis menus come online each day, and it's important to post your wares on as many of them as possible.
The more ways your customers can connect with you, the more customers you'll have.
A cannabis-optimized POS will have integrations for online menus, and added functionality for sales on your branded website — your home turf. When you can sell directly from your website, your customers truly engage with your brand, and it's easier to stay connected with them on social media or via email.
An Inventory Management System
Tracking product is critical in the cannabis industry, yet most POS systems don't have the depth to manage inventory. For that, you'll need an inventory management system or a POS with inventory management capabilities.
An inventory management system monitors inventory levels in real time, allowing you to re-merchandise or mark down slower moving items, and transfer items between stores. And in the cannabis industry, an inventory management system must communicate with regulatory databases, too, for seed-to-sale tracking.
Good inventory management also keeps your product levels accurate for your customers. With multiple sales channels from third-party sources, maintaining accurate data becomes a tall task — one requiring multiple integrations and real-time synchronization. Two-way synchronization with third-party sources ensures your customers will never be disappointed when they arrive at your store or, worse, submit an online payment for a product that's out of stock.
An inventory management system helps keep those products on hand, too, by making sales reports and inventory auditing simple. Daily, weekly, and monthly reports give you an accurate view of your product movement: what's selling, what isn't, and what has the highest turnover ratio. You can use that data to make inventory choices based on shifting consumer tastes and experiment with new products, all while easily tracking the results.
Menu Boards and Digital Signage
Most cannabis retailers have ditched the menu chalkboard for digital displays, and most use an inventory integration to make sure the products they show are in-stock and accurately priced.
Digital signage goes beyond a simple price list to offer entertainment and special deals. You can run promotions that display across at all your stores — or just one of your stores — and easily change the imagery and copy of your ads. Some retailers use their digital signage for entertainment too, by running videos that evoke their brands or explain their products.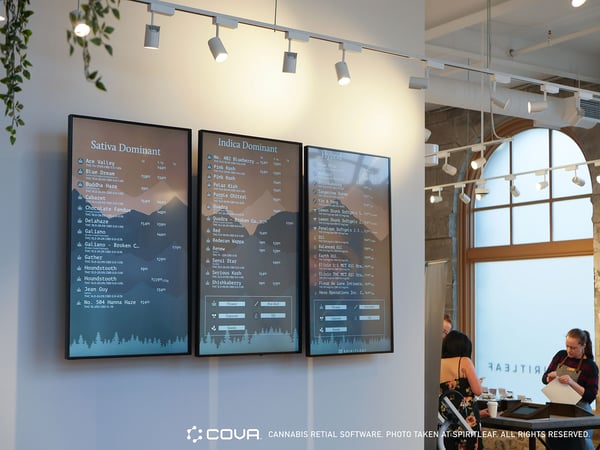 The Deluxe Cannabis Retail Tech Toolbox
An advanced cannabis retailer will have all of the cannabis dispensary technologies listed above as well as some of those listed below. The more sophisticated a cannabis retail operation becomes, the more it utilizes data to improve its results and expand its reach. While the following features may not be right for small retailers, large retailers are using them to grow their businesses and get further ahead.
A Cannabis Delivery Service
Cannabis delivery services were emerging even before COVID-19. Now, many states and provinces permit licensed cannabis delivery, and delivery orders are an essential revenue stream for many brick-and-mortar stores.
To implement a delivery service, you'll need a system that can organize orders from multiple sources. And you'll need a way to segment the reserved products from the rest of your inventory. They're still in your inventory; they're just not available for sale to other customers. Your POS integrations can collate all of your orders in one dashboard, making fulfilling and dispatching them easy.
Since you have to know where your product is at all times, you'll also need a compliant delivery management software to organize your deliveries into efficient delivery routes. That same software will track your drivers via GPS to ensure they're on-task and on-schedule. Regulations often require a documented record of delivery routes. Delivery management software is the only feasible way to make that happen.
At the doorstep, your delivery personnel will need to check IDs and collect signatures. POS tablets make that easy, and some have the ID-scanning technology you'll use at your storefront. It's critical that the POS system used for deliveries be functional off-site. An wireless hotspot may be available on the road, but it's not a reliable solution. So, you'll want POS tablets that can work offline and sync inventory when internet connectivity resumes.

A Loyalty Program
A loyalty program rewards your repeat customers with special deals and store credits when they spend a predetermined amount. Ultimately, it boosts your sales and builds long-lasting relationships.
Some POS system comes with a built-in loyalty program that allows you to track points and turn points into rewards. However, if you want advanced capabilities, you may need to add additional tools.
Adding a marketing integration allows you to segment your customers based on how they shop at your dispensary and what they buy. Then, you can offer different types of promotions for each customer type. Advanced loyalty integrations also let you communicate with your customers via email and SMS text communication for even better connectivity.
Clienteling Capabilities
Some POS systems leverage loyalty data to do more than create repeat business — they improve the customer experience with clienteling, the practice of tracking customer data to provide better service and product recommendations.
A clienteling POS lets you create individual customer profiles that document purchases across multiple sales channels. The Clienteling app shows your budtenders what product categories a customer shops, their typical price range, and how they usually prefer to shop (either online or in-store). Then, the system's algorithms offer tailored product recommendations based on the customer's purchase history. This creates a more engaging shopping experience, enhances trust, and ultimately drives more sales and repeat business.
An Advanced Analytics Tool
The Cova POS platform uses your sales history to guide you into better inventory management. Based on what sold in previous weeks or years, the system suggests optimal inventory levels. And it'll give you feedback about which products and budtenders are performing well.
Even better, the Cova POS incorporates industry benchmark data. Benchmark data, or market research data, is considered priceless in other industries because it enables comparisons between retailers and industry norms. How will you know how you measure up — or where you can improve — without knowing how other retailers are faring? With benchmark data, you can identify gaps in your performance and improve.
Note: All Cova clients get complimentary access to Headset.io for free industry data.
Surveillance and Security Systems
In many states and provinces, cannabis retailers are required to install surveillance and security systems. The systems don't have to integrate with POS, but if they do, it brings a lot more control and visibility to your operations.
A POS that integrates with your security cameras can help resolve minor incidents of product diversion and keep better tabs on who's accessing the register. With an integrated security system, you can view your transactions overlaid with the camera footage. That way, you see if your budtender has properly charged the customer. You can also queue up your footage by the transaction information.
ERP Integration Capabilities
As you grow into multiple locations across multiple regions, you may discover enterprise resource planning software (ERP) is necessary to keep all the balls in the air. An ERP system centralizes all of your company's information into one database and automates routine tasks.
Like a POS, an ERP simplifies many business processes and increases efficiency. Yet a ERP goes deepering into human resources management, accounting, customer relationship management, and manufacturing process data.
When you expand to ERP-scale, Cova will be ready for you. Our platform features an open API for ERPs like Oracle and Microsoft. The data from your POS (sales, inventory, and staffing) uploads into your ERP for an all-in-one control center for supply chain management, accounting, and HR.
Ready to add next-level functionality to your POS? Or do you need to rethink if your POS is really right for your needs? Whether you're a Cova customer or not, our representatives are standing by. Contact us today for a free consultation to see which POS features will boost your business the most.