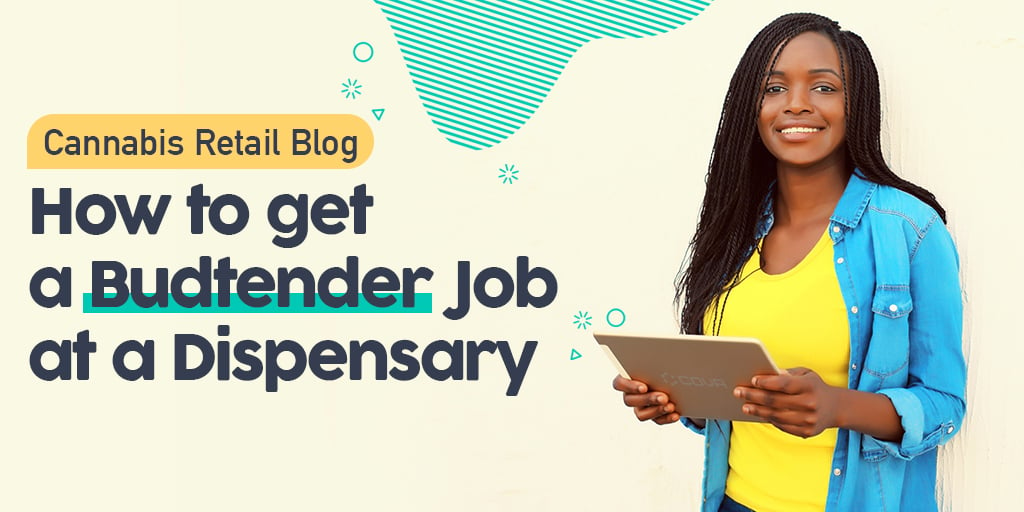 Budtenders are retailer associates who work in licensed cannabis dispensaries. Their job is to assist customers, whether they're new to cannabis consumption or seasoned enthusiasts. In today's competitive job market, securing a job in the burgeoning cannabis industry can be quite challenging. If you're aiming for a position as a budtender at a dispensary, whether it's full-time or part-time, you need to make your application and skills shine to stand out as a candidate.
Budtenders are typically the go-to resource for all things related to cannabis strains, products, and equipment at a dispensary. If the role of a budtender is your dream job, or you're simply looking to gain retail experience in the ever-evolving world of cannabis, this blog serves as the ultimate guide. If you're looking at hiring dispensary employees, check out this blog on how to hire and train budtenders. In this blog, you'll learn:
We will take you on a journey through the realm of budtenders, provide insights on excelling in this role, and guide you on the path to securing that coveted dispensary budtender position.
What Does a Budtender Do at a Dispensary?
The responsibilities of the budtender include greeting customers, answering customers' questions regarding the different strains of cannabis, their medicinal uses, and methods of consumption, and keeping the manager informed of any complaints or operational issues. Here's a complete list of what a budtender does at a dispensary:
Opening dispensary duties: Ensure the dispensary is sanitary and presentable.
Reception: Verify customer information for proper ID and check them in.
Fulfillment: When orders come in from the sales floor or online, ensure the right cannabis products are pulled from the shelves and placed in the customers' bags.
Salesfloor: Provide friendly customer service and recommendations to customers when appropriate, based on purchase history and preferences.
Point-of-Sale (POS): Process customers' payments via the dispensary's point-of-sale system and ensure compliance in all transactions.
Inventory Management: Depending on the state, count stock to ensure there aren't any discrepancies between in-stock inventory and what's logged in the dispensary POS.
Closing dispensary duties: Counting cash, cleaning workstations, and tidying up the dispensary for the next day.
Abide all legal cannabis compliance regulations and requirements as per state laws.
The role of a budtender can vary by state or dispensary, so if you're considering becoming one, it's essential to check each dispensary's specific requirements to ensure you're a fit.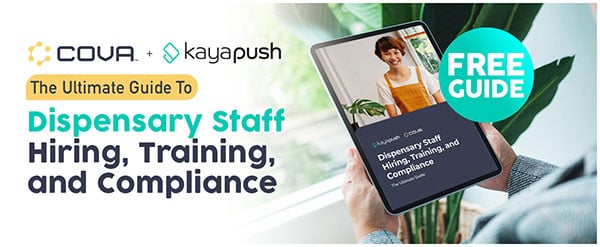 How Much Do Budtenders Make?
Most Budtenders make an hourly wage, and it varies from state to state:
The average hourly wage in the United States is $18 (as of Sept 2023).
The average wage ranges between $16 and $20 per hour. If a dispensary is unionized, the hourly wages are potentially higher.
The average monthly salary for a budtender can range between $4000 and $5000.
How Much Do Budteners Make in Tips?
For budtenders working with an advanced cannabis POS system, many dispensaries allow for customer tipping.
On average, a budtender can make $90 in tips during a 6-hour shift (~$15/hr).
Having basic product knowledge, a good attitude, and treating each guest courteously and with respect can lead to a fuller tip jar at the night's end.
Pre-tax, a budtender can make between $30 and $35 per hour along with tips.
How to Become a Budtender?
Becoming a budtender is like pursuing any other job. You search for budtender job openings in your area, apply, interview, and, if the stars align, secure the job—only with a few unique twists:
1. Meet Age Requirements
Age 21 years+: Just as most states require adult-use patients to be over 21 years of age to purchase legal cannabis, the same goes for working at a dispensary. Even though medical patients can receive an exemption status to purchase their medicinal marijuana, you are still required to be 21 years or older to work at a dispensary.
2. Background Check Verification
Many states require a background screening with the state for a person to be employed at a dispensary. This includes:
Application with all legal details
Fingerprinting once hired
Picture for Budtender Badge
3. Get Budtender State Certifications
Each state requires completing a state-approved Budtender certification course upon hiring. In most states, your employer will pay for your certification. The process varies across the country, from simple credential applications to more complex certification exams. Always review your local rules and specific dispensary requirements outlined in the job description.
Once you have fulfilled all the requirements to apply for a job as a budtender, ensure that your application stands out by following the guidelines outlined in the subsequent sections.
Do You Need to Be a Cannabis Connoisseur?
No, you don't need to be a cannabis connoisseur to become a budtender. Some traits and aspects that will be useful are:
Being a Team Player: Help wherever needed- Be willing to clean, take an extra shift, and help with the inventory count.
Eagerness to learn: You'll gain knowledge about the industry, including cannabis science and local regulations.
Be Curious: If you don't know the answer, ask questions. If you want to learn something new, ask. It's a win-win for you and your team.
Cannabis Technology Savvy: Familiarity with advanced cannabis software will be beneficial, but not a requirement as dispensaries will train you anyway.
It's vital to remember that while budtenders can offer insights into recreational and medical cannabis products, they're generally not medically trained. For medical queries, one must always consult their healthcare provider.
What to Include on Your Budtender Job Application?
Your budtender job application should stand out from the rest of the crowd. We've compiled five crucial things your application should include if you want to work at a cannabis dispensary.
1. Demonstrate Your Budtender Knowledge
If you've previously worked at a cannabis dispensary, this step should come naturally. To be a successful budtender candidate:
Provide your experiences with cannabis and how it has benefited your life and any other cannabis knowledge or unique budtender experiences that you can demonstrate. Highlight any budtender training that you may have received in the past, and mention any certifications that you may have.
Invest your time in learning your specific state cannabis laws about cannabis products, cannabis cultivation processes, cannabis strains, etc.
For those new to the industry, demonstrate a basic working knowledge of common cannabis products and strains. While you can memorize only some of the menu, showing awareness of the basics will give you an edge.
2. Showcase Your Desired Career Path
Beyond basic budtender knowledge, your application should convey your passion and dedication to making the cannabis industry your career.
Mention any industry-specific news that you read.
Show that this isn't just "another job" for you.
Display commitment to the cannabis space.
3. Talk About Your Customer Experience
Passion for cannabis may give you a leg up, but it's not enough on its own.
Display empathy and understanding for patients who use cannabis for medicinal purposes.
Distinguish yourself as an exceptional budtender candidate who loyal dispensary customers would want to consult.
If you lack significant retail experience, provide examples where you've gone above and beyond to satisfy a customer or your internal partners and colleagues.
Given that many customers may be cannabis newbies, an applicant with a friendly and helpful demeanor can create a positive dispensary customer experience.
4. Include Your Hobbies
Show the different dimensions of your personality.
Your unique interests can set you apart from other applicants.
If your hobbies reflect your passion for cannabis, that's even better.
If there is no designated space for hobbies on the job application, create one to demonstrate your ability outside the workplace.
5. Choose Your References Wisely
Provide personal or professional references with your job application.
Avoid listing individuals who aren't supportive of cannabis consumption and industry legislation.
Include individuals who know you and feel comfortable vouching for your work ethic and support your career aspirations, regardless of their current occupation or industry.
As a Cannabis Retail Operator, How Do You Hire and Train Budtenders?
Running a cannabis retail business is a complex endeavor, involving cannabis licensing, local approvals, location scouting, and operational preparations. But it's also about building a great team and culture.
Whether you're building a new team, expanding your existing staff, or hiring budtenders, download our ultimate dispensary staff hiring, training, and compliance guide, which will save you valuable time when hiring and onboarding employees at your cannabis retail store.
Working at a dispensary, immersed in a world of cannabis flower, delectable edibles, potent extracts, and a variety of other products, might seem like a dream come true. However, these coveted positions are in high demand, and more than simply having a passion for the plant will be necessary to secure your place in this budding industry. It's crucial to approach the role and application with utmost dedication, for the path you embark on today may lead to unimaginable opportunities in the years to come.
Consider a budtender job as a launching pad to enter the cannabis industry, allowing you to explore diverse avenues within the field that align with your genuine aspirations, ultimately fulfilling your dreams in the cannabis space. If you want to learn more about the various job responsibilities for dispensary employees, click below to download our free cannabis retail job descriptions template.