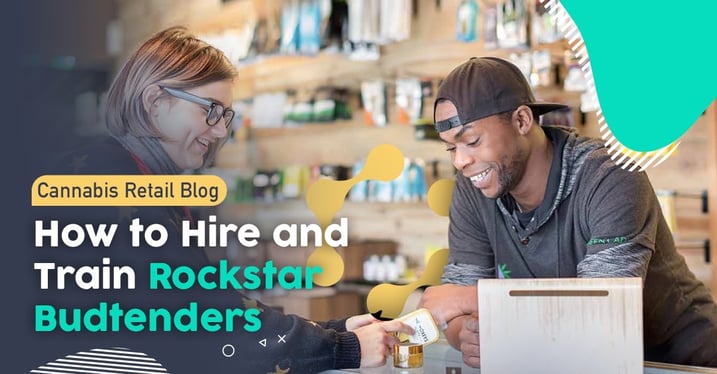 Budtenders are the most valuable employees at a cannabis retail store. They educate the customer, build relationships that inspire loyalty, and guide cannabis consumers to the most suitable products for an elevated experience. Encouraging budtenders to improve performance is critical for high-performing cannabis retail stores, as they can make or break your cannabis dispensary. In this guide, we showcase everything you need to know to hire rockstar Budtenders, and leverage dispensary POS data to further enhance budtender performance.
If you would like more information about this topic, we highly recommend downloading our free "all-in-one" PDF guide that includes all of this information and more on hiring and training the best dispensary staff in a downloadable and print-friendly format for use at your dispensary.
What You'll Learn About Hiring and Training Budtenders
Creating and Streamlining Hiring and Training Processes.
Sourcing and Recruiting the Right Candidates.
Tips for Hiring, Training, and Integrating Budtenders.
Tactics to Enhance Budtender Performance and Improve Retention.
Seven Common Mistakes when Hiring Budtenders, and How to Avoid Them.
Ensure that you have adequate dispensary software including a compliant high-quality Dispensary POS solution that will provide actionable insights to you and your team.
Creating and Streamlining Hiring & Training Processes
One of the most detrimental situations that can happen when hiring and training budtenders are to bring new hires into your company without being prepared with the processes to train them. Before you even get started in the hiring process, think about what information your new hires need to understand to operate at a high level.
As a best practice, we highly recommend creating what are called SOPs, or "Standard Operating Procedures". These SOPs are essentially streamlined guides and processes that you and your management will create to quickly get new hires trained and ready to knock things out of the park.
With technology at our fingertips, we can affordably create SOP documents by using solutions such as Google Workspace (Google Drive, Docs, Sheets, etc.). One common method is to create a Google Drive folder and create multiple different Google Docs and videos within the folder.
If you are looking for a really solid pre-built solution for SOP creation, we recommend using software such as Trainual. This tool makes it easy to go and create several training videos and guides for your team members based on roles and host them on their platform in an easy-to-organize and easy-to-consume format.
Things to Include in SOP Training Guides
Below is a short list that includes things that you should be thinking about when creating your SOP documents:
What is our process for creating job descriptions?
What interview questions are we going to ask, and what answers are we primarily looking to see?
How do we push out our job postings to various job boards?
Once we have selected a candidate, what solutions or processes do we have to streamline the onboarding process?
What forms and documents do we need the new hire to fill out?
What information do we need to capture from the new hire?
What is the process for training the new hire for compliance?
What is the process for educating the new hire on products?
What are our company values, and how do we instill them in our new hires?
What is our process for offboarding employees if they move on to a new role?
Sourcing and Recruiting Candidates for your Dispensary
In this digital age, there are a significant number of hiring platforms that you can leverage to your advantage. So many, that it can become a bit overwhelming to manage them all. However, there are some fantastic tools that you can leverage to streamline the recruiting process.
Budget permitting, we recommend taking a look at Gem, and Smart Recruiters. These software solutions come with powerful tools that allow you to post to a multitude of different job boards simultaneously. The key point for this topic is to cast a wide net when posting jobs online. By only posting your jobs on one or two different platforms, you severely hinder your visibility. Some candidates will only be looking on specific platforms, so it's critical to post to as many platforms as possible.
Here are some examples of platforms that you should consider posting your jobs to:
Indeed
Craigslist
LinkedIn Jobs
Monster
Google for Jobs
Kijiji
Job Bank
Talent.com
Creating Your Own Job Board
One often overlooked yet extremely powerful way to source candidates is by creating your own job board. Some tools make this process a lot easier, such as JazzHR. Once you have your job board live, you can create sections on your website such as banners and notifications that internally link to the job board section. A benefit of this strategy is that your website visitors are more likely to be interested in or passionate about cannabis. By showing that you are hiring directly on your website, you can affordably advertise your job to an audience that is potentially already your customer.
Building a "Virtual Bench"
We recommend always keeping your job board open on your website. If all positions are filled, you can always keep those new applicants there for when the time comes to hire more.
Tips for Hiring, Training, and Integrating Budtenders
Offer Smooth Onboarding
The onboarding process might be intimidating for potential employees. Fearing they might not be able to fit in and acquire all the skills and knowledge they need, they might give up applying. Therefore, you need to ensure that candidates, especially Gen Z and millennials, feel like they're in good hands. Provide a smooth onboarding process which includes:
a mentor to monitor their progress
constant help
team-building with the rest of the employees
no stress
Provide Training & Education Opportunities
Times are changing fast and people are no longer willing to sit in the same job for 40 years, fearing they might never find a new one. This is why you should offer training and education opportunities in the cannabis industry, like seminars, workshops, and mentorship. If they feel like they'll have the chance to develop professionally, they'll be more willing to start working for you.
Point Out to Your Corporate Ladder
The best employees are those who are working hard to build a serious career. They are the ones who'll give their best and turn out to be an employee worth fighting for. To recruit ambitious millennials with competitive skills and knowledge, you'll need to offer something more. You'll have to offer an advancement opportunity.
Make sure you present the following facts:
the hierarchy of your business
employees working in different positions
requirements leading to a promotion
Let them know they'll be able to build a career and stay in the cannabis industry for the long run. This will be a great inspiration for them and a motivation to become a part of your team.
Be Aware of the Importance of Their Salary
Money is another major factor when it comes to recruiting potential employees. It's what might make the difference between you or another employee looking into hiring the same person. You need to offer a salary that will:
make them feel appreciated
show you value their skills and knowledge
be as per the responsibility you're giving them
be competitive in the market
Do your research and find out how much your competitors are paying their employees. Consider all of the above factors and settle on a sum you feel will do the trick for your employees.
Introduce Them to Your Culture
Creating a sense of belonging is the final touch to your recruiting strategy. Millennials will want to feel like a part of something bigger. A positive and healthy work atmosphere is one of the major elements, and something any potential employee will be delighted to hear about. To attract and recruit them, you should:
emphasize company goals and passion
show how employees communicate with one another
give insight into the culture you're nurturing together
Write Unique Job Descriptions
Finally, don't forget to pack all of the above into a professionally written job description. Potential employees will draw conclusions based on the way you've written it. It can either make or break a deal with them. That's why your job description needs to be unique, appealing, and easy to comprehend. Here's what to think about:
the conversational style of writing
adding visuals
being specific about what you're looking for
structuring it properly into smaller chunks of text
Also, don't forget to proofread everything and ensure you're writing accurately. Use services such as Top Writers Review or Grammarly in case you need help. If you make a job description readable and with a specific tone to it, you'll end up with many more applications than you might think.
You can find job descriptions specific to the cannabis industry here.
Prepare Targeted Interview Questions
We've all heard the question "where do you want to be in five years?" But applicants are well prepared for that type of question or questions like "what are your strengths and weaknesses?" When asking interview questions to a budtender, these answers are important — and so is digging deeper.
Savvy hiring managers in many industries have begun asking questions like "if you were an animal, what type of animal would you be?" Or "what qualities do you value in your friends?" These questions uncover the applicant's personality much better than generic questions about previous jobs or the applicant's strengths.
Ask about why they want the job and why they want to work in the cannabis industry. Their answer will tell you a lot about how seriously they're taking the responsibility and if they're grounded in reality. We recommend taking a look at our guide on Interview Questions to Ask a Budtender, where we provide 11 of the best questions to ask candidates.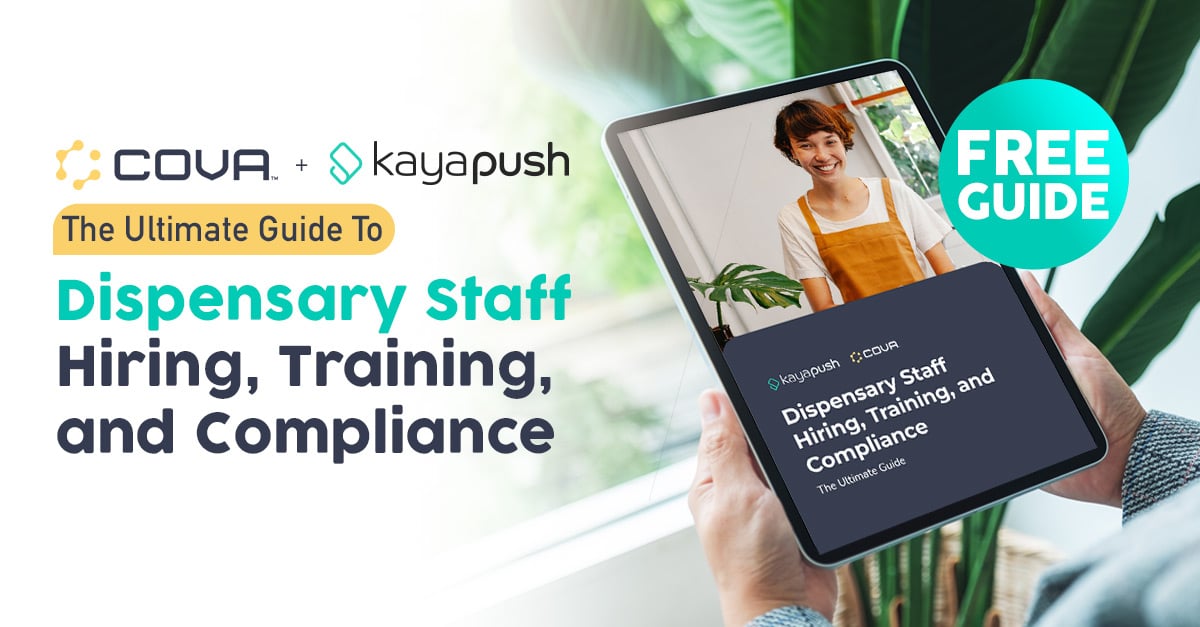 Using Dispensary Software to Enhance Budtender Performance
A good budtender must be skilled at cultivating relationships and have extensive product knowledge. They must act as reliable cannabis experts who ask the right questions to curate a memorable customer experience.
In addition to increasing sales, excellent budtenders help those around them grow. It is not enough to be a solo rockstar with great numbers - true MVPs want to contribute to the continued success and professional development of those around them.
The question is, how do we develop new hires into excellent budtenders? One of the primary ways that we can achieve this is by leveraging data right at the source by leveraging dispensary POS data. At COVA Software, our suite of cannabis software solutions provides actionable data to you and your team. This data can then be used in meaningful ways to further train and educate your team on the specifics of your customer base, cannabis products, and more.
Track Budtender KPIs to Create Clarity and Accountability
The best way to track sales staff performance is with their sales metrics. By using the COVA dispensary POS system, dispensary owners automatically collect sales data to celebrate top performers and implement targeted skills training for underperforming staff.
Monitoring and reviewing budtender KPIs creates individual and team accountability. This provides a snapshot in time and, as managers observe performance over time, they can see the impact of coaching and training on the KPI trends over time.
For those just getting started, the following are the 6 most important KPIs to monitor for budtenders:
$ / Unit
Units / Trans.
Avg Trans. Value (ATV)
% Margin
% Trans. with Discount
Sales volume (Trans or Rev)
Discuss Budtender Performance Metrics Honestly
The most impactful way to use budtender data to improve performance is to share data insights from your tech infrastructure with your staff. Sales teams thrive when they know how they are being evaluated and what metrics are being tracked. Give regular performance reviews and discuss changes or trends in their numbers. These reviews should be a collaborative and reflective dialogue between sales staff and management and not make underperformers feel bad - the intention is to facilitate growth and improve performance. Seek to motivate your team by recognizing and celebrating growth. Track metrics over time and discuss changes in performance at individual performance reviews so that every budtender knows what they must do to improve.
Improve Budtender Retention With KPI-Triggered Training
In addition to tracking metrics for your store and giving your staff access to customer data, it is also vital to ensure that your budtenders receive proper training. Develop training programs that seek to lift the areas you want to see improvement in. If you are looking to increase the profit margins of your cannabis retail store, train the staff on what the most profitable cannabis products are.
How many of your sales staff can rattle off the top 10 highest-margin products in the store?
How many can easily list inventory that is overstocked?
How many of them understand the business metrics behind the products being sold, above and beyond the ingredients or the experiential qualities?
This type of training can be valuable and productive in terms of realigning sales performance with the desired outcomes of the overall business. After facilitating internal training, you may consider external cannabis industry training options. There are various budtender certifications, but ensure that training is targeted toward a specific goal. If you are seeing dollars per unit statistics that are low, train on top-shelf products. If units per transaction are too low, then you may want to train budtenders on sales strategies like deals, upsells, cross-sells, and bundles. If the profits are low, then you may want to train them on selling the highest-margin products in the store. Always track changes related to these initiatives to measure the impact of your efforts.
Empower Budtenders to Connect with Customers
You can also empower your sales staff with instant insights from customer data. Give easy access to information about past customer purchases so budtenders can recommend more efficiently, facilitating long-term relationships with customers.
When your budtender sees a customer's past purchases on the dispensary POS system, they can quickly make tailored recommendations. Based on the dashboard above, what type of product do you think Alejandro is most interested in? The key is to make your customer data intuitive at a glance.
7 Common Mistakes When Hiring Budtenders
Hiring is a challenge for any business. However, it can be especially difficult for cannabis retail companies. A single bad hire can lead to disastrous results in this industry. Considering cannabis is the fastest-growing industry in the United States, you cannot afford to make a costly mistake. Choosing the right people for your team is vital to your success. Here are the top 7 hiring mistakes cannabis retailers make and how you can avoid them.
Rushing the Hiring Process
A report from New Frontier Data revealed cannabis is expected to create more than a quarter million jobs in the next three years. Naturally, dispensaries must move quickly to keep up with the rapidly evolving industry. Nonetheless, rushing the hiring process can be destructive in the long run, and is more likely to lead to a high turnover rate.
Hiring is a costly and time-intensive process, so be selective in who you bring on your team. One of the best ways to reduce turnover is by finding the right people from the start. Commit to hiring only qualified candidates.
Overvaluing Cannabis Experience
It's nice if your interviewee knows the difference between Sativa and Indica, but in-depth strain knowledge isn't a "must." In fact, it can be a problem if your new hire overindulges and shows up to work intoxicated every day. Everything they say and do reflects on your brand, so hopefully, they won't be glassy-eyed when they greet and serve your clientele.
Instead, find people who are eager to learn — and not just about cannabis. If they've held other customer service roles in the past, that's a plus, and if they have some sales experience, that's even better. Your budtenders' ability to "qualify the sale" (i.e., asking lots of great questions) means more than their encyclopedic knowledge of genetics.
Not Doing Due Diligence
Maybe you're in a rush. Or maybe a candidate looks perfect when they walk in the door. Regardless of that great first impression, going through the process of a background check is a priceless step toward assembling a solid dispensary staff — and preventing product diversion, compliance issues, and customer complaints.
Paid background checks performed by third-party services reveal obvious criminal problems, yet it's just as important to call the applicant's references to get a sense of their personality. Ideally, their references will sound enthusiastic. They'll have pointed answers to your questions about the applicant's strengths and weaknesses. Truly, they may have more insights into the applicant than the applicant alone can honestly provide.
Check out the applicant's digital presence too. Facebook or Instagram can tell you more in a few quick scrolls than a pre-interview on the phone. And, of course, applicants need to be legally certified to work as a budtender at a marijuana dispensary in your jurisdiction.
Forgetting About Your Company Values
When you're narrowing down your applicants, keep your mission statement and branding in mind. The new hire should represent your values. He or she might be a great choice for other reasons, such as their background as a cultivator, but if their attitude or customer service skills aren't in line with your brand, they're a poor choice. If you have a customer avatar or persona for your cannabis dispensary, consider whether this new applicant would be their friend. With increased emphasis on diversity and social equity in cannabis, your cannabis staff must reflect the diverse society we live in.
Hiring Based On Resume Alone
A dazzling resume may be a great thing if the applicant can work well with a team. Cannabis retail is a teamwork-heavy endeavor, with multiple departments depending on one another — or falling apart into a cascade of problems.
HR managers from Fortune 500 companies want to see how an interviewee performs in the "real world," rather than across a desk, so they take them to lunch or give them a tour of the facility. A team player will treat everyone with respect, make eye contact, and ask questions that show curiosity about the business and other people. When hiring entry-level budtenders, going to lunch might not be feasible, but introducing them to your dispensary staff and showing them the sales floor is a good move.
Overestimating the Applicant's Understanding of the Job
Many applicants just think it's cool to sell weed for a living. And it is. But they need to understand that cannabis regulations are intense and that compliance comes first. Your job posting should make this clear by listing desired traits such as "attention to detail," "organized," "responsible," etc.
More to the point, the job listing needs to be very clear about the responsibilities of the role — whether it's inventory manager, shift manager, or budtender. If this isn't clear the applicant won't know what's expected of them. Well-developed standard operating procedures, or SOPs, can help.
Being Inefficient
Once all those leads are knocking on your door, you'll want to cull through them quickly. Dozens of 30-minute interviews will kill your productivity. And while you want to find the best of the best, there's a better way.
A simple, ten-minute phone call can cut your interview list by 75%. You already have their resume in hand, so use questions that reveal their background and the types of work environments they enjoy. The tone of a quick phone call can speak volumes — and save you a lot of time.
How to Reduce Budtender Turnover and Increase Retention
Employee turnover can cost dispensaries some serious money. While studies are a bit scattered across the board, the average company loses 6-9 months of a valued employee's salary in both productivity and profit when a good employee needs replacing.
The cost to productivity, and your bottom line, can be like a kick in the gut; the cost and time to recruit and train new people can be exponential. Bottom line: when you have a good employee, do everything you can to retain them. Here are a few ways that you can work to keep your rockstar around.
Hire Smart
The first step is hiring the right people. For any position, the fit is everything. Do what you can in your hiring process to identify the profile of the ideal employee for your dispensary and design your recruitment process around that profile. You can't expect your hire to have life ambitions to be budtenders forever, but they may want to move up within the legal marijuana industry, thus eager to invest in a long-term relationship with your dispensary to gain access to such opportunities.
Provide Robust Training
Your training program at the start of employment can make or break your employee's relationship with your dispensary. Take significant time educating your new hire about your business, the processes involved, and the culture. Introduce them to core tasks early and have them learn through experience. A good benchmark is to be able to have your new hires making sales through your dispensary POS by the end of the first day.
Invite Initiative
Everyone likes to have a sense of ownership of their work and to have that feeling that they are contributing to the company. Budtenders who aspire to dedicate their careers to the legal marijuana industry will likely be looking to progress in their jobs and learn over time.
Give them opportunities to step up to take leadership or ownership over certain tasks. Where you can, give as much autonomy to your budtenders on their projects to work towards a results-driven culture.
Provide Continuous Learning & Development
With the cannabis industry becoming increasingly sophisticated, technical, and medical, budtenders will need to ensure they are keeping up with the latest trends and research. Invest in your team's professional development by allowing them to take courses, seminars, or attend conferences that will enable them to improve their craft and bring new knowledge back to the entire team. You will not only invest in your knowledge capital for your company, but you will increase loyalty through this investment in education too.
As you seek to engage your employees through the training offered, education available, and a variety of tasks at hand take some time to understand your employees' career goals. While many love their work as budtenders, some may aspire to move up in the field or expand their involvement in the business. Nurture those dreams, and recognize talent when you have it early. Promote from within when you can, and make it apparent that you care about your employees' careers as much as they do.
Recognize Your Employees
When you take the time to appreciate someone's efforts, it goes a long way. Be sure to notice your employee's work, and compliment them on a job well-done regularly. Implement an employee recognition program. It can make a difference in the culture of your dispensary
Use Incentive Programs
Employee incentives programs can move off the rails if it is not in line with your business goals. They're effective only when they promote the behaviors and results that you want from your operation and employees.
As an example, retail operators want to build the long-term value of their customers, not just aim to increase the amount per transaction. In this case, incentive programs should be built on employees demonstrating the customer service and strategies needed to bring that client through the door again.
Rely on Your Cannabis POS
Your POS software uses shortcuts to simplify processes so that you can spend more time serving your clients, and less time on the technical aspects of sales. We suggest using your cannabis POS software as an employee training tool.
In the onboarding process, include all the product, pricing, and dispensary information within the POS to boost your new hire's confidence around product knowledge. Contact Cova today to learn more about how our POS designed for cannabis dispensaries can help you.
Next Steps and Concluding Thoughts
The knowledge and learning don't stop here. We've created a free "all-in-one" guide for hiring budtenders and all other roles for your cannabis dispensary. This guide comes in a PDF format, and you can keep it on hand for all of your hiring and training needs. Download our Ultimate Guide to Dispensary Staff, Hiring, Training, and Compliance today.