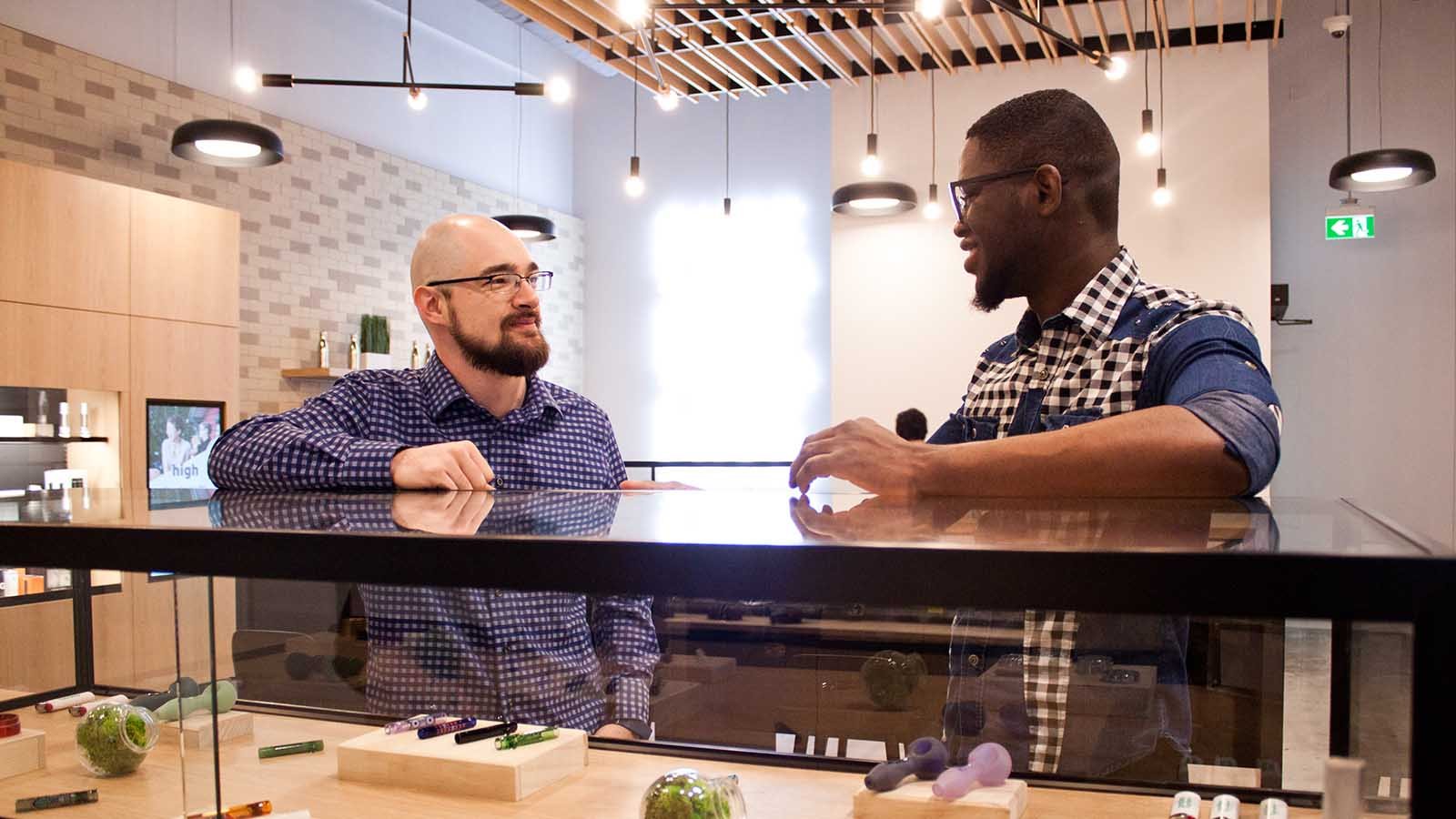 New cannabis markets in Illinois, Michigan, and Missouri don't just mean expanded access for patients and adults — they also mean new opportunities for those looking to get a foot in the door of the booming cannabis industry. And on the retail side, budtending is one of the most sought-after positions.
As the most visible member of your staff,
budtenders
play an absolutely vital role in the dispensary. They need to combine an extensive knowledge of cannabis and your store's product offerings with an impeccable sense of customer service. From the nervous first-timer to the cannabis connoisseur, your budtenders should be able to help every client find exactly what they're looking for — even if they don't know themselves. So how do you train your budtending team for success?
In order to ensure your budtending staff is fully equipped to provide patients and customers the best experience possible, it's important to provide them with the proper training and the right tools for the job. Below are a few budtender training tips from our friends at Leafy Green Agency, which provides cannabis industry education and training for everyone from dispensary staff, to entrepreneurs, to medical professionals.
How to Train Budtenders: Top Tips and Requirements for New Cannabis Markets
1. Compassion is key
First and foremost, budtenders need to exercise compassion, particularly when it comes to cannabis newcomers. Many first-time dispensary goers have zero experience when it comes to cannabis, and they can easily feel overwhelmed by what they see on the menu and the shelves. In a lot of cases, they don't know where to begin or even what to ask.
This is where the customer service element really comes into play. Customers should never get a feeling of condescension from a budtender; on the contrary, they should be made to feel welcome, at ease, and comfortable through the entire dispensary experience.
2. Know what questions to ask — and how to ask them.
Asking the right questions can help to get the ball rolling with newer patients and consumers. But it's just as critical to ask these questions tactfully and remain sensitive to customer privacy.
A simple "How can I help you today?" is a great starting point — but be prepared for the inevitable reply of, "I'm not sure." From there, you can politely probe a little deeper with questions like, "What types of symptoms are you looking to relieve?" or, "What kind of experience are you looking for?"
On the medical side, it's also important to remember that you are never trying to diagnose — you are only looking to recommend the right solution for the patient's symptoms.
3. Stress the importance of proper dosing.
Proper dosing simply cannot be overstated, especially when it comes to edibles. Budtenders must emphasize the need to wait the appropriate amount of time before consuming more of an edible product so customers avoid a potentially uncomfortable over-medicated experience.
Medical vs. Adult-Use Budtenders: What's the Difference?
The budtender's primary focus is customer service — and from that aspect, there's no difference between a medical and adult-use budtender. Every customer who enters your store should be treated with care, compassion, and enthusiasm, regardless if they're a medical patient or a recreational consumer.
Budtenders also need a thorough understanding of cannabis, the various consumption methods, and your store's specific offerings no matter which type of customer they're serving. At the end of the day, the products are the same whether they're labeled "medical" or "adult-use," so as long as your budtenders have a grasp on the store's products, they can effectively serve both customer types.
The biggest difference between adult-use and medical budtenders comes down to your particular state's requirements. Some states require medical budtenders to obtain a certification, license, or badge from a regulatory agency; in other states, anyone employed by a cannabis retail operation must apply in some form or fashion, no matter if they're working in a medical or recreational shop.
How to Become a Budtender in New Cannabis Markets
What Are the Budtender Requirements in Illinois?
In Illinois, budtenders are required to obtain a dispensing organization agent card by the Department of Finance and Professional Regulation (IDFPR) before they may legally work in a dispensary. The medical cannabis dispensary agent application portal can be found here.
Budtenders who already hold a dispensary agent card in a medical dispensary will be allowed to serve adult-use customers from the same dispensing location. However, budtenders working at adult-use retail stores that are not the same site as a medical dispensary will be required to apply for a separate adult-use cannabis dispensing organization agent card. Applications for these cards will be available by December 1, 2019.
Additionally, Illinois is implementing a new training requirement for dispensing organization agents, called the Responsible Vendor Program. All current dispensary agents — including budtenders — will need to complete this training within 90 days of September 1, 2019. Moving forward, new dispensary agents will be required to complete the training within 90 days of beginning employment.
What Are the Budtender Requirements in Michigan?
Currently, there are no state-level requirements to become a budtender in Michigan. However, some dispensaries require applicants to submit to a background check.
What Are the Budtender Requirements in Missouri?
Under Missouri's emergency medical marijuana rules, budtenders will be required to obtain an agent identification card, as will every owner, officer, manager, contractor, and employee of a licensed dispensary.
Currently, Missouri is in the process of licensing medical marijuana facilities. Once facility licenses have been issued, the application process for agent identification cards will be available through the Department of Health and Senior Services' medical marijuana page.
More Budtender Training and Resources
To learn more about Leafy Green Agency's cannabis budtender training and register for a seminar near you, visit their website here. And, to find out how Cova can help turn your budtenders into rock stars, check out our dispensary POS!