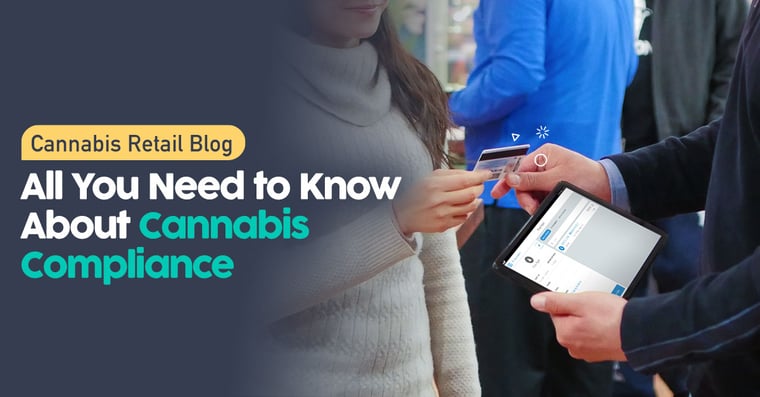 The cannabis industry is growing daily, and many business owners are considering opening a dispensary in the cannabis space. In the first half of 2022, the cannabis industry provided half a million full-time jobs, a 33% increase compared to 2021. Even the pandemic couldn't stop the sales growth of cannabis dispensaries.
According to stats, cannabis sales increased by 43% in 2021 compared to the previous year. So, this makes it very exciting for those who want to enter this business. However, the industry is heavily regulated, and there are many compliance regulations- even breaking one of them can create a disaster. Cannabis business owners have to understand all of the federal laws and state laws regarding cannabis if they want to stay on the safe side.
So, what is cannabis compliance? In simple terms, cannabis compliance involves the rules and regulations that each state and country creates, and cannabis companies must adhere to them to remain legal.
Here's our complete guide for understanding what to do and what not to do regarding the cannabis compliance rules. Keep reading to learn more.
Know the Compliance Rules of Your Location
The first and most important thing you need to know about the cannabis industry is compliance regulations. Different locations have their own cannabis laws. Dispensary business owners must know what rules they should follow and what regulators can do to non-compliant businesses. They might include audits, fines, and even revocation of the cannabis business license. Aside from that, there are other important things that cannabis companies need to know if they want to always stay compliant with all cannabis regulations.
Ensure Cannabis Compliance by Following These Steps
You should know that cannabis is not legal under federal law, but the cannabis industry still exists because of voter-approved regulatory oversight. Because of this very reason, cannabis entrepreneurs have to study their state laws carefully. If you want to establish compliant and secure workflows and know the best tools for your cannabis company, read the following steps carefully.
1. Use a Cannabis Point-of-Sale System
Now that you know the answer to the question "what is cannabis compliance," it's time to learn about the tools that can help you and other cannabis businesses achieve it.
As a dispensary business owner, one of the best decisions you can make is to start using a Point-of-Sale or POS system. With this system, you don't need to be only cash-based and waste your time counting, packaging, and storing paper money.
Plus, cash only creates redundant tasks for your employees, such as manually entering the sales information into the state's compliant system when they can focus on important matters. Also, if cannabis delivery is legal in your state, they can be the only help you need.
COVA is the best among the cannabis POS software solutions. With COVA, your customers can easily browse your products and complete transactions, and you can manage inventory and streamline sales.
To help you follow the cannabis regulations, COVA offers features such as ID Scanner and Purchase Limit Alerts. The ID Scanner restricts underage users from purchasing, recognizes old customers, and provides them with a personalized customer experience.
The Purchase Limit Alerts calculates the THC amount of the cannabis product, alerts your salespeople, and stops sales that exceed the legal limits. These features help you not to break cannabis regulations accidentally.
You can also manage orders from several platforms, send and track drivers, and optimize delivery routes! You can count on COVA even if you're a multi-location retailer.
Don't believe us? Book a demo and see for yourself!
If you're still not sure whether you need POS software or not, read this article to help you make a better decision: Why You Need A Compliant Cannabis Dispensary Point of Sale: Top 5 Automated Features.
2. Put a Plan Together for Cash Management
Cannabis is illegal at the federal level, so banks backed by the federal government can't provide financial support to cannabis dispensaries since they can lose their licenses. So, most marijuana business owners are only cash-based.
For this reason, managing cannabis-related dispensaries is completely different from any other retail business. You must pay for magnificent security systems and guards to protect your money, not only inside the dispensary but also when traveling to pay your taxes and municipal fees.
3. Follow the Best Practices of Inventory Management
Cannabis inventory management is efficient for both you and the state regulators. What we mean by cannabis inventory management is monitoring and controlling sales, making the products secure and organized, and completing orders.
This helps you track all your items, including the sold, damaged, and returned ones. When the cannabis inventory management is done carefully, it helps the business to be more efficient regarding the reordering process, provide better customer service, and do a better job while presenting compliance reporting.
State regulators make sure that you're not selling cannabis to minors. A well-managed cannabis inventory allows you to keep track of everything that might cause your cannabis business license to be revoked.
4. Create a Security Plan and Document the Procedure
To create a cannabis operations and security plan, first, you need to know the federal and state regulation of the cannabis industry. If you could work with a lawyer who specializes in cannabis rules would be of great value. Here are the steps you should follow to create your security plan.
Create an overview of your plan: This includes your goals and objectives. Also, determine who will maintain and update your plan.
Document all the processes that might affect your business: This may entail training brand-new employees, doing background checks on them, and managing their access.
Create a map of the property: This applies to the building's lights, landscaping, parking lot, fencing, cameras, and surrounding property.
Make sure every employee reads the document: The document must be read and signed by each employee. This proves that they have read it and intend to abide by it. This way, they wouldn't be able to say they were unaware if anything unusual happened. Employees are required to read and sign the document once again after each update.
5. Design a Reward Program for Loyal Customers
We all know that cannabis businesses can't market their products as they want. There are also state regulations regarding cannabis marketing. However, they do agree on one thing: rewarding customers for their loyalty.
This can help marijuana business owners who want to become part of a community. Such acts increase customer loyalty and, thus, customer lifetime value, which is great for any business. This would be especially valuable in the cannabis industry since this sector's marketing is prohibited.
6. Analyze Customer Data
To prove that they abide by cannabis laws and regulations, dispensaries have to report sales transactions to regulators. Also, every state has a seed-to-sale tracking application that works based on customer data.
This transactional data is also important for identifying sales trends and building better customer relationships. So, you're killing two birds with one stone by collecting and reporting on every transaction you make.
7. Steer Clear of Compliance Audits
If you're thinking about finding a way around the regulations or have heard stories about dispensaries that circumvent the law and think you can do it yourself, you're making a big mistake.
Recently Canada started revoking the licenses of non-compliant dispensaries. Even state regulators have gone under great pressure to shut down illegal dispensaries that are not abiding by the law. So, to keep your business from going down, ensure you're avoiding compliance audits.
8. Understand That Cannabis Has an Illicit Market
If you want to be successful in the cannabis world, you must clearly understand the illicit market. Here's an example: vaping products were known to be completely safe, but everything changed when people started talking about their negative impacts on health. Now, the entire industry must constantly prove that vaping does not endanger customers' health.
Also, the regulations concerning cannabis-related products might change every minute, and you have to know there's a chance to overlap the black market and legitimate industry. The better dispensaries understand this fact, the higher the chances of growth in this industry.
9. Make Sure to Test Your Products
If you produce your own products or grow your own flower, you have to ensure that they meet the standards. You can do this by sending your products to an acceptable lab for testing for contaminants, potency, toxins, and homogeneity.
Even if your producer is someone else, you need to ensure that a third-party organization has tested the products. Also, remember that all your products are marked as "passed" on your track-and-system program.
10. Label Your Products
You have to include several things in your product labeling according to your state's requirements. But, there is one thing that is included in all states: the amount of THC. Other states might require the dosage and serving size or child-proof packaging.
Here are some other things that you might need to include:
Package ID
Net weight
Strain name
Warning statement
Physician name
Cannabinoid range
Date of sale
Nutrients
Tested status
11. Create Your SOPs
Dispensary standard operating procedures, or SOPs, are a set of written work instructions that are great for helping you train and onboard your employees. It can help prevent mistakes and guarantee that your personnel is putting compliance objectives first when working.
With so many things your employees need to remember, making a compliance checklist helps them keep everything in their minds and make compliance a part of their daily routines.
In addition, your SOPs can help your new hires understand who to contact when they encounter problems. This saves more time for detecting and solving the issue before it turns into a disaster.
In general, having SOPs, checklists, and plans help the dispensary owner and their team understand their direction, goals, and exact responsibilities.
Conclusion
In this article, we walked you through a comprehensive guide to answer your question, "what is cannabis compliance?" For more information, check out our cannabis guides and best practices.
You now know that cannabis compliance is a set of rules and regulations stated by each state and country that dispensary owners need to abide by if they don't want their licenses to be revoked.
You need to learn many things about them, especially if you're new and are considering opening a dispensary business. You should know that even though the revenue might be tempting, maintaining a marijuana business is no easy task.
However, if you read everything that you need to know carefully, you don't have to worry much. COVA integrates with eCommerce platforms, enables you to create personalized dashboards, and uses its built-in reports and analytics to make better business decisions.
It offers several payment methods, such as debit cards, gift cards, and mobile cashless delivery payments. So, what are you waiting for? Book your COVA Software dispensary POS demo.