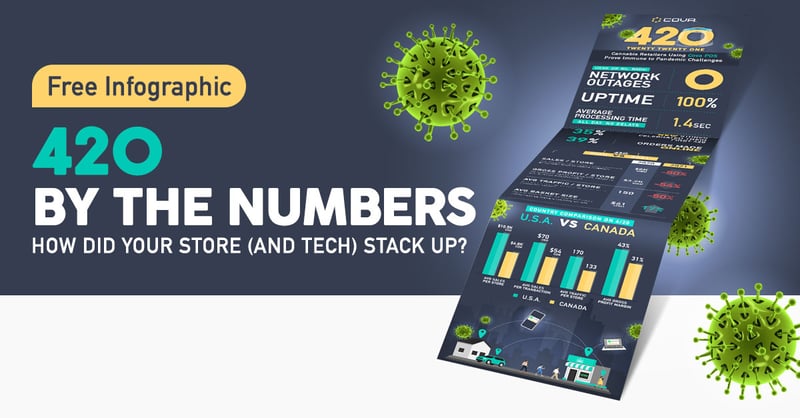 As we return to a certain semblance of normal after over a year of pandemic restrictions, the resilient cannabis industry celebrated a successful yet restrained 420 in 2021, with almost a 10% increase in average store traffic over 4/20 in 2020. But with cannabis enthusiasts returning to in-store shopping in the US, and a high proportion of Canadians ordering their stash online, the fervor for the 420 holiday was reignited and the future certainly looks promising for the cannabis retail industry.
Unlike last year, cannabis dispensaries that successfully pivoted to online ordering, pickup, and delivery were better prepared to handle omnichannel traffic, and stores using Cova POS in Canada made almost 1/3rd of their sales online. Although US dispensaries witnessed only 6% online orders on 420, a significantly higher proportion of people purchased cannabis online in the days leading to 420. This could be attributed to customers stockpiling over the weekend to be prepared to celebrate the actual day with splendor.
Cova also conducted social media polls which reflect that consumer shopping behavior is changing and even though most people still prefer in-store shopping, others are looking for convenient alternatives and the legal cannabis retail industry must adapt to curb the illicit market.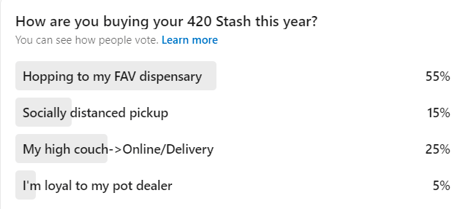 Cannabis Retail Sales Bounce Back Despite Ongoing Pandemic
Last year, we saw a COVID shutdown of all retail businesses in March, followed by re-openings of dispensaries by state or province over the summer as cannabis businesses were declared essential. Regardless, 420 sales in 2020 were impacted significantly. 4/20/21 was nowhere near a return to normalcy, yet the industry saw an 8.4% increase in sales over 2020, while the average basket size remained unchanged.
As major outages plagued several big POS systems, Cova recorded its 4th straight year of 100% uptime and a benchmark transaction speed of 1.4 seconds. During peak hours on 4/20, Cova processed 380 cannabis transactions per minute and handled over 180,000 transactions for the day across 1,200+ dispensaries, as 637 of Cova's clients celebrated their first 420. With such excellent performance, all dispensaries powered by Cova enjoyed uninterrupted sales and happy customers who quickly moved through checkout lines due to lightning-speed transactions. If your dispensary suffered because your POS could not handle 420 traffic and broke down, then maybe it's time to switch to Cova. Contact us to learn more about the best cannabis POS system in North America.
Despite ongoing pandemic restrictions in some states and provinces, 4/20 still was the largest sales day for dispensaries in 2021, as US and Canadian cannabis stores processed 10% and 5% more transactions, respectively, as compared to last year. And although it fell on a Tuesday and we didn't witness the typical celebrations we used to have in the pre-pandemic world, it was still a success.
Here's a look at the 4/20, 2021 sales numbers:
Average 420 sales per store across North America: $8.7K USD
Average gross profit per store: $2.9K USD
Average customer transactions per store: 162
Average spend per transaction: $54 USD

While many big cannabis POS companies faltered and dispensaries using their systems had to turn away customers for over 4 hours during the day, Cova customers enjoyed flawless POS performance throughout the day, with 0 outages, 100% uptime, and no lag at all on 420. On the cannabis industry's biggest holiday, you need a reliable technology partner that is always there by your side to provide any kind of support, when required. Online ordering and pick up or delivery service—where allowed—are also more important than ever. Cova can help you establish all these workflows and pivot quickly to deliver what your customers need, so you can focus on making your business a success—on 420, and every other day.