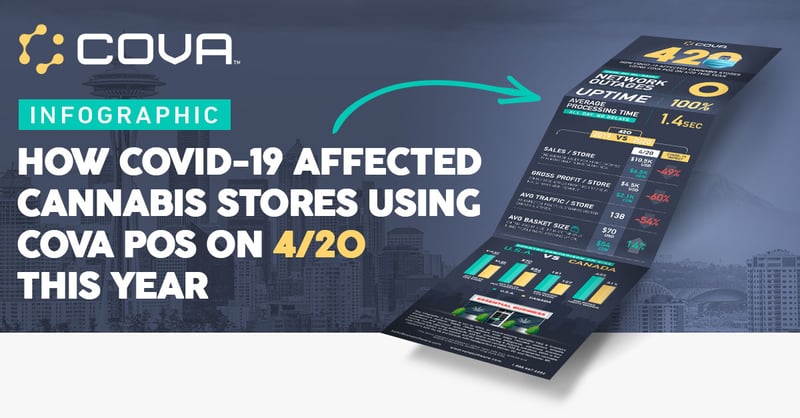 This year was always going to be a 4/20 to remember. Prior to the global pandemic, that was for very different reasons. 2020 promised a whole month of 4/20, extended celebrations, and hopefully record sales. Things were looking good for cannabis retail.
Instead, because of Covid-19, we're seeing sales affected by stay-at-home orders and extreme social distancing measures. The good news for the industry: in most places, cannabis retail has been deemed an essential service. The great news: customers are still buying, and stores are finding ways to adapt.
Despite restrictions and challenges, average daily sales in April were up year-over-year for retailers using Cova POS. It's been a big month. This could be attributed to customers stockpiling, and likely contributed to lower-than-expected sales on the big day.
4/20 still saw a spike in sales over the average day. In context, it was a success. It simply didn't match the single-day sales from a year ago, when 4/20 was on a Saturday, and people were gathering in big numbers to celebrate.
Here's a look at the 4/20, 2020 sales numbers:
Average 420 sales per store across North America: $8K USD
Average gross profit per store: $3.1K USD
Average customer transactions per store: 148
Average spent per transaction: $54 USD
Cova customers enjoyed reliable POS performance throughout the day, with 0 outages, 100% uptime, and no lag at all. The average processing time was just 1.4 seconds.

To keep sales strong and keep their business running, cannabis retailers are having to adapt quickly. Online ordering and pick up or delivery service—where allowed—are more important than ever. Cova POS facilitates multiple workflows, including curbside pickup, online payments (in Canada), and even call to order. We can help you pivot quickly to deliver what your customers need, so your business can survive—and thrive.