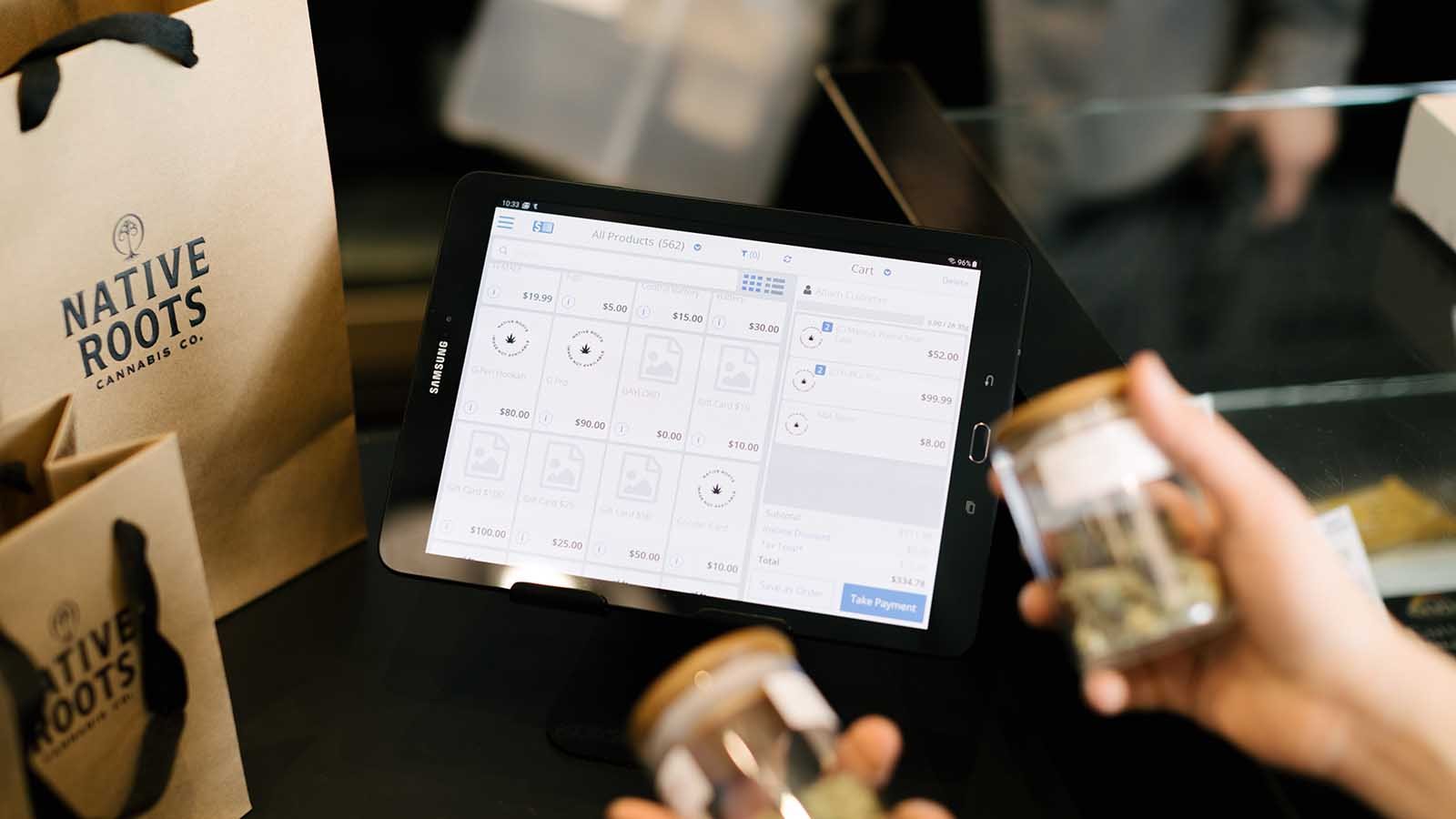 Please visit this page frequently. We will update with information as it becomes available. – March 26, 2020
The escalation of the COVID-19 outbreak in the North America has affected businesses across sectors and states, including cannabis dispensaries. The Centers for Disease Control (CDC) recommends social distancing and some states have legally mandated residents to shelter-in-place. While this guidance is in the best interest of public health, it does bring an uncertain future for unprepared retailers who stand to lose millions of dollars. Worse still, consumers could be deprived of essential medicines.
Many states have categorized medical dispensaries and retail
cannabis stores as essential businesses
(see chart below). But it is extremely important that any cannabis retailer choosing to stay open during this time take
extra precautions to keep their staff and customers safe
. Now more than ever, it's a great time to rethink how cannabis is bought and sold.
Why Start an Online Ordering Program for Your Dispensary?
Overall, cannabis sales are increasing across the legal and medical markets. People are stocking up on cannabis, so order sizes have increased "aggressively" since the United States officially declared a State of Emergency.
In a typical business setting, a cannabis retail owner would want customers interacting with staff, perusing display cases, interacting with tablet menus and beyond. These days, it's up to business owners to create a safe and sanitary environment that complies with all social distancing recommendations.
So how do you get products into customers' hands with as minimal physical interaction as possible? Start a click-and-collect program with online ordering! Getting a click-and-collect program up and running is easier than you may think and, in these uncertain times, it could literally be a lifesaver for your business. We don't know how long social distancing will last, but one thing is certain: digital ordering stands to stabilize your revenue in the months to come.
Read on to learn how you can start your online ordering program for cannabis dispensaries.
Are Cannabis Dispensaries in My State Deemed "Essential Business?"
| | |
| --- | --- |
| State | Designated an "Essential Business" |
| California | Yes |
| Colorado | Yes |
| Illinois | Yes |
| Michigan | Yes |
| Washington State | Yes |
| Nevada | No* |
*Nevada: The state has mandated that all cannabis sales be done via delivery.
Is Online Ordering & Delivery Allowed in My State? (For Canada, please click here)
The states listed below allow private retailers to use online ordering or delivery. Make sure to check your local laws as well.
| | | | |
| --- | --- | --- | --- |
| State | Online Ordering | Delivery | Curbside Pick Up |
| Alaska | Yes | No | N/A |
| California | Yes | Yes | Yes |
| Colorado | Yes | Yes* | Yes* |
| Illinois | Yes | No* | Yes* |
| Massachusetts | Yes* | Yes* | Yes* |
| Michigan | Yes | Yes | Yes |
| Missouri | Yes | Yes* | N/A |
| Montana | Yes | Yes | Yes |
| Nevada | Yes | Yes | No |
| Oklahoma | Yes | No* | Yes |
| Washington | Yes | No | Yes* |
*Colorado: The state recently began awarding delivery licenses, but dispensaries who are awarded a license must have permission from their local government to begin their delivery services. A state Executive Order allowed for curbside pick up services. Some local governments in the state, including Denver, have ordered recreational dispensaries to close, but medical dispensaries can remain open.
*Illinois: Despite some websites offering "cannabis delivery" in Illinois, it is currently against the law; the Illinois state legislature does say they are considering it. Illinois only allows curbside pick up for medical cannabis, not recreational.
*Massachusetts: As of March 24, 2020, recreational cannabis sales will be suspended statewide due to Coronavirus. Medical patients will still be able to purchase cannabis. While the state has updated their laws to include cannabis delivery, Massachusetts is only awarding delivery licenses to current license holders in their Social Equity program for the first two years.
*Missouri: Delivery is available to medical cannabis patients only.
*Oklahoma: The state's House of Representatives unanimously passed a bill that would allow medical cannabis delivery, but it has not been officially adopted as law.
*Washington: Regulators have allowed businesses to do curbside service for medical cannabis patients.
How to Launch the Online Ordering - Pick Up Service and Delivery Program
Step 1: Set Up Online Ordering & Pick Up Service With Cova (in 36 Hours or Less)
Starting a click-and-collect system for your dispensary is easy with Cova. Cova is fully integrated with online-ordering apps such as Dutchie and Leafly, and based on the solutions you are going with, the integration to their plug-and-play solutions can be turned on within a few minutes. However, due to high demand at the moment, please expect 24-36 hours turnaround time. Dutchie is currently offering any Cova customers an exclusive promotion with one month free and $199/month after.
Step 2: Develop a Plan
Changing the way you operate your business is not an easy task, but it can be done. There are different models that other cannabis stores have already implemented. Check out news coverage to see how different dispensaries across the country are handling this moment.
Create Fast Lane or Pick Up Area
You'll need a designated space for online order pickup, ideally one in front of the store. This area must meet the same security and partitioning requirements as your normal retail setting. Your pickup spot may take the form of a sequestered check-in desk with fulfilled orders behind a secured counter. Or, if a partitioned area isn't possible, you can designate an "express" register for online order checkout.
Med Men in California is offering online express pick up in-store to customers at certain locations. They have a dedicated area in-store to pick up pre-orders, getting those customers in and out as quickly and with as minimal contact as possible.
Consider curbside pickup
With curbside pickup, like what Oklahoma dispensary Fire Leaf is offering, vulnerable patients don't need to leave their vehicles. Even better, they can order from their mobile devices right there in the parking lot. However, this model requires the ability to verify identification electronically outside of your store. If you're lucky enough to have a drive thru, consider taking Urban Leaf Company's lead and put it into action now.
Stack your security team before fleshing out this plan and check with your municipal regulators to see if curbside pickup is permitted.
If allowing in-store shopping, respect the health of all stakeholders
In light of recent events, sanitation and social distancing are priorities. Be sure to limit the number of customers in the store at a time, so there is ample distance (3-6 feet) between people. Protect your employees and customers with the following equipment:
Touchscreen-friendly gloves for employees
Alcohol swabs for any surface customers touch at the POS
Hand sanitizer
Masks
Lysol or other CDC-approved antibacterial cleaning spray
Update your store layout
Ask yourself how you could change the store layout to further limit exposure. Is there a way to move your display cases to create more open space in the store, therefore allowing more distance between customers and employees? Are there any high-touch areas of the store that you could temporarily close or cordon off, like lounge areas with a coffee table or interactive tablet menus?
Get creative about how you communicate with your customers that may be shopping in-store. U.S. banks are taping large X's on the ground to help customers keep a safe distance from each other.
Review operating procedures
Isolating a click-and-connect area will require a change to your workflow and documentation procedures. At least a few employees will be dedicated to fulfilling online orders and assembling them in the pickup location. If you're using curbside pickup, your SOPs will need to coordinate exit and entry for employees and include a mobile alert when customers arrive. You may even consider having one employee dedicated only to sanitizing surfaces between customers.
To maintain health, implement a no-touch ID verification policy, not only at your express register but storewide. If you have a waiting area, consider a POS that is equipped with Queuing features so customers can check in with a staff member and wait outside or in their car until it is their turn.
Instruct employees who are sick to stay home. For added precaution, some stores are even taking the temperature of all employees before each shift.
Step 3: Publicize, Publicize, Publicize
Once your click-and-collect system is operational, publicize it far and wide!
Make sure employees suggest the service to customers.
Push updates to your loyalty program members. Use SMS texting to spread the word beyond their email inboxes or social media feeds.
Post the click-and-collect option on your homepage.
Share the news (repeatedly) on social media and encourage your customers to do the same.
Update your Google Business listing for COVID-19! You can update your store hours if needed and suggest that customers order ahead of time right in your Google business description.

Ready to get started? Please feel free to submit the request here.
Right now, we're offering a one-month free trial of our click-and-connect feature. After the trial, adding this important service to your business costs just $199/month. Talk to your representative today.