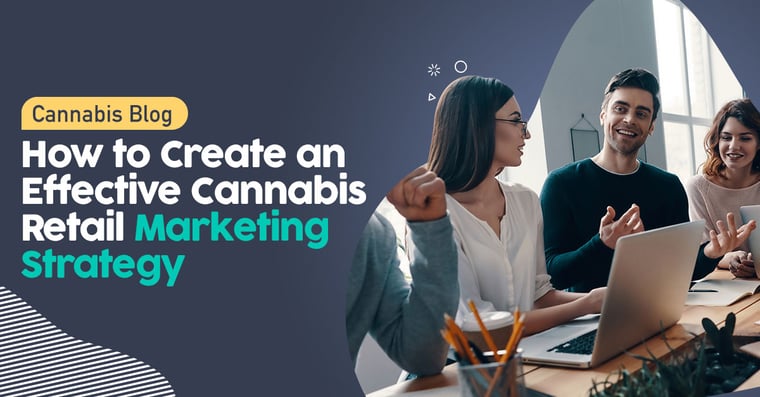 The cannabis industry is changing rapidly, and with more states in the US jumping on the legalization bandwagon, there has never been a more exciting time to launch a cannabis retail business. However, with strict regulations and scrutiny surrounding this industry, dispensary owners have to be very strategic while launching and marketing their businesses.
While explosive growth in the industry continues to motivate many entrepreneurs to enter the retail cannabis space, they must be prepared to fulfill licensing requirements, find a property, seek investment, recruit talent, and address other daily needs of the business.
We've told you how to write a cannabis retail business plan, which can help you achieve cannabis business funding as well as navigate the long-term strategy and daily operations for your retail businesses. But your cannabis business plan must also answer another essential question: how will you create brand awareness and get customers in the door?
It all comes down to an effective cannabis retail marketing strategy.
What is Marketing Strategy for Cannabis Retail?
Let's say you've decided to attract customers using social media and in-store events. What are the specific goals you're trying to accomplish with these activities, and once they're done, how will you gauge their success? These questions mark the difference between a marketing plan and a marketing strategy: a marketing plan outlines tactics and a marketing strategy explains the "why" behind these.
Marketing strategy is about setting clear goals. Is your retail business looking to attract more female consumers, increase revenue by 50%, or register 100 new customers for its delivery service? A marketing strategy clarifies your objectives while providing a roadmap for all of your efforts (and money), which is why every successful cannabis retail business plan checklist should include one.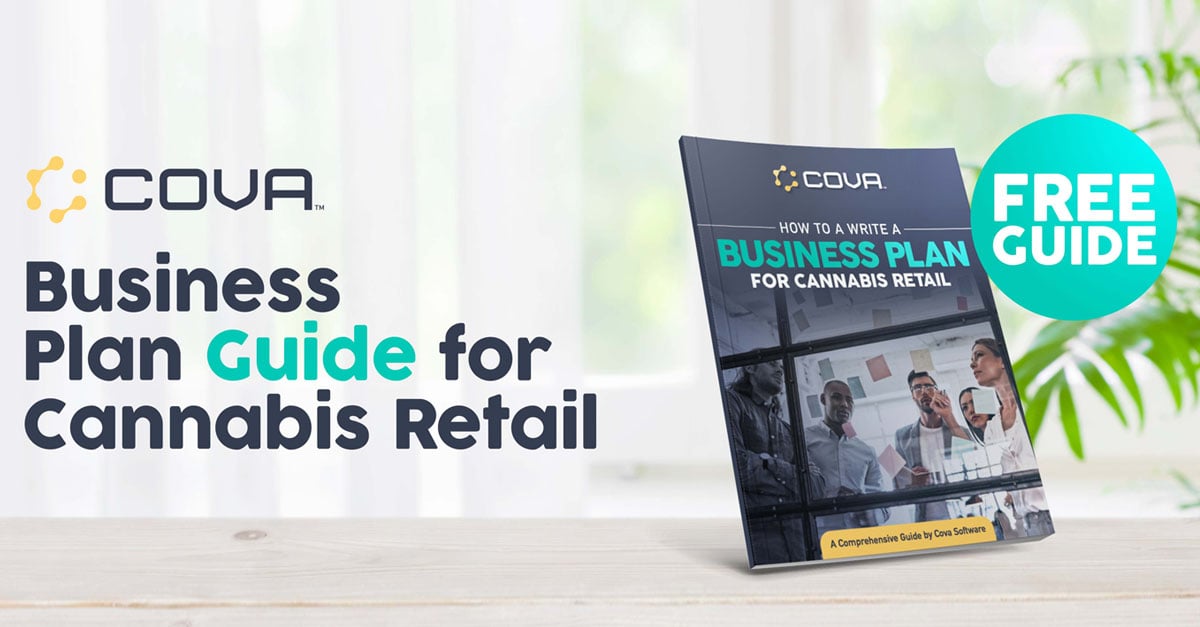 Know the Rules and Regulations Around Cannabis Marketing
Before you get started doing cannabis marketing, the most critical thing to understand is that rules and regulations vary widely based on where you are located. In addition to local and/or federal laws, there are also various other restrictions when it comes to running online advertisements on various marketing platforms.
Local Cannabis Marketing Laws
If your cannabis business is in the United States, marketing laws vary from state to state. Because there is no current federal legislation around cannabis marketing, each state is left to make its own rules and regulations.
In Canada, there are two sets of laws that govern what you can and cannot advertise with cannabis. The first set is the Federal laws around cannabis and cannabis marketing, and the second is provincial cannabis marketing laws.
As a general rule of thumb, these are standard regulations that are typically seen across the board for all provinces and states:
Do not use any language that is false or misleading
Do not market cannabis if you are not licensed to sell cannabis
Do not depict a child or anything that would appeal to those under the legal age
Do not promote overconsumption
Do not over-glamorize cannabis use in a way that would make it seem glamorous
Avoid using testimonials in advertising
For a full list of federal cannabis laws in Canada, please view the Health Canada Cannabis Promotions page.
Advertising Platform Restrictions
In this digital age, there are ample opportunities for marketing your business online. In the case of cannabis, many of the most common platforms for online advertising are not available at this time. This is mainly due to platforms such as Google Ads and Facebook Ads prohibiting advertising or promotion of cannabis sales.
Here is a list of platforms that do not permit cannabis advertising:
Google Ads, including YouTube Ads
Facebook Ads, including Instagram and Partner Networks
Snapchat Ads, with an exclusion for Licensed Producers in Canada
Twitter Ads
TikTok Ads
If you do try and run ads on these platforms, you may be able to get some ads published and running for a short time. However, you will find that the automated review system integrated into these platforms will eventually catch on. In most cases, you will find yourself with an advertising account ban which typically is permanent.
Due to all of these restrictions, cannabis retail businesses need to get creative in their approach when it comes to marketing. Below you will find our recommendations to effectively market your business both online and offline.
The 6 Best Cannabis Marketing Strategies
Cannabis marketing and advertising are a little more nuanced given the red tape and strict guidelines that digital platforms have around the industry, but it's still the most critical part of your lead generation and prospecting strategies.
Indicators like impressions, conversion rates and engagement are crucial data that can determine whether your marketing tactics are effective or need to be sharpened. In this piece, we'll go over simple and foundational tactics that your business should be deploying and measuring, and what trends are dominating the cannabis retail space today.
Search Engine Optimization
In a nutshell, the purpose of SEO is to get your business ranked at the top of Google without the need for paying for ads. SEO involves several processes and elements known as "ranking factors" that ensure your web pages and marketing efforts rank high in internet searches. Simply put, the higher the rank of your content, the more likely that your links on Google will attract clicks.
The reason why SEO is so important for the cannabis industry is that it is not prohibited by Google like Google Ads are. This makes it one of the only sustainable, long-term strategies for growing your retail cannabis business online.
SEO is both an art and a science and requires a strong understanding of the various algorithms that determine the popularity of a site and how to build content that ranks high in search engines.
There are 5 key areas to consider when thinking about SEO:
On-Page SEO
Includes all of Google's Best Practices for making sure that your website is set up properly to rank well on Google Search. This includes things such as Title Tags, Meta Descriptions, Image Alt Tags, and much more.
Technical SEO
Includes all of the items on your website that impact the way that Google detects various items and content on your website and how users interact with your site. This includes optimizing your website server, ensuring that the code of your website is structured in a way that allows users and Google to navigate through the pages, and more.
Off-Page SEO
Includes all of the factors that benefit your SEO outside of your website itself. This includes things such as backlinks (which are hyperlinks on other websites that point to your website), social media presence, and more.
Local SEO
When users search for things that relate to a local area, Google has a specific algorithm that will detect and display localized results. For example, if I search for "best cannabis store near me", Google will show local businesses on Google Search. The goal with Local SEO is to get your business ranking within your local service area.
Blogging / Content Marketing
The best way to stay in the minds of your customers is to provide compelling content wherever you can on your website, and with your affiliates. Remember, cannabis is a new and emerging industry but it's also a new lifestyle choice for a lot of fresh customers.
As more people become curious about cannabis through growing markets, legalization movements, and retail strategies, you can use this as an opportunity to educate and engage through the creation and distribution of blog posts, infographics, videos, and other compelling media for your website. You can also leverage partnerships with your affiliates and product ambassadors, or publications both local and industry-specific.
It may sound like a major undertaking, but blogging is a powerful way to promote your dispensary. If done right, blogging will establish you as an industry expert and help you develop an online community. To maintain a steady stream of content, we suggest creating a monthly or quarterly content calendar and assigning posts to your A-team and rock star budtenders.
Content doesn't have to be text-heavy and long-form, either - you can share the process of what happens behind the scenes at your retail location, or promote new products and brands by showing grow rooms, and facility imagery across your social media, blog, and email marketing efforts. You can also create infographics of rising industry trends or compare strains by effects, THC percentages, and terpene profile.
Learn More About SEO
Internet SEO specialists provide several free educational sites that are designed to help websites optimize their content by using SEO processes. These can serve as useful foundational tactics to get your SEO working for you.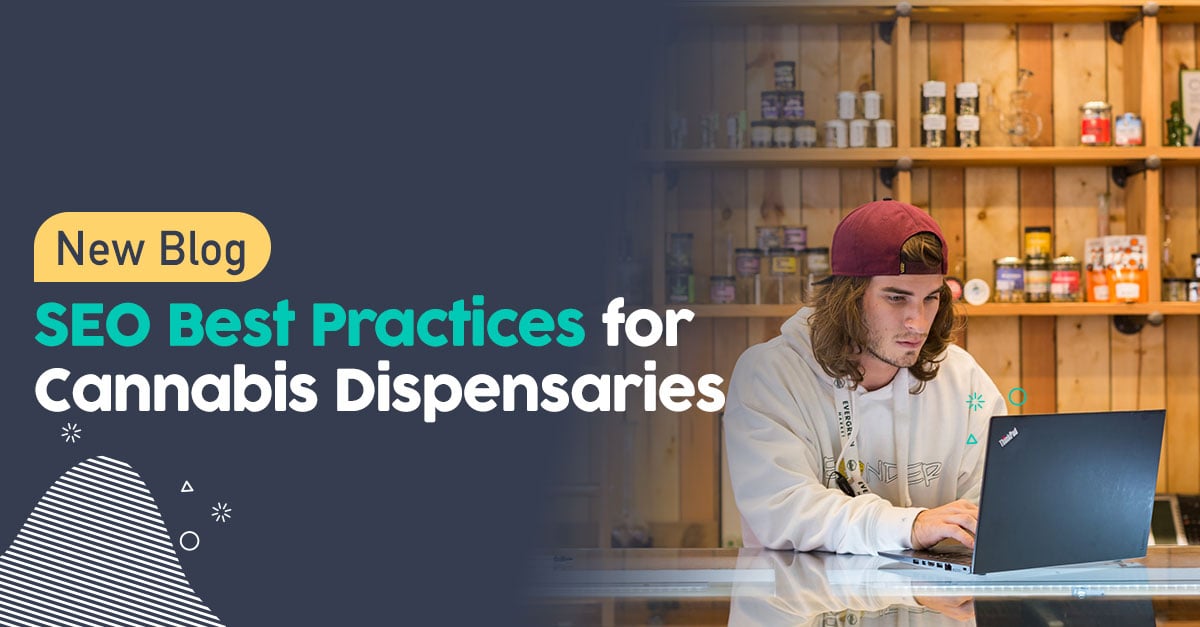 Build Targeted Campaigns
Before you engage in any marketing tactics, you need to ensure you're tracking and measuring your performance; if not, you won't have any clear idea of which tactics to double down on, replicate, or expand on. If you're thinking about a giveaway or special offer, make sure you're using promo codes and UTM tracking to know exactly where your customers are coming from, what they've engaged with, and what their intentions are. The key to better leads is a better lead qualification, and this is impossible without proper tracking.
For example, if you're building a landing page for a webinar or special campaign for your dispensary, you can implement a tracking URL with Google's URL builder to track traffic numbers and their sources. You can build on this with chatbots and CTAs that direct prospects further down your funnel. Seeing that a customer is visiting your site is one thing, but knowing that they've engaged with specific pages and are interested in a particular promotion allows for a better first-touch conversation and a higher chance of converting.
Organic Social Media
Social Media can be an inexpensive and effective way to market your cannabis dispensary brand. That being said, it is important to understand the current landscape when it comes to social media and cannabis in terms of restrictions on the various social media platforms.
Much like with Social Media Advertising and Google Ads restrictions, platforms such as Instagram have strict rules and guidelines to follow when it comes to posting content. Take a look at the following page on Facebook regarding the "promotion of marijuana on Instagram":
"Instagram doesn't allow people or organizations to use the platform to advertise or sell marijuana, regardless of the seller's state or country. Our policy prohibits any marijuana seller, including dispensaries, from promoting their business by providing contact information like phone numbers, email addresses, and street addresses, or by using the "contact us" tab in Instagram Business Accounts. However, we do allow people to include a website link in their bio information."
Based on our experience, we have found that social media accounts can sometimes be disabled automatically if the platform's automated algorithm detects the promotion of cannabis.
One best practice to follow is to age-gate your content on social media platforms. Instagram has a guide for how to enable minimum age requirements on their platform. One thing to note however is that if you do enable this minimum age restriction, it will limit your visibility on their platforms.
If you are planning on making any sort of investment into your social media, it is worthwhile to protect yourself from any account takedowns when possible by following these recommendations. We recommend avoiding posting pictures of raw flower and too much imagery of products themselves to limit your chances of getting banned.
Email Marketing
Sometimes you want to share an exclusive deal with your diehard fan base, give your cannabis connoisseurs a heads-up about a long-awaited strain, or promote a program to incentivize new customers to return. With many email marketing services, you can segment new customers from true cannabis nerds and target each group with select messaging.
Don't have an existing mailing list? Run a promotion to grow your contacts, and sign up for an inexpensive service like MailChimp.
Affiliates and Cross Promotion
Increase your brand equity by partnering with a well-known brand on your social media channels, blog, or email. This marketing technique is called cross-promotion and is an easy and economical way for you to reach more people and gain more exposure. It's a win-win situation for all involved and a proven tactic that is commonly used in many industries.
Invest In Video
Not only is video content the most engaging and popular form of content on the internet right now, but it's also a crucial component of a customer's decision-making process. Think about it - when's the last time you were debating purchasing an appliance or gift in your personal life and ran to Youtube to watch reviews first? Or, when's the last time you saw a video embedded in a blog post or Google Ad and opted to watch the video instead of reading the walls of text instead?
When it comes to what consumers are looking for in video content, it has to be valuable to their decision-making process, with 48% wanting videos to reflect the specific products and services they own or are interested in. A further 43% want interactivity, with the ability to decide what information they want to view and when they want to view it. For cannabis retailers, you can use video for thorough product reviews, create weekly video series on featured products, or interview your partners and vendors to amplify your engagement and reach.
The ultimate goal of digital marketing practices is to get ahead of your competition and stand out from the crowd, and whether you're investing in becoming a cannabis-focused thought leader in your space, a resource for novice cannabis users, or just a well-trusted retail brand for your community, nothing is stopping you from getting started today. Next time, we'll cover social media best practices, third-party listings, and reputation management.
Building Your Marketing Foundation and Strategy
Now that you know about the best methods of marketing your cannabis business, it's time to build your marketing strategy and foundation. This process will allow you to be strategic in the way you execute any of the methods mentioned above.
A marketing strategy without a plan is destined to fail. The best marketers have a deep understanding of their target market and what end goals need to be achieved. Below you will find our 7 steps to plan your marketing strategy before execution:
Step 1: Define and Segment Your Target Customers
Understanding your customer is an important initial step for any business. As people overcome the stigma associated with cannabis and discover its novel properties, there's a huge canna-curious population out there. With a massive medical marijuana market and new recreational consumers among adults over the age of 21, or a combination of both, defining your target market is the only way to know whom to reach, where to find them, and how to get their attention.
An effective way to approach this is to create buyer personas or profiles of each target consumer segment served by your cannabis retail business. Marketing to a Millennial is strategically different from appealing to the Baby Boomer consumer, and creating a persona to represent each of these segments makes it easier to decide which marketing activities will most likely resonate with each demographic. Segmenting your target market helps design a more customized experience based on age, values, buying behavior, and other preferences. A millennial may order online for pickup or delivery, while a baby boomer may want to have detailed information and consult a budtender about their needs before buying a product. Depending on your location's demographics, you must provide services tailored to each segment of the market.
Define each persona to represent your actual consumers: age, profession, income, whether they live in a house or apartment, and what types of cannabis products they enjoy. The more detailed the persona is, the better you know your customer and the easier it is to determine which channels and messaging to use to attract them.
Step 2: Identify and Research Your Competition
Another crucial component of a marketing strategy is your company's position in the marketplace, and that means understanding your competition.
How does your cannabis retail business stack up against others in your area? Are your prices lower or higher? Are you offering unique or exclusive products, or providing services that other retailers aren't, like delivery and curbside pickup? Or does your business look like every other retailer in the vicinity? Differentiating yourself and highlighting your competitive advantage is the key to success.
A deep assessment of your competition doesn't just mean determining how to stand out, it also tells the cannabis retail business owner what the market may or may not need. And if you can identify a void in the market, then you can position your brand accordingly. The ultimate goal of marketing is to get ahead of your competition, and whether you're investing in becoming a cannabis-focused thought leader in your space, a resource for novice cannabis users, or just a well-trusted retail brand for your community, nothing is stopping you from getting started today and designing an effective cannabis retail marketing strategy.
Step 3: Define Your Brand Story
In the mad dash to market, many retailers are selling themselves short when it comes to branding. The power of a sharp, finely-tuned brand should never be overlooked, particularly in such a saturated market space. Yes, you'll spend a little more upfront to work with a brand consultant and designer — but it's those dispensaries that invest in creating strong, resonant brands that connect emotionally with their customers that will last for the long haul.
It's important to understand that a brand is much more than your logo and font choices. Your brand should convey a feeling — a personality that consumers can connect with. Enhance this with a unique brand story that conveys exactly who you are and why you do what you do, which will help your customers understand why they should buy your brand over another. Consumers naturally gravitate toward brands that "get" them, and cannabis is no different.
Of course, your branding must follow marketing regulation guidelines. But the fact is most retail marketing regulation is based around not appealing to children and not using overt cannabis symbols or imagery. And let's be honest: in a maturing industry that hasn't yet fully shaken off decades-old stigmas, cannabis retailers should be elevating their branding and putting considerable thought into their business names to further help normalize cannabis and cannabis consumers.
Step 4: Strategic Cannabis Store Design
Just as you thoughtfully consider your target market, your company name, and your overall branding, you want to make sure your dispensary design gets the attention it deserves. Haphazardly throwing together a retail space with no regard for customer experience will negate all the hard work you put into those other elements we've discussed.
Of course, look, feel, and merchandising strategy all play a part in cannabis retail store design. But the right dispensary technology can help you differentiate customer flows and offer multiple shopping experiences that fit customer needs. For instance, self-serve touchscreen menu kiosks and an express checkout process can help expedite the sales cycle for customers who know what they want or don't have the time to wait for a budtender to assist them.
The old story about Starbucks is that they didn't set out to be just another place to buy coffee; they wanted to create a "third place" — a place apart from home and work where people could gather and socialize. If you operate in a market that allows on-site consumption, this could be a huge differentiator for you. Stop thinking in terms of simply selling cannabis, and start thinking about creating a cannabis third-place.
If a consumption lounge isn't currently an option for you, there are plenty of other ways to draw customers in for more than just their shopping needs. Consider experiential and educational events like vendor pop-ups, cannabis classes, or tours if your dispensary is integrated with a cultivation or processing operation.
At the end of the day, there are plenty of possibilities for differentiating your dispensary, as long as they meet the marketing and advertising regulations of your market. But the extra effort will pay off — because the more unique and memorable you can make your cannabis retail store, the more rewards you'll reap in customer retention and loyalty.
Step 5: Get Involved in Your Local Community
One great way to boost brand recognition is through community outreach. Along with fostering a positive image of your store, giving back to your community will also help further bust negative stigmas still associated with cannabis consumers and businesses.
Whether neighborhood beautification work, food drives, charitable donations, or some other form of outreach, getting involved will go a long way in establishing your dispensary as a caring, responsible member of your local business community.
Step 6: Customer Loyalty Rewards and Promotions
In the retail world, nothing drives sales quite like promotional prices and special offers. Cannabis retailers should take advantage of major holidays by offering discounts, deals, and curated product bundles.
Additionally, in markets that allow them such as Washington and Colorado, customer loyalty reward programs are a proven and cost-effective way to build strong, long-term relationships with customers and keep them coming back for more. Loyalty programs can take many forms, including customer referral rewards, points-per-purchase, and discount cards that offer some incentive after a set amount of purchases.
Step 7: Execute Online and Offline Marketing Campaigns
Once all of these foundational steps have been completed, it is now time to execute your marketing campaign. There are several different options that you have when thinking about who is going to do the marketing legwork for you:
You can hire a digital marketing agency to execute your campaign. This benefit is that you will have multiple people within the agency working together to execute rather than just a few people. This also comes with the vast expertise that your agency will have in specific areas. This option is faster but more expensive than doing it yourself.
You can hire in-house marketing staff to do the work. The benefit of this strategy is that you will get the full undivided attention of the team member that you hire. Additionally, you will have more control over the process as they are a part of your team.
You can do the marketing work yourself. This option is the most affordable, but it does come with some caveats. Operating a cannabis store is a lot of work, and having your attention divided by focusing on marketing tasks may result in a reduction in your ability to spend enough time required to execute a marketing campaign at a high level. This option is the most cost-effective, however.
Measuring Marketing Success
With all of these recommendations in mind, none of it matters if you can't accurately measure the success of your campaigns.
Fortunately, several tools can be used to measure success. These include:
Concluding Thoughts
Although marketing in the cannabis industry has its challenges, many opportunities exist to create demand for retail stores. In this guide, we highlighted the importance of staying compliant with your marketing, understanding the various restrictions that exist with various platforms, ways to market outside of these restrictions, and how to create a measurable game plan for your marketing efforts.
For more resources relating to operating cannabis dispensaries, check out our list of Cannabis Retail Guides where you can download our various PDF documents for free. If you want to learn more about how Cova can help your dispensary succeed, click below to connect with us now.