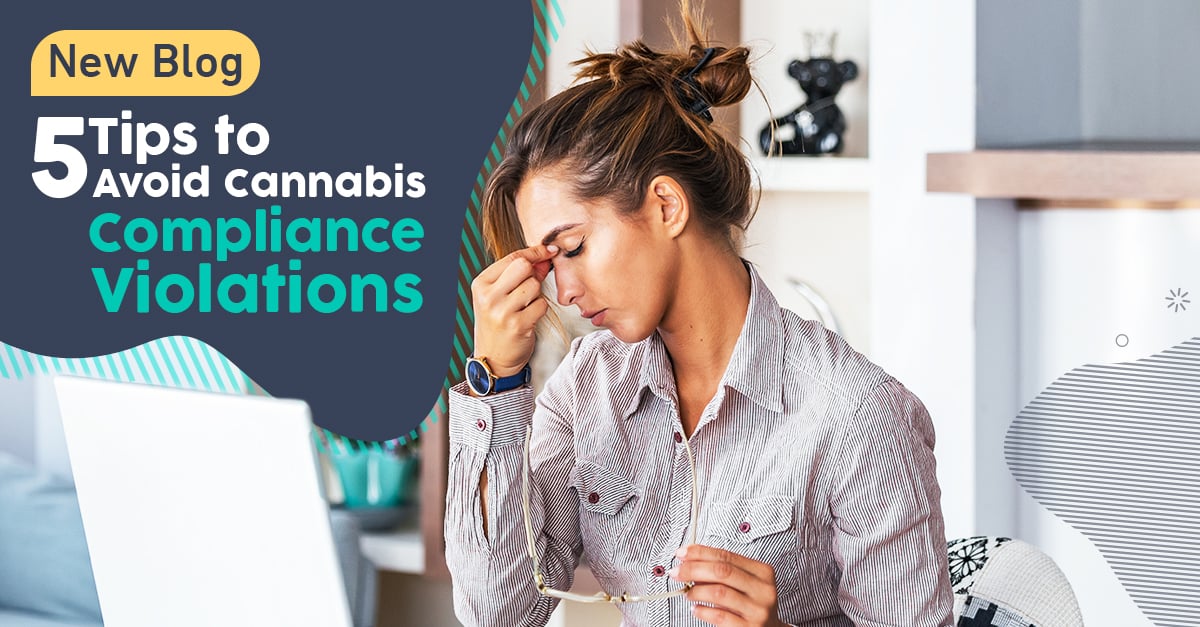 Cannabis Compliance is one thing every dispensary must be aware of, as violations can cost you dearly. Adhering to compliance not only secures you the legal right to operate a cannabis business but also helps avoid fines and penalties. Infringement of any federal or state regulations regarding cannabis can lead to various problems and possible license revocation. Staying compliant with the law is good for your brand as well as it builds trust among customers and enhances your company's reputation. In this blog post, we list some crucial tips to help you keep your dispensary business operations compliant with cannabis regulations in your area while avoiding any violations.
1. Ensure Proper Dispensary Licenses and Timely Renewals
In the highly regulated legal cannabis industry, unauthorized operations represent a critical offense and can attract intense penalties. Your dispensary must be well certified for all the various verticals you operate in. For example, if your state requires you to have a separate license for cannabis eCommerce and delivery, you must obtain it before venturing into online sales. Also, make sure you renew your cannabis retail license much before its expiry date and pay the required annual fee in time. Operating a cannabis business with an expired license is an open invitation for authorities to levy fines or put you in jail.
Different states can also have exclusive necessities for acquiring dispensary licenses, including municipal guidelines and policies. Find out and ensure that you observe all regulations relevant to your locality. Additionally, make sure that all your employees are certified as per state regulations and that you follow all other laws pertaining to cannabis tracking, storage, purchase, sale, delivery, etc so that your dispensary business always remains compliant.
2. Use Seed-to-Sale Compliant Cannabis POS System
One of the main concerns about the legalization of cannabis is the ability to track cannabis products from seed to sale. Most states in the US have made it clear that traceability is crucial for cannabis compliance. By monitoring and tracking every step in the cannabis supply chain, one can prevent cannabis and its products from being abused and keep a tab on the black market. Also, cannabis and its products can be exposed to contamination by toxic chemicals and other pollutants through pests and unsanitary processes that can pose a serious health risk if not properly managed. Detailed cannabis traceability allows you to track every step and ensure that all required security measures are in place.
Implementing proper tracking traceability is not as difficult as you may think. You don't even need seed-to-sale software, a compliant dispensary POS system that integrates seamlessly with your state traceability system will do the job, as long as it has the features to automate traceability. Cova is one of the few cannabis POS systems that integrate seamlessly with traceability systems such as Metrc and BioTrack, with 2-way automatic reporting for METRC, which gives you peace of mind that your compliance reports meet the state tracking requirements.
3. Regularly Educate Your Staff About Compliance & Regulations
Given the importance of compliance in the cannabis retail industry, it makes sense to keep your employees and budtenders abreast with all the latest regulations, as they are the ones dealing with customers directly. It's also not a bad idea to perhaps hire a compliance manager to oversee all compliance-related issues. A compliance manager's duties include assisting in the development, implementation, and reviewal of operational policies to ensure that they meet the latest compliance requirements.
However, establishing internal policies may not be enough. Dispensary owners or store managers must continually keep advocating the implementation of such policies to ensure regular compliance. Having a technology partner like Cova helps, as we regularly update our software to ensure compliance with the latest regulations. Also, if someone remains in charge of regularly educating and monitoring employees, you can focus on the growth and development of your business, assured that you will not face fines for violating any cannabis compliance regulations.
4. Monitor Staff with Advanced Employee Management Tools
Cannabis is a highly delicate product and can be easily misused, so you need to regulate who is involved in the process of moving inventory from storage to storefront. Delivery orders must be monitored carefully as well, and every cannabis inventory must be accounted for. With employee management tools provided by our partners and integrated into Cova POS, you can limit and regulate who can access what, where, and when. For example, an employee may try to sell cannabis to a friend, who may not be of legal age. Also, someone at your dispensary may try to report on the shift when it's not their time to perhaps score some stash.
Such practices can lead to serious non-compliance issues. Advanced software with facial recognition technology allows you to control the stamping of unauthorized employees by only allowing access to the right person in the right place. Some of our partner tech ecosystem solutions also allow you to make smart scheduling and payroll decisions that will save you money and always keep your dispensary operations compliant. Cannabis businesses are legally required to maintain detailed payroll records, often for years. With automated payroll integrated into your cannabis POS system, you can analyze all data, time and attendance, and payroll in one location.
5. Use POS with Built-In ID Verification and Purchase Limits
Every state in the United States has different purchase restrictions for cannabis. Purchase limits are also different for medical patients and recreational cannabis consumers. Thus, a dispensary can not sell more than the set amount of cannabis and related products to customers within a particular time. For example, in California, medical marijuana patients are allowed to buy up to 8 ounces of cannabis a day, but recreational shoppers are limited to one ounce a day. Manually tracking these transaction limits can be challenging, so you must use POS software that has built-in purchase limit alerts. With a dispensary POS system like Cova, you can maintain cannabis compliance anywhere in North America.
Also using a system with built-in ID functionality can help you fight looping. A loop can happen when a cannabis buyer buys to the limit and returns after a few hours to purchase more cannabis. A built-in identity verification feature allows you to link a customer profile to a transaction made by that customer and see how much cannabis they purchased already.
The easiest way to ensure compliance with cannabis sales limit regulations is by selecting a POS system for your dispensary that automatically tracks purchases along with customer IDs and warns dispensary staff if they are about making a sale that would put your dispensary out of compliance. Cova's dispensary handles daily limit compliance from beginning to end automatically and protects you and your staff from costly compliance errors. Book a demo today to learn more.