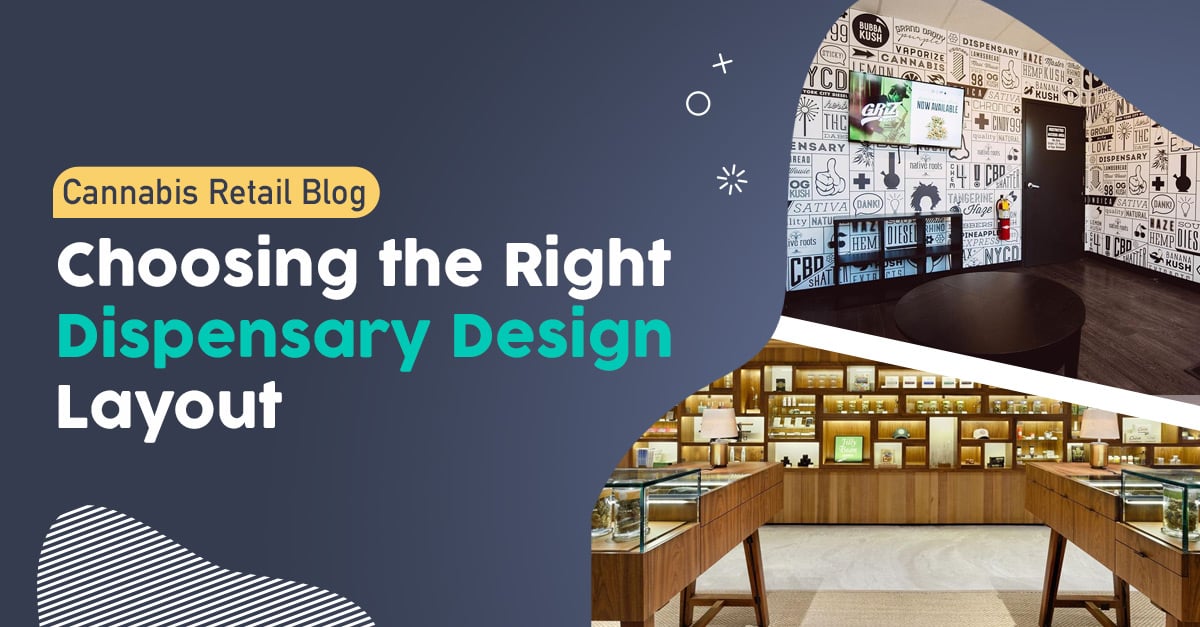 Your cannabis retail store design significantly impacts how your customers perceive the dispensary brand and shopping experience. Technology is undoubtedly facilitating and influencing the retail experience immensely these days, and consumers seek the same elevated experience while buying legal cannabis. With digital payments, e-commerce, and mobile shopping becoming common, consumers can shop anywhere and anytime. But as a dispensary owner, it's your job to attract and retain the right demographics for your cannabis retail store. As things revert to normal after the pandemic, people are returning to brick-and-mortar stores for a more in-person shopping experience. But your dispensary floor plan layout and flow must facilitate a safe and efficient cannabis buying experience for them.
While choosing a dispensary design layout, you must also consider your state and local regulations along with the brand and customer experience you want to provide. Compliance is the name of the game in cannabis retail- your inventory storage location and secure check-in area for medical versus recreational customers are other crucial aspects when choosing your dispensary layout. Remember, competition in the cannabis retail industry is becoming fierce, and your dispensary design layout must curate a positive customer experience. In this blog post, we discuss the common dispensary design models, including their impact on dispensary staff, customer experience, and technology needs.
1. Behind the Counter (Bank Model)
The bank model emphasizes the security and safety of products and has traditionally been the most common layout for medical marijuana dispensaries. As recreational cannabis has been legalized over time, many dispensary owners adopted the same model as it's easy to manage with all the compliance regulations surrounding adult-use cannabis. But it doesn't provide an immersive customer experience to consumers who want to see products before buying them.
Inventory is stored in an area behind the counter that only staff has access to.
There's a waiting area for customers to get their IDs checked before entry.
One budtender attends to one customer and builds a direct relationship.
Although this model allows for a personalized customer experience, it can sometimes hinder the flow and turnaround time and result in inefficiencies.
2. Anywhere on the Floor (Open Retail Mobile Model)
The open retail or mobile model is a customer-focused dispensary layout plan that many modern cannabis retailers have adopted. In this layout, products are displayed in open or glass cases for people to browse and pick up themselves if permitted. It can be challenging to manage inventory and security, and you'd need robust dispensary SOPs and inventory control. A mobile tablet such as one with Cova POS allows you to build a virtual cart anywhere on the floor and curates a positive customer experience.
Customers don't need to wait and can explore the dispensary floor.
Cannabis products can be supplied from a central inventory area.
Budtenders roam around with POS tablets and can attend to multiple customers.
The open retail model gives more flexibility to the customer and generally leads to a higher-than-average transaction amount, but it may require more staff to manage the flow.
3. Medical Inventory Control (Pharmacy Model)
The pharmacy model is not very common and is only used by medical dispensaries in states where regulations are stringent. In this layout, inventory is centrally located and securely accessible only by select employees. Generally, a patient or customer's ID is verified in the check-in area, and then the budtender attends to them. However, the budtender only handles the transaction and provides a receipt from the dispensary POS, while staff managing inventory control hand out the product after final verification.
Customers must wait in the check-in area before a budtender is available.
Products are pre-packaged and verified by staff before handing them over.
Budtender only handles POS transactions and not the product.
This model allows for tight cannabis inventory control and tracking, thus easing auditing, cannabis compliance, and security concerns.
4. Self-Service Dispensary (Kiosk Model)
The self-service dispensary model consists of self-service kiosks where people can browse through products on a screen or tablet and build a cart on their own. This model does not require a lot of dispensary staff and may not necessarily provide a personalized customer experience. But if you have extensive information on the kiosk screens, this model works pretty well if your target market consists of cannabis connoisseurs or people who know what they want to buy. Make sure that you have a check-in area for verification of identification.
Customers can walk in anytime as long as there's a kiosk available.
Inventory can be easily managed as per any other model.
Payment is processed automatically on the kiosk POS and staff hand over the order.
This is an extremely secure dispensary layout model from a compliance perspective as no products are displayed live. But you may have a floating budtender to help customers.
Choose the Best Tech Solution for Your Cannabis Retail Model
The above dispensary design layouts work very well for a brick-and-mortar cannabis retail store, and Cova's cannabis retail tech solutions can help you facilitate every model. Beyond these, if you're looking at doing an event pop-up, curbside delivery, or even just an online dispensary, Cova has the best cannabis POS and tech solutions available to help you take your dispensary to the next level. To learn more, book a demo with us now.