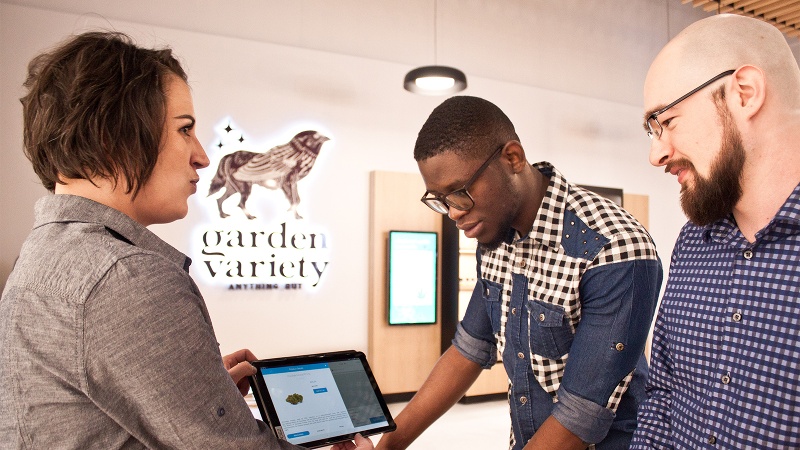 These days, retailers of all stripes are implementing tablets in their operations, and with good reason. Along with being cost-effective and easy to use, tablets allow freedom and flexibility for sales staff while adding a clean, sophisticated look and feel to any retail outfit. That's why it's no surprise that tablets are the hardware of choice for cannabis retailers and dispensary owners.
The only question is, how do you go about choosing the right tablets and tablet stands for your cannabis store? Read on to find out!
3 Considerations To Make When Choosing A Tablet For Your Cannabis Dispensary
When it comes to choosing the best tablet for your dispensary, there are three main considerations you'll need to make: budget, performance, and your desired use or store flow. Let's look at each one a little more closely.
1. Budget
Naturally, your budget will be a major factor in determining which type of tablet you implement at your marijuana dispensary. Tablets compatible with leading cannabis POS software range from $230 to $650 a piece — so, depending on how many tablets you plan on purchasing, your overall cost can vary significantly.
Of course, those prices reflect a range of capabilities and features, which is why the next consideration is equally as important as your budget.
2. Performance
How big is your operation? Are you a single store or multi-location retailer? How many SKUs do you carry in your inventory? How many transactions do you typically process in a given day? What about during peak traffic times and major holidays? These are the kinds of questions that relate to performance, and they can help you narrow down the options in your search for the perfect cannabis retail tablet.
Obviously, the lower the price point, the less you'll get in the way of memory, processing speed, and overall performance. But if you're a small, single-location marijuana dispensary with a relatively light inventory, you don't necessarily need the most powerful — and most expensive — tablet on the market.
3. Intended Use and Store Flow
The third major consideration when choosing a tablet for your operation is how you intend to use it and how you want your customers to flow through your store. For instance, do you want your tablets secured at the checkout counter, or do you want your budtenders free to roam the sales floor and interact with customers without having to go to the counter to look up product information and inventory?
Also consider customers who may not feel comfortable talking with sales staff. Self-serve menu kiosks can be a great solution for helping them learn about your products and find exactly what they need while maintaining privacy, so think about which tablet type will best fit that application in your store, too.
Cova's Recommended Cannabis Retail Tablets
At Cova, we chose to build our industry-leading POS as an Android-based application for a few key reasons. As an app that you can operate on a mobile tablet, Cova POS provides much more flexibility in store design and flow while freeing up budtenders to assist customers and ring up sales from anywhere in the store.
Another advantage to the Android platform is the ability to quickly push out software updates. This is critical because at Cova, we're constantly improving our product and adding new features, which can take a while to be approved in the Apple Store. With Google Play, we're able to ensure our clients have the fastest access to the latest software improvements. Plus, running on the Android operating system helps us keep costs lower for you, the retailer.
Now, let's take a look at our top tablet picks for marijuana retailers.
1. Samsung Galaxy Tab A
As our most cost-efficient pick, the Galaxy Tab A by Samsung is a great choice for dispensary owners on a tight budget. The Tab A starts at $240 for the 10.1" 2019 model, while the 10.5" can be had for $330.
Pros: mobile capability for dispensary staff; can be used in self-serve kiosks or display units anywhere in the store; low price point; great for smaller operations with lower product quantities
Cons: lower performance, particularly as transaction volume increases
2. POS-X T2 Lite
The POS-X T2 Lite is a truly commercial tablet designed for retail POS applications. Boasting a 15.6" screen, it's the biggest tablet of our recommendations, and comes equipped with a stand so you won't have to make any additional purchases. Although it has wireless capability, the POS-X T2 Lite is not designed for mobility, which means it can only be used as a stationary desktop unit. However, this tablet is equipped with an ethernet port, which is a major upside for retailers with Wi-Fi issues. You'll pay around $530 for the POS-X T2 Lite.
Pros: Ethernet port for hard-line internet connectivity (you won't have to worry about dropping Wi-Fi); rugged, sturdy hardware; significantly bigger screen; solid performance
Cons: not mobile-friendly; budtenders and customers will have to go to a counter or kiosk to find product info
3. Samsung Galaxy Tab S6
If you're looking for top-of-the-line performance in a mobile tablet, consider Samsung's Galaxy Tab S6. Perfect for larger retailers with plenty of products and heavy traffic, the Tab S6 retails for $650 — so if budget is a concern, this may be a bit out of your range.
Pros: mobile capability; premium performance that supports large operations and high transaction volumes
Cons: premium price tag
Tablet Stands for Cannabis Retailers
Unless you opt for the POS-X T2 Lite, you'll also need to consider tablet stands for your dispensary. With so many options to choose from, tablet stands really allow you to customize and show off your store's unique flare.
Practical considerations for tablet stands include security; some are enclosed and lockable, which can help prevent theft as well as damage from an accidental drop. Other stands are tiltable, which is very useful for stations used by multiple budtenders who are different heights. As with the actual tablets, you'll want to consider how your hardware will be used in the store when considering which type of tablet stands to buy.
Need Help Finding the Right Tablet for Your Dispensary?
If you're in the market for tablets for your dispensary POS, tap the button below to schedule a consultation — we're here to help point you in the right direction!