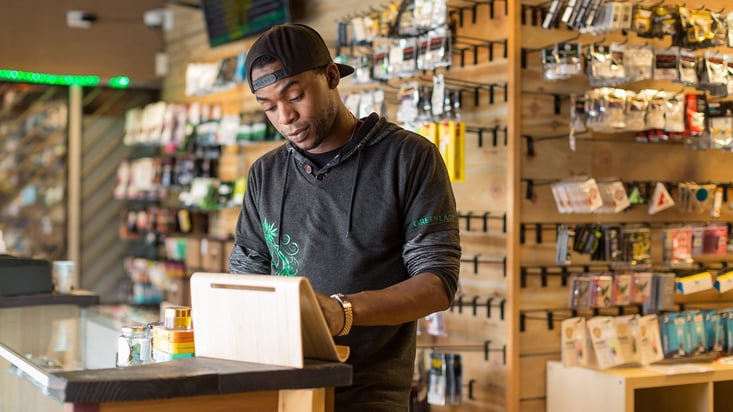 Running a cannabis retail store is, in many respects, just like running any other retail operation. For instance: despite the fact that you can't advertise your shop in many traditional ways, you can still offer in-store promotions, specials, deals and discounts to help keep your customers happy and loyal.
Not sure where to start? Here are 4 steps to help you build better cannabis retail promotions and maximize dispensary profits in the process.
1. Identify core customer segments
The first step to building successful promotions to increase your dispensary profits is to identify and segment your customer base. This doesn't have to be anything fancy, and you don't have to compose full buyer personas. But it helps to at least be mindful of the broader categories your customers fall into, as it will help you build promotions and special offers that are more directly targeted.
Ask yourself the following questions:
Who are my regular customers? What are their ages? Occupations? Interests? Examples: young professionals, middle-aged moms, carefree college students.
What are their preferred consumption methods?
What products do they typically buy?
What days of the week do they frequent my shop?
2. Analyze sales data to find trends
Once you have a good idea of who your main clientele is, it's time to start digging into your sales data to look for trends that you can capitalize on. Analyze your sales reports and ask yourself these questions:
What are my best-selling and most popular products?
What products are frequently purchased together?
What are my busiest and slowest sales days?
Of course, you'll need a reliable cannabis dispensary POS system in place in order to effectively generate accurate sales data.
3. Build deals based around these trends and tailor them to your core customer segments
Now that you've analyzed both your customer base and your sales reports, you're ready to start putting together targeted promotions. These can include:
Discounted product bundles featuring 2 or 3 items that are frequently purchased together
BOGOs and similar deals (buy 2 get 1 free, etc.)
Flash sales that don't last long and create a sense of urgency for the customer
Weekly specials menus featuring deals on certain products during specific days of the week (Wax Wednesdays, Sativa Saturdays, etc.)
4. Use the tools at your disposal to promote your offerings
Even though you can't advertise through traditional channels, you can still reach your customers to let them know about your special offerings. In-store signage is one of the best ways to announce your deals, but you can also reach your customers directly via your website, email, and SMS text alerts.
Of course, you'll want to check your state laws and local ordinances to know exactly what you can and can't do with regard to advertising. But your core customers will often happily hand over their email addresses and phone numbers if it means receiving alerts on special sales. And you can incentivize them even more by setting up a loyalty rewards program.
Want to learn more about how a cannabis dispensary POS system can help you generate robust sales reports and build better promotions? Contact us to request a demo today!