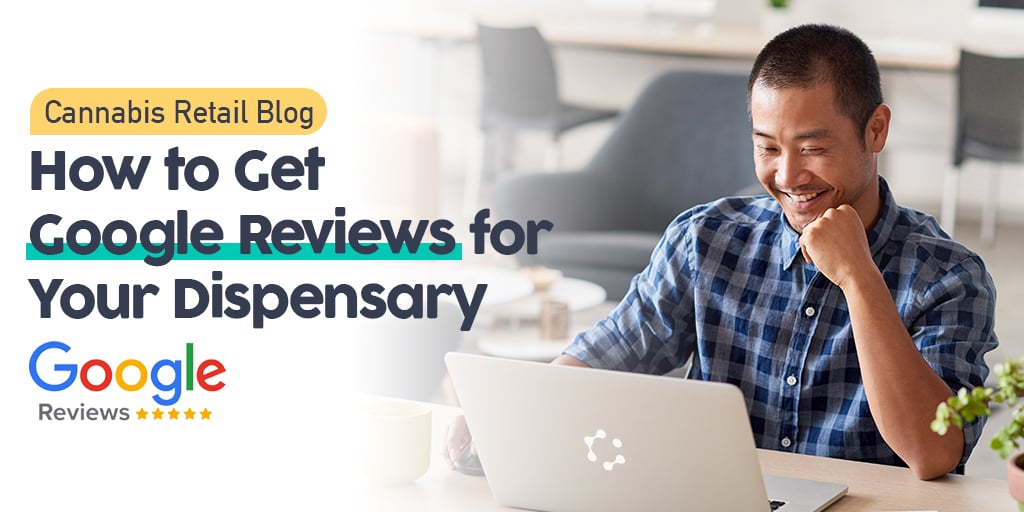 While many dispensaries want to rank top 3 for "cannabis store near me" or "dispensary near me" on Google Maps, not many understand how search engine optimization (SEO) works and how it can help your website rank better in Google search results. SEO is the practice of tailoring or optimizing, your cannabis website, and Google Maps listing is a key component to please the search engine's algorithm.
Cannabis Marketing School has worked with dozens of cannabis retailers to get to the top of Google Maps. When retailers get to the top, their website traffic often increases by five times, and their foot traffic doubles as well, as evident by Cova's case study on Flower Pot. Ranking high on Google Maps is a lucrative place to be and one of the most important SEO ingredients to get there is customer reviews.
In this blog post, we share the why, how, who, when, and what to get reviews on Google Maps for cannabis retailers. For more free resources and training on enhancing your dispensary marketing efforts, check out Cannabis Marketing School.
Why Get Reviews on Google Maps
You've likely heard how good Google reviews are for your business, but do you know why?
Improve Your Rankings on Google Maps: The more and better the reviews you get, the more likely you are to rank higher on Google Maps. In SEO, we call this an "algorithm ranking factor". In other words, Google chooses who and how to rank businesses based on the number, frequency, and quality of reviews. The top 3 spots on Google Maps are called the "local pack". Below is a screenshot of the local pack for the keyword "Toronto cannabis shop". Notice that the local pack listings have the highest review count in the city. That's not a coincidence – it's a ranking factor.
Show You Are Up and Running: Up to 20% of businesses shut down in the first year and 50% in the first five years. When a business goes under, the Google Maps listing and websites are often abandoned. A consistent flow of reviews shows users that your business is still active.
Protect Your Reputation: Reviews and how you respond can make or break a prospect or customer's trust in your business.
How to Get Google Reviews for Your Cannabis Store
Getting reviews starts with asking for them. While 77% of shoppers are willing to leave a review if asked according to research by Podium, only 13% of small businesses ask. From what we've witnessed, many don't ask because they don't know how. Here are some guidelines for creating a process behind your reviews.
Training: Train and encourage staff to ask customers for reviews in the store. If you have multiple locations, train the managers to train the budtenders. Regularly remind staff to ask for reviews or turn it into a game or friendly competition. Include this as part of your dispensary training practices.
Automate it: Set up an automated system to ask customers in your database for reviews through SMS or email.
QR codes and signs: Have signs and QR codes throughout the store or at the checkout desk asking for a review.
Be careful with incentives: It is against Google's terms to incentivize or compensate customers to leave you reviews. Do so at your discretion.
Whom to Ask for a Review
Here are some guidelines on who to ask, and who not to ask for a review.
Happy customers. Prioritise customers who seem most receptive, have openly stated compliments, and are repeat visitors.
Recent customers. With an automated system, segment customers within your loyalty program by new and returning or by their recent visit. Send an SMS or email message requesting a review, segmenting those that visited recently.
When to Ask for Google Reviews
Here are some guidelines on when to ask.
Timing matters. Before the purchase is made is too early, while asking up to 7 days after the purchase is too late.
Ask for reviews during a milestone. For loyal customers, this encourages customers to interact with every aspect of your program, especially if rewards are involved. Pick a customer milestone, for example, if they've visited X amount of times, and include review requests when you send out their rewards.
When the customer reaches out. If a customer reaches out to you directly or leaves positive feedback on social media, email, or through other channels don't let the opportunity pass. It means they are showing "initiative". The moment you receive an email with a positive message about their visit, don't just respond with a "thank you." Ask them politely if they can leave an honest review and include a link to your review platform.
Choose the time carefully. Ask customers while they are engaged in the store at the counter desk. In a survey by SmartReview, it was found that the best times in a day to ask for reviews are between 2 to 3 PM and 6 to 7 PM. During these hours, consumers are most likely to rate a business on Google.
Asking twice isn't annoying. It's a reminder. Don't rely solely on one method when asking for reviews.
Prioritise seasons and special days. People tend to get more generous around special holidays such as Thanksgiving and Christmas so don't skip asking them.
What to Say or How to Ask
For SEO purposes, reviews that use the primary keyword are ideal. That is if you want to rank top 3 on Google Maps for "cannabis store Edmonton" ideally you'd like customers to use those keywords in their reviews. That is a strong indicator for Google when ranking stores.
While you don't have control over how customers write their reviews, you can use psychological techniques like framing or mirroring language when asking to influence how they write their reviews.
Here are some examples of how to ask:
Over SMS or Email – Thanks for visiting our cannabis store location in CITY. If you enjoyed your recent visit, we would love to hear about it on Google Maps. (INSERT LINK)
In Person – We want to be the best cannabis shop in CITY! If you've had a positive experience, please consider leaving us a review on Google Maps. (SHOW THE THE QR CODE)
Using the primary keyword in your request gives customers the same language to use in their reviews. Note, if a customer doesn't use the primary keyword in their review it is not completely useless for SEO, and still good for your business.
Lastly, make it as easy as possible for customers to leave a review. Over SMS, give them a direct link to our Google Maps listing, and in person, pass them the QR code. Do not expect the client to look for you on Google Maps and leave a review.
How to Respond to Reviews
If someone took the time to leave a review, please take the time to respond out of courtesy and gratitude. Here are some scripts for replying to positive and negative reviews.
Positive Reviews
We recommend making the reviews personal. If the review mentions a budtender, or specific item, or writes in length, respond to the points they bring up.
Hi [Name],
Thank you for your kind words. We hope to see you again.
Kind regards,
COMPANY, CITY
Hi [Name],
Thank you for the review. We strive to be the best [business] in [city]. Can't wait to see you again!
Cheers,
COMPANY, CITY
Negative Reviews
We recommend providing contact information to encourage the unhappy customer to reach out and resolve the issue over the phone. We do not recommend using your Google Maps listing as a place to debate or tear down negative reviewers.
Avoid calling negative reviewers fake or liars, especially as something in public on Google Maps and in writing. Remember that future customers will see and judge your business based on your response, and it sets a negative example for your team. As a small retailer, you might be able to get away with it but as you get larger, your reply could be the thing that gets you "canceled".
Hi [Name],
Thank you for your review. We apologize that our service did not satisfy your expectations.
Please feel free to reach out with any further comments, concerns, or suggestions you wish to share. We would like to make things right. I can be reached at [number].
Thank you,
MANAGER'S NAME, COMPANY NAME
Getting positive Google Maps reviews is a great step in enhancing your cannabis website's visibility, enhancing your organic SEO rankings, and effectively growing your cannabis eCommerce business as well. Read our complete guide on cannabis eCommerce to learn how you can set yourself up for success in the ever-evolving cannabis retail industry.