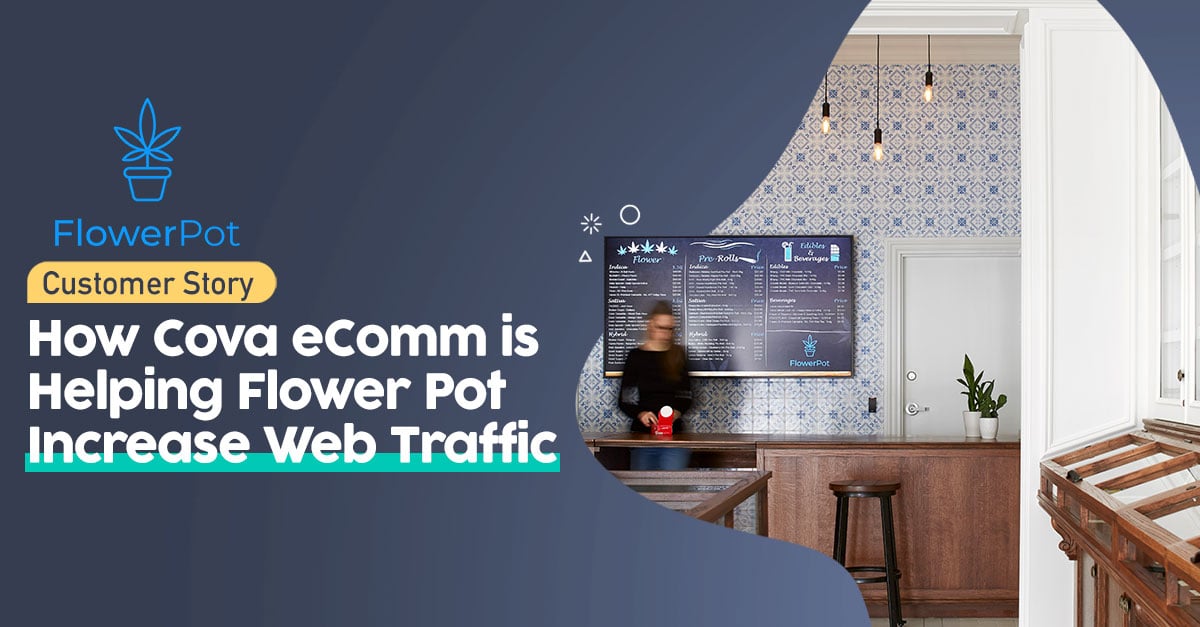 Cannabis online sales have seen tremendous growth lately, and having an eCommerce store and website is almost indispensable for every cannabis retail business. Although people are gradually returning to shopping in-store after the pandemic, most cannabis consumers do their research online and look for cannabis product availability in their vicinity before going to the store. Hence, it is not just essential for your store's online cannabis menu to be searchable on Google but for your eCommerce website to be SEO-optimized for cannabis product keywords too. Cova's cannabis eCommerce solution facilitates that and more so that you can increase your cannabis retail store's online visibility and attract more website traffic.
Flower Pot is an independently-owned cannabis store in Toronto that has used Cova POS since it started operating in 2020. Flower Pot recently switched from Dutchie to Cova eComm for its online cannabis store, and its team couldn't be happier with the results. After switching to Cova eComm, they have quadrupled their website traffic within two months, improved their organic search rankings on Google, and increased customer retention. Cova recently met with Flower Pot's co-founder, Vanessa Blandford, to learn about their experience using Cova eComm and how it is helping them grow their cannabis retail business.
The Search for Seamlessly-Integrated Cannabis Retail Software
Before switching to Cova eComm, Flower Pot used Dutchie as their cannabis eCommerce solution. But their menu was not visible in Google searches, and their store didn't appear on Google maps either. As Flower Pot was also looking at reducing overhead expenses, the launch of Cova eComm couldn't have come at a better time for them. A cannabis POS seamlessly integrated with other software solutions like inventory management, eCommerce, Payments, and data analytics was what they needed to ensure smooth retail operations.
"The seamless integration between Cova POS and Cova eComm allows the staff to process online orders quickly and also play around with product pricing as per web searches, demand, and supply," says Vanessa.
SEO-Optimized Cannabis Website for Increased Online Traffic and Visibility
Optimizing your cannabis website for product-related keywords and ensuring your online menu is searchable are the two most crucial things you can do to increase web traffic and visibility for your eCommerce store. It is achievable only with a native eCommerce solution like Cova eComm that propels your SEO rankings and brings more organic traffic to your cannabis website. With Cova eComm, Flower Pot fixed all the issues with their website and doubled the average daily online visitors within two months. In fact, their website visibility for organic searches has increased so much that people from cities over 40 km away, like Brampton and Mississauga, have driven to their store in Toronto to buy some particular cannabis products for which Flower Pot's website ranked high in Google search results.
"We switched to Cova eComm in November and saw a 91% increase in organic website traffic over the next month. And from December to January, the increase has been over a 100%, meaning the number of visitors has quadrupled over two months," mentions Vanessa.

Valuable Data Insights via Built-in Google Analytics on Cannabis eCommerce
Vanessa loves the power of Google Analytics integrated into Cova eComm. The valuable data insights have helped her understand customer preferences better based on what cannabis products they are searching for and keep more of those in stock while pricing them strategically to ensure good margins. Insights from data analytics are also helping them order the right product mix from the OCS- if there are recurring searches for certain specific products on their website, then they place an order for those accordingly. It allows for better inventory management, fresher products in stock, and an elevated customer experience at Flower Pot.
"One thing that truly stands out is the ability to see abandoned carts on the Flower Pot website and figure out the reason behind it with the help of data. Based on that, we can launch retargeting campaigns, bring people back, and increase customer retention," declares Vanessa.
Enhanced Customer Experience and Retention with the Best Cannabis Tech
In Canada's competitive cannabis retail industry, businesses must differentiate themselves to stand out. Flower Pot prides itself in personalized customer service because the staff tests every product that they sell and thus can provide customized recommendations. They also offer free delivery at a minimum order and are looking at expanding their cannabis delivery services. All these tactics do help in enhancing customer experience and increasing retention. But these strategies help streamline and grow your cannabis retail business only when you are using the right cannabis tech solutions to implement them.
With a 4.5% conversion rate for organic searches, Cova eComm has helped Flower Pot expand its geographical reach, increase website traffic multifold, and improve customer retention via valuable data insights. Flower Pot's team has multiple ideas in the pipeline and is looking at supplementing the website with novel content that will help accelerate SEO efforts. And with Cova as their cannabis tech partner, they feel reassured that they can scale up as and when needed with the best cannabis software solutions always available. Click below to learn more about how Cova eComm can help your cannabis store.