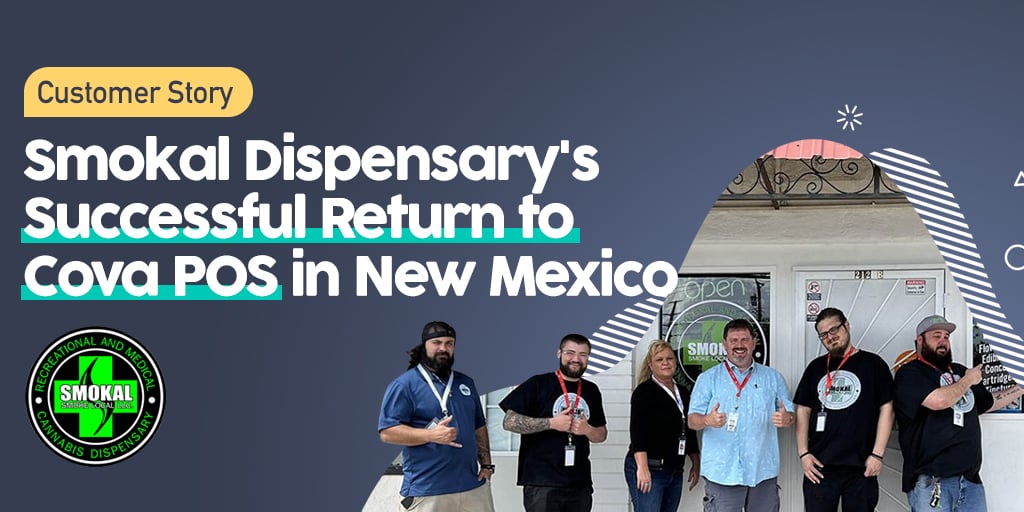 Smokal, a prominent cannabis dispensary in New Mexico, recently decided to switch back to Cova POS after facing numerous challenges with a different point-of-sale system. Smokal's general manager, Michelle, expressed her delight with the decision, citing the user-friendliness of Cova, seamless eCommerce and other integrations, automated cannabis compliance with Biotrack, and the overall complexity of the alternate system they opted for briefly. In this case study, we explore why Smokal Dispensary returned to Cova and the evolving benefits of having Cova as its cannabis software provider in New Mexico.
Smokal's Brief Stint with the Alternate POS System
Michelle revealed that they initially switched from Cova to the other POS system because they were promised exceptional capabilities, including more effective online communication with their customers and the ability to better promote products and services. However, the alternate POS provider never lived up to their expectations and rather created numerous compliance hurdles for Smokal that led to complete havoc in their daily dispensary operations.
The alternate POS system also proved overly complex, making it challenging to extract compliance reports, manage inventory, and provide efficient customer service, and the overall experience turned out to be a disaster in just a few weeks. This ultimately led Smokal to switch back to Cova, as they had never had any compliance or operational issues with Cova POS.
"With the alternate POS, the integration with Biotrack was ridiculous and had several glitches that messed up our inventory. It made us realize that Cova POS handled inventory and compliance flawlessly and saved us crucial time," declares Michelle.

Smokal's Return to Efficient Dispensary Operations with Cova
While using the alternate system for some time, Smokal's team realized that they had been hoodwinked. They found that it was not as simple to use as they had expected and did not have the same range of features as Cova. Multiple issues with the system made effective dispensary management challenging, which led Smokal to reconsider its decision to switch from Cova.
After experiencing disappointment, Smokal immediately switched back to Cova, an extremely user-friendly and easy-to-navigate POS system that streamlines dispensary operations. While Michelle emphasized the need to use all available resources to stay ahead of the competition, she is excited about Cova's 2-way integration with Springbig, which would help enhance their marketing efforts.
How Smokal is Benefitting From Cova POS
Since reverting to Cova POS, Smokal is happy with its continued benefits. The first notable advantage is excellent customer support. Cova's support team has been highly responsive, enabling Smokal to promptly resolve any issues without disrupting their operations.
The second advantage is the enhanced user-friendliness of Cova. Cova's intuitive system indeed makes it easier for dispensaries to manage their business efficiently. Smokal's team finds Cova extremely simple and adaptive to use, reducing the need for extensive staff training and enabling smoother operations, and Michelle says that her budtenders couldn't be happier.
The most valuable benefit lies in Cova's comprehensive range of features. Smokal finds Cova's dispensary inventory management system to be highly efficient, allowing for streamlined product tracking and synchronization with Biotrack. The reporting system provides valuable insights into their business, empowering them with data-driven decision-making capabilities.
"We have the largest variety of cannabis products with 96 strains of flower, but Cova's inventory management system makes it simple to import and export everything smoothly, which the other system was certainly not well-equipped for," mentions Michelle.
Seamless Cannabis Compliance with Cova Software
Smokal's decision to switch back to Cova POS has yielded remarkable benefits for the dispensary. Excellent customer support, unparalleled user-friendliness of the system, and a comprehensive set of advanced features have enabled Smokal to manage business more effectively, improving operations and ensuring seamless inventory tracking and compliance.
Additionally, the new integration between Cova and Springbig, a leading provider of loyalty and marketing solutions for cannabis retailers, will position Smokal to leverage targeted marketing campaigns and reward programs based on customer data, further boosting customer engagement and loyalty. If you are a cannabis dispensary owner in search of a reliable POS system in New Mexico or another state, Cova is a worthy choice, as demonstrated by Smokal's successful return to its user-friendly and feature-rich platform. Click below to start your dispensary journey with Cova.