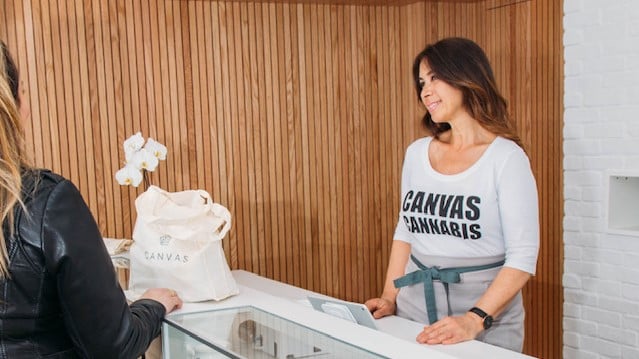 Canvas Cannabis Founder and CEO, Helene Vassos, is no stranger to being the first of many things. She was preparing to retire from a rewarding career of over 30 years in the non-profit healthcare sector when she decided to embark on an entrepreneurial journey and open the first woman-led cannabis retail store in Ontario. Aiming to provide a boutique and personalized cannabis experience at her stores, Helene wants to ensure that the legal cannabis industry does not get corporate-dominated and everyone, irrespective of their background, has the opportunity to launch a business in this industry.
Helene Vassos has always strived for excellence in all walks of life and brings her passion and core values to Canvas. She thrives on providing an unparalleled experience at Canvas cannabis stores and is happy that she chose Cova as the retail technology solution to facilitate the same. "When you want to be the best, you must choose to partner with the best.", says Vassos. Canvas Cannabis has established a distinct brand image in Toronto and continues its steady growth into the future. Cova recently caught up with Helene to learn more about how our partnership is helping her company thrive and achieve its goals.
Cannabis Retail: An Exciting New Industry To Reinvent Oneself
Helene always dreamt of being an entrepreneur and owner of a small business that she would build from scratch. The cannabis retail industry seemed like an amazing opportunity for her to reinvent herself at an age when most people are looking at retiring and living a more relaxed lifestyle. When Helene's name came up in the second list of lottery winners to be awarded a legal cannabis retail store license in Ontario, she was pleasantly surprised but got to work immediately in setting up her boutique cannabis business in the summer of 2019.
"As one of the first few women in this industry, I felt that I could capture a sophisticated elegance that many other stores were lacking, bring a different perspective, and set the trend for a woman-led cannabis brand.", says Helene about her motivation to venture into this space.
Retail Management: Facilitated By a Supportive Tech Partner
When it came to affiliating with a cannabis technology partner, the company's reputation and customer service were crucial for Helene. And when Cova's team went above and beyond to support all her needs and provided her with the knowledge and resources to successfully establish her retail stores, Vassos knew that she had chosen the best.
"The support I have had from Cova is unparalleled, and I attribute a significant part of our success to that. Cova is a lot more than just a POS software- its retail management tools help Canvas stay on top of everything, and no other company comes even close.", says Helene when talking about how Cova helps in streamlining operations and enhancing the customer experience.

Community Engagement, Inclusivity, and Philanthropy
When choosing the right location for your cannabis retail store, it is essential to understand the character of the neighborhood and build something that fits within the existing culture. Vassos is very particular about engaging the local community and ensuring that they feel comfortable with the new introduction to their area.
"Our first location in Danforth is a love letter to the neighborhood that I called home for decades. All other stores are also built in the center of beautiful neighborhoods with growing communities while preserving the cultural heritage."
Cova reinforced the value of educating the community for Helene, and she is doing the same with her customers. Philanthropy is also important to her and her company is in the process of launching a program called Canvas Care, which will focus on community engagement initiatives and supporting local charities.
"I'm grounded in the spirit of inclusivity and collaboration, and the only bottom line that matters is our responsibility to staff, customers, and neighbors."
With 35 employees across 3 locations, and a fourth store opening up close to the University of Toronto, Helene is expanding the Canvas' footprint cautiously while maintaining a unique aesthetic sense at every store. "I feel privileged to have this opportunity to serve the community and make a difference while fostering a family-business work culture at Canvas."
Staying Compliant Requires Innovation and Continous Improvement
With constantly changing regulations in the novel cannabis industry, compliance and reporting are major priorities for Helene, and she is glad that her ideology matches with Cova's.
"I come from the healthcare industry, where compliance was always critical, and I bring that commitment to cannabis retail as well. The fact that Cova simplifies reporting and compliance and is also validated by the AGCO is reassuring for me.", declares Helene when talking about Cova's sophisticated POS and tech infrastructure.
According to Vassos, Cova's team is very reactive to Canvas' daily operational challenges and future needs and is always open to new ideas for software enhancements and collaborating on bringing new features to the table as quickly as possible. Cova's constant product innovation and continuous improvement ensure that Canvas Cannabis stays ahead of the game and is compliant with all cannabis laws.
Aligning Canvas With Excellence and Growing Together
Providing an excellent customer experience has always been at the forefront of everything that Helene does, which aligns with Cova's core values as well, and that is what won her over.
"I listen to my customers, and Cova listens to me. This feedback loop allows us to build strong and ever-lasting relationships, and Cova empowers us to provide high-quality customer service."
Vassos says that it is easy to talk about values but to demonstrate them and live up to your mandate is a different ballgame altogether, and Canvas and Cova complement each other very well in that regard. To succeed in business, it's crucial to identify your industry partners, reflect each others' values, build a thriving relationship, and grow together. And that is what Cova and Canvas have done together, sort of put Cova on the canvas.
"Cova has always been consistent and has exceeded my high expectations. My experience has been excellent, and I always recommend Cova to other retailers because nothing exists beyond excellence."
Canvas Cannabis is expanding while maintaining its ethos and brand identity as a small business curating a unique cannabis experience for its customers. If you want to grow your retail brand with Canada's best cannabis software company, click below to learn more.