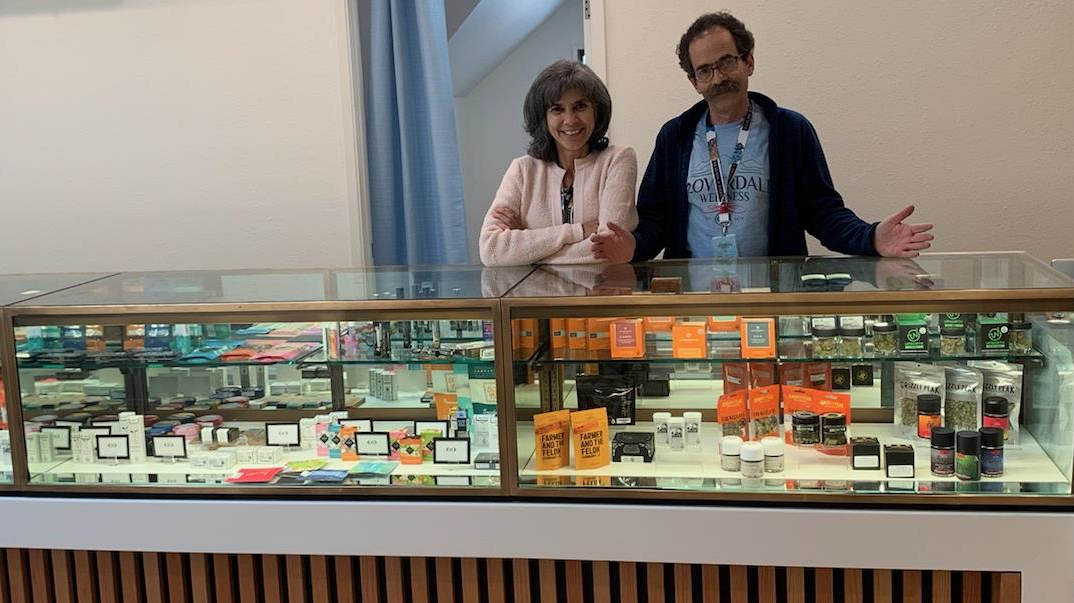 After offering cannabis delivery and curbside pickup services exclusively for the first few months, Cloverdale Wellness Dispensary opened its doors for in-store shopping earlier this summer and is rapidly becoming the preferred cannabis retail store for the people of Sonoma County in California. With an emphasis on cannabis education, health and wellness, and local community engagement, Eleanor Gomez and Daniel Frankston want to help people feel better and live more meaningfully. Cova recently caught up with them to learn more about their journey, the vision behind their business, and how our cannabis POS system is helping them grow their retail operations.
Wellness Dispensary With Tailored Services For The Local Community
With predominantly baby boomers and generation X demographics in the city of Cloverdale, Eleanor's customers are primarily seniors seeking to live healthier lifestyles. Along with selling recreational cannabis to seniors, while educating them about its medical benefits, Eleanor offers chair massage and will utilize her background in health and wellness to design and conduct customized fitness programs for the local community. At Cloverdale Wellness, they also serve veterans with PTSD, with a strong emphasis on the medical aspect of cannabis. As the dispensary is located close to a winery county, where people go on vacation, that's another segment they are looking to tap into with their cannabis delivery service.
"We have a clear vision of our target market. We are capitalizing on our strengths, engaging the local community, and delivering customized services to each segment.", says Eleanor, General Manager at Cloverdale Wellness.
Why Cloverdale Uses Cova as its Cannabis POS System
For their maiden voyage into retail, Eleanor and Daniel didn't need to go far away from home for recommendations on the best cannabis pos system. One of their team members also owns a cannabis delivery service in a neighboring county and had recently switched to Cova from another POS, and it has been smooth sailing for them since then. This direct endorsement from someone close to them was all they needed to cement their decision about choosing Cova POS, which has been facilitating their retail growth with excellent industry-leading features.
Seamless Integration with METRC makes compliance a breeze
Compliance was the first and foremost criteria for Cloverdale Wellness when they were looking for a cannabis POS system. As an attorney, Daniel understood the strict regulations surrounding the cannabis industry and was impressed with Cova's compliance capabilities and accuracy in reporting sales tax and other data. Of course, Cova's 2-way integration with METRC makes seed-to-sale tracking and reporting a breeze, as real-time reports and inventory adjustments get automatically sent to the state traceability system.
"With laws changing regularly, dealing with METRC can be challenging. However, with Cova's seamless integration and automated manifest intake, all we have to do is click one button and everything is sorted. It's fast, efficient, and stress-free.", says Daniel.
Excellent Reporting and Analytics Allow for Improved Decision Making
Cova's fully customizable dashboard allows Eleanor and Daniel to measure the metrics that matter to them the most. Sales reports and data analytics from Cova POS have proven extremely valuable to figure out when their store is the busiest and which products are selling the most, facilitating better inventory management and improved decision making for the future. Whether it's a high-level view or a detailed look into their operations, data from Cova POS is easy to understand and always gives them great insights.
"Cova's reports help us break down our sales into different groups, streamline dispensary operations, reduce inventory costs, and maximize revenue. We couldn't have chosen a better dispensary POS system.", says Daniel.
Ease of Use & Intuitive Design Help in Enhancing Customer Experience
Cova's easy-to-use mobile tablets are loved by all our customers, including Eleanor and Daniel. They've even designated different tablets for themselves and customers and sanitize them regularly to ensure health and safety for all. These tablets allow them to take orders from outside the store as well and expedite curbside pickup. At Cloverdale Wellness, they aim to create a warm and inviting atmosphere for their customers, especially medical patients, so that people are comfortable asking as many questions as they want to before purchasing cannabis.
"The detailed product information available on Cova POS allows us to educate our clients, offer them all the help they need, and curate a more personalized customer experience. It definitely keeps them coming back for more.", says Eleanor.
Online Menu and Delivery Integrations Save Time and Reduce Errors
The ever-expanding cannabis ecosystem is indeed beneficial for retailers, and Cova has industry-leading integrations with various partners. Automatic synchronization with online ordering websites like Weedmaps and Leafly and cannabis delivery platforms enable Cloverdale Wellness to serve all clients as per their preferences while valuing their time, allowing for a seamless and flawless cannabis experience.
"Automatic inventory sync simplifies our operations, saves time, and reduces reporting headaches as well. With Cova, we are reassured about staying compliant.", declares Eleanor.
A Reliable Cannabis Technology Partner With Excellent Customer Service
From efficient launch to ongoing professional customer support, Cloverdale has had an excellent experience with Cova. With extensive cannabis retail industry-specific experience and constant product innovation, Cova is indeed the most reliable dispensary technology partner. With vertical integration on the cards, Cloverdale will continue growing its retail business with Cova POS. If you want to take your dispensary to the next level, click below to start your journey with us.