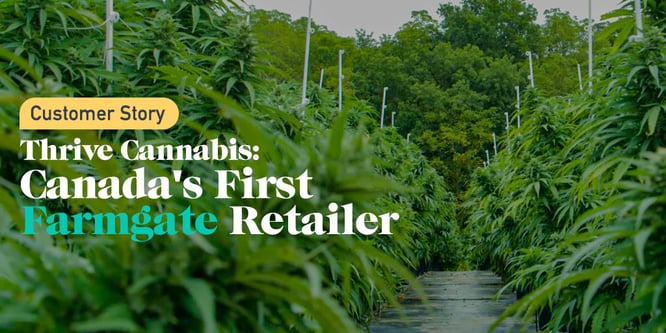 Thrive has been operating as one of the leading premium licensed cannabis producers in Ontario since legalization in Canada and has always focused on cultivating and providing high-quality products to retail stores. However, since day one, the company has always aspired to connect directly with the consumer market and bring back the old-school charm by offering craft-grown flower and premium concentrates to elevate the cannabis customer experience. With a team of passionate misfits who never doubt their abilities to scale a mountain but always strive towards climbing it as fast as they can, Thrive recently became the first licensed producer in Ontario to be awarded a retail operator license by the AGCO for a farmgate store. With a mission to increase access to legal craft cannabis and offer consumers a peek inside who they are as a company, Thrive will soon be ready to start selling retail farmgate cannabis at its premises in Simcoe, Ontario.
"We are extremely proud of the brand we have created and the level of quality that our premium products deliver to consumers, and we are grateful to have this opportunity to showcase our company in the most authentic way.", says Geoff Hoover, CEO of Thrive Cannabis, on a zoom meeting with Cova, where we talked more in detail about them pioneering the cannabis producer to retailer journey and why they chose Cova Software as the retail POS solution for their cannabis farmgate operations.
MAKING A DIFFERENCE
"It's been just over 2 years since legalization in Canada, and as we know, the industry continues to grow at an exponential rate. Through our incredible relationship with retailers, we now have a much better understanding of the Canadian cannabis retail market.", says Bubba Nicholson, VP of Business Development and Ethos.
The founding team always had a powerful vision to target the end-consumer market, but initial regulations didn't offer them enough flexibility to implement their plans. However, in the past few months, the government has implemented changes rapidly to permit farmgate operations. The new cannabis farmgate regulations in Canada will allow Thrive to connect directly with the consumer and offer an authentic cannabis experience, while also having a positive impact on the local community by increasing access to legal cannabis in their small town and creating diversified employment opportunities.
TRUSTED TECHNOLOGY PARTNER
When it came to choosing a POS solution for their new vertical, Cova Software was a no-brainer for Thrive. "Farmgate is still relatively new to us and we needed a reliable technology partner that could help us with establishing standard processes and setup house quickly. Cova's well-established position in the cannabis retail market and the trust it has built over the years with regulatory authorities made it an obvious choice for us.", says Robyn Rabinovich, VP of Strategic Initiatives at Thrive.
In Bubba's travels across 600 stores in Canada, he noticed that a majority of cannabis stores were using COVA as their POS provider. When prodded, retailers recommended Cova as the best POS solution, not just for features like automated compliance and easy inventory management but also for the cannabis retail industry knowledge and expertise that Cova has. Cova's POS has proved particularly valuable while maneuvering the unique farmgate process, which mandates that products be sold to the OCS first and then bought back, even though the inventory stays on the premises. The excellent support and service that we offer were reflected in the fact that Cova's team was always available to answer all Thrive's queries, which indeed was the deal-sealer for them.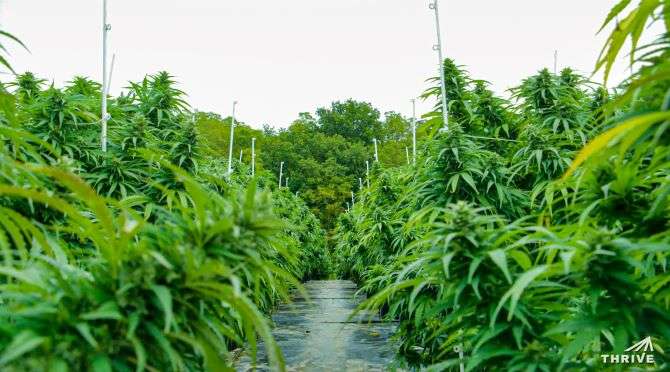 THE ROAD AHEAD
When Thrive started legal cultivation of cannabis in Ontario, the team was honestly just excited to do what they love under a legal framework without having to look over their shoulder. However, they had not expected to come this far so quickly. Geoff attributes their success to having built a company culture that thrives on the ethos, values, and skillsets each team member brings to the table that blends into the melting pot they have created.
Geoff believes, "In addition to the incredible work our retail partners do every day, this framework will provide consumers the opportunity to build a stronger and more emotional connection with our brands and also educate them on our soil to oil processes."
Thrive's founders, the Bluhm family, have worked tirelessly with the Thrive team to create this purpose-built retail facility on the premises in record time. It now awaits final inspection before they kickoff their farmgate operations in April 2021. They are excited about the prospect of offering a more personalized cannabis experience to consumers in an environment that is uniquely 'Thrive' and allows them to showcase their culture and brand, which includes using reclaimed materials from the Bluhm family farm to build their store. Although initially, Thrive may operate just as another traditional cannabis retailer, they are certainly looking forward to the possibility of offering sneak peeks into their outdoor cultivation farm and facility. In the future, potential tourism opportunities will allow them to differentiate themselves and provide customers with a distinctive cannabis consumer experience.
FIRST BUT NOT THE LAST
Thrive may be the first licensed producer in Ontario to have obtained a cannabis farmgate license, and with Cova's assistance and expertise, they are ready to roll. But, as the industry grows and provinces streamline farmgate regulations, there are opportunities galore for cultivators to flourish all over Canada. Learn how Cova can help you quickly establish your cannabis farmgate store by scheduling a free demo today.