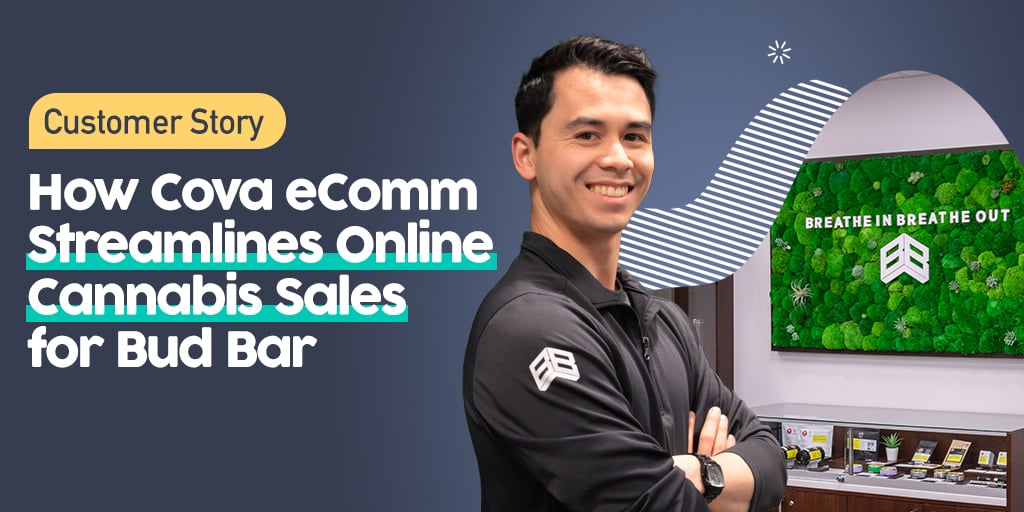 Bud Bar dispensary has been using Cova POS across all 4 locations in Alberta since the beginning, but the team had experimented with various cannabis eCommerce software solutions before switching to Cova eComm. Bud Bar Cannabis' founder and CEO, Justin Woo, used Dutchie as their eCommerce solution for quite a while before they started encountering issues after Alberta introduced new laws for online cannabis sales in the province. Most cannabis retailers had to adapt and pivot quickly to be compliant with Alberta's online age-gating regulations, but not every cannabis eCommerce solution facilitates the process as Cova eComm does. Cova recently met with Justin to learn why Bud Bar switched from Dutchie to Cova eComm and how it is helping them streamline their online cannabis business while staying compliant with changing regulations.
The Challenge with Changing Cannabis Regulations in Alberta
Besides Dutchie, Bud Bar tried out other eCommerce solutions as well, but none was able to meet their requirements, especially when it came to cannabis compliance. When Cova eComm was launched after the acquisition of Dabber, Justin thought it might just exactly be what they were looking for, as Cova's platform synced seamlessly with Cova POS and their existing tech infrastructure. Moreover, their new marketing agency worked in tandem with Cova to help them set up an SEO-optimized website on WordPress and link to Cova eComm via the WooCommerce plugin. Justin was happy with the intensive effort put in by Cova's team and how they succeeded in nailing down everything quickly. Henceforth, there has been no looking back for the Bud Bar team as they reap the benefits of choosing Cova eComm.
Cova eCommerce: The Perfect Solution for Online Discoverability
One of the main advantages of Cova's e-commerce solution is that it allows for SEO optimization, unlike iframe-embedded menus that offer no eCommerce value. The menu is the most essential element of your cannabis website, and it's important to make it easy for customers to find what they're looking for. An SEO-optimized menu allows search engines to better understand your website's structure and content, which can help improve the website's ranking in search engine results.
Bud Bar's team realized they could not compete online unless they had a strong web presence and their dispensary menu was discoverable online, which was made possible only by Cova eComm. Bud Bar noticed a considerable improvement in the online shopping experience for their customers, and sales increased significantly after the switch.
"An iFrame-embedded menu provides zero SEO value. With Cova eComm, our online menus are SEO-optimized, and our products are easily discoverable in Google search results, which helps us generate online sales," declares Justin.
With Cova eComm, Bud Bar is also able to capitalize on cannabis product SEO, as their dispensary website is certainly ranking well for various cannabis keywords on Google, especially in the areas where their four cannabis stores are located. With the power of Google Analytics integrated into Cova's dispensary eCommerce solution, they can figure out what products and other terms their website visitors are searching for. This has allowed them to not just optimize their website further for relevant keywords but also expand on their product selection, plan out their cannabis inventory better, and curate a more personalized customer experience at all Bud Bar locations.
"Having an SEO-discoverable menu with Cova eComm has helped attract more customers who are brand-loyal to certain cannabis products- and allows us to optimize our inventory accordingly across all locations," mentions Justin.
Navigating Alberta's Age-Gating & Verification Regulations
Regarding age-gating regulations in Alberta, implementing a compliant age verification step is critical for cannabis e-commerce websites to ensure that only customers of legal age are allowed to purchase products. But at the same time, it's essential to choose an age-gate solution that's user-friendly and doesn't create friction for customers during the verification process so that the online shopping experience is as smooth as possible.
Previously, Bud Bar's team needed 2 different versions of online menus for each of their 4 locations, making it extremely complicated to work with 8 online menus. The back-and-forth presented various communication challenges and errors across all their locations, which Cova eComm has solved brilliantly as online sales sync beautifully with the POS system, giving Justin and the team more time to focus on growing their business. Bud Bar is extremely happy with Cova eComm as their cannabis website is fully streamlined with one compliant menu, and customers love the new interface.
"Dutchie's solution was a pain as we had to deal with multiple online menus to navigate Alberta's age-gate restrictions. With Cova eComm, there's one compliant menu for everyone that truly simplifies the online shopping experience," says Justin.
Also with Dutchie, Bud Bar's customers had to go to a third-party website to verify their age and then return to continue shopping for cannabis. This certainly dampened the online shopping experience and Bud Bar may have lost a chunk of customers during that time. Moreover, most people were not comfortable sharing their information on a third-party website for verification.
"Cova eComm's age-gate feature for Alberta is fantastic. It deletes the customer's information instantly after verification, reassuring them about the safety of their personal data, and keeps our business compliant," mentions Justin
Switch to Cova eComm Now!
As per Justin, if you're a Cova customer and still using Dutchie or any other platform for cannabis eCommerce, you must switch to Cova eComm now. Bud Bar's decision to switch has proven to be extremely beneficial for its online cannabis business. With Cova eComm's comprehensive suite of features, including an SEO-optimized menu, seamless Google Analytics integration, and a fully compliant age-gating solution, Bud Bar has effectively streamlined their business and increased online cannabis sales. Additionally, Cova has also helped reduce cart abandonment rates and provide a better user experience for their customers while the built-in loyalty program has incentivized repeat purchases and increased customer retention.
With Cova eComm's focus on critical elements such as Alberta's age verification compliance and SEO-optimized menus, Bud Bar has been able to create a user-friendly and optimized cannabis eCommerce website that provides an excellent customer experience and drives sales. And by integrating their website through Cova eComm's WooCommerce plugin, Bud Bar is able to streamline operations further and improve their web presence as they prepare to grow their business further. Click below to learn more about Cova eComm.