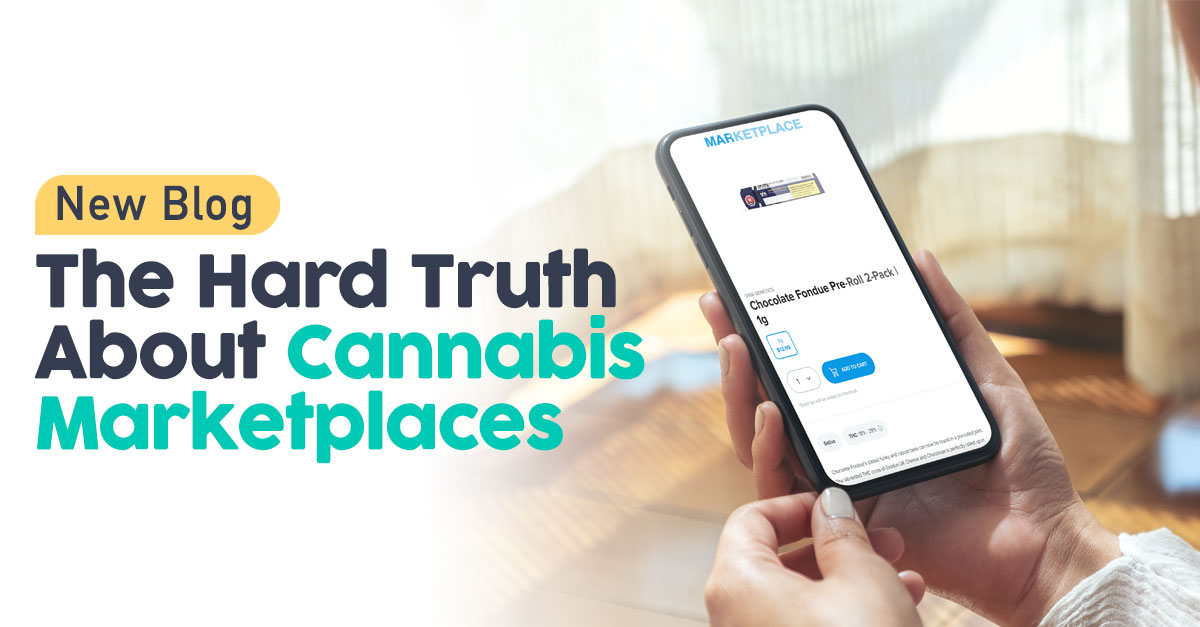 As the Covid-19 pandemic prompted cannabis retailers to pivot to a more omnichannel commerce strategy, online cannabis marketplaces across North America flourished because they already had the tools to help dispensaries connect quickly with customers. However, as e-commerce, click and collect, and cannabis delivery options become increasingly common, consumers eagerly await a more mainstream and familiar digital shopping experience. Are you fully prepared to embrace the forthcoming boom, or are you dependent on cannabis marketplaces to facilitate the same?
Enlisting the help of third-party marketplace-focused websites disguised as e-commerce solutions may be the easiest way to transition your business online. They give you access to an online customer base and provide a platform for competition. Initially, it can be a win-win situation for both retailers and consumers, as you acquire new customers in the short term, and they can find the best price and closest dispensary location on these marketplaces. You may even get a cheap bundle of retail tech solutions to embark on your cannabis e-commerce journey, but in the long run, this strategy can be detrimental to growth, and you certainly have a lot more to lose than gain.
1. Embedded Marketplace Menu is Not an Ideal E-commerce Solution
Many popular online cannabis marketplaces doubling as e-commerce platforms use an iFrame embed menu to display your products on their website. But such menus do not provide an enriching user experience. These online menus hosted on third-party platforms may give an impression that they add value to your digital presence. But marketplace-focused websites use the same menu layout for thousands of dispensaries, and there's little flexibility to differentiate or customize your brand. They rarely match your website colors and layouts, and the level of data analytics tracking and reporting is also sub-par.
When customers visit a cannabis marketplace, you may be offering them the convenience of click and collect, but you also expose them to competitors on these third-party marketplaces. Initially, this may lead to confusion, but eventually, customers will become accustomed to online marketplaces with no recognition of your cannabis retail brand, as you won't have any online SEO authority either. Moreover, as you won't have access to consumer data that can help in marketing by learning about customer behavior, marketplaces owning such data could exploit it to become your competitor.
2. Brand Visibility Remains Limited to Third-Party Marketplaces
If the cannabis marketplace is the first touchpoint for a customer, and there's no way for you to redirect them to your website or store, you've already compromised your brand identity. Since third-party marketplaces tend to highlight their brand more than yours, consumers will associate with them more than your retail store, as they become more familiar with their look, feel, and experience.
The standard menu template that a marketplace-focused website provides limits your ability to customize and forces you to trade off brand experience for new customers. And if online buyers are only ordering for curbside pickup or delivery, it offers you little opportunity to convert them into regular loyal customers. Eventually, you are relegated to being a distribution center for another business, as you have no brand visibility beyond the marketplace, and they reap the benefits.
3. You Inadvertently Build Product SEO Authority for Marketplaces
When you use a cannabis marketplace-focused website as your e-commerce solution, your iframe embedded menu is hosted on a third-party domain. This does not build any online SEO authority for your cannabis brand and only benefits the platform using your content to rank high in Google search results. If a consumer looks online for a specific product in the vicinity of your cannabis store and lands on the marketplace domain, your menu will appear but your brand will always be superimposed by theirs. The customer may never know that the product is available at your store, and likely buy from a marketplace or a competitor ranked higher on Google.
Initially, you may benefit from quick and easy online menu solutions. But as consumers visit the marketplace more often and they build local SEO authority, you will inadvertently be spending your marketing dollars towards directing all future product searches in your location to their website. Consequently, as most people tend to click on pages ranked higher in search results, your customers will buy directly from the marketplace and become loyal to that brand.
4. Intense Competition Forces you to Engage in Price Wars
Cannabis marketplaces cater to multiple dispensaries, and since they offer a standard menu template, it limits your ability to differentiate your cannabis brand or provide a more customized customer experience. And when your brand is on display right next to your competitors but looks no different, you're forced to compete on location and price. However, as mentioned in the previous point, you don't benefit much from local SEO. Hence, that leaves you with only one thing to compete on: PRICE!
To attract customers, you may lower your price for certain products that a competitor listed on the marketplace sells as well, but will that necessarily provide you more visibility? As cannabis retail stores become dependent on online marketplaces and lose their bargaining power, these third-party marketplace platforms will be in a stronger position to charge higher commission fees and favor retailers who pay them more money. The restaurant industry has already witnessed this trend and suffered at the hands of food delivery companies that have eaten into its profits.
5. No Control over Data, Customer Relationship, or Brand Experience
When customers order on the marketplace, it becomes their first point of contact and they share their info- including name, address, email, demographics, product preferences, etc., but that data stays with the third-party marketplace. If you kept that information for yourself instead, it would open a treasure trove of opportunities to retarget customers, offer them product recommendations based on buyer history, influence buying behavior, and improve the overall e-commerce experience. Without access to data, you cannot build a direct relationship with customers, who will eventually become loyal to the marketplace that offers them a consistent brand experience. Eventually, you risk losing control over everything, as marketplaces may bypass you to own the customer relationship and manipulate the market to become your competitor and the dominant brand.
Avoid Becoming the Warehouse to the Amazon/Doordash of Cannabis Retail
If one cannabis marketplace dominates, it will become the brand and your dispensary will just be a warehouse processing online orders for faceless consumers. This has already happened in many retail sectors, with Amazon dominating the e-commerce world. And in the food industry, many delivery apps have established their own ghost kitchens to compete directly with restaurants. The cannabis retail industry could suffer a similar fate if retailers don't take back control into their own hands and own the customer journey and relationship.
Watch out for red flags such as marketplace companies offering cheap POS systems or all-in-one retail solutions. These may sound enticing, but eventually, these third-party marketplace services want to capture 100% of your customer data, which allows them to bypass you and build a direct relationship. Moreover, you also lose the flexibility to list your dispensary on multiple marketplaces (as they lock you into their e-commerce platform) and the choice to work with the best-in-class cannabis tech partners to grow your business.
To mitigate these threats, ensure first and foremost that you're not putting all your eggs in the marketplace basket. Listing your menu can be valuable, but it should supplement, not substitute your own digital presence. It's increasingly important that you have a website, with your own native e-commerce solution. This leverages SEO, fortifies your brand, and offers a more customized experience to customers. Whether you need a fast, free menu, or a custom e-commerce site, there are choices that can better serve your bottom line. Connect with Cova to learn more.