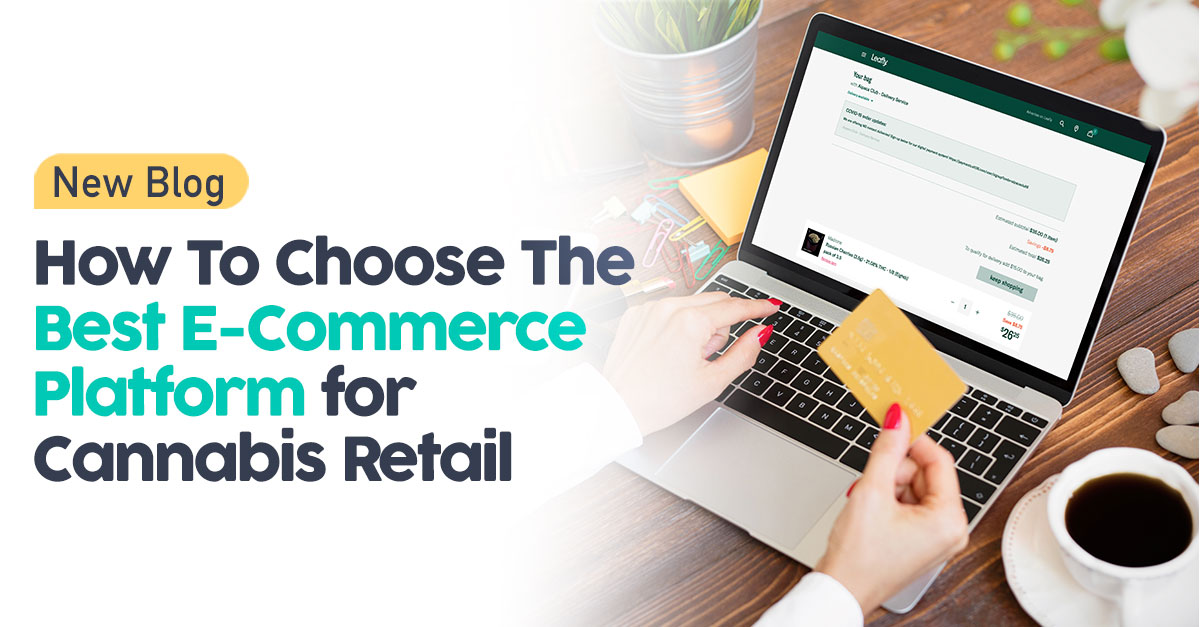 Just a decade ago, it'd have been hard to imagine getting cannabis delivered legally to your house. But eCommerce is increasingly becoming an industry standard for cannabis retailers in Canada, especially with British Colombia allowing private cannabis retailers to offer delivery services recently and other provinces likely to follow suit. As more and more consumers are purchasing cannabis online or ordering for delivery, retailers must have a robust cannabis eCommerce platform to facilitate the same. This transition has been accelerated by the pandemic and is changing how dispensaries do business, making delivery and curbside pickup standard services.
An online E-commerce platform not only boosts revenue for your cannabis business but also helps attract a new segment of customers who may not necessarily visit your store to buy in person. However, as we already know, cannabis retail is starkly different from other industries, and one has to navigate various restrictions and compliance requirements to stay in business. This blog post will help you understand better the criteria you must consider before choosing an E-commerce platform for your cannabis retail store.
Cannabis E-Commerce SEO
Many people are now visiting web stores to research cannabis and buy products because of the convenience that online shopping offers. If you want your cannabis business to be their first choice, your website must rank high in search results, load quickly and be user-friendly. Advanced search engine optimization for cannabis websites focuses on improving local SEO so that your retail store can be found in the vicinity for fast delivery and fully integrating your digital menu with E-commerce and delivery platforms so that consumers can easily find the products they are looking for. You'll also be able to market your store better online.
Some major cannabis E-commerce platforms only display menus on their website but cannot integrate with your website without advanced native E-commerce tools, which allows for better Google crawling and indexing of names of flowers and products. For example, if a person searches for 'blue dream' close to your dispensary, and if the E-commerce platform being used by you integrates your website's content and menus completely through iframe SEO, then that specific product from your store will rank high in search results and the person will likely purchase it from your online marketplace. If you are using an iFrame embedded menu for E-commerce on your cannabis dispensary's website, Google will not rank products and brands on your menu in organic search results when consumers search for specific products that you may have in stock.
As per stats, 80% of shoppers compare prices and reviews online before purchasing from a store, and 75% of people never scroll past the first page of search results. Consumers will rarely ever buy from a website that doesn't even make it to the first page in Google search results. Thus, you need an SEO-friendly E-commerce platform that uses the most advanced tools to integrate with your cannabis retail business website.
Brand Customization and Differentiation
The best way to launch your online store is to define your target market and do extensive research to understand their requirements, what kind of experience they are seeking, and which products they would be interested in buying from an e-store. Your E-commerce platform should allow you to customize your brand and offerings the way your customers have come to expect at your offline store.
Online brand building involves identifying your competition and differentiating your brand with online visuals, eye-catching images, and even unique products. Ensure that your E-commerce platform has all the functionalities to allow you to display your products with relevant information and product images. Your online branding must be consistent with your brick-and-mortar store so that your customers can easily identify your online presence. Also, you should have the option to allow your customers to leave reviews; genuine reviews help elevate your brand voice.
Online User Experience
Your website design and online menu should be clean and uncluttered and must seamlessly integrate with the E-Commerce platform. Navigation should be easy, and the payment system should facilitate transactions in the least number of steps possible. Customers must be able to filter through products based on preferences and narrow down options by strain type, THC level, cost, and even desired effects. All these options enhance the online user experience and build loyalty for your cannabis brand.
Cannabis dispensaries tend to have a reputation of offering highly personalized experiences, and retailers must try and replicate the same online. There are multiple ways that cannabis retailers can educate consumers and provide a personal touch in their e-commerce environments. Live or pre-recorded online budtender consultation is a great service to offer. Product recommendations that traditionally take place at the POS level can also be incorporated into the online check-out process. Retailers should also ensure that customers can enter loyalty program information when checking out online.
Promotions and Upselling
With a robust E-commerce platform, you can launch your banner ad campaign using any menu item of your choice. Banner images are used to represent certain featured products and are generally located at the top of your digital menu to interact with customers, and a platform like Buddi does this exceptionally well. Examples of banner ad campaigns include newly launched products, employee picks, bestsellers, best-reviewed, and flash sales. Such promotional tactics present many upselling opportunities, and you can increase the average size of your shopping cart by displaying special products. These can also be used as an opportunity to tell a story and enhance your online brand image.
Integration with Tech Infrastructure
Most importantly, your chosen E-commerce platform must integrate seamlessly with your existing tech infrastructure and POS system. If not, you need an advanced and reputed cannabis POS system like Cova that 'out of the box' integrates with many leading e-commerce solutions, including Buddi, Shopify, and I heart Jane. For a seamless shopping experience, your customers should be able to browse the website, place an order, and either pay online or call the store to pay. With Cova's cannabis POS and its excellent integrations for payment and delivery, the order automatically pops up for the budtender to tender the sales, and the system updates your inventory once payment is approved. Seamless integration with fleet management services allows automatic population of the order information for routing and delivery. Once the order is delivered, the final status is updated.
Cova software offers a robust cannabis POS system with versatile integrations to E-commerce platforms such as Shopify, Super Anytime, Buddi, I Heart Jane, Weedmaps, and Leafly Pickup, and an ever-expanding cannabis tech ecosystem. With excellent inventory management and reporting features, Cova POS enables cannabis retailers to stay compliant as they evolve and expand. Get started with your cannabis retail & E-commerce business today!