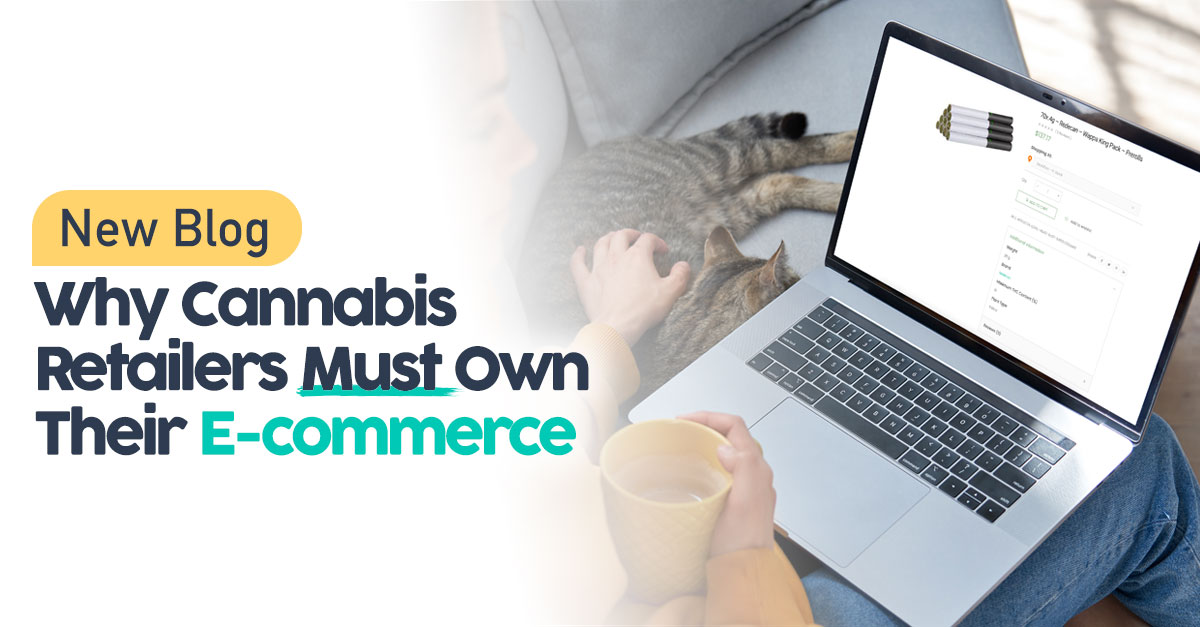 As we kick off 2022, cannabis eCommerce is predicted to be the dominant trend that will shape the future of our industry. When deciding how to sell cannabis products online, retailers either sell on a third-party marketplace or create their own website. Both options have pros and cons, and while one size certainly does not fit all, cannabis retailers who are serious about growing their business online must have their own eCommerce website along with a strong online presence. These days, consumers tend to seamlessly research, browse and shop across different devices- and with their limitations, third-party platforms should only be an ancillary part of your omnichannel retail strategy. Following are 5 benefits that come along with owning an independent eCommerce website:
1. Customer Data Ownership and Email Lists for Direct Marketing
The most valuable benefit of having your own eCommerce website is that you can market it directly to online visitors and customers. Unlike a third-party marketplace where the buyer of 'your product' becomes a customer of that platform, selling directly to cannabis consumers on your own website means you can collect their contact information and have unrestricted access to relevant data for decision-making. With customers' email addresses, you can send them marketing promotions, offer discounts, and announce new products in regular newsletters.
Since you own all customer data, it becomes easier to target your ideal consumers. Also, you have more opportunities to provide a personalized experience and wow them with creative marketing campaigns. You can customize your cannabis retail marketing strategy to fit customer needs and offer them promotions based on specific shopping behavior. Regular communication with buyers is necessary to boost your cannabis business' bottom line, as it's always easier and cheaper to retain existing customers than to acquire new ones.
2. Enhanced Brand Visibility, Recognition, and Loyalty
Cannabis products on a third-party marketplace are listed generically, and there's little room for customization. In fact, the marketplace's brand always remains at the forefront, and customers assume your product belongs to the third party platform without realizing your brand even exists. This makes it nearly impossible to build awareness and recognition for your cannabis retail store, as you have to compromise on personalized brand experience and customers become accustomed to the third-party marketplace platform.
Running your own cannabis eCommerce website gives you complete control over what it looks like, what it says, and how it works. The possibilities are endless- you can even capitalize on SEO tactics by creating relevant content that can be indexed by Google and appears on search results, and add features that bring organic traffic to your website and allow you to build brand loyalty. You can even enhance your brand during the unboxing experience and use custom packaging for pick-up or delivery orders to leave a lasting impression on customers. Best of all, your brand gets remembered for your cannabis product, not a third-party marketplace.
3. Local SEO Authority to Eliminate Competition
Having your own eCommerce website for your cannabis retail store gives you better opportunities to leverage search engine marketing and build digital authority in your location. When a consumer searches on Google for a particular cannabis product, most results tend to either display a third-party marketplace platform or a cannabis business that does a better job with SEO to rank higher in search results. With advanced native eCommerce tools and local-SEO optimized product content, your website will rank higher than your competitors in a target location, prompting people to click on it and buy directly from your eCommerce platform.
Another obvious advantage is the ability to run a blog and add more pages to your website. By creating regular blog posts for your cannabis website, you can use SEO best practices to improve the flow of organic traffic. You can even offer customers the ability to leave reviews- such user-generated content will also help enhance the visibility of your eCommerce website for cannabis products in your local area.
4. Reports and Analytics to Retarget Customers & Build Relationships
An independent cannabis e-commerce website will help you better understand your customers. Information including demographic data such as age, gender, location, and how they found your website will help you analyze their behavior and influence future purchases. Not only will you receive such information about customers, but you will also know where the customers who did not make the final purchase dropped out from your website. This provides retargeting and upselling opportunities with customer data such as which product they clicked on, abandoned cart details, etc. Also, if you have a specific traffic source that attracts good customers to your cannabis e-commerce platform, you can focus your efforts on those channels and maximize your profits.
With enhanced data analytics, not only would you know who bought cannabis from you in the past, but also what they bought, how much they spent, and what they care about, which will help in increasing repeat business. These insights can also help in making improvements to your eCommerce platform, optimizing the website, increasing conversions, and driving sales. For example, your home page may be cluttered and your user-friendly website may be lacking in design, or your checkout process may be lacking payment options that your target buyers expect. All such information will help you improve the online cannabis experience and build a long-lasting relationship with your customers.
5. Flexibility with Design, Customer Experience, and Cannabis Ecosystem
With straight out-of-the-box eCommerce platforms like Buddi or custom-built eCommerce powered by WooCommerce like Dabber, creating a cannabis eCommerce website can be a pretty quick and straightforward process. With several plug-and-play options available for display menus and the flexibility to integrate with various other cannabis ecosystem software solutions, you can design your website in a way that reflects your brand values and the customer experience you wish to offer. You will always be in control of your online cannabis business and won't be at the mercy of a third-party marketplace that could lock you in with their deceiving all-in-one solutions and charge you a substantial commission for higher visibility of your products on their platforms.
Own Your Cannabis E-commerce & Scale Your Business
Think of all the money you will save by not paying any commission to third-party marketplaces. You can invest all those extra profits back into your own eCommerce business, improve the online experience, take advantage of the best cannabis technology solutions, choose the options that best fit your needs, and scale your business. The future of cannabis eCommerce is here, and the choice is yours. Click below to get started now.