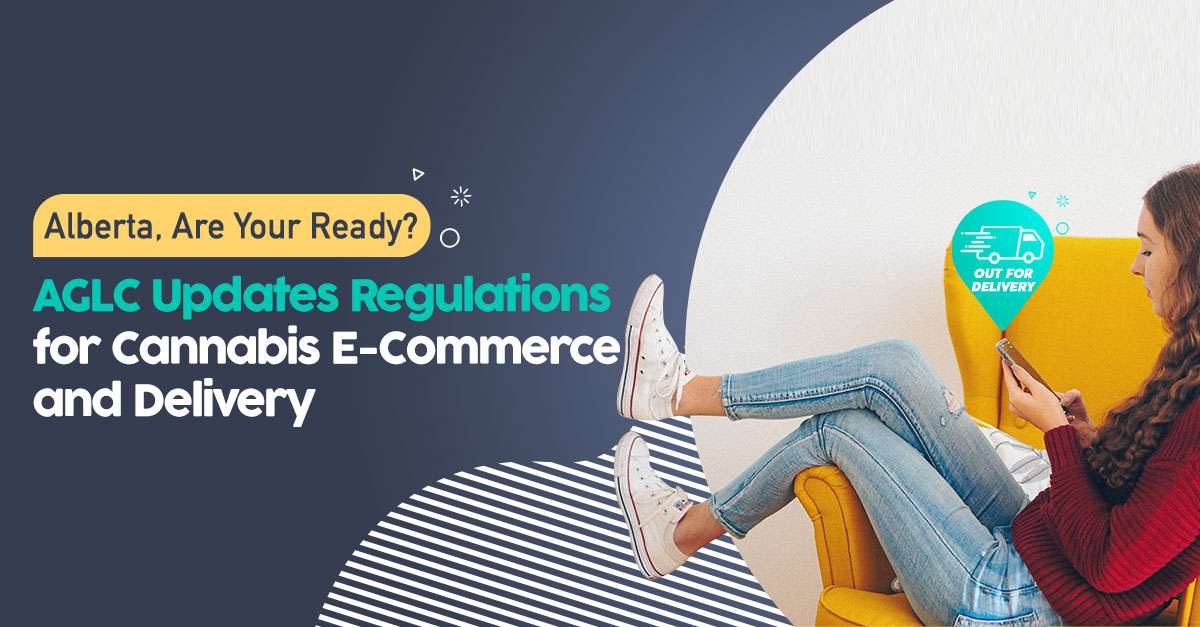 The AGLC is changing how cannabis will be sold online in Alberta from March 8, 2022. Consumers will now have the choice to purchase cannabis products directly from their preferred retailer, as the provincial E-commerce website will be shut down. This legal change, passed by the legislature last year, will open the online market to private cannabis retailers, but the AGLC will still be the sole wholesaler for all cannabis products in the province.
Any private retailer wanting to sell cannabis online and provide delivery services must already have a bricks-and-mortar store and apply for a legal endorsement to expand their license to include cannabis E-commerce sales. Your website must also be strongly equipped to verify age and be approved by the AGLC before it goes live. Our previous blog post is a great resource on how to start cannabis E-commerce and delivery in Alberta. Here, we have compiled the most common FAQs to help you navigate the updated cannabis regulations by the AGLC.
1. Do You Need a Separate License to Provide Online Cannabis Sales in Alberta?
No, you don't need a separate license to have a cannabis E-commerce store. Authorized cannabis retailers in Alberta must request AGLC for an endorsement to their current brick-and-mortar cannabis retail license for adding online sales by emailing inspections.mailbox@aglc.ca. All licensed cannabis retailers operating a physical store will be allowed to sell cannabis online once their proposed website has been reviewed and approved by AGLC inspectors.
Note: Without physical premises, you cannot sell cannabis online. Only licensed cannabis retailers can launch a cannabis E-commerce store.
2. What are the Requirements for Cannabis E-commerce Sales in Alberta?
You must have your own E-commerce platform to sell cannabis products online and cannot use a third-party marketplace to accept orders.
You must implement advanced online age-gating since self-attestation or a drop-down selection of date of birth has been deemed insufficient by the AGLC.
Before launch, AGLC inspectors will review your proposed E-commerce website to ensure that it is compliant with all federal and provincial regulations.
Once your website is approved, you follow all legislation- including the AGLC Cannabis Act, Federal Cannabis Act, and the Personal Information Protection Act.
The AGLC's

policy handbooks

require retailers to take measures to ensure that minors cannot open online accounts or access cannabis promotion, marketing, or advertising.
Note: Cannabis retailers are not allowed to process orders initially placed through third-party websites but can use services to facilitate their own E-commerce platforms.
3. Do You Need a Separate License to Provide Cannabis Delivery in Alberta?
No, you don't need a separate license to offer cannabis delivery services to Albertans. All authorized cannabis retailers will be automatically endorsed for delivery and can start taking orders from March 8, 2022. Cannabis delivery will be permitted only by authorized retailers and their employees, or a common carrier that complies with all applicable laws and regulations governing commercial transportation in Alberta may be used.
Note: You don't need to have an E-commerce site to offer cannabis delivery. However, you must comply with all delivery regulations.
4. What are the Regulations for Cannabis Delivery in Alberta?
The delivery person must be at least 18 years of age and must have a SellSafe certification.
They must always carry a copy of the retail cannabis store license while conducting the delivery.
They must verify a government-issued photo ID, and delivery must not be made to a minor or intoxicated person.
Cannabis can only be delivered to locations within Alberta.
Individual delivery orders must not exceed 30 g of dried cannabis or equivalent.
Cannabis deliveries can be conducted only during the regular business hours of a licensed retailer, or maximum for 30 minutes after closing.
Curbside delivery is permitted only after the sales transaction has been completed, and must be conducted outside of a vehicle.
Cannabis retailers in Alberta are allowed to charge for delivery.
Note: Cannabis delivery must be carried out by a person employed by the authorized retailer, and it is not permitted to use any third-party services currently.
5. How will the AGLC Ensure Compliance With These New Regulations?
All licensed cannabis retailers that have been approved for E-commerce and delivery sales will be listed on the AGLC website. Any retailers found selling cannabis online without an endorsement and approval by AGLC inspectors will be in violation of regulations and could be fined, or worse, their license could be canceled. Your E-commerce website must be hosted on your company's domain, and any online store hosted on a third-party domain will not be in compliance with regulations. AGLC will also regularly inspect cannabis E-commerce sites to ensure compliance, and any complaints brought forward against a licensed retailer will be thoroughly investigated.
Note: Cannabis retailers are responsible for ensuring that their E-commerce platforms meet all regulatory requirements.
This is a great opportunity for cannabis retailers in Alberta to expand their footprint and enhance customer relationships. But setting up an online cannabis store compliant with constantly changing regulations can be challenging. With Cova Software's seamless integrations to various cannabis E-commerce and delivery solutions, you can easily launch an independent online cannabis store with all the advanced functionalities needed to scale your business while staying compliant with all AGLC regulations. Click below to get started with cannabis E-commerce and delivery at your retail store in Alberta today.