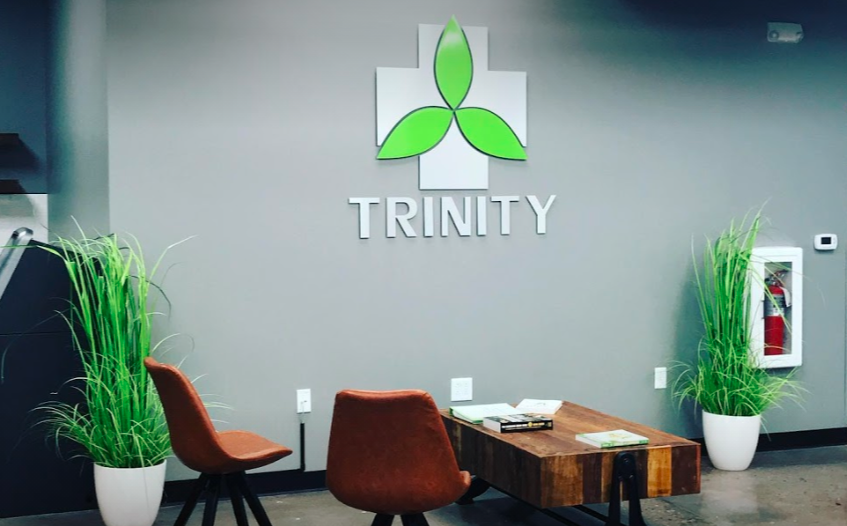 Cannabis dispensary operations are a wealth of lucrative data insights that can help optimize operations and increase profitability. Most business data is readily available via your cannabis POS system, but very few dispensaries use it to improve decision-making. Data analytics, if done correctly, can help control financial costs, streamline inventory management, and facilitate compliance.
Cova POS streamlines data analytics for dispensaries and presents it in the most simplified format so that cannabis retailers can use the insights to accelerate growth and profitability. Cova recently caught up with Erik Hackett, general manager at Trinity in Illinois, to understand how such insights from Cova POS empower him and his team to make crucial business decisions about dispensary staffing, inventory ordering, promotions, and customer experience.
How Cova Helps Illinois Dispensaries With Dispensary Analytics & Reporting
Trinity Cannabis switched to Cova from another POS that could not fulfill its needs and requirements. When Trinity's team decided to venture into the recreational cannabis space, they wanted an enterprise cannabis POS system that had advanced reporting capabilities to not just manage operations efficiently at multiple locations but also facilitate compliance with both adult-use and medical marijuana. With powerful data analytics from Cova POS, they have expanded quickly and successfully achieved their mission and profitability.
"We evaluated multiple systems before choosing Cova. Other companies made promises, but only Cova was able to demonstrate the reporting and compliance functionalities we needed.", says Erik about why they chose Cova.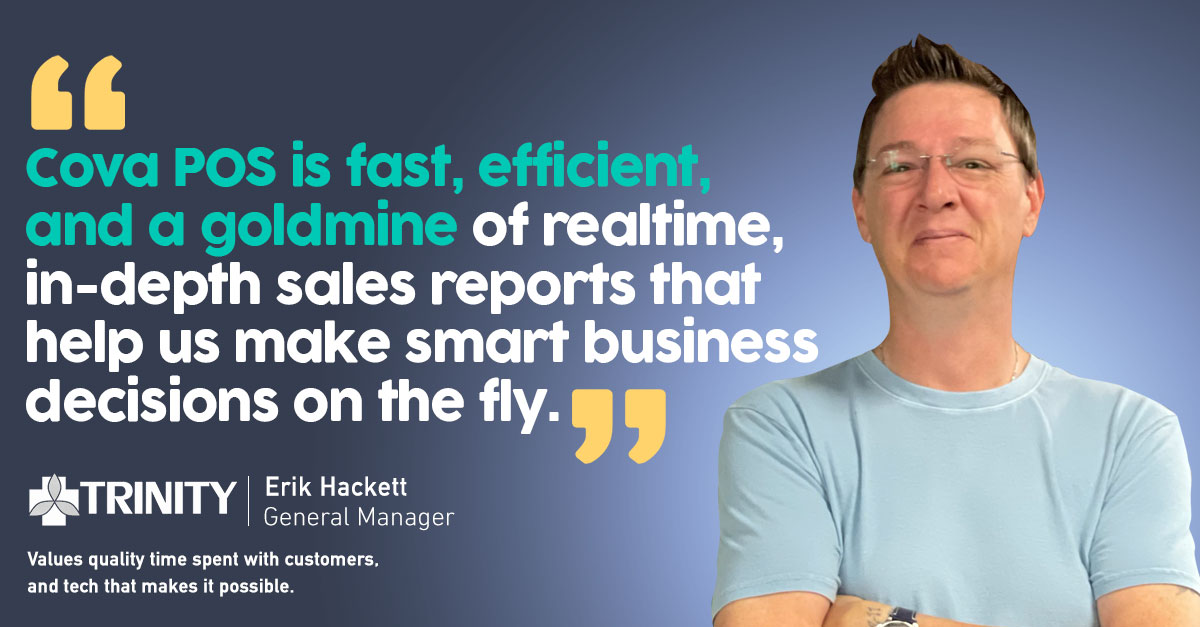 Following are some of the main things that dispensary data from Cova POS helps Trinity with:
Dispensary Staff Scheduling and Management
Historical data from Cova POS allows Trinity to forecast sales and footfalls at all its stores in Illinois. Based on that, Hackett can easily station budtenders when and where they are needed the most.
Erik says, "Sales reports from Cova dashboard are easy to run in real-time and I use these regularly to predict which days would be busier and how many staff members would be required on the floor to manage the traffic efficiently."
Data analytics don't just facilitate employee management but also help improve budtender performance through KPI-triggered training. Trinity's budtenders love Cova POS for its features and tablets that help them educate buyers on the go. Cova's user-friendly interface simplifies everyone's job at Trinity, allowing them to focus on enhancing the customer experience.
Curating an Elevated Customer Experience
Like most dispensaries, Trinity has more customers visiting on weekends, holidays, or occasions like 420. Data from Cova's cannabis POS system helps Trinity's team organize promotions on products that are more in stock or about to expire soon, and use such strategies to attract customers on holidays.
Erik recalls, "We also use data from Cova POS to organize promotions for our regular customers on weekdays so that we can provide them a more personalized experience and also manage traffic better over the weekends."
Big data also helps Trinity's team segment their customer demographics better. Trinity has recently seen an uptick in female customers and seniors, which are its fastest-growing segments. The historical purchases of these demographics and their buying behavior help Trinity's budtenders understand their needs better and offer a more consistent experience to each target market segment.
Facilitating Inventory Ordering and Management
Erik Hackett evaluates reports every hour during his workday to ensure that his decisions align with whatever transpires at every Trinity location. Cova's dashboard shows top-performing products and helps him predict future trends. Detailed reports provide him insights on what's selling and what's not and how fast it's moving, allowing him to make educated decisions on when he should reorder to keep popular products in stock.
"Cova is an extremely fluid POS system and does a fantastic job in keeping track of inventory while reducing errors and making it easy to investigate any discrepancies."
With multiple dispensary locations, it's essential to manage inventory strategically. Cova POS has been built to scale and makes it simple to monitor stock level, compare product performance, and manage inventory across multiple stores in real-time. Not only that, Cova syncs inventory and pricing across all purchase platforms for Trinity allowing them to deliver an excellent omnichannel experience.
Compliance and Seamless Communication with BioTrack
The fact that Cova POS is seamlessly integrated with BioTrack, the state traceability system for seed-to-sale inventory tracking and reporting in real-time, as per Illinois government requirements, was the biggest checkmark for Trinity when looking for a cannabis POS system. Compliance is a big priority for Trinity as they grow into a multi-location enterprise business. Hence, they wanted to work with a company that can keep adapting to the evolving cannabis regulations in Illinois and grows with them. Cova's automated compliance tools prevent staff from breaking the rules, exceeding the legal sale limits, or committing any mistakes that could result in fines.
"Cova is fast, efficient, and intuitive, and makes compliance a breeze. Our reports are always perfect and we've never had any issues with inspections either.", declares Hackett.
As Trinity operates in both recreational and medical marijuana spaces, the team has to be extra cautious while monitoring medical patient purchase limits. Marijuana patients have a rolling limit that can change over two weeks, while recreational cannabis customers can buy a fixed amount every day. Cova's seamless integration with BioTrack and fed-in purchase limits allow Trinity to stay compliant while curating a customized cannabis experience for both medical patients and recreational consumers.
"Our priority is to continue growing our business while staying compliant and true to our brand image, and we are glad to have Cova as our technology partner in this journey."
With strategic data insights from Cova POS, Trinity has been able to streamline operations, manage inventory efficiently and stay compliant in this highly regulated industry. Cova Software is your ideal technology partner that enables cannabis dispensaries to provide an elevated customer experience. To start your journey to success with Cova, click below.