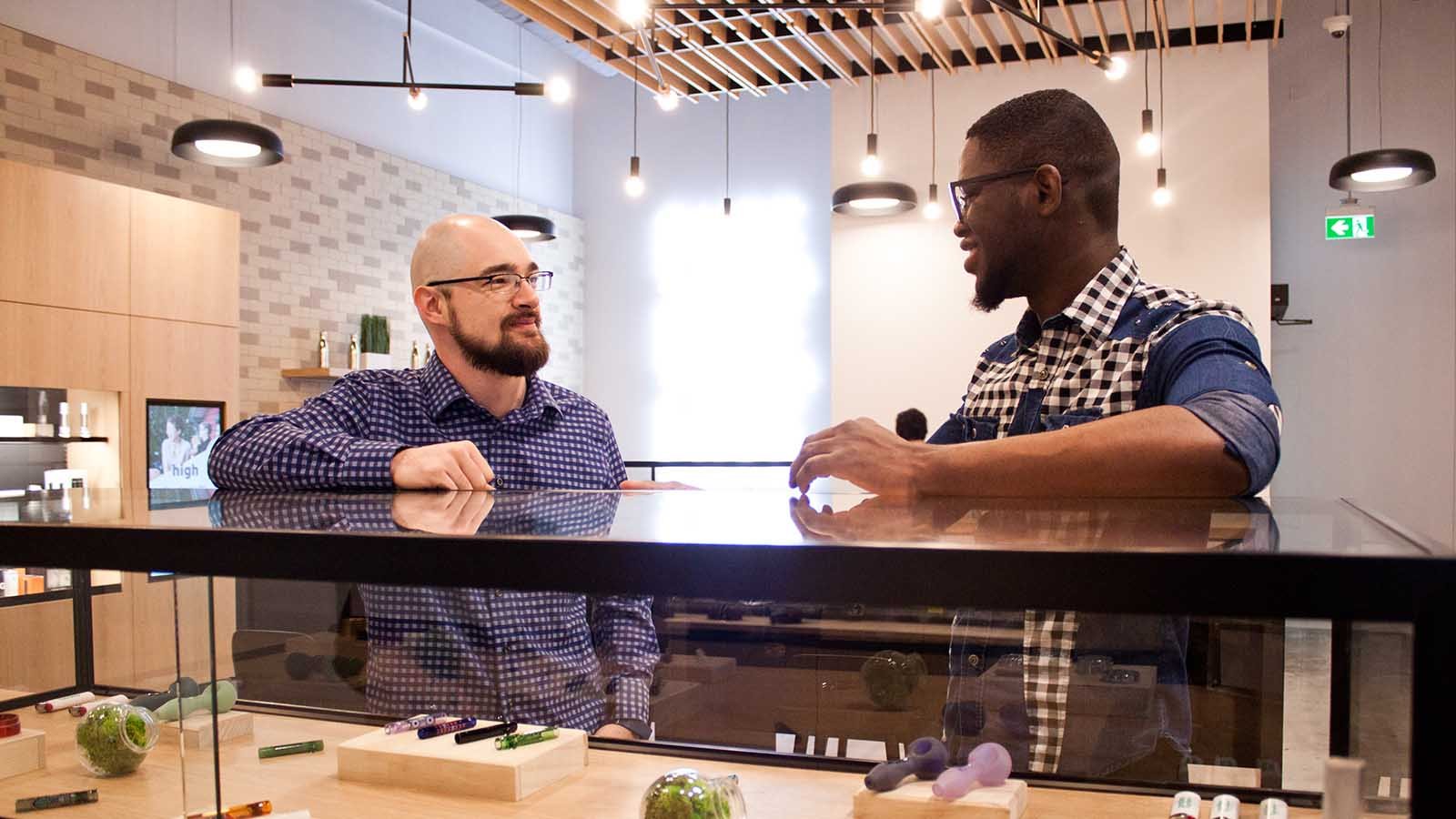 Budtenders are the most valuable employees at a cannabis retail store. They educate the customer, build relationships that inspire loyalty, and guide cannabis consumers to the best and most suitable products for an elevated experience. Encouraging budtenders to improve performance is critical for high-performing cannabis retail stores, as they can make or break your cannabis dispensary. The best way to level up and empower your sales staff to perform better is with data insights.
What makes an excellent budtender?
A good budtender must be skilled at cultivating relationships and have extensive product knowledge. They must act as reliable cannabis experts who ask the right questions to curate a memorable guest experience. To a store manager, the best budtenders are the ones that add to dispensary profits and help in enhancing customer retention and loyalty. Connecting and building trust with customers is valuable, but it is not sustainable if it comes at the expense of profitability.
In addition to increasing sales, excellent budtenders help those around them grow. It is not enough to be a solo rockstar with great numbers - true MVPs want to contribute to the continued success and professional development of those around them.
The last piece of the excellence puzzle is experience. Stores with high employee turnover waste time and resources on training every new hire. High turnover also adds to confusion and uncertainty for the customer. Invest in your best budtenders and you'll not only improve team culture and customer experience but also your cannabis dispensary's bottom line.
Track budtender KPIs to create clarity and accountability
The best way to track sales staff performance is with their sales metrics. Use data that your dispensary pos system is already collecting to celebrate top performers and implement targeted skills training for underperforming staff.
Monitoring and reviewing budtender KPIs creates individual and team accountability. This provides a snapshot in time and, as managers observe performance over time, they can see the impact of coaching and training in the KPI trends over time.
For those just getting started, the following are the 6 most important KPIs to monitor for budtenders:
$ / Unit
Units / Trans.
Avg Trans. Value (ATV)
% Margin
% Trans. with Discount
Sales volume (Trans or Rev)
Discuss budtender performance metrics honestly
The most impactful way to use budtender data to improve performance is to share data insights from your tech infrastructure with your staff. Sales teams thrive when they know how they are being evaluated and what metrics are being tracked. Give regular performance reviews and discuss changes or trends in their numbers. These reviews should be a collaborative and reflective dialogue between sales staff and management and not make underperformers feel bad - the intention is to facilitate growth and improve performance.
For budtenders who love to compete with each other, consider posting team KPIs on a scoreboard in the staff break room. Healthy competition can be productive for a sales team - you will always have a select few working endlessly to see their name at the top of the charts. Seek to motivate your team by recognizing and celebrating growth. Track metrics over time and discuss changes in performance at individual performance reviews so that every budtender knows what they must do to improve.
Improve budtender retention with KPI-triggered training
In addition to tracking metrics for your store and giving your staff access to customer data, it is also vital to ensure that your budtenders receive proper training. Develop training programs that seek to lift the areas you want to see improvement in. If you are looking to increase the profit margins of your cannabis retail store, train the staff on what the most profitable cannabis products are.
How many of your sales staff can rattle off the top 10 highest margin products in the store?
How many can easily list inventory that is overstocked?
How many of them understand the business metrics behind the products being sold, above and beyond the ingredients or the experiential qualities?
This type of training can be valuable and productive in terms of realigning sales performance with the desired outcomes of the overall business. Also, involve your top performers in staff training - they have valuable hands-on experience and trust with the rest of the team. Honoring your best performers as teachers and guides will give them pride and empower them to train the rest of the staff about best practices.
After facilitating internal training, you may consider external cannabis industry training options. There are various budtender certifications, but ensure that training is targeted toward a specific goal. If you are seeing dollars per unit statistics that are low, train on top-shelf products. If units per transaction are too low, then you may want to train budtenders on sales strategies like deals, upsells, cross-sells, and bundles. If the profits are low, then you may want to train them on selling the highest-margin products in the store. As always, track changes related to these initiatives so you can know that your efforts are working.
Empower budtenders to connect with customers
You can also empower your sales staff with instant insights from customer data. Give easy access to information about past customer purchases so budtenders can recommend more efficiently, facilitating long-term relationships with customers.
When your budtender sees a customer's past purchases on the dispensary pos system, they can quickly make tailored recommendations. Based on the dashboard above, what type of product do you think Alejandro is most interested in? The key is to make your customer data intuitive at a glance.
Data is key to improving customer and budtender outcomes
To improve budtender performance, first, clearly define your metrics of success. Choose a cannabis dispensary POS that empowers budtenders with the right tools, data insights, and information to help them succeed in their goals. Ensure that you are transparent with your staff about the metrics you are tracking- have frequent conversations and discuss the relevant performance indicators. Encourage accountability and healthy competition with your team by making KPI statistics available to the whole sales staff. Design and implement targeted training programs and track performance improvements to see desired results.
Sign up for a demo to learn how Cova and Cannabis Big Data can help you. Get dialed with your store data, and both your budtenders and customers will thank you.