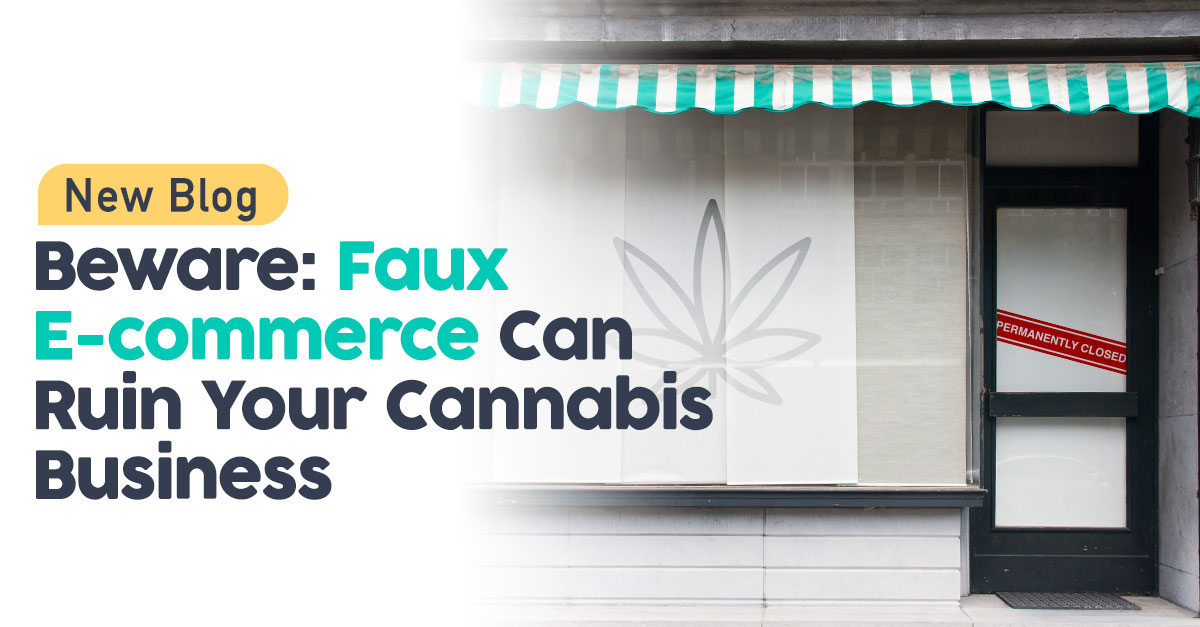 Cannabis retail is changing fast, and the pandemic has only accelerated the transition of brick-and-mortar retail to online stores in almost every industry. As more and more consumers are purchasing cannabis online or ordering for delivery, retailers must have a robust cannabis E-commerce platform to facilitate demand. However, that does not mean you need to rely on third-party E-commerce platforms to build your digital presence and sell cannabis online. In fact, fake E-commerce will do more harm than good to your cannabis retail business.
When we say fake E-commerce, we are referring to your online menus embedded on third-party websites that don't have advanced functionality- such as a blog or product content that can be indexed by google and appears on search results, and features that will bring organic traffic to your website and allow you to build brand awareness and loyalty. In this blog post, we talk about how misleading E-commerce platforms are an existential threat to cannabis retail and why having your own customized online store is the best solution for you.
1. An iFrame Embedded Menu is Bad for Local SEO & Product Discovery
Some of the most popular online cannabis E-commerce platforms use an iFrame embed menu to showcase your products on their website. The menu is embedded on your website but the content is hosted on the third-party domain. Although the content is owned by you, it does not build any online SEO authority for your cannabis brand and only benefits the E-commerce platform. Without advanced native E-commerce and seamless integration, which allow for better crawling and indexing of names of flowers, your company's website or products won't be visible on Google. Consequently, customers will directly go to the third-party website, as most people tend to click on pages ranked higher in search results.
2. You Sacrifice Brand Identity and Can't Provide a Consistent Customer Experience
Your e-comm is an extension of your brand experience and should reflect your unique voice, values, and aesthetic. For your customers, the online cannabis experience should be consistent with the in-store experience. The standard template most embedded menus provide limits your ability to customize and forces you to compromise on your brand experience. And it gets customers familiar with a look and feel they're likely to find on competitor and marketplace sites.
Look closely at your embedded menu—that 3rd party logo from your menu provider may seem innocuous, but if that party also happens to run a cannabis marketplace, the result can be distraction and confusion for the consumer. Eventually, they may stray and become accustomed to the third-party platform, with no awareness of the actual cannabis retail brand they're buying from. These third-party platforms limit the ability to differentiate your cannabis retail brand or provide a more customized customer experience that ultimately helps in building brand loyalty.
3. Cannabis Marketplaces Could Force You to Compete on Price
Online cannabis marketplaces can provide obvious value, but those with embedded e-commerce can really raise the stakes, and not all have your best interests at heart. Undoubtedly their business model dictates that they have multiple retail brands on their website for customers to choose from. Although this provides consumers with options and earns you new customers, your customer acquisition cost will be significantly high due to the commission you'll have to pay to these marketplaces. Moreover, it puts you in direct competition with other retailers- and with no brand differentiation possible on marketplaces, you'll be forced to compete on price, thus depleting your profits.
Marketplace platforms doubling as e-commerce menus are especially high risk with little reward. Their iFrame menus may look okay on your website, but all Google sees when it crawls those products is the marketplace hosting the menu. Hence, a consumer later searches for a specific product near them, and you've got it, but your website has no online authority, so the search results lead them to the marketplace, which could direct them to a competitor who may be paying higher commission fees for better visibility.
Case in point: In Ontario, retailers all purchase from the same supplier, so it's imperative they differentiate themselves in order to compete on more than price. When certain strains are in high demand and seeing high search volume, retailers need to rank for those products so customers can find them online directly, not in a marketplace price war where nobody only the marketplace wins.
4. Third-Party Platforms Will Bypass You to Own Customer Relationships
When customers buy cannabis from a third-party platform, they will be sharing personal data, including their name, address, email, demographics, and product preferences, which can be used by these companies to offer them relevant products and influence buying behavior. Since you will have no access to such information, your cannabis retail brand cannot build a direct relationship with the customer, who will eventually become loyal to this third party in question.
Also, as you won't capture valuable customer information like buying history or abandoned cart details, you won't have the data or tools to provide a more customized experience and lose a direct connection with customers. Eventually, people who were originally supposed to be your customers would be locked into third-party E-commerce, and your cannabis retail store will just become a warehouse processing online orders for faceless consumers.
5. There's No Flexibility (And Lots of Fine Print) With an All-in-one Cannabis Retail Tech Solution
Some companies started as an online menu, marketplace, or pseudo-e-commerce platforms, but now offer all-in-one cannabis retail tech solutions at unbelievable prices. You've probably seen their offers, but have you read the fine print? Beware of an all-in-one solution that seems to offer everything you need, including E-commerce and POS, packaged together. Unproven tech and sub-par features for your market are just the beginning of your worries. This is a play to harvest your customer data.
E-commerce probably accounts for 10-20% of your business, and that's customer data they've already got. But 80% of sales still happen in-store. Letting them all in and giving 100% of your customer data to a company already accustomed to retargeting is a risky move. They're not invested in your success, they're insured against your failure, and positioned to drive customers to (or ultimately become) your competitor.
It may be a tempting solution to get your new store started or save money short term. But once you are locked in with the company, you're dependent on their platform, at the mercy of price increases, and limited in your ability to integrate with advanced tech solutions better aligned with your retail vision. Make no mistake - these misleading third-party services will infiltrate your customer base, own the data, inhibit your growth and eventually delete you from the picture.
There Are Better Solutions.
In this hyper-competitive industry, you need a technology partner invested in your success, with your best interests at heart. Cova continues to focus on building the best POS software and offering the flexibility to choose integrated solutions that fit your needs. Our tech works seamlessly with best-of-breed platforms, from plug & play menus to custom native E-commerce solutions that help you grow your brand, maximize online visibility, and nurture customer loyalty. Whether you need to get online fast or build a better long-term cannabis E-commerce strategy, Cova can help.