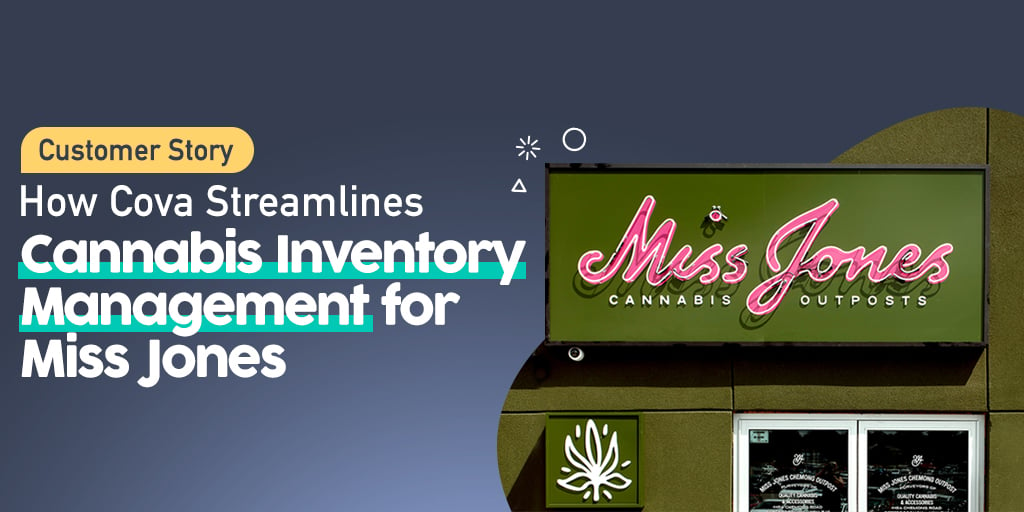 Miss Jones Cannabis Outposts, a multi-location cannabis retail business in Ontario, faced several challenges in managing its operations, compliance, and inventory. To overcome these hurdles and optimize their business processes, they chose Cova's cannabis retail software solutions. This case study explores how automated inventory management and a user-friendly interface on Cova POS helped Miss Jones streamline their cannabis inventory operations across multiple locations, resulting in increased efficiency and reduced overhead.
Cova POS: Simplified Compliance and Inventory Management
The decision to choose Cova POS for Miss Jones Cannabis Outpost was driven by several key factors. The team recognized the importance of compliance and regulation guidance in the cannabis industry, and Cova's expertise in this area made it the clear winner. Additionally, the robust inventory management capabilities of Cova have allowed Miss Jones to optimize their inventory efficiently and meet the needs of all stakeholders involved. The easy-to-use interface of Cova POS has always proven to be a significant advantage, saving time during onboarding budtenders and accommodating the high turnover rate common in the cannabis industry.
"Navigating compliance and regulations was overwhelming in the early days of cannabis retail and not something you want to spend all your time on. Cova simplified compliance and allowed Miss Jones to focus on survival and growth during start-up," declares Jesse Smith, Director Of Retail Performance & Operations at Miss Jones Cannabis.
Increased Profits with Automated Real-Time Inventory Count
Cova's latest automated inventory management features have had a significant impact on Miss Jones' cannabis retail operations in Ontario. Before Cova's launch of these new features, the team used to conduct weekly storewide inventory counts at all their locations, which was extremely time-consuming. But now with Cova's automated inventory count feature, they have been able to adjust their count cadence to be completed daily, categorized by product type, and utilize the downtime for other important things. The resulting cost savings and improved efficiency have positively impacted Miss Jones' profitability.
"Inventory Management is a huge part of the daily operations at Miss Jones cannabis outposts, both from a procurement and compliance perspective. Since Cova launched the inventory count feature, it has allowed us to save approximately 5% on annual labor spend and optimize our management team's schedule," mentions Jesse.

Managing Operations Across Multiple Locations with Ease
Operating 16 locations across Ontario, Miss Jones' team faced the challenge of managing their stores remotely. Cova POS has proven to be an indispensable tool in overcoming this obstacle as Cova Software offers features specifically designed for multi-store environments. Miss Jones Cannabis leverages these capabilities to adjust pricing for different markets based on demographics and cost of living, synchronize inventory levels for promotions, and generate comprehensive reports and analytics based on different regions and areas. According to Jesse, Cova's BI reporting is a great example of the evaluation needed to be successful in current and future cannabis markets. Automation features, such as Cova's promotions tool, allow them to plan and execute sales initiatives efficiently and stay ahead of the competition.
"It would be impossible to operate without Cova. Miss Jones Cannabis Outposts' 16 locations span from Welland, ON to Elliot Lake ON, which is about 700 km. Cova makes it a breeze for us to manage our multi-location cannabis business remotely," says Jesse.
Essential Compliance and Reporting Features for the AGCO
The monthly compliance reporting tool on Cova POS for the Alcohol and Gaming Commission of Ontario (AGCO) is a game-changer, saving significant time and improving the workflow for month-end reporting at Miss Jones Cannabis. By automating the compliance reporting process, Cova has helped the team meet cannabis regulatory requirements efficiently.
"The reporting for the AGCO is undoubtedly the biggest and best tool ever built by Cova. It automates compliance and saves us an astronomical amount of time," mentions Jesse.
User-Friendly Interface and Enhanced Customer Service
The best feature of Cova POS, as appreciated by Miss Jones' staff, is its user-friendly interface. The software's simplicity and ease of use provide a clean and smooth checkout process, ensuring a positive customer experience. This seamless reliability enables the budtenders to complete transactions efficiently, leaving a lasting positive impression on customers.
"When it comes to POS systems, they can be complex as the software is responsible for so many components of the business operations, However with Cova, the budtender experience is seamless. Cova just works really well, and we can always rely on it to deliver the best customer experience, something we pride ourselves on at Miss Jones," declares Jesse.
With Cova's guidance on cannabis retail best practices since its inception, compliance features, automated inventory management, and user-friendly interface, Miss Jones' team has always been able to save on overhead costs, increase profits, and improve their overall operational efficiency. Cova software's ability to handle the unique demands of the cannabis industry and empower businesses to thrive in a challenging regulatory environment has indeed made it an indispensable tool for Miss Jones Cannabis Outposts. If you're looking for a new cannabis technology partner, click below to learn more about Cova Software.