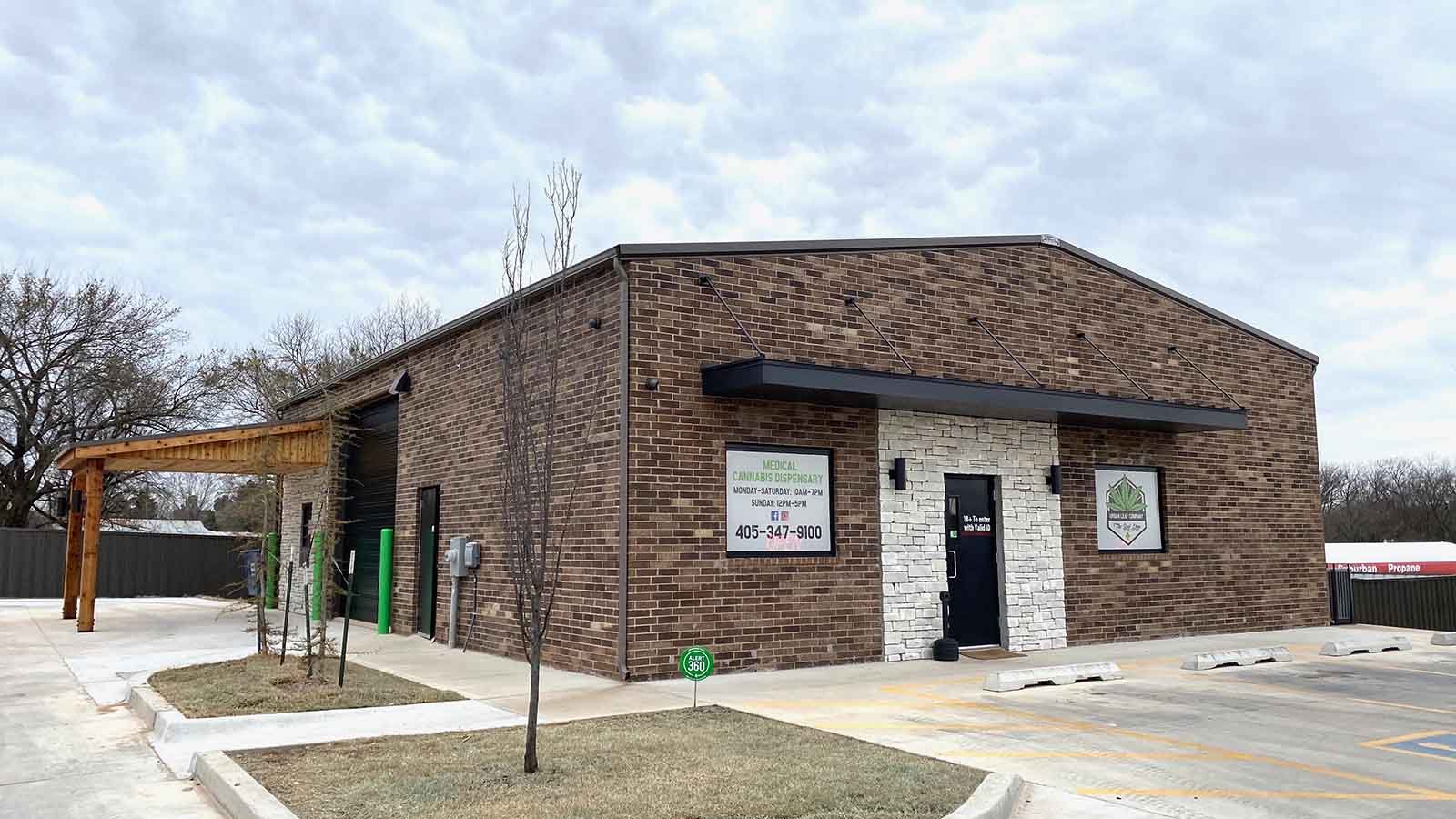 The COVID-19 crisis has cannabis retailers reconsidering their operations and — more importantly — how they can sustain operations as social distancing orders take hold.
For some stores, the transition to social distancing has been easier than for others. Those who already provided online ordering, drive-thru, or
delivery services
have seen an increase in business despite the upset.
Fortunately for Urban Leaf, an Oklahoma-based medical retailer, a drive-thru addition was already in the works before COVID-19 hit. After a successful year of business, co-owners Tammie Witcosky and Nikki Witcosky decided that a drive-thru would better serve their medical patients, many of whom struggled to exit their vehicles to enter the store.
Finding an Easy-to-Use Cannabis POS for an Amazing Launch
In March of 2019, the Witcosky family opened the doors of their dispensary on land which Tammie had owned for more than a decade. The Witcoskies were in the course of constructing a commercial building for sale when the idea of dispensary ownership struck. Being new to cannabis, they sought out a dispensary POS that was simple for their new employees, easy-to-use, uncluttered, and versatile. After some word-of-mouth research, they found Cova.
"Cova was there on the phone to help our employees with everything," says Nikki. "There were a lot of phone calls to customer support, and the Cova team was really patient."
Urban Leaf also benefited from Cova's reporting capabilities. Opening a new store brings a lot of variables and potential complications, but Cova's weekly and monthly reports helped Urban Leaf manage inventory levels from multiple suppliers to keep products in stock. And the daily, weekly, and monthly reports let the Witcoskies analyze their sales — and track the exciting growth of their new venture, too.
Succeeding with a Cannabis Drive-Thru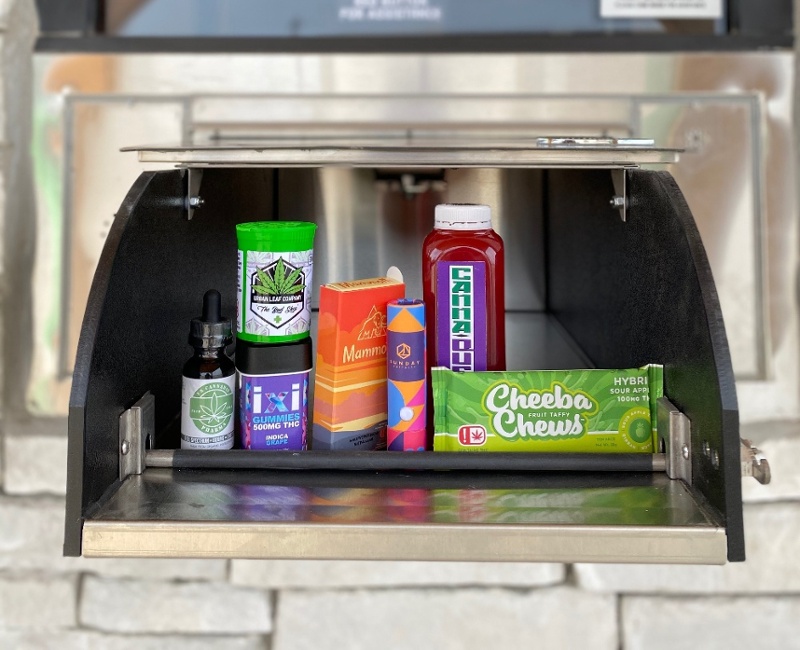 The drive-thru sales paradigm has some serious advantages that apply universally — not just in the unusual case of a pandemic. Whether it's cannabis or french fries, a drive-thru is supremely convenient, and because of Urban Leaf's central location, the drive-thru makes the dispensary an attractive stop.
"It took two months for our drive-thru window to arrive from the manufacturer," says Tammie, of the pharmacy-style bulletproof booth. "But with the current events, we're happy we got a jumpstart."
"We ask our drive-thru customers to know what they want before they arrive," says Nikki. "They just look up our Weedmaps menu to see what's in stock." Then, when they arrive at the window, they're assisted like a walk-in customer.
The booth was a relatively easy addition to the dispensary's backroom. The Witcoskies simply added another Cova POS and a receipt printer, treating the drive-thru like another register. The Cova system quickly processes transactions to keep up with the increasing traffic. Now, in the midst of the COVID-19 crisis, the register provides a hygienic solution that will keep Urban Leaf open for business regardless.
"Because of the drive-thru, we'll hopefully remain open through the whole virus. You'll just be able to pull up, grab your meds and go home," says Nikki. "You won't have to have any personal contact."
An Outstanding Company Culture
Urban Leaf built its brand on a strong company culture that's won the loyalty of customers and staff alike. Since the dispensary opened its doors last year, Tammie and Nikki have pulled off a remarkable feat: they've completely prevented employee turnover. Urban Leaf hasn't needed to rehire any positions since its launch.
"We treat people like family — our employees and customers both," says Tammie. Because of the non-existent turnover, Urban Leaf's budtenders are product experts. Everyone on staff has authoritative answers about every product in stock and can make tailored suggestions for ailments.
Designing a Dispensary Brand for the People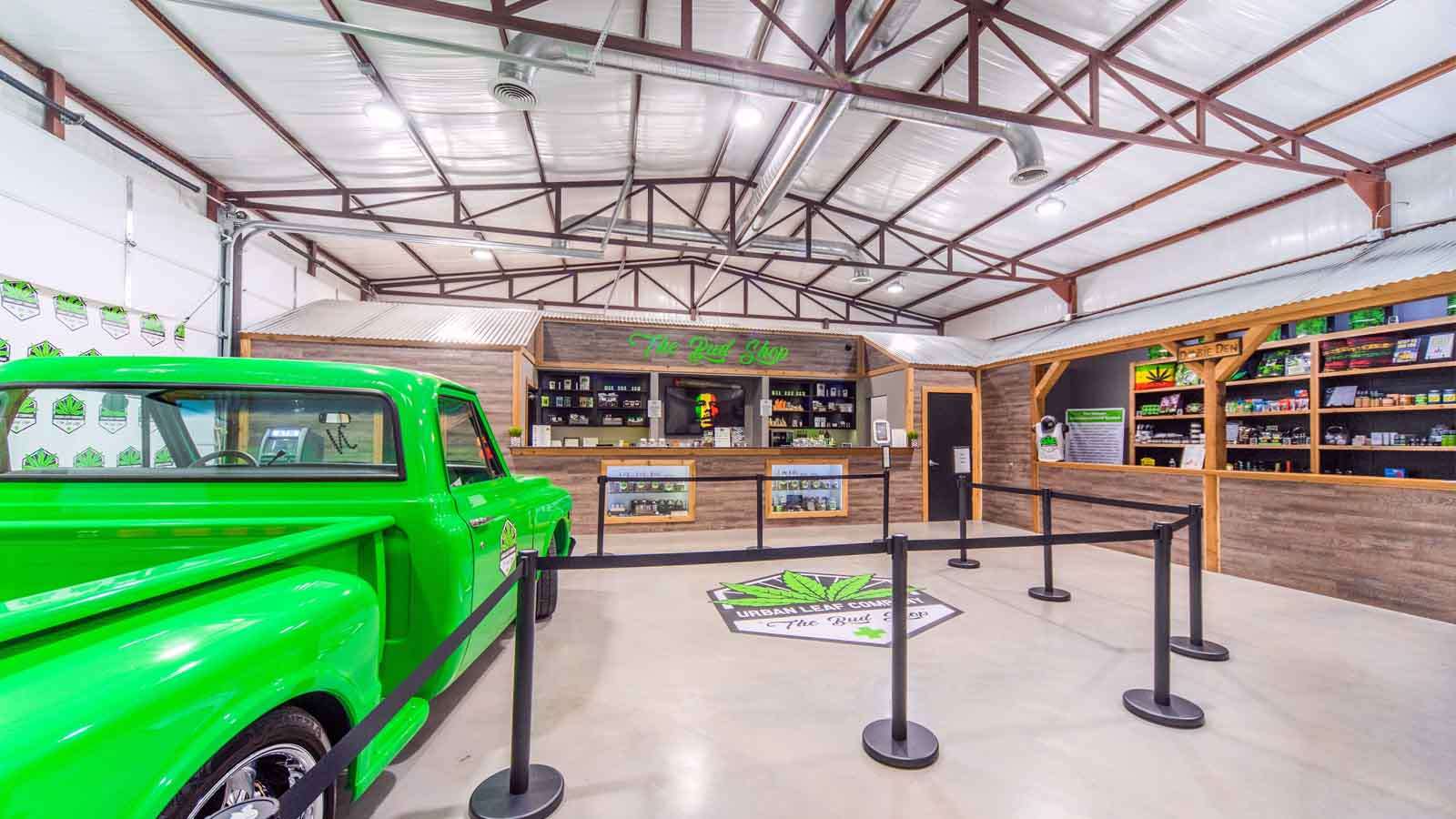 From the outset, Urban Leaf aligned their brand with their customers. Agriculture is a huge part of the Oklahoman economy, so it's only appropriate that a truck — yes, a classic pickup truck — served as an icon of their brand experience.
In the opening months, Nikki drove the show-quality Chevy daily, parking the vehicle inside the dispensary's roll-up doors. Painted neon green and emblazoned with the cannabis-leaf logo, the truck is an attention-getter, to say the least.
A Better Shopping Experience & Product Assortment
At Urban Leaf, patients are greeted, verified, and buzzed into the secured area through a locking door. It's important to the team that the shopping is simple and customers feel safe and respected. For Urban Leaf, providing a truly medicinal experience matters — especially now — and their drive-thru shopping helps fill the needs of compromised patients.
Urban Leaf's product selection is uncompromising, too. Patients find only the highest quality flower on the shelves, and if budtenders hear negative feedback about a selection, the Witcoskies choose not to reorder. In addition, the "Doobie Den" offers CBD products, headshop goods, and seemingly unlikely products to complete the shopping experience, such as branded blankets, hats, and stash boxes.
A Cannabis POS with the Power to Expand
For Urban Leaf's launch, the Witcoskies selected the Cova POS for its ease-of-use and support team. The simple interface made it possible to train a new team of budtenders simultaneously, and because Cova's customer service was just a phone call away, the first few weeks of business went off without a hitch. The POS's powerful inventory system kept its pulse of what was in stock. Sales reports were detailed yet easy to export.
"The POS has helped so much with inventory and reporting every month," says Nikki. "I'm not sure how someone would run a store without a point-of-sale system like Cova. Truly."
Now, as Urban Leaf looks to the future, the team increasingly values the loyalty program. Cova's loyalty program enables the Witcoskies to track their customers' behavior with a points-per-purchase model and store-credit rewards.
"Customers are much more likely to come in if they have cash rewards to spend," says Tammie. "We have a lot of very loyal customers and the Cova program is part of that for sure."
Beyond repeat business, the points-per-purchase model yields insights about individual shopping behaviors and lets Urban Leaf know how to market to their most frequent customers. And, of course, having the loyalty members' contact info lets Urban Leaf sidestep Oklahoma's advertising restrictions to connect with customers directly via email and text.
The Witcoskies anticipate using Cova's online ordering integrations soon. Online ordering is a perfect complement to the drive-up window, and now, because of the pandemic, the time is right to build out the drive-thru service to its fullest potential. With a versatile sales model and Cova as a partner, the future looks bright for Urban Leaf, regardless of COVID-19.
Are you interested in learning more about the Cova platform or how Cova's integrations can help support you during social-distancing mandates? Reach out to a representative today.