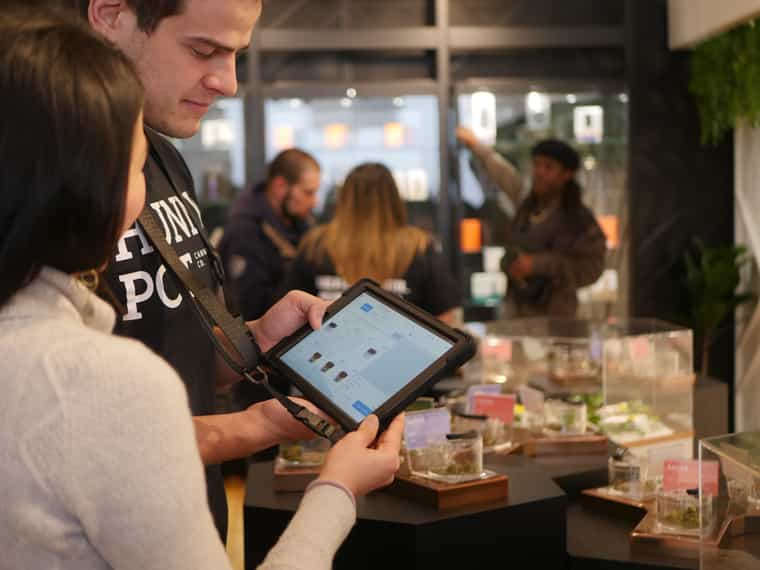 In any industry there are hoops to jump through to get a business off the ground. In cannabis retail, it seems like those hoops are constantly moving. And lit on fire. One wrong move, you get burned; you can easily lose a retail license that took incredible luck and determination to get.
Hunny Gawri, the owner and operator of The Hunny Pot Cannabis Co., had no experience in the cannabis industry, but plenty of determination. He would certainly need it to achieve his vision. He was up against an extremely tight deadline, facing strict compliance issues, and bearing the brunt of high expectations as it became clear his would be first retail cannabis store to open in the city of Toronto.
His vision was for The Hunny Pot Cannabis Co. to be a comfortable space that catered to every demographic. A "a 360-degree retail experience" that made purchasing recreational cannabis as swift and streamlined—or comprehensive and educational—as each customer desired.
Cova was proud to become the POS of choice for The Hunny Pot, inspired by the business model, and keen to help the ambitious entrepreneur realize his vision. To do that, Cova had to provide solutions to help overcome some major challenges.
Tight deadlines – a world class launch team gets the job done
On January 11th, 2019, the Alcohol and Gaming Commission of Ontario (AGCO) held a lottery to award just 25 retail authorization licenses to would-be cannabis stores in the province. The Hunny Pot Cannabis Co. was one of the lucky retailers. But luck alone wouldn't be enough.
The retail license came with strict deadlines. Stores had to be ready to open their doors by April 1st or face fines starting at $12, 500. By the time The Hunny Pot's license was finally approved and issued, they had just 10 days to get things up and running.
Cova's world-class launch team played a big part in the short turnaround. They were able to set up hardware and onboard the Hunny Pot team quickly, which included training budtenders to use the POS. Against the odds, The Hunny Pot Cannabis Co. opened its doors on time at 9am on April 1st. It was the only recreational cannabis store in the city of Toronto meet the deadline.
High expectations – technology and training unleash the potential of budtenders
When it became clear they would be Toronto's only cannabis store come April 1st, all eyes were on The Hunny Pot Cannabis Co. It was always the goal to create a unique customer experience, but now that experience was under the microscope, and would set the bar for all stores to follow.
"Whether you're new, experienced or just looking to educate yourself about cannabis, The Hunny Pot has been designed to deliver customers with a safe and comfortable environment to explore, learn and shop," Hunny Gawri said. "We strive each day to perfect The Hunny Pot Experience, which encompasses a three-pronged approach comprised of: (a) knowledgeable budtenders on the floor to answer your questions, (b) a 360-degree retail experience, and (c) responsible retailing."
Cova's mobile POS allowed The Hunny Pot's budtenders to roam the 3-floor 3000 sq. ft. store to consult with customers one-on-one, armed with comprehensive and up-to-date product information at their fingertips. They could answer questions, make recommendations, and finalize orders on-the-spot. Customers were then able to pay and pick up their complete order at the register.
By arming budtenders with the tools to access reliable information on-the-fly, it freed them to listen and learn customer needs instead of spending time memorizing product details. Even new employees could get up to speed quickly and become rockstar budtenders.
Strict regulations – automation takes the stress out of cannabis compliance
The penalties for missing deadlines pale in comparison to what can happen to cannabis retailers who fail to maintain compliance. The risk of fines, or having a retail license suspended or revoked are very real for those who sell to minors, sell outside allowed hours, or exceed sales limits—accidental or not.
Cova's compliance tools helped The Hunny Pot reduce the chance of human error. It provided ID scanning and age verification, and it allowed store managers to automate purchase limits and lock down hours. These convenient fail-safe features, along with reliable inventory tracking, enabled The Hunny Pot to deliver on their commitment of responsible retailing.
"As the first legal retailer to open its doors in the city of Toronto, we have a duty to set an example for current and future retailers, which means paying close attention to all of our vendors, from designers to POS software," Hunny Gawri said. "We are confident in Cova's overall approach, service offerings, and their dedication to compliance, which is incredibly valuable to us at The Hunny Pot."
Learn more about what Cova can do for your cannabis retail store by scheduling a free demo today.