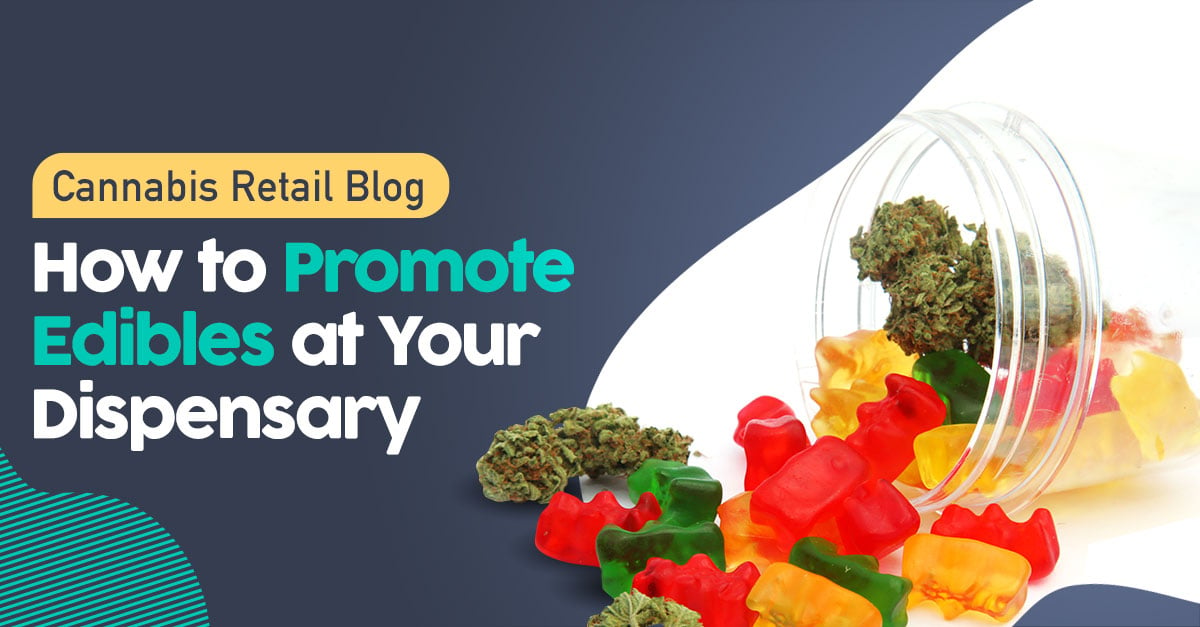 Recreational cannabis edibles are becoming more accepted by society with each passing day. More and more people are curious about trying cannabis-infused foods. Local dispensaries all over the US have opted to sell such products to meet customer demand.
But as the cannabis industry continues to grow, so does business competition. To stay ahead, getting creative with your cannabis marketing and promotions is essential. One way to do this is by promoting cannabis edibles at your dispensary, as that will attract a whole new segment of customers to your business. In this blog post, we will discuss some tips for promoting cannabis edibles at your dispensary.
What are Cannabis Edible Products?
Cannabis edible products come in various forms, from gummy bears to brownies. They can be bought pre-made from dispensaries or made at home with cannabis oil or butter. Here are the different cannabis edible products that you can promote at your dispensary:
Beverages
There are many different beverage types, including cannabis-infused sodas, juices, teas, and more. Whether you're looking for something refreshing or something sweet, there's sure to be a beverage that fits the bill.
Baked Goods
Baked goods are a delicious way to satisfy one's sweet tooth. From cookies to cakes to brownies, there's a wide variety of baked goods. Plus, people enjoy the decadence associated with cannabis-infused sweet goods.
Gummies
Gummies are a fun and tasty way to enjoy your favorite candy. They come in all sorts of shapes and sizes, and there's sure to be a flavor that everyone will love. This is one of the most common recreational cannabis edible products of all.
Many CBD brands carry Delta-8 THC gummies, which you can purchase legally online (depending on where you're at), unlike THC gummies which are still illegal in many US states. You will have no trouble selling these at your dispensary.
Candies
Candies are among the classic cannabis edibles that everyone loves. There's a wide variety to choose from rock candies to mints. The best thing about these is that they come in different flavors, so you can have multiple options for your customers to choose from.
Tips to Promote Cannabis Edibles at Your Dispensary
As dispensaries continue to sell an increasing variety of recreational cannabis edibles, dispensary owners need to know how to promote edibles to their customers best. Here are a few tips for promoting edibles at your local dispensary:
Identify What Your Customers Want
The first step is to identify what your customers need and want. Take some time to talk to your customers and find out what they want in a cannabis product. This will help you determine which products to have in stock and promote accordingly.
Market research will also help you understand what customers are looking for. You can collect data from your target market through online surveys, social media, and other marketing tools.
Create a Good Marketing Strategy
A robust cannabis retail marketing strategy will keep you on track with your goals and objectives. It will also help you save time and money by planning your promotions. There are many different marketing channels that you can use to promote your cannabis edibles. You can market either online or in-store.
Online
People these days rely on digital channels for information. They often spend hours online for research before making a purchase. Online marketing helps you to reach a large number of potential customers with your marketing message. It is a cost-effective way to promote your cannabis edibles. You can use various online marketing strategies to achieve this goal, such as:
Have a good website: A good cannabis website with a dedicated section of cannabis edibles can help your business to succeed. Invest in a professionally designed website that is easy to navigate and looks great on all devices. Your website should be optimized for search engines so potential local customers can easily find you.
Use social media: Use

social media

to connect with your target audience and promote your cannabis edibles products, if it's allowed in your state. Create engaging content that will interest your followers and encourage them to share it with their friends and followers. Social media can also be used to connect with other businesses in the cannabis industry, which can help you expand your reach and build new relationships.
Establish your online identity: Make your business visible on Google Maps and other platforms, such as WeedMap, Leafly, and many others, where you can promote your cannabis business. This will help potential local customers easily find you and learn more about your cannabis edibles products.
In-store
In-store marketing involves promoting your products in the dispensary itself. These are great ways to promote your products to customers who are already in the store. You can use methods such as:
Displays: Create an eye-catching display near the entrance or register of your dispensary. Make sure your products are well-lit and organized appealingly.
Samples: Give customers free samples of your products as they enter the store. This is a great way to introduce people to your products and keep them coming back for more.
Promotions: Run promotions and discounts on your products to encourage people to buy them. For example, offer freebies for every purchase.
Upsell: Upselling is when you try to get the customer to buy a more expensive product than the one they originally intended.
Cross-sell: Cross-selling is when you try to get the customer to buy complementary products. For example, if someone purchases THC edibles, you could also offer them to try CBD gummies, which can help them reach a calmer state.
Why Cannabis Customer Experience Matters
Customer experience is a critical factor in any business, and the cannabis industry is no different. The right cannabis retail technology solutions and POS can help curate an elevated customer experience. Creating a positive customer experience will help your business reach new heights. Here are why you should improve customer experience in your local dispensary.
Dispensaries with better customer experience have more repeat customers: People who experience excellent customer service are 3 times more likely to return. Repeat customers will help you build a more substantial customer base and grow your business.
Improved customer experience leads to higher customer satisfaction: 87% of customers who had a great experience with a company are likely to recommend it to others. This will help increase your dispensary's visibility and attract new customers.
Excellent customer service boosts positive online reviews: 77% of customers are influenced by online reviews when choosing a business. Good reviews will help improve your dispensary's reputation and attract new customers.
Improved customer experience decreases customer churn: Churn is the percentage of customers who stop using your product or service. By improving customer experience, you can reduce churn and keep more customers coming back.
The Bottom Line
Competition in the cannabis edible market is fierce, but there are ways to make your local dispensary stand out. You can attract new customers and grow your business by promoting your products online and in-store, doing local promotions, and improving customer experience. Subscribe to our blog for regular updates on how to succeed in the cannabis retail industry.