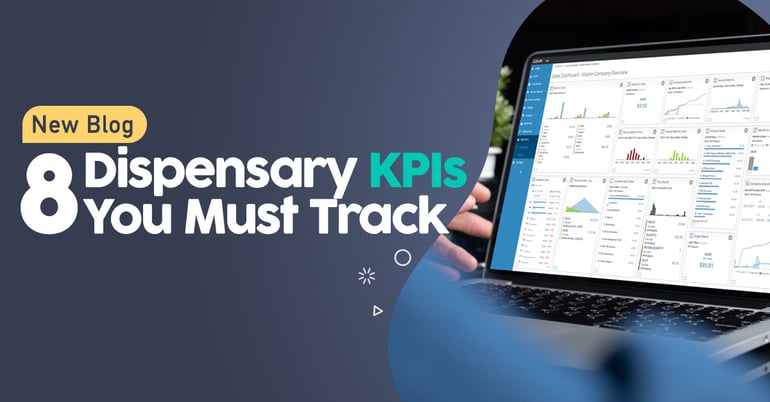 Embarking on your cannabis entrepreneurial journey is quite an exciting adventure, but running a successful dispensary business is a different game altogether. To thrive in this competitive industry, cannabis retailers must use data and technology strategically to measure the performance of their business operations. Dispensary KPIs are the data points that you must track to ensure that you always make the right decisions for the success of your business. Most cannabis POS systems track relevant dispensary metrics and present information to you in an organized format that allows you to extract maximum insights from that data. Following are ten dispensary KPIs that you must track at your cannabis retail store.
1. Number of Transactions per day on your POS
One of the most important KPIs is to track the number of transactions, from which you can calculate transaction time, as it has a direct impact on customer experience. If you are using an inferior cannabis POS to process your sales or haven't fully trained your staff in its operation, you can lose out on dozens of customers per week due to long lines and frustration. The overall time taken per transaction can also help determine staff scheduling. If your customers are waiting too long, you may want to have more employees at the check-out counter. A well-designed dispensary POS system reduces overall transaction times to the minimum possible, allowing your budtenders to focus on customers, ensure inventory is well-stocked and curate an elevated shopping experience.
2. Average Basket Size and Purchase Value
By tracking the average basket size and transaction value, you can evaluate your customer buying habits and ideal price points and create your marketing and promotional campaigns or upsell opportunities accordingly. Incorporating such strategies will help you increase the number of products purchased or the average value and thus, increase sales. For example, it's useful to know that your average transaction includes 1.7 products and the average sales value is $35. Knowing these two averages shows your benchmark and helps you evaluate your dispensary profits. Tailoring your sales offerings to the actual behavior of your clients is a great way to maximize profits.
3. Inventory in Stock and Cash Flow
There are several important KPIs under the umbrella of cannabis inventory management data. Measure how much of your cash flow is tied up in inventory, how quickly cannabis products are moving, inventory shrinkage, and associated concerns such as additional product procurement or processing times or extra auditing procedures, and identify product vendors that may be causing issues, especially the ones with quality or logistic problems. Your cannabis POS system will automatically allow you to track these KPIs and more. Measuring these metrics is necessary for inventory forecasting and ensuring that fast-moving products are never out of stock.
4. Cannabis Product Sales by Category
It's important to know your top and lowest performing products to maximize dispensary profits, and you must have a good grasp of cannabis product categories' performance. Maybe pre-rolls fly off the shelves, or you can't seem to stock enough edibles. Perhaps the summer weather brings an uptick in sales of cannabis beverages. Knowing how different categories perform can help you make important inventory planning decisions. Knowing how well a specific category is selling will let you plan your product purchases as per demand and season and customize your inventory in stock as per the needs of your customers.
5. Traffic Flow Trends and Patterns
A robust cannabis POS streamlines just not inventory management but also helps you track your cannabis store traffic. From sales reports, you can track your dispensary's peak hours, days, and times of the year when people are visiting your store the most, and you will be able to collect significantly more detailed information on traffic trends and customer patterns at your dispensary. This information can be used to positively impact your bottom line by helping you make smarter business decisions for marketing promotions and dispensary operations. You can plan your staff scheduling as per peak sales days or hours, ensuring employees are ready when you need them and that you aren't wasting a lot of paid staff hours when you don't.
6. Customer Demographics and Retention
Knowing your customers helps inform how you will build out your customer experience and makes it easier to retain them. You can design a more customized experience based on age, location, values, buying behavior, etc. When you track all this basic information on your dispensary POS system, you gain insights into individual preferences and can attract more customers like them. You must also track new vs returning customers to measure your customer acquisition and retention costs. Also, by tracking each customer's average number of transactions over a period of time, you can determine their lifetime value and better tailor your product promotions and upselling strategies through targeted marketing campaigns. These KPIs help curate an enhanced shopping experience and increase customer retention.
7. Employee Performance and Productivity
Your staff can make or break your cannabis dispensary. Many retailers make the mistake of not hiring people for expertise, but not tracking employee productivity and performance is a bigger blunder. Tracking individual employee sales on your POS system will help you determine your top performers and aid in staff scheduling. Those budtenders who have higher sales per transaction must be scheduled during your busier hours of the day. Tracking budtender performance can also help with promotions and raises. Consider offering perks as an incentive to increase their sales numbers. All these KPIs can also help improve the productivity of budtenders who may not be performing well by offering them support and training.
8. Marketing Promotions and Discounts
When it comes to your cannabis retail store's bottom line, knowing the type of discounts and when are they offered is important. If there are some days in the week when footfalls at your dispensary are low, you can offer discounts only on those specific days to attract more people. On holidays and celebrations like 420, you may offer promotions like buy 3 and get one free on specific products to increase the average basket size. To determine a healthy percentage of transactions with a discount, ensure that you've set a decent range of gross margin for your products so that you still make a significant profit.
There are certainly more KPIs to track in cannabis retail, but most of these automatically populate on Cova POS Dashboards and reporting. You can also create your own customized reports and track the metrics that matter to you the most. If you'd like to learn more about how Cova can help you grow your dispensary business, book a demo now.