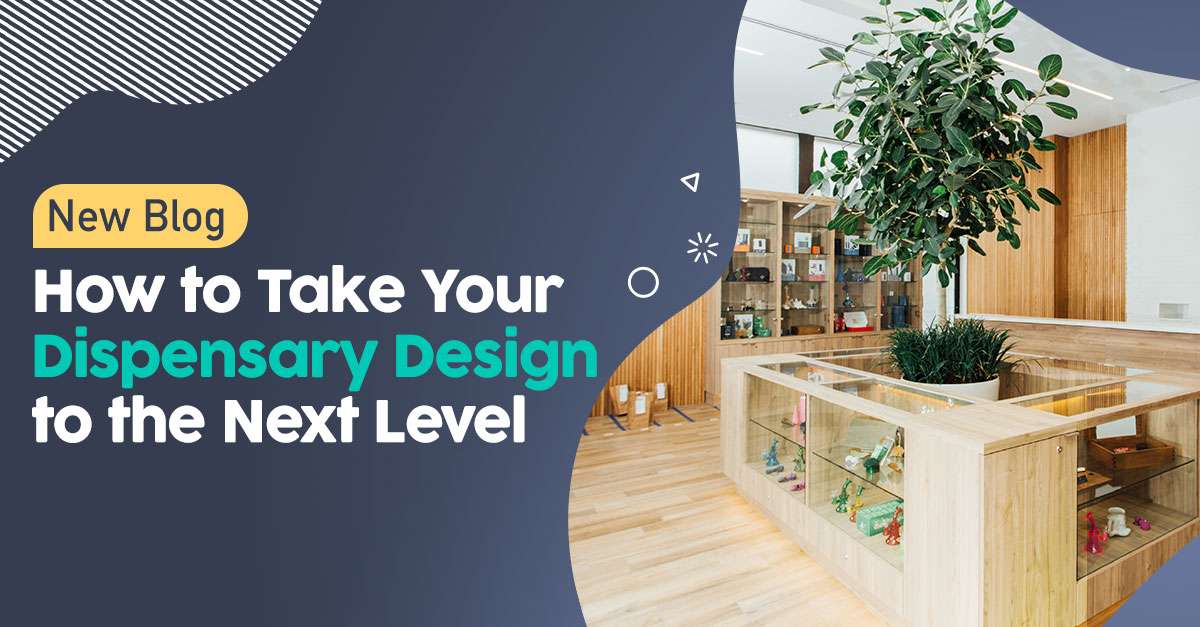 Despite what you may have heard, online cannabis retail will never eradicate brick-and-mortar businesses. In fact, as we get back to a sense of normal after the pandemic, retail footfalls are already increasing and people want to go to a store to buy their stash. Depending on whether you operate as a medical marijuana dispensary or a recreational cannabis retail store, you may need a different layout and design. However, as more states in the US legalize cannabis for recreational use, medical dispensaries have started serving recreational customers as well, but aren't necessarily well-prepared to offer them the same level of customer experience that recreational cannabis consumers expect.

The fact is that physical retail is alive and thriving. And your dispensary design must not just attract consumers into your store but also facilitate a seamless shopping experience for them. You may have started prioritizing your cannabis e-commerce strategy, but s

tore owners still need to provide the best possible customer experience on the retail floor

.

Here are a few ways to optimize your merchandising and layout plan to make the most of your space and take your dispensary design to the next level, especially when transitioning from a medical to recreational dispensary.
Incorporate Digital Technology & Online Menus
Consumers are definitely still shopping in brick-and-mortar stores. But they're also blending the digital shopping experience with the physical. One study revealed that 83 percent of shoppers use their smartphones while in a physical retail store, mainly for the following tasks:
Comparing prices - 42 percent
Texting, checking email, talking, and using other apps - 40 percent
Checking for promotions - 31 percent
These customers are craving the robust product information they can find online while in your store. As a retailer, you can capitalize on this by incorporating digital technologies that provide the same convenience and depth of information that your customers are accustomed to getting online.
Dispensary digital signage and interactive menus are just a couple of the ways you can blend the physical and digital worlds and take your cannabis retail design to the next level. Of course, this will blend into your online cannabis store as well.
Digitally Extend Your Store's Shelf Capacity
We've discussed strategically merchandising your dispensary before, including the fact that overcrowding the sales floor is not a good idea. One way to help reduce the number of physical products on display and streamline your sales floor is by using digital shelf space.
Interactive touchscreen menu kiosks, for example, are a perfect way to offer your customers a look at your entire inventory – including items that may not be in stock at your location but are at one just a few miles away. Recreational cannabis consumers want to try new products or strains based on the experience that they seek, and a wider variety of product availability demonstrated digitally is essential to elevate the customer experience.
Customer Waiting Room and Educational Kiosks
If customers have to wait to speak with a budtender, a small waiting room with comfortable seating is essential for success. Ensure that this waiting room is well laid out and your customers have things to do and something to learn; you may also display non-cannabis merchandise that they can buy. One way to occupy them is by installing educational kiosks or screens that display product information. This is an extension of your digital signage and can help customers pre-decide what they want to buy and expedite transaction times. Also, make sure that you have an ATM in the waiting area if you are operating as a cash-only dispensary unless your dispensary POS provider offers integrated cashless payments.
Wellness Program, Cannabis Lounge, or Other Services
Many recreational consumers are looking for something more from cannabis stores to add something unique to their experience of cannabis. If your space allows, you may consider incorporating a wellness program that may offer massage therapy, yoga, meditation, or such services. These programs don't necessarily have to be conducted at your dispensary premises but you can collaborate with other organizations. You can also offer your cannabis retail space for such programs to be conducted occasionally. Also, as cannabis lounges are becoming a trend, consider extending your dispensary into a small lounge space for people to consume cannabis on-site.
Use Data to Optimize Your Merchandising Strategy
If you have cannabis point-of-sale software that generates sales reports, use this data to your advantage. Strategically group items that are frequently purchased together and create product bundles and promotions based on what your customers like the most. With predictive analysis through Cova Reporting, you can streamline your product purchase and supply chain, track product inventory, estimate demand to determine ideal pricing, and create profitable promotions. This allows you to merchandize your store in the best way possible and wow customers to the core. Cova POS can help you with this and a lot more. Click below to get started now.