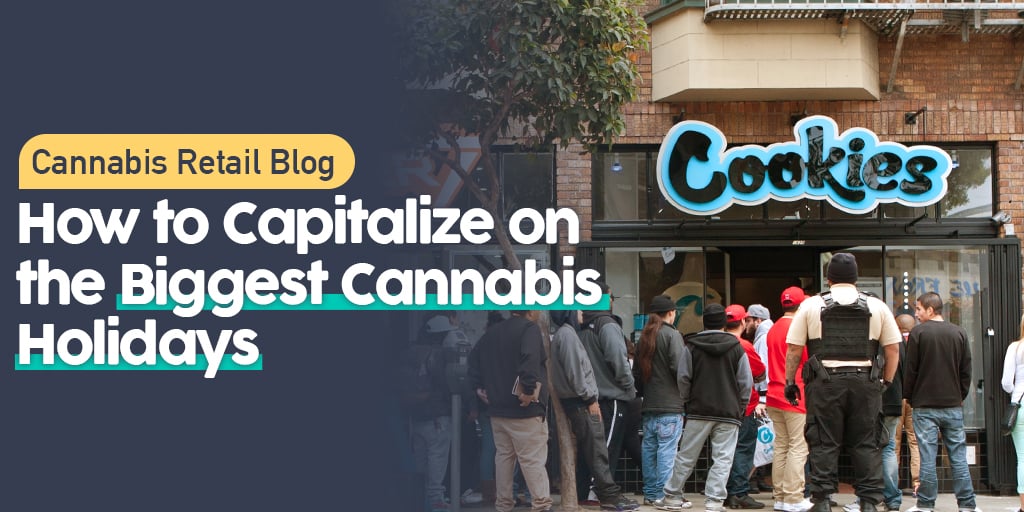 420 has traditionally been the biggest cannabis sales day but as the cannabis industry continues to thrive, many other holidays or long weekends are emerging as equally important days for dispensary owners to capitalize on. For that matter, Canada Day has already dethroned 420 for the past couple of years in the Great White North, and the 4th of July is catching up to 420-day sales rapidly in the US. Apart from the respective national days of the two countries, there are several other holidays on which cannabis enthusiasts are purchasing more cannabis products as per our latest 420 infographics.
These holidays present an excellent opportunity for cannabis retailers and dispensary owners to boost sales and engage with a larger customer base. In this blog post, we'll explore the key cannabis holidays that you must be aware of, discuss how you can prepare your cannabis retail store for increased traffic, highlight the importance of reliable cannabis dispensary software, provide inventory management tips and guide you on preparing dispensary staff to ensure a seamless omnichannel customer experience at your dispensary.
The Biggest Cannabis Sales Days and Holidays
4/20 (April 20th): Known as the unofficial cannabis holiday, 420 has always been synonymous with cannabis culture. On this day, cannabis sales skyrocket, and dispensaries witness a surge in customer traffic.
4th of July/Canada Day: The national days of the US and Canada have emerged as the front runners to take the biggest cannabis sales day crown from 420. These long weekends in the summer bring out people to the outdoors and many like to enhance their experiences with cannabis products.
7/10 (July 10th):

710, also known as 7/10, is a term that has recently emerged in the cannabis community. It is a counterpart to the well-established "420" and specifically relates to cannabis concentrates or dabs. July 10th is recognized as "OIL Day" in reference to this association.

Green Wednesday: Taking place on the Wednesday before Thanksgiving in the US, Green Wednesday has gained significant traction in recent years. It serves as a precursor to the Black Friday shopping frenzy and offers an opportunity for dispensaries to attract customers before the holiday season.
Halloween, Christmas, and New Year's Eve: The holiday season is a time for people to celebrate with friends and family, and many are partaking in cannabis consumption nowadays to elevate their holiday spirits. It's certainly a time to capitalize on.
Sports Events: Many big sports events, including the Cannabis Cup, are also big sales days in North America. But one that stands out is the Super Bowl when a significant population is glued to the television with some cannabis and munchies to go along.
Preparing Your Dispensary for Influx of Traffic
To effectively handle the high influx of traffic during cannabis holidays, consider the following steps:
Staffing and Training: Ensure you have an adequate number of well-trained and knowledgeable staff members to handle the increased demand. Train budtenders about holiday promotions, new products, and any specific guidelines or procedures.
Additional Checkout Stations: Set up additional checkout stations or designate separate lines for medical and recreational customers. This helps minimize wait times and improve customer experience.
Security and Crowd Management: Implement a robust security plan to ensure the safety of both your staff and customers. Manage crowds effectively to maintain a positive shopping experience.
Inventory Preparation, Optimization, and Management
To effectively manage your inventory during cannabis holidays, follow these steps:
Forecasting Demand: Analyze sales data from previous holidays to forecast demand accurately. This helps you avoid overstocking or running out of popular products.
Strategic Purchasing: Establish strong relationships with suppliers to ensure a steady supply of high-demand products during holidays. Consider bulk purchasing or pre-ordering to secure inventory.
Regular Inventory Audits: Conduct regular inventory audits to identify slow-moving products and make informed decisions on reordering or offering promotions to clear inventory.
Using Reliable Cannabis Dispensary Software
Investing in reliable dispensary software that won't crash due to increased demand and traffic is crucial for smooth operations and efficient management.
Compliance Features: Ensure the software has robust compliance features to meet the legal requirements of your jurisdiction. This includes age verification, inventory tracking, and reporting functionalities.
Dispensary POS System: Look for dispensary software that offers a user-friendly POS system with integrated inventory management. This simplifies transactions and helps you maintain accurate inventory records.
Online Ordering and Delivery: Opt for dispensary software that supports cannabis eCommerce and delivery services. This allows you to cater to customers who prefer convenience and expands your potential customer base.
Providing a Seamless Omnichannel Customer Experience
In today's digital age, offering a seamless omnichannel customer experience is crucial for dispensary owners during cannabis holidays. Omnichannel refers to creating a consistent and integrated experience across various customer touchpoints, including physical stores, online eCommerce platforms, and delivery services. Here are some strategies to ensure a seamless omnichannel experience:
Online Presence and E-commerce
In-Store Dispensary Experience
Customer Communication
Social Media Engagement: Maintain an active presence on social media platforms relevant to your target audience. Share holiday promotions, product updates, and educational content to engage with customers and build a community around your brand.
Email Marketing: Utilize email marketing campaigns to keep customers informed about upcoming cannabis holidays, exclusive offers, and new product releases. Personalize emails based on customer preferences and purchase history for better engagement.
Chat and Support Channels: Provide multiple communication channels, such as live chat, email, or phone support, to address customer inquiries promptly. Ensure your staff is trained to handle customer concerns and provide accurate information.
Customer Feedback and Reviews: Encourage customers to leave feedback and reviews on platforms like Google, Weedmaps, or Leafly. Monitor and respond to reviews, both positive and negative, to show that you value customer opinions and are committed to continuous improvement.
By investing in reliable dispensary software, preparing your staff adequately, and following the other outlined strategies, you can curate a seamless omnichannel customer experience and capitalize on all the biggest cannabis holidays during the year. Don't let tech crashes marr your dispensary business, switch to more reliable cannabis technology now.