The landscape of the licensed cannabis industry in the United States has undergone significant changes in recent years as multiple states push forward with legalization efforts. In light of these ever-evolving laws and regulations, dispensaries face the challenge of providing a seamless and improved retail experience for customers while ensuring the satisfaction of their budtenders.
According to Headset's analysis, in the past 12 months, 55% of budtenders who worked at any point during that period have left their positions in both the US and Canada. In more established adult-use markets like California, Oregon, Colorado, and Washington, budtenders have traditionally focused on leveraging their extensive product knowledge to offer recommendations to patients and customers, drawing from their personal cannabis experiences.
From Consultative to Transactional, Ushering in the Era of the New Budtender
While delivering an exceptional cannabis customer experience remains essential, dispensaries now grapple with increased competition, outdated legal frameworks, and stringent cannabis compliance requirements. Hence, there is a growing emphasis on expanding market share and improving profit margins. At many multi-state operator (MSO) dispensary chains, some budtenders rely solely on product knowledge within their dispensary POS system.
During my tenure as a budtender at one of Illinois' oldest dispensaries, I gained a firsthand appreciation for the untapped potential within both the budtender and customer experiences in the cannabis dispensary landscape. It became evident that the seamless integration of technologies could elevate overall customer interactions and boost sales. A pivotal factor in shaping this experience has been the integration and capabilities of a cannabis dispensary's retail technology stack.
The Advantages of Having an Advanced Cannabis POS at the Heart of Your Dispensary Operations
One of the primary benefits of an advanced cannabis POS system is that it provides a plethora of product information, encompassing details such as price, high-resolution images, strain lineage, terpene profiles, and THC/CBD percentage, equipping your budtenders with the tools they need to educate and guide customers effectively to the right cannabis products based on their preferences. However, the advantages of an advanced cannabis POS software solution should not end there.
Leading cannabis POS companies like Cova go the extra mile by prioritizing various critical aspects of their system, ensuring that dispensaries maximize operational efficiency and customer satisfaction. Cova Software understands that a seamless integration process between your cannabis software solutions is essential to avoid disruptions in dispensary operations. Cova works closely with its dispensary clients to customize the cannabis POS system to meet their specific needs, ensuring a smooth transition and minimal downtime.
Customer support is yet another cornerstone of advanced cannabis POS systems for dispensaries. Recognizing that technical issues can arise at any time, top-tier POS companies like Cova offer robust customer support services. This means that dispensaries can rely on prompt assistance in troubleshooting any problems that may arise with the dispensary POS system. Such responsive support not only minimizes downtime but also fosters trust and confidence in the technology, which is pivotal for the success of any dispensary and its staff.
Comprehensive training for dispensary staff is also a key facet of advanced cannabis POS software. Recognizing that a dispensary POS system is only as effective as those operating it, a good cannabis tech company will provide thorough training programs. This empowers dispensary employees, including budtenders, to harness the full potential of the POS. By mastering its features and capabilities, budtenders can confidently navigate the system, access vital product information swiftly, and efficiently manage transactions. This knowledge ensures that they can provide customers with accurate, up-to-date information, enhancing the overall shopping experience.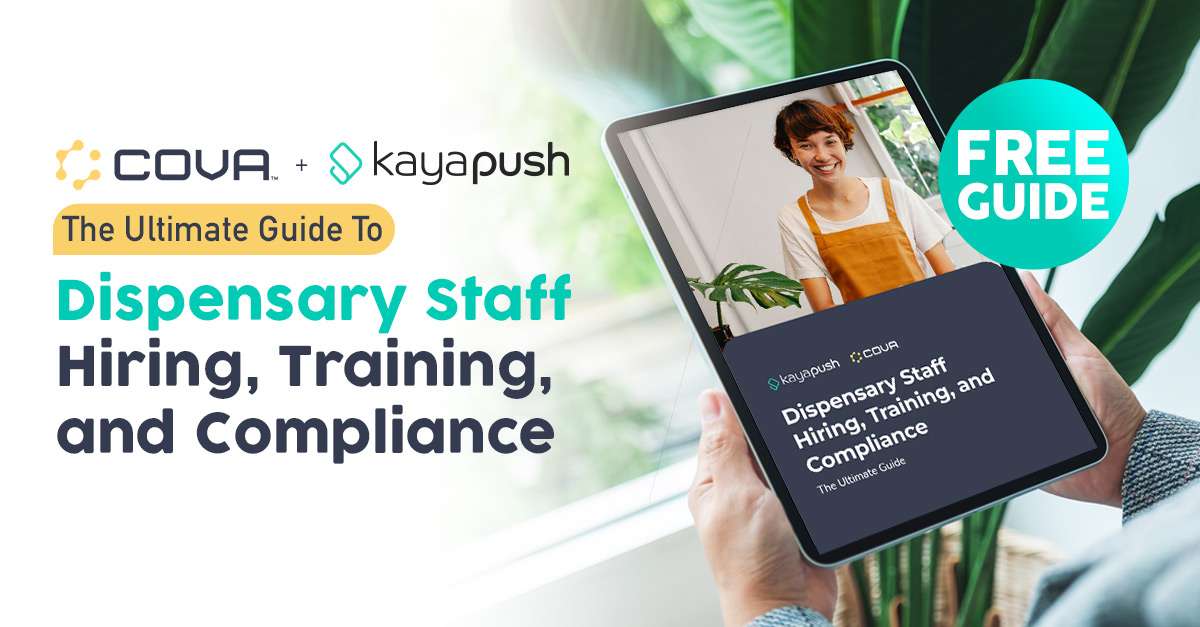 I.D. Please! Elevating the Customer Experience through a Streamlined Verification and Check-In Process
Cannabis dispensaries operate within a highly regulated environment where age restrictions are strictly enforced. Traditionally, the task of verifying IDs and checking in customers has rested with receptionists and budtenders. This process entails manually scanning IDs, confirming the customer's age, and searching for the corresponding profile within the dispensary point-of-sale system for completion. However, this manual approach not only consumes precious time but also introduces the possibility of errors, ultimately compromising the overall quality of the customer experience.
Enter advanced cannabis POS technology with integrated ID scanning capabilities. This technology goes beyond conventional methods by linking tablets with integrated ID scanners to the POS system. Budtenders can simply use the tablet's camera to scan the customer's ID, and the technology automatically pulls up the customer's profile, streamlining the check-in process. This automation not only speeds up the ID verification process but also enhances accuracy, ensuring that only eligible customers gain entry.
By having integrated ID checking technology built into your dispensary POS, dispensaries not only improve their operational efficiency but also elevate their customer experience and mitigate cannabis compliance risks. Your customers will appreciate the quick and hassle-free check-in process, leading to increased satisfaction and repeat business. Furthermore, this technology minimizes the potential for human errors which ensures compliance with legal age restrictions while safeguarding the dispensary's reputation and legal standing.
Bridging the Online-Offline Gap: Seamless Cannabis eCommerce Integration
The global pandemic of 2020 had a profound impact on contemporary business practices and consumer shopping preferences. Many retail businesses, including Illinois dispensaries, turned towards eCommerce to connect with their customers.
For better or worse, eCommerce has reshaped consumer shopping behavior, allowing individuals to browse and shop for products from the comfort of their homes. For dispensaries, integrating cannabis eCommerce with their dispensary POS is essential in enhancing customer engagement and convenience.
An integrated e-commerce platform enables customers to explore a dispensary's product offerings, read detailed descriptions, and place orders online. However, the experience doesn't end there. It is crucial for these two systems—your POS and your e-commerce platform—to communicate and sync up on the correct inventory count located in your dispensary's vault. The look of disappointment on a customer's face when they find out you're out of stock of the products they've spent quality time researching on your online menu never fades.
I cannot stress how important cannabis eCommerce integration has become post-pandemic. This creates a seamless bridge between the online and offline shopping experiences, allowing your customers to pre-order products with confidence, knowing that their items will be ready for in-store pickup or delivery where permitted. From this budtender's perspective, eCommerce integration not only is one of the most essential parts of the consumer's journey, but it also enhances efficiency by streamlining order processing.
Who Carries Cash? Convenience and Security of Integrated Cannabis Cashless Payments
Current U.S. federal regulations pose challenges for cannabis-related businesses when it comes to accessing traditional banking services and using traditional payment methods. It's extremely unfortunate that in an era when many retailers have transitioned to cashless transactions, budtenders are compelled to primarily handle cash and reconcile their registers, a process that is unsanitary and time-consuming. Although still somewhat fragmented within the industry, cannabis cashless payments offer customers convenient, secure, and efficient ways to complete transactions.
Cannabis software providers that have fully integrated cashless payments into their eCommerce platform and POS system offer significant benefits to dispensaries. For instance, eCommerce platforms that support options like ACH prepayment for delivery or in-store pickup can lead to a potential increase in your dispensary's average basket size by up to 3x when compared to scenarios where dispensaries are cash-only. An increase in average basket size translates to higher sales revenue and improved profitability for your dispensary.
On the contrary, some POS systems lack integrated cashless payment options, requiring budtenders to manually enter these transactions at the time of purchase. This introduces the risk of errors, such as budtenders mistakenly categorizing transactions as debit or cash. These discrepancies disrupt cash counts, requiring additional efforts to reconcile balancing cash at the end of the day, which is a budtender and manager's worst nightmare. Having integrated payments not only eliminates the need for your customers to hit the ATM prior but also allows them to purchase their products just like at any other retail store. This also mitigates the risk of budtenders accidentally entering the wrong type of transaction, leading to a smoother closing process for the staff, including your shift managers. Just beware of non-compliant cannabis payment solutions and always partner with a reliable dispensary technology provider.
Keep Your Dispensary Staff In Mind When Shaping the Future of Cannabis Retail
As long as there are archaic federal regulations in place, dispensaries will continue to have to use specialized technology and adhere to additional regulatory scrutiny, leading to additional stress on their staff. With some of the highest turnover rates, it's crucial to consider how your cannabis tech stack can alleviate your budtender's pain points, creating a healthy working environment and lowering attrition rates.
In this rapidly evolving landscape, cannabis retailers who empower their dispensaries and staff with Cova's award-winning software, featuring built-in ID verification, seamless integration of its native eCommerce platform, multiple cashless payment options, exceptional customer support, and industry-leading reliability, will benefit from increased customer satisfaction, operational excellence, and an elevated experience for their budtenders. Click below to learn more about Cova and how we can help you and your budtenders succeed.