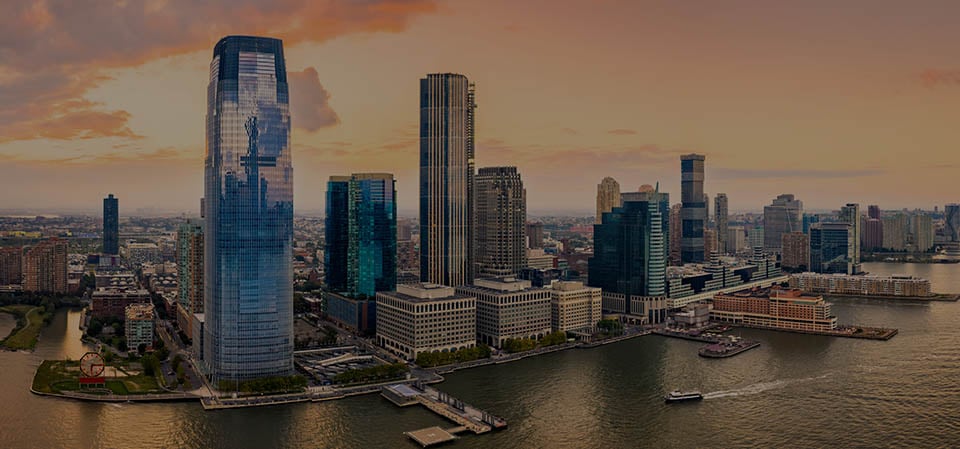 Recreational or adult-use cannabis became legal in New Jersey on Jan 1, 2021, after the 'Marijuana Legalization Amendment' was approved by voters during the general elections in November 2020. The New Jersey cannabis bill was signed into law on February 22, 2021, and the Cannabis Regulatory Commission met for the first time on April 12, 2021, to start the process of establishing a responsible, fair, and equitable cannabis industry. The CRC will be in charge of awarding all cannabis retail licenses in New Jersey but has not opened the application process yet, as it is still working on establishing cannabis regulations and guidelines. However, entrepreneurs looking at venturing into this lucrative industry must start working now on establishing a business plan to prepare their application for opening a cannabis dispensary.
The cannabis industry is highly regulated, and there are specific nuances involved in launching a cannabis business. From applying for a legal cannabis retail license to choosing a store location and a reliable technology partner to set up your business for success, you are easily looking at a timeline of 6 to 12 months before you can start selling. But cannabis industry experts and consultants can help you expedite the process while tying up loose ends. Cova Software recently teamed up with Point Seven Group and Sapphire Advisory Group for a free New Jersey Cannabis Retail 101 webinar to help cannabis entrepreneurs in NJ prepare for what lies ahead. It covered an overview of New Jersey's cannabis laws, the costs associated with opening a dispensary, and best practices to run a compliant cannabis retail business.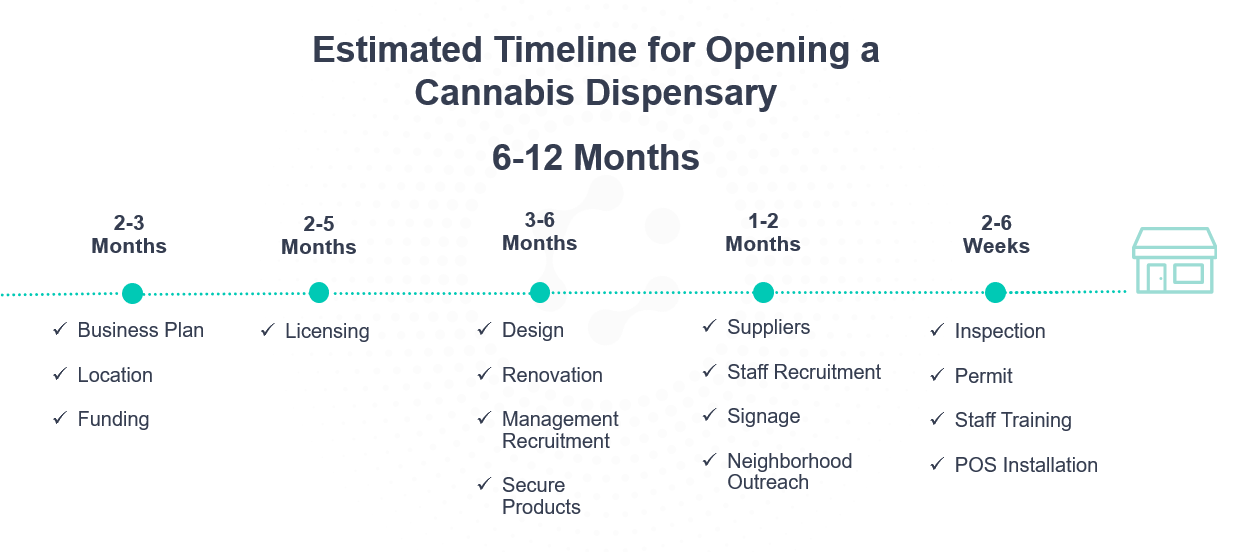 Applying for a Cannabis Retail License in NJ
The CRC has up to 180 days from the date cannabis legislation in NJ was signed to start accepting applications. Thus, New Jersey residents should expect to see state-wide regulations enacted by mid-august 2021, and the application process for cannabis business licensing should commence soon after that. Interested applicants must first submit their applications to the commission, along with a detailed business plan. And within 14 days, they will also be required to supply a copy of the same to the local municipality of the town where they want to open the marijuana dispensary. The relevant municipality will determine whether the application complies with all local restrictions and submit their report to the CRC. After a thorough evaluation, including limitations to various categories of cannabis licenses and convincing evidence about the applicant's qualifications, the commission may approve or reject an application. Details on the application process will be updated on our New Jersey law page as and when they become available.
Planting the Seeds for a Cannabis Business
Real estate, building a team, and financing are some of the foremost things you must consider while preparing an application for a cannabis retail license. When choosing a retail location, your budget is crucial, but local zoning regulations also need to be considered along with other key business factors such as access to diverse talent and target customer reach. When building your cannabis dispensary team, leverage your family and network, look at recruiting people who bring transferable skills from other industries, and capitalize on each person's strength to fill in the gaps. Of course, the most important aspect here is securing capital to run a successful business. You must start groundwork on your financials from day one to not just attract investors but also fortify your application, as a detailed business operations plan is required by the CRC. Expert consultants at Point 7 group can help you efficiently plan all these workflows.
Establishing and Streamlining Operations
Establishing Operations begins with designing a cannabis retail experience that goes beyond your physical blueprint. It will just not influence your brand image but also shape the customer experience at your dispensary. Cannabis stores have unique features that differ from other retail operations, so configuring your space to deal with these ahead of time will increase your efficiency and save funds in the long run. Covid-19 has also changed consumer shopping behavior, so you must be prepared to pivot and provide an enhanced cannabis experience. Set up a strong supplier base to ensure that you will always have ample inventory to serve the needs of your customer base, and have a security plan to keep your products safe while streamlining your operations and abiding by all legal requirements.
Dispensary Technology and Compliance
The cannabis space is quite unlike a traditional retail environment as you have to deal with significant legal and compliance requirements. Choosing cannabis industry-specific technology infrastructure for your store can go a long way toward mitigating these challenges. At a basic level, you'll need Wi-Fi, a computer, and a POS and inventory management system to run your store. Beyond that, various dispensary software can help build your brand image, elevate the customer experience and rack up sales. To always stay compliant with the law, opt for a cannabis retail POS like Cova that will prevent your budtenders from making sales outside store hours, help them monitor daily limits and inventory levels, generate automatic compliance reports, and integrate seamlessly with the state tracking system.
Community Outreach and Best Practices
As cannabis goes mainstream, the stigmas associated with it are gradually waning away. However, a lot of education and awareness is still required. As a dispensary owner, you will have to invest a lot of effort in involving the local community where you plan to open your cannabis retail store. And since social equity is a significant part of the cannabis legislation in New Jersey, ensure that you participate in local events and create the right environment to make everyone feel included. Community outreach will also help in mitigating any legal concerns and fortify your financial backing as well. There are numerous other best practices that you must incorporate to run a successful cannabis business, and this blog post barely scratches the surface. If you did not attend our New Jersey Cannabis Retail 101 webinar and would like to learn in-depth about how you can open and run a cannabis dispensary in NJ, click below to watch the complete recording.