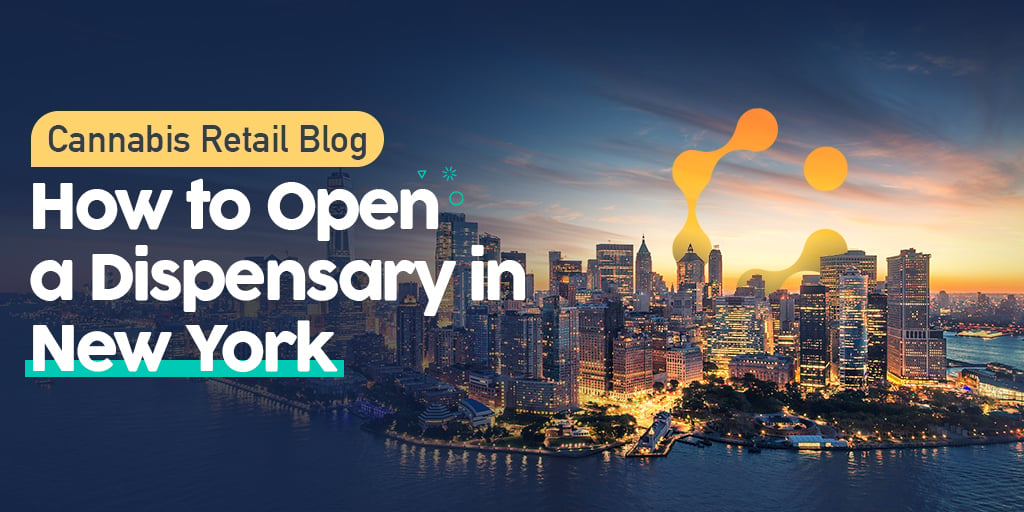 If you want to open a dispensary in New York, you must obtain the relevant New York retail Cannabis license. This guide covers the 5 key steps you will need to work through to obtain your license and successfully open a dispensary.
New York's cannabis industry is growing fast with the legalization of recreational marijuana. The Office of Cannabis Management (OCM) and the Cannabis Control Board (CCB) have already successfully granted 463 CAURD dispensary licenses through the New York cannabis social equity program established by the MRTA. More dispensary licenses will be issued in the future, as the New York cannabis market is projected to cross $4 billion in sales by 2027.
Suppose you're one of these CAURD license winners or are considering venturing into this burgeoning industry. In that case, it's imperative to understand the cannabis regulatory framework, the application process, financial considerations, and operational strategies to ensure a successful dispensary business. In this guide, we'll walk you through the key steps on how to open a dispensary in New York, providing you with the knowledge you need to navigate this exciting venture.
How to Open a Dispensary in New York
To open a medical or adult-use cannabis dispensary in New York, you must follow the steps outlined below and comply with all New York Dispensary Laws.
1. Review New York Cannabis Laws
The foundation of any successful cannabis venture begins with a comprehensive understanding of the laws and regulations governing the industry. In March 2021, New York Governor Andrew Cuomo signed the Marijuana Regulation and Taxation Act (MRTA) into law, legalizing adult-use cannabis. Under this legislation, the Cannabis Control Board was established to oversee the industry's regulatory framework. Start by thoroughly reviewing the MRTA and any subsequent regulations issued by the board to ensure you're well-versed in the legal landscape. For a comprehensive review of NY marijuana laws, check out our New York Dispensary Laws page.
Currently, New York is only accepting cannabis license applications for CAURD dispensary licenses, which will amount to at least 50% of the adult-use cannabis business licenses to be awarded in New York. To obtain a CAURD license, applicants must meet all social equity eligibility requirements and submit a competitive application. Justice-involved individuals must own at least fifty-one percent (51%) of the qualifying business for a CAURD-licensed dispensary. Check out the top FAQs about New York CAURD Dispensary License here.
2. Develop a Robust Dispensary Business Plan
A well-structured cannabis retail business plan is a crucial roadmap that will guide your dispensary's growth and success. Your plan should cover aspects such as market analysis, competitive analysis, target demographics, marketing strategies, operations plan, and financial projections. A robust business plan not only demonstrates your dispensary's viability to potential investors and lenders but also provides you with a clear direction for achieving your goals.
Understanding New York's Lucrative Cannabis Market
Opening a dispensary in New York comes with immense potential. With a population of nearly 20 million residents and a thriving tourism industry, the state offers a substantial customer base. The projected market size for adult-use cannabis in New York is estimated to reach several billion dollars annually, presenting a significant revenue opportunity for dispensary owners. Additionally, social equity provisions provide opportunities to communities disproportionately affected by past cannabis prohibition. By actively participating in social equity programs, you can contribute to a more inclusive industry while benefiting from priority licensing.
How Much Does it Cost to Open a Dispensary in New York?
Operating any business in New York can be notably costly. If you are considering becoming a dispensary owner in New York, you should anticipate allocating a sum ranging from $400,000 to over $1 million to launch and manage a cannabis dispensary. The specific amount depends on factors such as the establishment's location, size, and overall operations. Real estate costs in New York will constitute a substantial portion of your operational expenditure. Purchasing retail space might span from $128 per square foot to $393 per square foot, and leasing expenses could fall in the range of $5,000 to $10,000 per month, or even exceed these figures. Learn more about the costs of opening a dispensary here.
3. Apply for a New York Dispensary License
Obtaining a dispensary license in New York is a multifaceted process that requires careful attention to detail. The Cannabis Control Board will oversee the licensing process, and it's essential to ensure you meet all the requirements outlined in NY cannabis regulations. Here are the key steps to applying for a New York dispensary license:
a. Prepare Your Application
Start by gathering all the necessary documentation and information required for the application. This includes detailed financial records, business plans, security plans, operational protocols, and compliance measures. The application process is expected to be highly competitive, so your materials should be thorough and well-organized. If you qualify as a justice-involved individual, you may be eligible for priority licensing through the NY CAURD dispensary license.
b. Social Equity Considerations
New York's cannabis legislation emphasizes social equity, aiming to address the historical injustices caused by cannabis prohibition. As part of your application, you'll need to outline how your dispensary plans to contribute to social equity and community development. This may include partnerships with local organizations, employment opportunities for affected communities, and initiatives that promote inclusivity. Learn more about the NY Social and Economic Equity Plan here.
c. Community Engagement
Engaging with the local community is crucial for a successful dispensary application. Demonstrate how your dispensary will benefit the community by creating jobs, offering educational programs, and supporting local initiatives. Collaborating with local leaders and organizations can help build positive relationships and strengthen your application.
d. Security and Compliance
Security and compliance are paramount in the cannabis industry. Develop a comprehensive security plan that outlines measures to prevent theft, ensure employee safety, and maintain compliance with New York state regulations. This plan should cover areas such as surveillance, access control, cannabis inventory tracking, and product storage. Ensure that you choose NY-Compliant Dispensary Tech Stack.
e. Submit Your Application
Once your application is thoroughly prepared, submit it on the online application portal located within New York State Business Express (NYBE) during the designated application window. If you're submitting your NY Dispensary License application as a CAURD applicant, comply with all the qualifications and guidelines. Be sure to adhere to all submission deadlines and requirements to ensure your application is considered.
4. Secure Funding and Build Your Dispensary
Launching and operating a dispensary requires substantial financial investment. You'll need to secure funding for various aspects of your business, including real estate, construction, staffing, inventory, and marketing. To attract investors and lenders, your financial projections should be realistic and based on thorough market research. Consider exploring various funding sources, such as private investors, venture capital, and crowdfunding platforms, as traditional funding sources may not be available to you due to the federal status of cannabis. Learn more about cannabis dispensary financing, funding, and loans here.
Once you've successfully obtained your New York dispensary license and secured funding, it's time to bring your vision to life. This involves finding a suitable location, designing an appealing and functional retail space, partnering with the right technology provider, and ensuring compliance with state regulations. Here are the key steps to building your dispensary:
a. Choosing the Right Location
Selecting the right location is crucial for your dispensary's success. Consider factors such as foot traffic, proximity to other businesses, accessibility, and local demographics. Ensure that the chosen location is compliant with zoning regulations and aligns with the state's requirements for dispensary proximity to schools and other sensitive areas.
b. Dispensary Design and Layout
The interior design and layout of your dispensary play a significant role in creating a welcoming and customer-friendly environment. Design your space to accommodate different customer preferences, provide easy navigation, and showcase your product offerings effectively. Consider incorporating educational displays that inform customers about different cannabis strains, product types, and consumption methods.
c. Staffing and Training
Hiring a knowledgeable and customer-centric team is essential for the success of your dispensary. Hire individuals with a passion for cannabis, strong customer service skills, and a commitment to NY cannabis compliance. Provide comprehensive training on product knowledge, customer interactions, and regulations to ensure a seamless customer experience.
d. Inventory Management and Product Selection
Curating a diverse and high-quality product selection is essential to cater to various customer preferences. Work closely with licensed suppliers and distributors to maintain a consistent inventory of cannabis products, accessories, and related merchandise at your NY dispensary. Implement an efficient inventory management system to track sales, monitor stock levels, and ensure compliance with state regulations.
e. Compliance and Security Measures
Compliance with state regulations is non-negotiable in the cannabis industry. Implement strict security measures, including surveillance cameras, access control systems, and alarm systems, to safeguard your products and ensure employee and customer safety. Regularly review and update your security protocols to stay current with industry best practices and any regulatory changes in New York, while ensuring you use compliant cannabis software.
f. Dispensary Technology
Utilizing appropriate cannabis technology is vital for optimizing dispensary operations and adhering to regulations. Employing an NY-compliant dispensary POS system, efficient inventory management software, and compliance tools is essential for tasks like sales tracking, inventory control, compliance reporting, and record accuracy. Integration with the state tracking system is also crucial for real-time monitoring and reporting of dispensed marijuana.
5. Marketing Your New York Dispensary
Creating a strong and compliant marketing strategy is crucial for attracting customers to your NY dispensary. While traditional advertising methods may be restricted, digital marketing, social media, and community engagement can play a significant role in building and promoting your NY dispensary brand. Ensure that all marketing materials adhere to state guidelines to avoid any legal complications.
a. Digital Marketing
Leverage digital marketing platforms to reach your target audience effectively. Develop a user-friendly website that provides information about your products, services, and location. Implement cannabis search engine optimization (SEO) strategies to improve your online visibility and attract potential customers.
b. Social Media Engagement
Engage with your cannabis audience on social media platforms by sharing educational content, product highlights, and promotions. Use social media to foster a sense of community and connect with customers who are passionate about cannabis.
c. Community Involvement
Building a positive reputation within the local community is essential for the long-term success of your dispensary. Participate in community events, support local charities, and collaborate with neighboring businesses to establish your NY dispensary as a valuable and responsible member of the community.
d. Education and Outreach
Educational initiatives can set your dispensary apart and position you as a trusted source of information. Host workshops, seminars, and informational sessions to educate customers about different strains, consumption methods, and responsible use. Providing valuable education can help destigmatize cannabis and create loyal customers.
Stay Adaptable and Informed
The cannabis industry is dynamic and constantly evolving. To succeed in this competitive landscape, it's crucial to stay adaptable and informed about industry trends, regulatory changes, and consumer preferences. Regularly review and update your business strategies to remain competitive and aligned with the evolving needs of your customers. Embrace the social equity initiatives, engage with the local community, and prioritize compliance and customer satisfaction. With dedication, creativity, and a commitment to excellence, your New York dispensary can become a trusted destination for cannabis enthusiasts and newcomers alike. As the industry continues to thrive, your informed and adaptable approach will play a pivotal role in your dispensary's journey to success, and partnering with a New York-compliant cannabis technology provider like Cova can make all the difference.