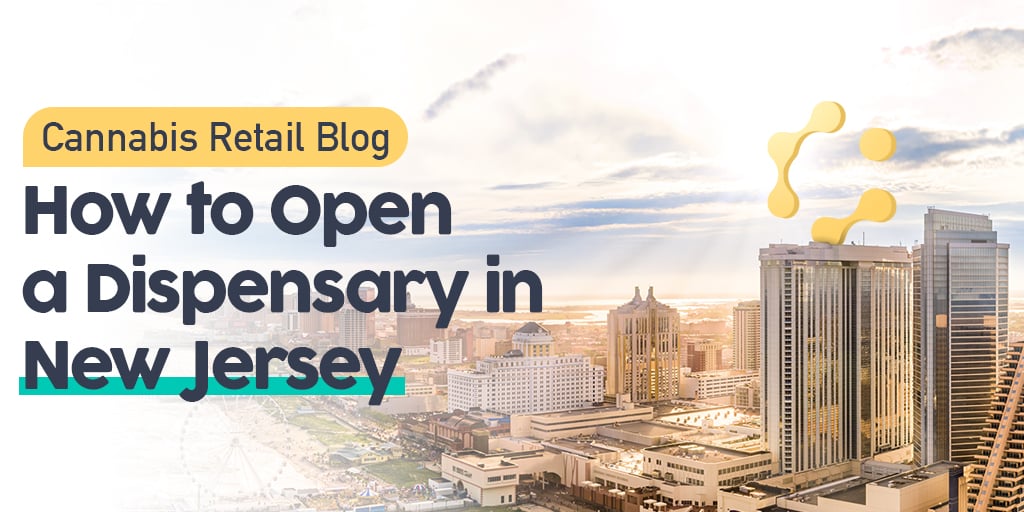 Are you considering entering the burgeoning cannabis industry by opening a dispensary in New Jersey? As the state's regulatory landscape evolves with the legalization of recreational marijuana, it's crucial to stay informed about the Cannabis Regulatory Commission's requirements, the application process for a cannabis retail store or Alternative Treatment Center (ATCs), the cost of opening and operating a dispensary in NJ, and opportunities associated with launching your own cannabis business. This guide will walk you through the steps of how to open a cannabis dispensary in New Jersey, from obtaining your NJ recreational dispensary license to efficiently managing your weed business while complying with NJ Department of Health (NJDOH) and CRC regulations.
How to Open a Dispensary in New Jersey
To open a medical or adult-use cannabis dispensary in New Jersey, you must follow the steps outlined below with adequate planning, funding, and adherence to all regulations laid out by the CRC.
1. Review New Jersey Cannabis Laws
In New Jersey, recreational cannabis has been legal since January 2021 with the enactment of the Marijuana Legalization Amendment. Although medical cannabis was legal since 2012, a constitutional amendment signed by Governor Murphy on February 22, 2021, ushered in a new era, and the New Jersey Cannabis Regulatory Commission was created. For a comprehensive review of NJ marijuana laws, check out our New Jersey Dispensary Laws page.
Before delving into the specific details of opening a cannabis dispensary in New Jersey, it's essential to know which cannabis business license you must apply for and the requirements associated with it. The New Jersey Cannabis Regulatory Commission (CRC) is responsible for overseeing and enforcing the state's legal cannabis program and for awarding any dispensary licenses. Following are the different types of cannabis business licenses in NJ:
Class 1 Cannabis Cultivator License: Allows for the cultivation of adult-use cannabis indoors or outdoors with municipal approval.
Class 2 Cannabis Manufacturer License: Permits the growth of cannabis for adult use, with manufacturing supervised in a secure facility.
Class 3 Cannabis Wholesaler License: Enables the storage, sale, and movement of adult-use cannabis products between cultivators, wholesalers, and retailers.
Class 4 Cannabis Distributor License: Authorizes the bulk transport of adult-use cannabis products between cultivators, manufacturers, and retailers.
Class 5 Cannabis Retailer License: Allows the purchase of adult-use cannabis from licensed growers, manufacturers, or wholesalers for sale to consumers.
Class 6 Cannabis Delivery License: Permits the transportation of adult-use cannabis and related supplies from retailers to consumers.
2. Create a Cannabis Dispensary Business Plan
Developing a solid cannabis business plan is essential not just for your NJ dispensary license but also for outlining your dispensary's goals, strategies, and financial projections. Your plan should cover market analysis, competition assessment, marketing strategies, operations plan, and financial forecasts. A well-structured cannabis business plan not only guides your vision and sets your dispensary up for success, but also demonstrates your business's viability to potential investors and lenders.
The Lucrative New Jersey Cannabis Market: How Big is The Opportunity?
Opening a cannabis dispensary in New Jersey presents a lucrative opportunity. The recreational market is projected to reach $1.2-1.5 billion by the end of 2023, making it one of the largest cannabis markets in the country. With a population of 9 million residents, high-income demographics, and millions of annual visitors, New Jersey offers a hot market for cannabis dispensary owners. Additionally, the cannabis industry is projected to bring in an estimated $300 million in tax revenue annually. This potential revenue injection could be more than double what other states like Colorado generate from cannabis taxes. A significant portion of these taxes will be used towards developing a more inclusive and equitable cannabis industry in NJ.
How Much Does it Cost to Open a Cannabis Dispensary in New Jersey?
The costs associated with opening a cannabis dispensary in New Jersey vary based on factors such as location, size, and business model. Startup costs can range from $250,000 to $2 million, depending on the scale of your operation. It's essential to consider expenses such as licensing fees, real estate, renovations, equipment, product inventory, security systems, and staffing. For a detailed breakdown of costs, you can refer to our blog article on the true cost of opening a cannabis dispensary in New Jersey.
How Profitable is a New Jersey Cannabis Dispensary?
The profitability of a New Jersey cannabis dispensary will depend on various factors, including location, product selection, pricing strategies, and market demand. Given the projected market growth and high demand for cannabis products, well-managed dispensaries have the potential to be highly profitable. Read our blog on how much money a dispensary owner makes to learn more.
3. Apply for a New Jersey Cannabis Dispensary License
To initiate the process of opening a cannabis dispensary in New Jersey, you must first select which license you qualify for and apply as per the cannabis market you intend to serve. To open a dispensary in NJ, you will need to apply for the Class 5 Cannabis Retailer License unless you intend to have a vertically-integrated business or want to offer cannabis delivery services to consumers. After you have prepared your dispensary business plan, follow these steps for your New Jersey cannabis license application:
Submit Application: The entire application process is online, and you must register and fill out the application for a cannabis retailer license on the NJCRC website.
Local Municipality Approval: After submitting your application to the CRC, provide a copy to the local municipality where you intend to open the dispensary. The municipality will review your application to ensure compliance with local restrictions.
CRC Application Review: The CRC will evaluate your application based on social equity qualifications, business plan, and compliance with regulations, and may conditionally approve your NJ dispensary license.
Final CRC Review: Once your dispensary is ready, the CRC will conduct a final review to ensure everything is in order.
Receive License: If your application is successful, you'll receive the necessary license to legally operate your cannabis dispensary in New Jersey.
After conditional approval and while your NJ cannabis license application is being reviewed by the CRC, you must follow steps 4 and 5 to ensure that you receive the full license.
4. Secure Funding for Your Dispensary
Successfully opening a cannabis dispensary in New Jersey includes establishing financial backing to cover startup costs, real estate, staffing, equipment, and cannabis inventory. When choosing a retail location, your budget is crucial, but local zoning regulations also need to be considered along with other key business factors such as access to diverse talent and target customer reach. When building your cannabis dispensary team, leverage your family and network, look at recruiting people who bring transferable skills from other industries, and capitalize on each person's strength to fill in the gaps. Of course, the most important aspect here is securing capital to fund all these activities and run a successful cannabis business. You must start the groundwork on your financials from day one to not just attract investors but also fortify your application, as the CRC requires a detailed business operations plan.
Dispensary Location and Zoning: Finding the Ideal Spot
Choosing the right location for your cannabis dispensary is crucial to your business's success. While New Jersey has legalized recreational cannabis, not all municipalities are cannabis-friendly. Some municipalities have implemented outright bans on cannabis businesses, while others have specific regulations and zoning requirements. It's essential to research and identify municipalities that permit cannabis operations and comply with their zoning regulations. With a viable location, you'll be able to generate good funds from investors.
Dispensary Staffing: Building a Knowledgeable Team
Building a knowledgeable and efficient team is essential for the smooth operation of your cannabis dispensary. Your team may include budtenders, security personnel, administrative staff, and more. Look for individuals with experience in the cannabis industry, excellent customer service skills, and a commitment to compliance and professionalism. Training your dispensary staff on product knowledge, safety protocols, and compliance measures is crucial for providing an exceptional customer experience at your NJ dispensary. Make sure you adhere to CRC's staffing requirements while hiring and build a team representative of the community you are serving, and you must budget properly for staff salary payments.
Dispensary Technology: Streamlining Operations and Compliance
Implementing the right cannabis technology is crucial for streamlining dispensary operations and ensuring compliance with regulations. A robust dispensary POS system, inventory management software, and compliance tools can help you track sales, manage inventory, generate compliance reports, and maintain accurate records. Seamless integration with Metrc, the state tracking system is essential for real-time monitoring and reporting of marijuana sold at your dispensary.
5. Build out and Compliance Review of Dispensary
Develop your dispensary, ensuring it meets security, compliance, and zoning requirements. Make sure that you choose an approved dispensary technology provider like Cova Software which offers compliant cannabis software solutions as per New Jersey cannabis laws.
Product Selection and Pricing: Meeting Customer Demand
Offering a diverse range of high-quality cannabis products is critical to attracting and retaining customers. Consider stocking a variety of cannabis strains, edibles, concentrates, topicals, and accessories to cater to different preferences. When determining pricing and managing cannabis inventory, consider factors such as production costs, market trends, and customer willingness to pay. Competitive pricing that aligns with market norms will contribute to your success.
Dispensary Security Measures: Ensuring Safety and Compliance
Dispensary security is of utmost importance to protect your products, staff, and customers. Implement comprehensive security measures, including surveillance cameras, access control systems, alarm systems, and panic buttons. Adequate security not only deters potential criminals but also demonstrates your commitment to compliance and customer safety.
Cannabis Dispensary Marketing and Advertising
Creating a successful marketing strategy for your NJ marijuana dispensary requires a deep understanding of New Jersey state regulations. Traditional advertising methods may be restricted, so focus on digital marketing, social media, and community engagement. Prioritize education and transparency in your marketing efforts, and ensure all messaging complies with state guidelines to avoid potential legal issues.
NJ Social Equity Provisions and Community Development
New Jersey's cannabis legislation includes social equity provisions, aiming to promote diversity and inclusion in the industry. If eligible, consider participating in social equity programs, which may provide benefits such as priority licensing, technical assistance, and financial incentives. Regardless, engaging your NJ dispensary in social equity initiatives will contribute to community development and create a positive reputation for your brand.
In conclusion, opening a cannabis dispensary in New Jersey offers a promising opportunity in a rapidly growing industry. By understanding the requirements, following the application process, considering the above factors, and adhering to regulations, you can position your dispensary for success in this dynamic market. Also, check out our 'comprehensive guide to opening and running a cannabis dispensary'. As the cannabis landscape evolves, staying informed and adaptable will be key to thriving in New Jersey's marijuana industry, and partnering with a New Jersey-compliant cannabis technology provider like Cova can make all the difference.