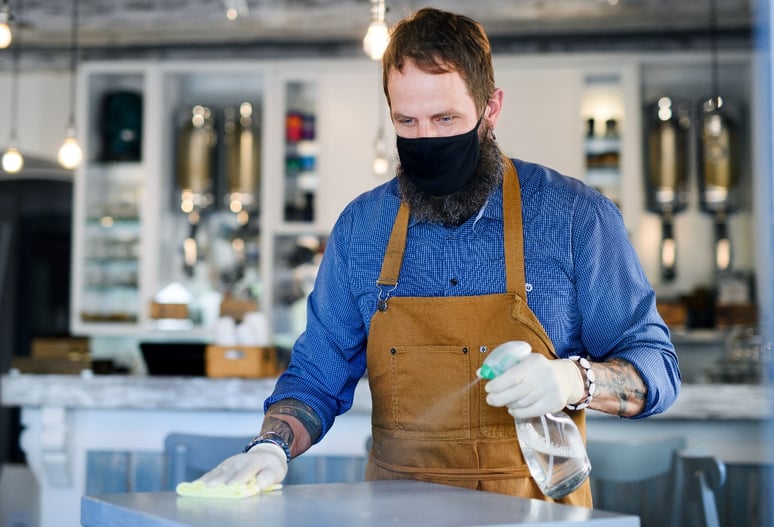 The Covid-19 pandemic has already rewritten the rules of retail, and cannabis businesses must adapt as well to keep afloat and rise above the competition in these strange times. The legal cannabis industry has not been around for long, and many budding entrepreneurs may be dissuaded by the pandemic and the ensuing economic crisis. Fortunately, most states in the US and provinces in Canada have deemed cannabis retail as an essential business, thus allowing stores to remain open during these times and facilitating the accelerated growth of the cannabis industry.
However, as most consumers have adapted to stay-at-home orders, a survey by McKinsey shows that most people don't anticipate returning to 'normal' anytime soon. Hence, cannabis retailers and entrepreneurs must pivot to a business model that leverages technology to ensure the profitability of their operations. And as the United Nations recently reclassified cannabis as less risky, there will inevitably be a lot of first-time cannabis consumers in the market, which is a fantastic opportunity to capitalize on. The following five ways will not only help you keep your cannabis retail business thriving during Covid-19 but also prepare you for success in the uncertain future.
1. Keep your Staff and Customers Safe
With Covid-19 playing havoc with our lives for almost a year, wearing masks in public and social distancing have become the norms. To ensure the safety of your patrons and staff and curb the spread of the virus, you must impose physical distancing of at least 1.5m to reduce in-person contact as mandated by governments. Also, see to it that your counter queues and product shelves are organized appropriately, and contactless payments can be made, provided your state or province allows them.
Emergency regulations may limit the number of people inside your store. Thus, it is essential to manage the footfalls in your cannabis store by ensuring that customers don't just maintain a safe distance while in a queue but don't have to wait for too long either. A cannabis retail mobile queue management solution like 'Text Your Turn' helps you do just that while allowing your staff to manage everything with a few simple clicks and keeping your customers informed about the wait time.
To ensure that your employees are healthy while working, Cova Software has partnered with Push Operations, which integrates a health-check feature in its workforce scheduling solution, complete with customizable checklists and contactless temperature checks. The POS-integrated software is now being offered free for 1 year to all Cova POS customers.
2. Set up an E-commerce Platform
Online retail shopping represented a negligible proportion of spending a decade ago. However, with most people working from home and spending time indoors in 2020, purchase behaviours have changed drastically, and most retail businesses, including big stores, have had to up their E-commerce game. Cannabis online promotion is prohibited in most regions, and setting up an online store can prove to be challenging amidst strong regulations. A robust and reliant POS system allows you to create a comprehensive online menu, make the exact inventory visible to customers and establish online ordering, pickup and delivery workflows while staying compliant with changing regulations. But An online presence should be more than just supplemental to your brick and mortar operations. Cova software works with the best-in-class partners like Shopify and Leafly to ensure that you can provide a seamless cannabis E-commerce experience to your customers.
3. Allow Pickup and Delivery Orders
Once you have set up your E-commerce platform, you must give your customers the option to place their orders online or on the phone, pay in advance via the most convenient payment option, and organize curbside pickup or delivery for them. Such flexibility will not just be appreciated by customers, but also add to your bottom line while ensuring safe transactions. When starting a delivery service, ensure that you comply with all local rules and regulations. For example, with the new covid-19 lockdown measures in Ontario, the AGCO has allowed authorized cannabis retail stores to offer delivery and curbside pickup services, provided the employee delivering the order is certified by CannSell and verifies the ID of the purchaser upon delivery.
4. Fortify your Supply Chain System
Just as the cannabis retail market must be flexible with their services, they also need to diversify their supply chain systems. It's not easy to know in advance what product sources may see disruptions under COVID-19, so retail owners must keep building their supplier base to ensure an adequate stock. Since tracking and reporting from seed to sale is mandated by lawmakers, choosing a compliant POS system becomes even more essential to manage your supply chain. Also, in this dynamic retail space, as you add more products to your cannabis portfolio, it is necessary to incorporate an inventory management system, which allows you to avoid wastage and maintain a good inventory turnover.
5. Communicate Regularly and Digitalize Customer Experience
Last but most importantly, cannabis retailers must regularly communicate with customers and keep them posted about any new developments and how they are responding to these. Cannabis businesses must keep customers updated on their location, hours of operation, products available, services offered and any changes in regulations both on their website and through the email newsletter. Cannabis retail stores must supplement their digital presence with a social media strategy to connect with customers across all online platforms and build a community around their brand. In-store customer experience cannot be replicated online, but regular customers can be retained with customized loyalty programs and free online consultations with budtenders can be offered to new customers.
Despite Challenges, the cannabis retail industry has grown during the pandemic. With a more proactive and progressive approach to digital transformation and customer experience, and with the right technology partner like Cova Software, one can weather the storm better. Book a demo with us to learn how we can help you grow your cannabis retail business during this pandemic.