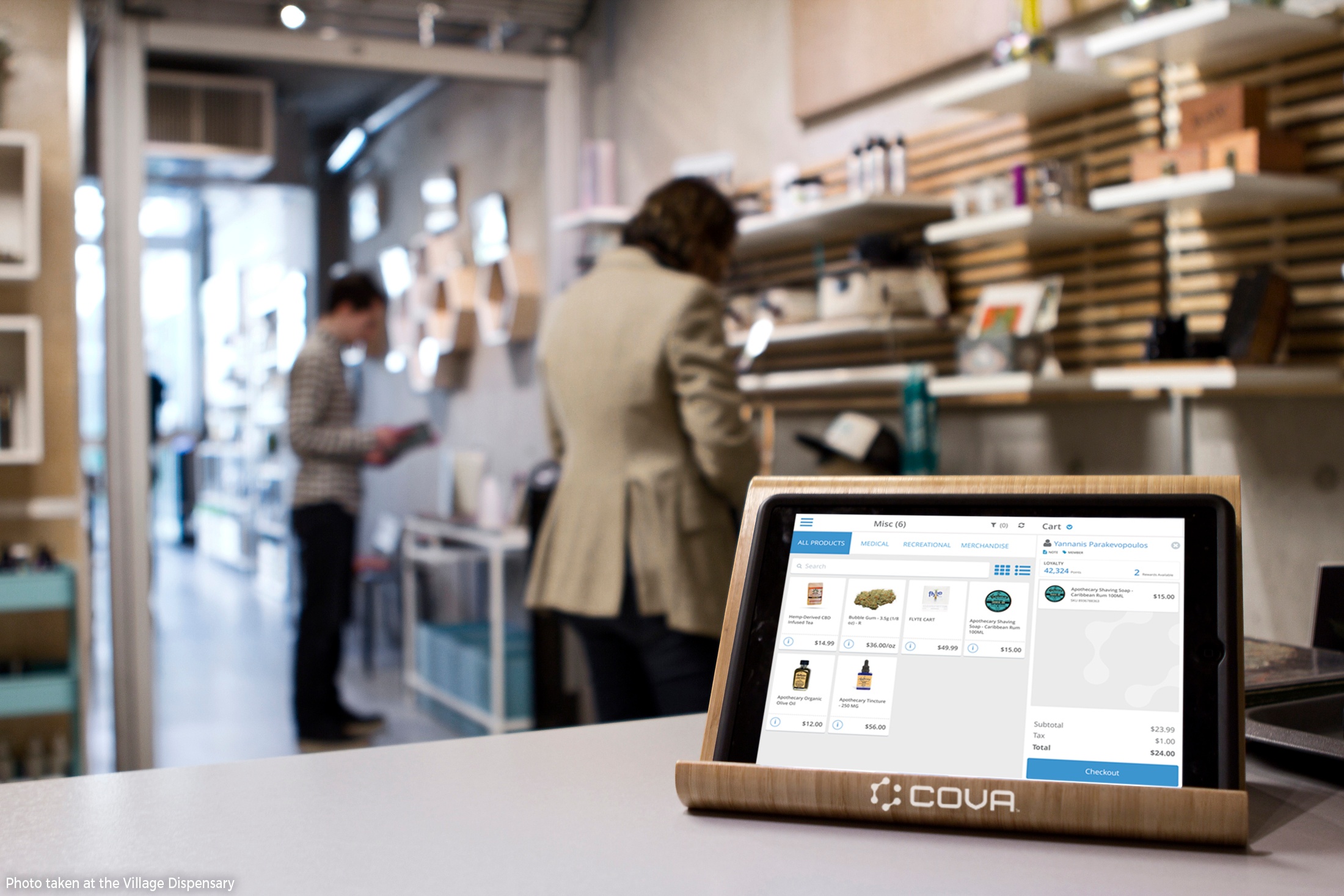 Canada's cannabis industry has witnessed tremendous success since federal legalization in 2018. In the US, 35 states authorize the use of medical cannabis, and 17 of them have now allowed recreational marijuana consumption. Potential dispensary owners must keep in mind that the cannabis retail industry operates under strict regulations that set this business apart from conventional retail operations.
A robust point-of-sale (POS) system is one of the most important tools cannabis retail stores must invest in. However, it's also crucial to remember that not all POS systems are created equal, and a cannabis industry-specific dispensary POS will always be a better choice than a generic POS system. Following are some of the most crucial points that you must consider when selecting a dispensary POS system:
1. Product Design and User Experience
A cannabis dispensary POS created specifically to address the nuances and pain points of cannabis businesses will always offer the best user experience. A well-designed dispensary system helps you quickly process actual sales and facilitates better inventory management. An intuitive and easy-to-use system boosts the performance of your budtenders by making product information and customer data available to them quickly, and unique features like loyalty programs and gift cards will help elevate the overall customer experience as well.
2. Traceability and Compliance
Compliance is a major administrative burden that a dispensary must deal with due to the stringent laws and scrutiny surrounding the cannabis industry. A well-executed cannabis retail POS system empowers owners to stay compliant at every stage of their business. Most states in the US require tracking of inventory and sales through a state-mandated traceability system such as Metrc or BioTrack. Even among cannabis POS systems, the level of integration with the tracking system varies, with many offering only batch reporting at the end of the day. Choose a POS software that automatically sends compliance reports in real time to the tracking system, thus helping you minimize human errors and always remain compliant.
3. Reliability and Data Security
There have been instances of generic POS crashing when used by cannabis stores. Even popular dispensary point-of-sale systems have had recurring performance issues, with major outages on big occasions like 420. Review each POS system in consideration by reading reviews and customer stories to figure out how reliable they are. A cloud-based marijuana POS system entails storing data on remote servers operated and maintained by a third party. It poses a lower technical barrier to entry and is definitely a cost-effective solution, but you must ensure that your POS provider protects all your dispensary data, as per government regulations.
4. Inventory Control and Reporting
A well-designed POS system offers inventory valuation and costing methods integrated into your POS to streamline your inventory management. A dispensary industry-specific POS will provide you with the cannabis sales trends data you need to most accurately judge the weights, strains, and quantity of products you need to stock up. Many states in the US expect you to have a clear paper trail on every legally grown gram of cannabis, from seed to sale, and your POS system must have efficient reporting capabilities for you to report that. Powerful analytics and a customizable reporting dashboard will enable you to monitor the health of your store and submit compliance reports from anywhere.
5. Hardware and Software Integration
Consider all the physical hardware that is being used in various sections of your dispensary and whether your provider can sync them with the point-of-sale software. You will have to integrate your accounting, HR, workforce, and security software solutions with your dispensary POS as well to ensure smooth operations. In a fast-evolving industry, new platforms and innovative solutions can hit the market almost overnight, but you must only select a POS that seamlessly integrates not just with your hardware and software but also with online marketplaces like Leafly and Weedmaps so that you can offer easy pickup and delivery services to your customers as well.
6. Product Development and Support
A cannabis-specific POS company that has extensive experience in the industry will remain an authority on the latest developments, and will regularly update its product to stay ahead of regulatory changes. Enquire about the after-sales customer support system they have in place- many companies will help you launch quickly but disappear when problems may arise and leave you to tackle software glitches on your own. Also, choose a dedicated system for your cannabis retail business that specializes in the sector you operate in and is not an all-in-one solution.
7. Scalability and Cost of Ownership
An enterprise POS system allows you to manage stock across all stores, set up location-level pricing, perform bulk editing, and even assign granular employee security permissions. It gives you complete visibility and full corporate control of your business with centralized reporting- accessible from anywhere so that you can manage and scale your business easily. Choose a POS provider that offers cannabis industry expertise and has the ability to grow with you. Even if you may have to pay a bit more upfront, you will benefit from the long-term ROI and reduce your overall cost of ownership.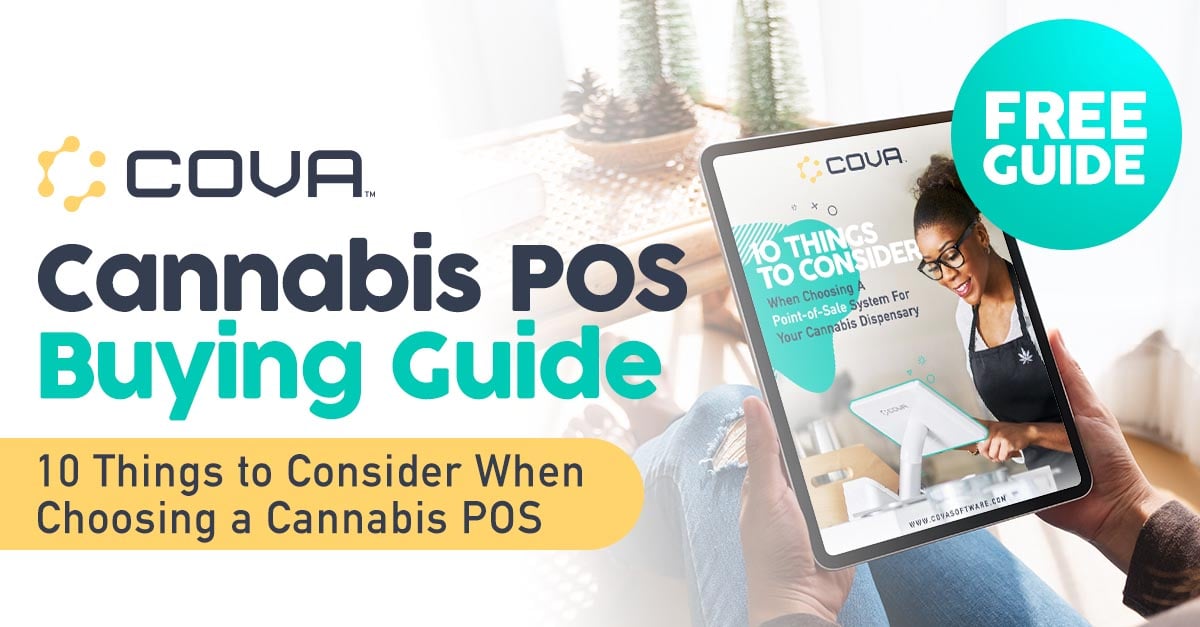 Key Advantages of Using Cannabis Dispensary POS Software
Not only do you need a cannabis point-of-sale system that helps with sales transactions and inventory, but you also have specific requirements as a dispensary that can be time-consuming to complete if you don't have the right tools. This is where a marijuana-specific POS can be your best friend. What does cannabis-specific dispensary POS software do for you?
Compliance Made Easy
If you're the owner of a dispensary, you probably dream about compliance regulations. It can be one of the most important parts of your business because if you're out of compliance, you can lose your license and have your dreams go up in smoke.
Each state is a little bit different, but most areas require dispensaries to report to them on a regular basis. Dispensary operators must notify the state about their sales numbers either on a daily, weekly, or monthly basis. Imagine having to sit down and gather each and every receipt for the given period and adding it all up!
Not only is this a huge project to undergo, but there's a good chance you might make an error in your calculations. Most, if not all, of the top-rated cannabis software for dispensaries, offer this type of reporting, making your sales numbers easy to generate.
Stability in Your POS
We've all worked somewhere where the system goes down, and you can't make any sales until things are fixed. While we've come to accept this as natural in our working environment, this isn't something that a dispensary can tolerate. Not only do you need to retain all of your sales information for reporting purposes, but you need a system that can handle large amounts of traffic, even on 420.
Right now you might be asking yourself "Do I need a POS to run a pot shop?" You might think it would be easier not to have to rely on a computer system that might go down at any moment, but marijuana-specific systems have their technology dialed in like a science; the benefits of using a POS far outweigh any fears about it crashing.
Keeping Track of Cannabis Inventory
The marijuana industry is significantly more complex when it comes to inventory, more so than your average clothing shop or bookstore. The amount of product that comes in and out needs to be meticulously tracked, down to weigh and label each and every package. Sometimes you might be out of a particular strain and need to order something else, meaning your list of products will always be growing. Thankfully, marijuana-specific POS systems are designed to handle this type of inventory management, making your job a lot easier.
Training Will Become A Snap
The design and ease of use of any point-of-sale system will directly influence how successful your employees are. When it takes ten minutes to explain to a new budtender how to complete a sale, something might be amiss. Taking it one step further, imagine if your POS could educate customers on product benefits and give your sales staff accessibility without handing them the keys to the shop. Many industry-specific systems can do just that.
Keeping Up With Customers
Every dispensary goes through its share of stress on 420, including hoping that their cannabis dispensary POS system doesn't crash due to the increased number of transactions they're processing. But what if you had the assurance that your operational software wouldn't go down, even on busy days or during large sales?
Integrating marijuana software that has an offline mode in case of emergencies and a strong support team to get you back up and running if there's an issue are key elements that every cannabis dispensary owner needs to consider. Remember, if your system is down, your customers can easily head to your nearest competitor.
Playing Nice With Others
How many hours per day does your staff spend updating inventory on Weedmaps or other similar websites? How much time have you wasted updating digital signage or menus instead of running your business? It's common practice for shop owners to treat each of their online tools as separate entities instead of trying to use a tool that can integrate with other software products. A Cannabis-specific POS system has the ability to "play nice with others" meaning they'll blend tasks like updating Weedmaps and menus in your waiting room into one easy-to-use interface.
Advantages of Using Cova Cannabis POS at Your Dispensary
Designed Specifically for Use by Cannabis Dispensaries
Other POS systems often require a great deal of configuration or training, and may not have all the features you need in order to successfully run your marijuana dispensary. The Cova dispensary POS software was designed from the ground up to specifically cater to the needs of dispensary owners, helping them streamline and simplify their retail operations, and ultimately sell more in less time. It covers inventory, customers, sales, reporting, analytics, and everything else you need to run a profitable dispensary.
Everything At Your Fingertips for Owners, Managers, & Budtenders
Another major advantage of the Cova software is that it provides all the different stakeholders at your dispensary with all the tools they need in order to help keep your business running smoothly. Owners can easily access its powerful reporting suite, tracking profit per transaction, inventory, and other considerations, while managers and budtenders are provided with the tools they need to help successfully sell your product and keep your dispensary running smoothly on a day-to-day basis.
World-Class UX and Design
No other software package currently available on the market has done more to develop a world-class user experience for dispensary customers than Cova. The order and checkout process is smooth, fast, and designed to virtually eliminate the possibility of user error when being operated. Customers can access your menu using wireless tablet devices, freeing your staff to more effectively assist others. On-demand product information is supplied directly to budtenders, enabling them to help ensure your customers will get exactly what they need.
Easy to Use and install, Always Available
The last major advantage of the Cova POS software platform is its ease of use and installation, combined with our guarantee of reliability. You'll be up and running on the Cova platform within minutes, and you'll find that the intuitive design of the software makes it incredibly easy to configure and operate on an ongoing basis. Cova also guarantees 99%+ uptime on their system by using a combination of powerful servers and cloud backup services, ensuring access to your business data is always secure and available.
The above considerations do not make an exhaustive list of things to consider. Get detailed insights with a free copy of the '10 things to consider when choosing a point of sale system for your cannabis dispensary' guide, which will offer you comprehensive information and help you choose the right cannabis POS system for your dispensary.