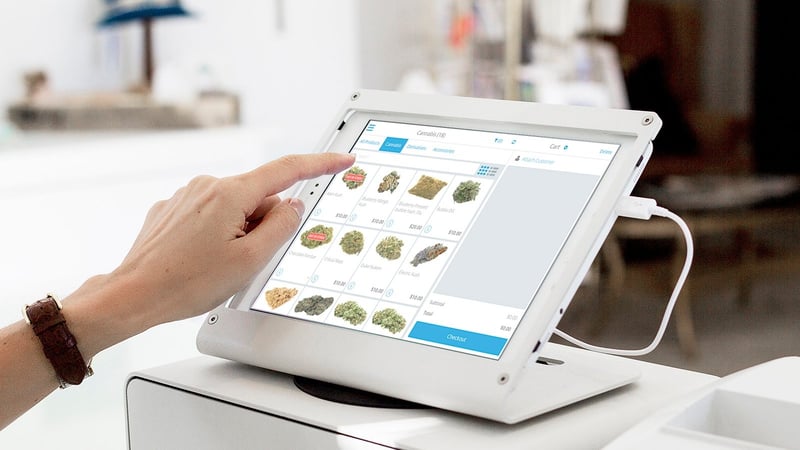 New marijuana dispensary owners often have to juggle a baffling amount of different considerations when trying to establish a cannabis retail business. Legal regulations, compliance issues, supply infrastructure, marketing, and managing inventory are just a few of the things you have to deal with daily. One thing you shouldn't have to worry about is choosing a marijuana dispensary POS system that best fits your needs.
Every business needs a POS system to make processing payments and managing inventory an efficient and straightforward affair. By choosing the right point of sale system, you can facilitate the day-to-day flow of your marijuana business and even boost your bottom line. However, potential dispensary owners must bear in mind that the cannabis industry operates under strict guidelines, structures, and laws that set your business apart from more typical retail operations, and a regular retail POS may not necessarily set you up for success.
All POS systems are certainly not created equal. While it is possible to run a marijuana dispensary using a generic POS system, it often lacks functions that simplify operations and make cannabis sales more efficient and profitable. In this blog post, we will look at some of the benefits of using a POS system designed specifically to cater to the daily business tasks that marijuana dispensaries perform. A cannabis-specific POS system can help you to:
Stay Legally Compliant – One of the administrative burdens as a cannabis dispensary owner you will face is ensuring that your business is fully legally compliant with all applicable statutes at all times, otherwise, you may violate laws and have your retail dreams go up in smoke. Each state has different regulations and you must report to the authorities about your sales and inventory regularly. Imagine having to sit down and gather all receipts for a specific period and adding them all up manually. Not only is this an ordeal to undergo, but there is a fair chance that you might make an error in inventory calculations and valuation, and risk losing your marijuana license. Most, if not all, of the top-rated cannabis dispensary software, offer this type of reporting and seed-to-sale tracking, thus ensuring automated compliance. A marijuana industry-specific POS system keeps pace with the ever-evolving cannabis landscape, helps you track all compliance issues, provides your staff with security checklists that need to be monitored regularly, and ensures that you pass all your inspections with flying colors.
Manage Your Inventory – Another advantage of cannabis dispensary POS systems is that they enable you to streamline the process of inventory management. You will be able to place orders for new products when required, maintain supply as per demand, adapt to changing market preferences on the fly, and free up capital otherwise tied up in maintaining higher inventory levels to better-suit current needs. Also, most cannabis POS systems integrate directly with government-recognized traceability systems and facilitate automated reporting, allowing you to save time and money while keeping a tight rein on your inventory. With high-tech features like automated-inventory reconciliation and accurate reflection of current-inventory on online platforms, Cova simplifies cannabis retail inventory management.
Administer Close to 100% System Uptime – There have been instances of unreliable generic retail POS software systems crashing, and cannabis retailers left frantically trying to hold their businesses together, which resulted in several dispensaries eventually closing down. With a cannabis industry-specific dispensary POS, you will be able to keep your system online almost 100% of the time. You will also be able to utilize the offline sales mode, thus ensuring that you continue to process sales even if the system goes down for some unforeseen reason. Cova, a cloud-based POS, has all the capabilities to guarantee that you will never have any downtime and will be able to handle transactions reliably on big occasions like 420 as well.
Gain Strategic Insights – A POS system designed from the ground up to support a marijuana dispensary also places an incredible amount of information right in the hands of the owner. You can see which of your products and promotions are doing well, as well as which areas are underperforming. Staffing issues that often go unnoticed can be resolved before they become a problem, and dispensary workforce scheduling can easily be optimized as well. Inventory, product sales, and every other piece of relevant data imaginable can be tracked and followed, helping you make strategic decisions on how to grow your business.
Deliver a Superior Customer Experience – Best of all, a cannabis industry-specific POS can help you increase revenue by delivering a superior customer experience to your clients. A marijuana dispensary POS system is integrated with all online market places, thus allowing you to take advantage of the cannabis ecosystem and assure seamless transactions, especially in an industry that still has several banking restrictions. With embedded functionalities like online ordering for curbside pickup or delivery and queue management, you can provide an exceptional customer experience to every buyer as per their needs. With a POS system custom-tailored to help budtenders provide product recommendations and communicate relevant product data like pricing, composition and THC percentage, you can delight clients and build a personal relationship with them.
So as you can see, there are significant, tangible benefits for dispensaries that make the wise choice of purchasing a cannabis industry-specific POS system for their operations. Such a comprehensive software system helps you improve the daily functioning of your business, covering all bases from assistance with legal compliance issues to inventory management and powerful analytics while helping you to better serve your clients, improve product knowledge and development, enhance your brand image, keep pace with the constantly evolving marijuana industry and establish yourself as an authority in the cannabis marketplace. Invest in a reliable cannabis POS system and book a demo with us now.