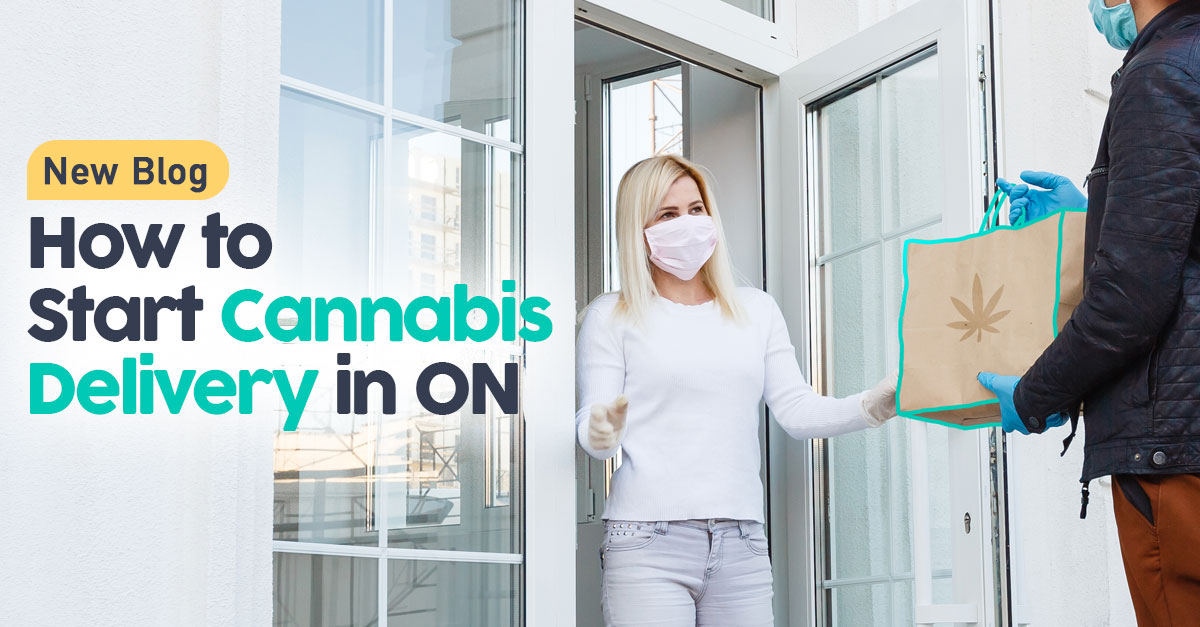 Ontario recently announced that the province is considering making cannabis pickup and delivery, temporary measures introduced at the peak of Covid-19 last year, permanent for all private cannabis retailers. Under the Supporting People and Business Act, this proposal from the AGCO would also enable Ontario cannabis retailers to continue supporting physical distancing and general public health directives as we continue to navigate the new normal.
Many Canadian provinces toiled with the idea of cannabis delivery in 2020 and allowed it temporarily, empowering cannabis businesses to stay afloat in these challenging times. British Columbia permanently legalized cannabis delivery in July this year, and as expected, Ontario is following suit. Once the proposal becomes law, all authorized ON cannabis retailers would be allowed to offer delivery services even after the pandemic and not need a separate cannabis delivery license in Ontario to render the same.
E-commerce and delivery services are vital to the viability of your cannabis retail business and will add to your revenues. If you are still figuring out how to choose the best E-commerce platform for your cannabis retail store, check out this blog to learn the basics. If you are prepared to incorporate a delivery program into your cannabis retail operations in Ontario but don't know where to start, let this post be your guide.
How to Start a Cannabis Delivery Service in Ontario
1. Outline the Radius of Your Cannabis Delivery Service
A cannabis delivery service adds complexity beyond in-store sales. Thus, it is crucial to understand the requirements of a cannabis delivery program and the extent of management required. You must also assess the feasibility of the delivery area you are looking at serving, and avoid less populated or unsafe neighborhoods in Ontario. Additionally, delivery charges must be taken into account while deciding the final price to be paid by the customer, or it can affect your profit margins.
Delivery orders will likely match peak in-store purchases, and your staff must be ready to manage and distribute their workloads. Deploying extra drivers during peak hours can help you adjust delivery execution accordingly. Also, setting an expectation of when the customer will receive the item and delivering on the promise will help build brand loyalty.
2. Stay Compliant With Ontario Cannabis Delivery Regulations
As always, ensure that you stay ahead of any changes in the laws. Here are a few key points for cannabis delivery in ON:
Ontario cannabis stores must receive payment, online or by telephone, for the order before delivery. Retailers may use solutions like Buddi, WooCommerce, Leafly, etc.
Retailers may use the services of a third party to facilitate online orders or pick up, but the delivery agent delivering the order must be a direct employee of the retail store.
An employee certified by

CannSell

must deliver the cannabis and other products to the residential address specified in the order.
Products must be delivered to the purchaser who resides at the place of delivery. They must be at least 19 years of age, and the purchase limit of 30g must be adhered to.
The employee must verify government-issued identification before delivering cannabis.
Cannabis and products can only be delivered between 9 AM and 11 PM
There is no limit to the amount you can charge for delivery.
Products are to remain secure up until delivery to a customer. For instance, the storing of undelivered cannabis and/or accessories overnight in a vehicle will not satisfy the AGCO's requirements for secure storage.
Retailers must record and retain the name and address of the purchaser and the residential address where any cannabis is delivered.
Note: Cova keeps records and tracks this information through our E-comm and payment processing partners.
3. Design Your Cannabis Delivery Program's SOPs
Your standard operating procedures can be different based on the local regulations- wherever your store is located in Ontario. But here's a sneak peek into exactly how you can establish an efficient delivery process with Cova POS.
When the order arrives in CovaPOS, the staff will confirm the order and prepare the items for delivery.
Delivery can be scheduled at a specific time, allowing customers to choose a time that suits them best.
The employee will drive to the delivery stop located in the delivery management app. A co-pilot on-board enhances safety and supports hands-free driving.
If an employee delivers on foot or by bicycle, the app will track the GPS location and ensure that they do not deviate from the recommended route.
The courier will check the recipient's age and ID and deliver the order.
When the delivery is complete, the employee will mark the order complete on the Cova POS tablet and the transaction will be added to the sales summary report.
4. Choose the Right E-commerce Platform & Technology Partner
For a seamless shopping experience, your website design and online menu should be clean and uncluttered and must seamlessly integrate with your chosen E-Commerce platform. Navigation should be easy, and the payment system should facilitate transactions in the least number of steps possible. Most importantly, your chosen E-commerce platform must integrate seamlessly with your existing tech infrastructure and POS system.
With Cova's cannabis POS and its excellent integrations for payment and delivery, the delivery or pickup order automatically pops up on the POS for the budtender to tender the sales, and the system updates your inventory once payment is approved. Seamless integration with fleet management services allows automatic population of the order information for routing and delivery. Once the order is delivered, the final status is updated.
Cova software offers a robust cannabis POS system with versatile integrations to online ordering services such as Shopify, WooCommerce, Super Anytime, Buddi, I Heart Jane, Weedmaps, and Leafly Pickup, which auto-populate all your delivery manifestos. With inventory management and a wealth of reporting features, Cova POS enables cannabis retailers to stay compliant as they evolve and expand. Get started with your cannabis pickup & delivery services at your retail store in Ontario today.