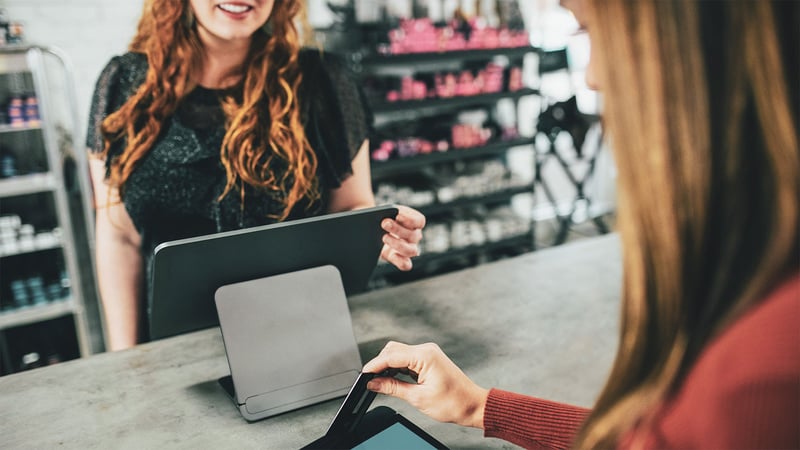 Sometimes, the best gift is the gift of choice. After all, cannabis products can be daunting to shop for in a gift-giving context. With everyone having their own specific tastes and looking for different effects in their cannabis experience, it's easy to get lost in an endless sea of SKUs.
As the cannabis retail market becomes more popular and saturated, it's also becoming inherently more competitive for retailers to stand out. This is why gift cards are an integral piece to your sales strategy. It can bring new faces into your store and become a crutch for loyal customers to spread the gospel to their own circles.
Retailers should offer gift cards as they can have an exponential effect on profits. They're also mini-billboards for your brand, and remain a popular choice for shoppers of all kinds. However, selling gift cards and developing a strategy around them can be tricky, especially if retail tactics and loyalty programs are new to you. This guide will touch on marketing and sales tactics for gift cards, and offer strategies to see substantial profits from a well-maintained gift card program.
Practicality of Gift Cards
Gift cards are a purely practical option for your retail experience, and can be beneficial for customer experiences in a variety of contexts. This is especially true in the cannabis retail market, where products, product types and pricing can be unfamiliar to the majority of first-time buyers.
There's also the benefit of customers being more liberal when spending a gift card as opposed to their own money, which means they're more likely to splurge on higher end products or not be deterred by budget and cost.
It's commonplace for customers to exceed the value of their gift card during spending - in 2018, the average consumer spent $59 more than their gift card balance. And if gift cards go unused? That's okay too - at that point, it's pure profit for your business.
It's important to keep in mind that gift cards are also a common entrypoint for new customers to engage with your store, and ultimately become loyal customers of their own. You can add incentive and bolster the first impression by offering extras, which could serve as the gateway into a loyalty or points program to keep customers engaged, nurtured and incentivized for your store.
3 Ways to Market Gift Cards
Merchandising
Gift cards can be a lucrative tool to generate additional profits by simply being strategically placed and marketed in your storefront. By placing a gift card display or promotion toward the till at the point of sale, retailers and floor reps can benefit from impulse purchases and last minute swipes.

Promotions utilizing gift cards, such as receiving a free gift card when they purchase one for someone else, or can increase brand awareness and foot traffic to your store. Whichever promotion you choose, make sure to advertise the promo on screens and between display tables.

If you utilize email marketing or newsletters to your customers, consider adding an image of your gift card and small snippet of text about the option in your next iteration. Email campaigns are one way to stand out when you choose your spots - gift-card-focused emails before major holidays is a great practice.

Promoting
Gift cards can be a considerably less daunting option for those shopping for friends and family, whether there's a specific occasion (such as birthdays or holiday season celebrations) or whether it's in the context of someone returning the favor for fronting cannabis products to a friend.
Card designs and offerings can leverage both peak times for your store and slower times, too. You should absolutely have cards for popular occasions like birthdays and Christmas. According to First Data, customers prefer occasion specific cards - 53% for birthdays and 46% for Christmas, to be precise.
Some other stats to consider: 17% of customers will not purchase a gift card if an occasion-based design is not available, and the majority of purchasers report gifting with additional packaging, which is a prime opportunity to invest in gift-boxes and presentations in general.
Talking to Customers
Even experienced cannabis veterans can be dizzied by the options available today's dispensaries. This can become more complicated when they are shopping for someone else without knowing their tastes and preferences. With a gift card, there's no risk of getting the strain, preferred effects or terpene profile wrong - instead, your customer gets the value and assurance of gifting a retail experience as opposed to a specific product.
It's beneficial to train your team members to upsell gift cards at specific opportunities. This can be made easier when they are watching for customer behavior, monitoring indecision or an interest in a variety of products. Don't be afraid to learn the customer's "why" and position gift cards accordingly - after all, they are great as a great stocking stuffer, incentive for a coworker, or a prize for the fantasy pool runner-up.
Gift Cards & POS
Launching a gift card program that fits into your current systems and stack doesn't have to be difficult. Normally, gift cards and systems are sold separately and can take some extra effort and cost to fit together, but with Cova, that's not the case.
Cova is the first and only cannabis POS provider to offer branded gift cards to our retail clients that doesn't require a third-party application or terminal. This makes it much easier to activate, track and manage directly on Cova's platform. Cova's cannabis gift card program is a more cost-effective option being that the only upfront cost incurred is for the cards and customization.
This allows you to tailor your gift card program to your liking without having to worry about how sales are tracked and consolidated in your POS and reporting.
Ready to get started? Hit the link below to get your gift card program up and running today.