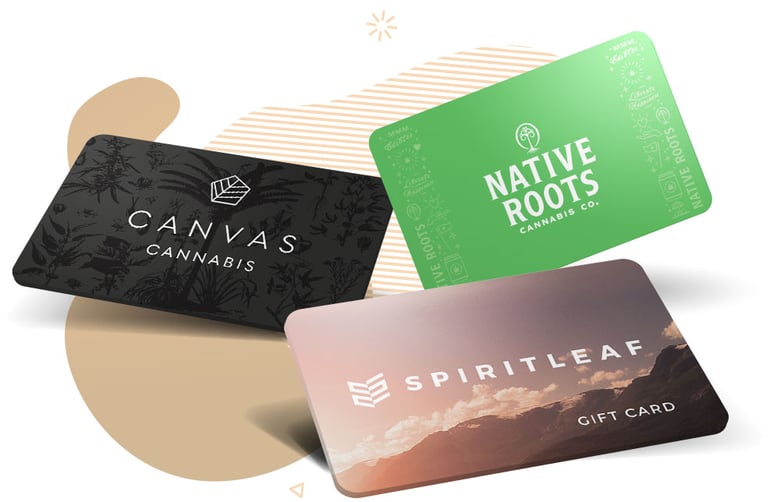 Branded gift cards are a great way to increase profits and revenue at your cannabis dispensary during the holiday season. It is indeed one of the best gifts preferred by people, as it's timeless and the receiver can purchase whatever they want. Also, for many cannabis retailers, sales tend to slow down in January as shoppers recover from the holidays. But for dispensaries that offer gift card programs, the new year can bring in new customers who otherwise may not have stepped foot inside the store for which they received a gift card. In fact, gift cards are a great way to help market your brand and raise profits year-round — and in this post, we're going to show you exactly how a gift card program can help your cannabis retail operation attract new clientele and boost the bottom line.
The Practicality of Gift Cards
Gift cards are a purely practical option for your retail experience and can be beneficial for customer experiences in a variety of contexts. This is especially true in the cannabis retail market, where products, product types, and pricing can be unfamiliar to the majority of first-time buyers.
There's also the benefit of customers being more liberal when spending a gift card as opposed to their own money, which means they're more likely to splurge on higher-end products or not be deterred by budget and cost.
It's commonplace for customers to exceed the value of their gift card during spending - in 2018, the average consumer spent $59 more than their gift card balance. And if gift cards go unused? That's okay too - at that point, it's pure profit for your business.
It's important to keep in mind that gift cards are also a common entry point for new customers to engage with your store, and ultimately become loyal customers of their own. You can add incentives and bolster the first impression by offering extras, which could serve as the gateway into a loyalty or points program to keep customers engaged, nurtured, and incentivized for your store.
Benefits of Gift Cards for Cannabis Dispensaries
1. Upfront Revenue
Perhaps the biggest benefit a gift card program can offer your dispensary is the opportunity to get paid for merchandise upfront. When you think about it, gift cards are a win-win for retailers; if the recipient never gets around to redeem their gift, then you banked the card's value at zero cost. But even when the gift card is redeemed, you still benefited from bringing in upfront revenue before selling any merchandise.
2. Paid in Full
Another major benefit to cannabis gift cards is that customers are 2.5 times more likely to purchase products at full price when they're using a gift card versus when they're paying with their own cash. Since they're redeeming a gift, shoppers typically aren't as concerned about bargain hunting or waiting for sale prices. Naturally, selling cannabis products at full retail price is always a win for you and your bottom line. Additionally, many customers end up spending more than the value of their gift cards. Download our free guide to launching your cannabis gift card program for more stats.
3. Free Marketing
Gift cards are also an excellent way to promote your brand at no extra cost to you. In fact, customers who purchase your gift cards to give to their friends and loved ones are actually paying you for their marketing efforts on your behalf! It just doesn't get any better than that.
4. More Convenient than Cash
In certain markets, cannabis retail is still a cash-only industry, even though cashless payments are possible with Cova. This can often be a detriment to dispensaries, as many consumers don't typically carry cash on hand. In these cases, gift cards make the shopping experience extremely convenient and easy for the customer, especially in the highly regulated cannabis industry.
5. New Customers
Finally, gift cards help drive new shoppers to your store, some of whom just may turn into loyal customers. This is particularly true when it comes to cannabis retail. For people who are new to cannabis and have been hesitant to take that first trip to the dispensary, a gift card is a great excuse to finally go and see what it's all about. What's more, gift cards help maintain consumer privacy, which may be a concern for cannabis newcomers.
How to Launch a Dispensary Gift Card Program
A well-executed gift card program has the potential to bring at least two customers into your dispensary—the buyer and the receiver. A study by First Data showed that 11% of gift card receivers observed that they had never visited the merchant location before receiving the gift card, and over a third became regular customers after redeeming the card. Thus, gift cards are a free marketing tool to attract new curious clients and spread brand awareness. Also, if you offer gift cards as a reward within your loyalty program, a customer will be incentivized to spend more money when receiving points redeemable for a gift card in the future. These branded cards don't just boost your retail profits but also serve as tiny billboards for your marijuana dispensary. Below are five crucial steps to follow when launching a gift card program for your cannabis retail store:
1. Select and Design the Right Solution
Choosing a gift card program that integrates seamlessly with your existing POS system is the most practical and reliable solution. If your POS does not offer any gift card functionality, consider an upgrade to a more advanced cloud-based POS system, like Cova, which offers a completely customized gift card solution. You may also consider opting for standalone third-party gift cards that can be sold through your POS as SKUs, but this solution is not recommended as there is a significant risk of data breaches that can lead to a violation of cannabis laws.
2. Develop a Gift Card Strategy
Building a gift card strategy is a crucial step in implementing this program at your cannabis store. You must decide whether your gift card program is meant to cover your bases across major holidays, occasions like 420 and birthdays, and slower seasons. Or is it supposed to be an integral component of your loyalty program and upsells? It is necessary to plan, design, and tweak the program to fit your unique requirements and customer needs for gift card sales and redemptions at your marijuana dispensary. Cova's gift cards are personalizable, which means you have total control over the brand look, logo, and design.
3. Ensure Compliance with Regulations
As you already know, cannabis retail is a highly regulated industry, and marijuana gift cards also must comply with specific marketing and advertising restrictions. However, a reliable cannabis industry-specific POS guarantees full compliance with an easy-to-manage, activate, and track gift cards program so that you can sell more cards and add to your revenues without the risk of any legal ramifications. Cova offers localized cards for every market and ensures end-to-end compliance with cannabis laws and regulations.
4. Outline Your Gift Cards Sales Plan
Your supply of gift cards must meet demand, and you must never run low on its inventory. Estimate demand based on your sales volume, holiday season, and target demographics, and plan your order accordingly. Also, decide how and where you will be selling these tiny cannabis vouchers in your store. Placing gift cards at the payment counter is a great way to capitalize on impulse purchases. Train your staff to recommend gift cards to customers when appropriate, and offer incentives to employees who sell the most cards.
5. Promote, Measure, and Analyze
Marketing online and organizing giveaways on social media are excellent tactics to build brand awareness and spread the word about your marijuana gift card program. Capitalizing on holiday season sales by strategically promoting gift cards on days like 420 and occasions that focus on gift-giving will further drive your cannabis gift card sales. You must also track, measure, and analyze your program's results regularly against established KPIs for your business. Cova's integrated reporting tools provide you with insights seamlessly extracted from data within your Cova POS so that you can easily use them to focus on making your gift card program a success.
Gift cards are one of the safest and most convenient ways to improve cash flow without increasing COGS. A branded gift card that is fully integrated with your cannabis POS system, such as Cova, is simple to set up, easy to manage, flexible and affordable. However, just implementing a gift card program is not enough. You must have a formidable marketing and sales strategy as well. With the complexity that comes with shopping for cannabis products, your marketing campaigns must enhance brand visibility and be able to communicate to customers that the best gift they can give is the gift of choice.
The Ultimate Guide to GIFT CARDS for Cannabis Businesses is a complete guide to launching a cannabis gift card program at your dispensary, with detailed information on how to scale and sustain retail growth. Download your free copy now.
Give Your Dispensary the Gift of a Cannabis Gift Card Program
As cannabis goes über-mainstream, an increasing number of retailers are using gift card programs. And with good reason. Gift cards bring in new customers, increase average purchase values, and serve as free word-of-mouth marketing — all while generating revenue upfront, rather than on the backend.
Gift card programs are a total win-win solution for retailers. Card recipients usually spend more than their card's value, and they're more likely to buy full-price items. On the flip side, many recipients don't spend the full balance of the card, in which case the funds stay in your wallet. Of course, you want your customers to get the best value from their gift cards, but it's notable that the unspent value of gift cards neared $3 billion in 2019.
So, with all the benefits of cannabis gift card programs, you're probably wondering where to get started and how to use gift cards with your POS. Cova is here to help. The steps below explain everything you'll need to get up and running with gift cards.
Setting Up a Gift Card Program at Your Cannabis Dispensary
Turn On the Gift Card Program in Your Cova POS
Design Your Cannabis Retail Gift Card Program
Design Your Cards
Order Your Cards
Maximize Visibility
Integrate Your Dispensary Gift Card Program with Your Marketing
Train Your Staff to Sell the Gift Cards
Monitor Your Gift Card Inventory and Your Program's Results
Step 1: Turn On the Gift Card Program in Your Cova POS
With Cova, there's no need to change your software or add a plugin. A "turnkey" gift-card program is already built into your POS. Just call us and we'll set up your account.
Step 2: Design Your Cannabis Retail Gift Card Program
Determine how many gift cards you plan to sell and in what denominations. It's important not to overspend on your first order of cards — or to run out of cards too soon. Estimate your demand based on your sales volume, season, and target demographics. Your target demographic will influence the design of your cards; female baby boomers will prefer different card designs than male twenty-somethings.
Many consumers buy gift cards for themselves because of special promotions. If you're structuring a promotion based on a discount (i.e., "buy a $50 card, get a $5 card free"), you can expect more gift card sales.
Step 3: Design Your Cards
Now the real fun starts. Work with your graphic designer to create awesome, eye-catching designs that brilliantly express your brand. And make sure to complete the gifting experience with some cool envelopes. They're just as important as the cards when it comes to presentation.
Step 4: Order Your Cards
Once you submit your design, you'll get a final proof of your gift card. After the production run, the printer will ship the cards directly to you with unique barcodes. They'll be ready to load and use.
Step 5: Maximize Visibility
Merchandise your gift cards at the register to create maximum awareness and impulse purchases. Make sure to use clear signage or, if you're selling online, feature the gift cards centrally on your homepage. You can get the word out with print ads, social media, and email, too.
Step 6: Integrate Your Dispensary Gift Card Program with Your Marketing
Gift cards can do more than encourage overall sales. They can support your overall retail marketing strategy. You can use them to incentivize enrollments in your loyalty program or combine them with special promotions to create mid-week revenue.
And as you might expect, many retailers aggressively promote their gift cards during the holidays, a strategy that not only increases sales but also helps pad out the slow winter season. Occasion-based card designs promote spending — whether it's Christmas, Father's Day, or 4/20 — so have your graphic designer standing by.
Step 7: Train Your Staff to Sell the Gift Cards
Your employees are the best way to create awareness. Train them to suggest the cards to every customer, and consider creating a contest to see who can sell the most cards. Truly, it's your people who will make or break your cannabis gift card program.
Step 8: Monitor Your Gift Card Inventory and Your Program's Results
Make sure your supply of gift cards meets demand — especially as the seasons swing. Keep an eye on the reporting and reorder cards when the inventory is low.
Every few months, you'll want to examine your program's results. Which promotions have created the most engagement? Have they helped your loyalty program grow? Have promotional designs helped introduce your brand to new customers? Regularly assessing your tactics is the key to long-term success.
If your store runs on Cova POS, you can simply email sales@covasoftware.com to get started with your gift card program. If you're not using Cova but you'd like to learn more, please submit the form below.
Marketing and Selling Your Cannabis Gift Cards
Sometimes, the best gift is the gift of choice. After all, cannabis products can be daunting to shop for in a gift-giving context. With everyone having their own specific tastes and looking for different effects in their cannabis experience, it's easy to get lost in an endless sea of SKUs.
As the cannabis retail market becomes more popular and saturated, it's also becoming inherently more competitive for retailers to stand out. This is why gift cards are an integral piece of your sales strategy. It can bring new faces into your store and become a crutch for loyal customers to spread the gospel to their own circles.
Retailers should offer gift cards as they can have an exponential effect on profits. They're also mini-billboards for your brand, and remain a popular choice for shoppers of all kinds. However, selling gift cards and developing a strategy around them can be tricky, especially if retail tactics and loyalty programs are new to you. This guide will touch on marketing and sales tactics for gift cards, and offer strategies to see substantial profits from a well-maintained gift card program.
3 Ways to Market Gift Cards
1. Merchandising
Gift cards can be a lucrative tool to generate additional profits by simply being strategically placed and marketed in your storefront. By placing a gift card display or promotion toward the till at the point of sale, retailers and floor reps can benefit from impulse purchases and last-minute swipes.
Promotions utilizing gift cards, such as receiving a free gift card when they purchase one for someone else or can increase brand awareness and foot traffic to your store. Whichever promotion you choose, make sure to advertise the promo on screens and between display tables.
If you utilize email marketing or newsletters to your customers, consider adding an image of your gift card and a small snippet of text about the option in your next iteration. Email campaigns are one way to stand out when you choose your spots - gift-card-focused emails before major holidays is a great practice.
2. Promoting
Gift cards can be a considerably less daunting option for those shopping for friends and family, whether there's a specific occasion (such as birthdays or holiday season celebrations) or whether it's in the context of someone returning the favor for fronting cannabis products to a friend.
Card designs and offerings can leverage both peak times for your store and slower times, too. You should absolutely have cards for popular occasions like birthdays and Christmas. According to First Data, customers prefer occasion-specific cards - 53% for birthdays and 46% for Christmas, to be precise.
Some other stats to consider: 17% of customers will not purchase a gift card if an occasion-based design is not available, and the majority of purchasers report gifting with additional packaging, which is a prime opportunity to invest in gift boxes and presentations in general.
3. Talking to Customers
Even experienced cannabis veterans can be dizzied by the options available in today's dispensaries. This can become more complicated when they are shopping for someone else without knowing their tastes and preferences. With a gift card, there's no risk of getting the strain, preferred effects, or terpene profile wrong - instead, your customer gets the value and assurance of gifting a retail experience as opposed to a specific product.
It's beneficial to train your team members to upsell gift cards at specific opportunities. This can be made easier when they are watching for customer behavior, monitoring indecision, or having an interest in a variety of products. Don't be afraid to learn the customer's "why" and position gift cards accordingly - after all, they are great as a great stocking stuffer, an incentive for a coworker, or a prize for the fantasy pool runner-up.
Gift Cards & POS
Launching a gift card program that fits into your current systems and stack doesn't have to be difficult. Normally, gift cards and systems are sold separately and can take some extra effort and cost to fit together, but with Cova, that's not the case.
Cova is the first and only cannabis POS provider to offer branded gift cards to our retail clients that doesn't require a third-party application or terminal. This makes it much easier to activate, track and manage directly on Cova's platform. Cova's cannabis gift card program is a more cost-effective option being that the only upfront cost incurred is for the cards and customization.
This allows you to tailor your gift card program to your liking without having to worry about how sales are tracked and consolidated in your POS and reporting.
Cannabis Gift Card Success Stories
Campaign A (Dispensary XY):
Dispensary XY introduced a gift cards program with the help of Birchmount Network and promoted it heavily over the Valentine's Day Weekend in 2021. They strategically capitalized on the theme of love and incentivized their customers to share the love on this special occasion. They used the tactic of offering a free card of a fixed value if a person spends a certain amount of money at the dispensary. This campaign was extremely successful as over 2000 cards were purchased or activated over the weekend with an average transaction value of $145, which was significantly higher than the average transaction value on regular days.
Campaign B (Dispensary ZX):
Dispensary ZX capitalized on marijuana's biggest holiday (4/20) to make the whole month of April 2021 a grand success for them. They kept their promotions simple by offering extra free value on gift cards of two different amounts, incentivizing customers to purchase it either for a loved one or even themselves. It also helped them increase their online purchases, and grow brand awareness.
(These are based on actual numbers but the real names of dispensaries can't be revealed due to confidentiality agreements. Download THE ULTIMATE GUIDE TO GIFT CARDS FOR CANNABIS BUSINESSES to learn more.)
Boost Your Bottom Line with Cova's Branded Gift Cards
There's no question that gift cards can help drive new traffic to your store, increase cannabis sales, and boost your dispensary's bottom line. Once you've set up your cannabis gift card program with Cova, you'll be able to provide your customers with the perfect gift for their friends and family who are either canna-curious or already seasoned consumers. And the best part for you — aside from all the revenue-boosting benefits we've already discussed — is that the only upfront cost you'll pay is for the physical cards themselves and the customization.
Ready to start leveraging the power of a gift card program at your cannabis retail store? Simply tap THIS LINK to get started today!