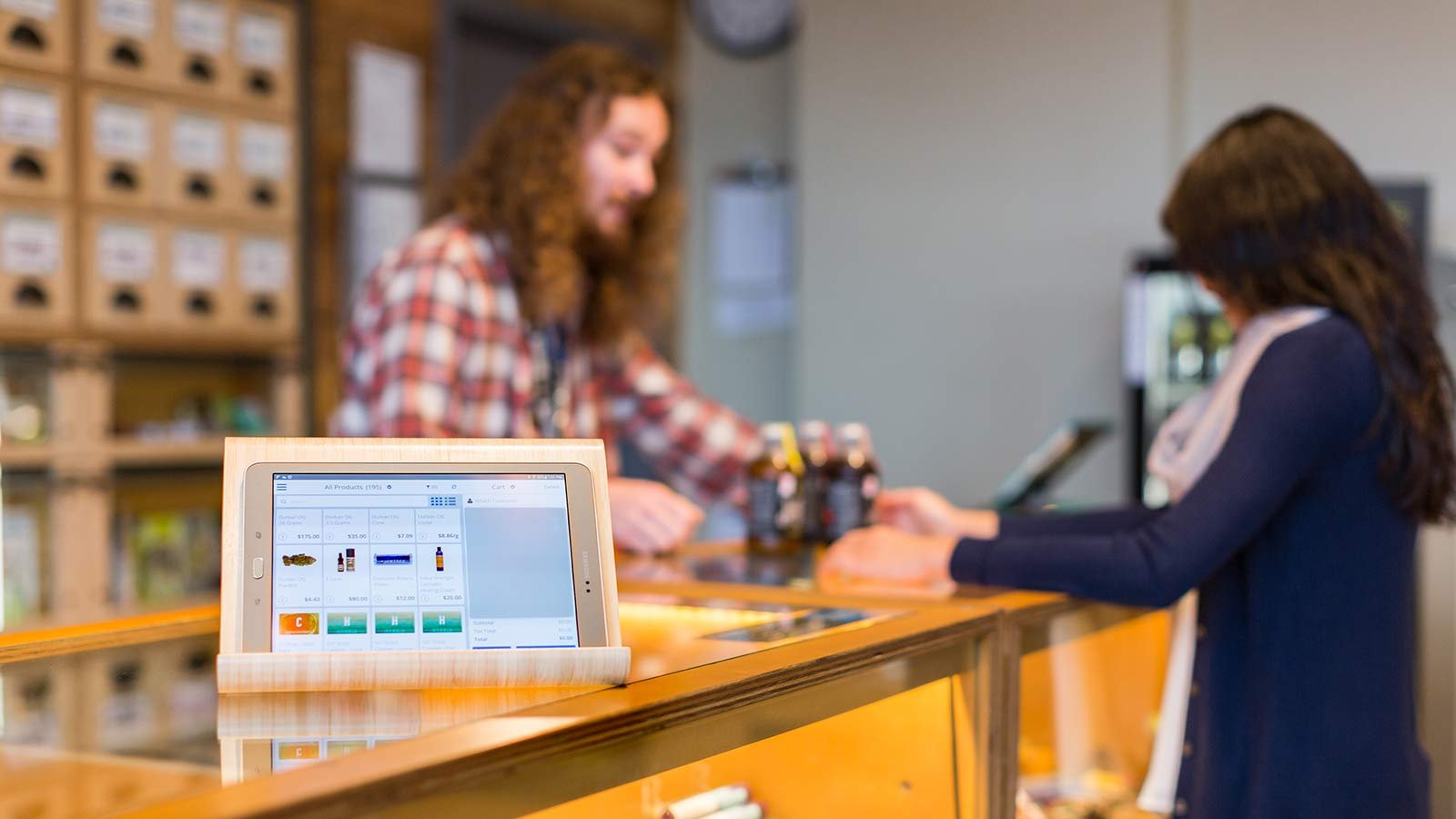 Few things can make a cannabis retailer's life easier than a high-quality cannabis-specific point of sale (POS) system that has the necessary features to streamline dispensary management. If you choose the right cannabis retail software, it can help you increase revenue, manage inventory more efficiently, reduce the cost of operations, and keep your cannabis dispensary compliant with all regulations and laws.
As the first state in the US to legalize marijuana, Colorado is now a legacy market. But even well-established cannabis brands must keep innovating to build customer loyalty and stay ahead of the competition. And to ensure continued success, you must choose a technology partner that grows with you and helps you stay on top of changing regulations. Here are five features to look for when shopping for the best cannabis POS software for Colorado dispensaries:
1. Seamless Integration with METRC
As you may already know, Metrc is the seed-to-sale traceability system used by Colorado's Marijuana Enforcement Division to track all cannabis sales in the state. Cannabis dispensaries working with Metrc probably understand that it can be challenging to navigate the system, especially when there are new bills about monitoring purchase limits being introduced regularly. And of course, you must ensure that you submit the correct inventory reconciliation reports to the tracking system to avoid any compliance infractions.
Without a METRC-integrated POS, dispensary managers are forced to submit compliance reports manually, resulting in human errors. Whereas, a cannabis-specific software solution that integrates seamlessly with Metrc may automatically send all your inventory adjustments and sales transactions as they occur in real-time, saving you time and money. But not all cannabis POS systems have the ability to do so, and few dispensary POS like Cova have 2-way integration with Metrc so that any adjustments can automatically be corrected as well. Download our comprehensive METRC guide to learn how to work best with the system.
2. Reliability and Scalability
There have been instances of generic POS crashing when used by cannabis stores. Even popular dispensary POS systems have had recurring performance issues, with major system outages on big occasions like 420. You can't overstate the importance of POS reliability, especially when handling high-volume transactions. If your budtenders can't make sales, you can't make money, and your customers will eventually take their business to another store. When looking for a dispensary POS for Colorado cannabis retail, be sure to also probe about offline capabilities before making a decision. If your wifi goes down, your POS must continue to function and sync all data once the connection is re-established.
If you are looking to scale your cannabis dispensary to a multi-location business, an enterprise POS system will allow you to manage stock across all stores, set up location-level pricing, perform bulk editing, and even assign granular employee security permissions. It gives you complete visibility and full corporate control of your business with centralized reporting- accessible from anywhere so that you can manage your business easily. Read our case study on why all Eufloria stores switched to Cova from another POS provider.
3. Looping Protections
One of the largest dispensary chains, Sweet Leaf, in Colorado was forced to shut down when they were caught engaging in a practice called "looping". What is looping? It is an illegal method used by buyers to purchase more than Colorado's transaction limits allow. According to these laws, a customer can purchase and possess no more than 28 grams of cannabis. With looping, a customer comes in, buys the legal limit, walks around the block or waits in their car, and returns to buy more cannabis.
In Sweet Leaf's case, the looping scandal cost them $2 million in taxes and fines and they were forced to sell all 26 licenses the chain owned. A good POS system must have controls built in to guard against looping. It must track the daily purchases of customers across multiple transactions during the day. With automatic monitoring of purchase limits on the POS system and integration with Metrc for IDs as well, a budtender can easily see when the customer is approaching their limit, even if they may have purchased from another dispensary, avoiding the costly and criminal mistake of looping.
4. Omnichannel Cannabis Retailing
As the cannabis retail space matures, creating an incredible in-store experience is not enough anymore. In 2020, cannabis retail stores that successfully pivoted to a business model incorporating an eCommerce platform, curbside pickup, and delivery services integrated with their POS systems have been able to offer a better customer experience during the ongoing pandemic. Undoubtedly, such convenient buying options have also increased customer loyalty and brand recognition, and most cannabis consumers will continue to purchase products from dispensaries that are fulfilling their needs now, even in a post-pandemic world.
To thrive in this dynamic industry, you must partner with a POS provider that offers integrations with companies in the cannabis ecosystem that are regularly innovating and adapting to changing consumer behavior. To provide an elevated omnichannel cannabis experience to customers, you must be able to fully integrate your menus and inventory with the best online platforms like weedmaps and leafly, and also be able to extract insights from your analytics and reporting to build your future client experience strategy.
5. Automated Compliance Features
Colorado is indeed, in many ways, a model for legal cannabis. But it is still a young industry finding its footing. State and local governments keep updating their rules and regulations, and when it comes to inventory and compliance reporting for cannabis retailers in Colorado, a good POS partner will stay ahead of regulatory changes and regularly update their software accordingly. Beyond that, a POS should include basic auto-compliance functions that will keep your business safe. This includes features like built-in age verification when scanning an ID, and restricting sales outside of legal operating hours.
Also, even if you are a vertically integrated company, you don't need complete seed-to-sale software to stay compliant. In fact, it is better to choose a dedicated system for your retail or cultivation business that specializes in the cannabis sector you operate in and is not an all-in-one solution so that you can benefit from their expertise, fast innovation, and regular product updates while always staying compliant with the law.
Choosing the right cannabis dispensary POS software in Colorado is a serious business decision. To see if Cova's POS system is right for you, schedule a demo today.